Cake "Paul Robeson"
For me it's still the most delicious and desirable cake with sour cream.When you grow up my daughter, I will try to teach her how to cook, "Paul Robeson" the recipe that got me by inheritance from my mom.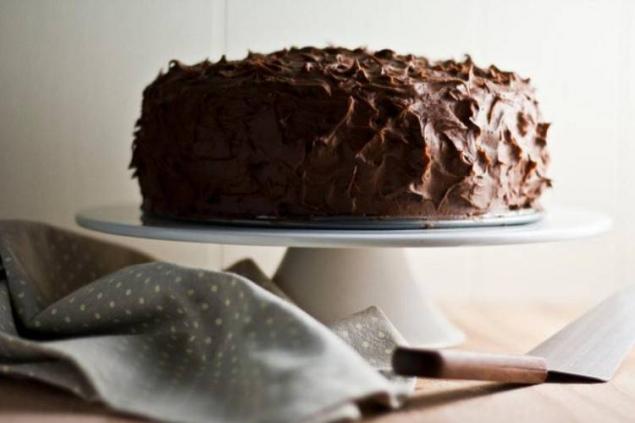 Ingredients:
Dough:
50 gr. butter
1 Cup sugar
1 Cup sour cream
1.5 tsp soda (slaked vinegar or lemon juice)
flour (I took about 4 cups)
2 tbsp cocoa
Cream:
1 Cup sugar
1.5 stack. sour cream
100-150 gr. grets. nuts
1 sachet of vanilla sugar
Chocolate glaze:
2 tbsp milk
4 tbsp sugar
50 gr. drain. oil
3 tsp cocoa
Cooking
Beat softened butter with sugar and sour cream, add soda.Divide the dough into two parts, one of which add cocoa.Then in each add about 2 cups sifted flour.
The dough should be soft, elastic and not sticking to hands.Divide the dough into equal size balls, cover with plastic wrap or a towel to dried up.Preheat the oven to 200 gr.Turns raskatyvaete the dough thinly, cut out with plates the shape of a circle and bake each cake for about 5 min. Total should have 6-8 layers.
The main thing is not to overdry!
Remove the cake need when it is still soft.
For the cream
whisk the sour cream with sugar and vanilla sugar, add the crushed grets. nuts, mix well.Liberally lubricate shortcakes, alternating dark and light, except for the top! The top of the cake pour chocolate glaze and leave to soak at least overnight, and if time allows, longer.Cake is better than soaked, the tastier it will be.
Enjoy your tea!!! published  
P. S. And remember, only by changing their consumption — together we change the world! ©  
Source: kulimania.livejournal.com/21372.html