Unfortunately, to achieve complete getting rid of annoying bags under the eyes is almost impossible, but try to make them less visible still stands.
Annoying bags and dark circles are signs of poor nutrition, stress and constant fatigue. If you eat a lot of spicy and salty foods, water is retained in the body, resulting in swelling. Don't forget that eating junk food, constant lack of sleep and excessive experiences will have a negative impact not only on outer beauty but also your health in General.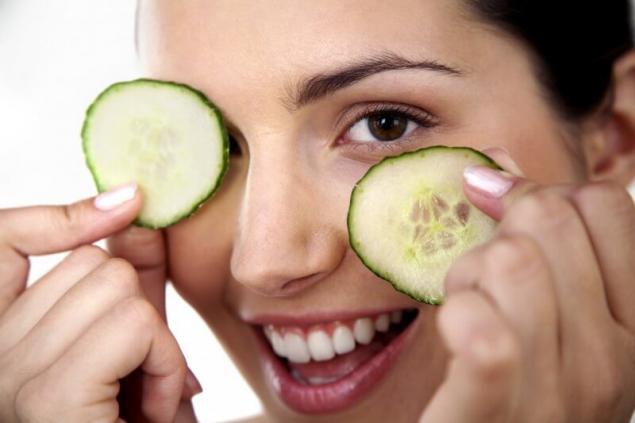 Fortunately, there are a few simple but effective ways that will help make your look more fresh and clear:
1. Potatoes
Cold raw potatoes, grated on a grater, and produces a large amount of starch, which contributes to the narrowing of the blood vessels and reduce puffiness. In addition, the starch acts very delicately on the sensitive skin around the eyes and rarely causes allergic reactions. A compress of grated potato wrapped in a bandage or gauze, it is sufficient to apply to the eyes for 5-7 minutes and then wash with cool water without soap.
2. Milk
Simply place two cotton pads in cold milk to apply them to tired eyelids and relax for 20 minutes. Light cool cotton pad will reduce swelling, and milk helps to deal with dark circles. Milk fat intensively nourishes the skin, smoothing fine lines and lightening pigmentation spots.
3. Vitamin E
In a tablespoon of cold water add 15 drops of oil solution of vitamin E. Cotton pads soaked with the mixture, put on the swollen eyelids for 5 minutes. After the poultice be sure to wash your face with cool water and mild soap. Under the eyes should not be oil, as it can cause redness and irritation of the eyes. Vitamin E actively reduces bags under the eyes, improving blood circulation and reducing the ability of tissues to retain water.
4. The flesh of the cucumber
Cucumbers are a fantastic natural remedy for beauty. Lotions from the pulp of fresh cucumber evens the complexion and relieve puffiness. Only two thin slices of chilled cucumber to quickly refresh puffy skin under the eyes. In addition, scientists have found that even the smell of fresh cucumber reduces nervous tension and promotes relaxation.
5. Green tea
Green tea has a powerful antioxidant effect, it actively fights the signs of fatigue and protects the skin from harmful UV rays. For lotions you can use cotton swabs or paper towels soaked in a strong infusion of green tea or chilled tea bags. This pack does not require rinsing, is sufficient to sustain it on the eyelids for 10 minutes.
6. Daisy
Lotions with a strong infusion of chamomile will help reduce the swelling of the eyes, and with regular use – to lighten dark circles. Chamomile is not enough to just pour boiling water and infuse for maximum effect the usual tablespoon of chamomile should be within a 10-15 minute boil in 200ml of water. The resulting infusion can be a few days stored in the refrigerator using in the morning to soak cotton pads.  
Stress and lack of sleep are not always the main causes a permanent swelling of the eyes. Unfortunately, in some cases, reasons bags under the eyes can be certain types of allergies, kidney disease or impaired hormonal balance. If natural recipes and bags under the eyes increase, you need to seek the advice of a trusted doctor. published
P. S. And remember, only by changing their consumption — together we change the world! ©  
Source: www.min10kg.ru/articles/ecolife/6_naturalnykh_retseptov_izbavleniya_ot_meshkov_pod_glazami/