Modern, unpretentious, caring and orderly — that is the gravel garden, which in recent years has become incredibly popular. We'll show you how to show the stones in the most favorable light.
In recent years in European countries as in the new buildings, and next to the old houses you can see a platform, entirely covered with gravel and only spot filled with plants. We have such delights it's not very popular, but it's a matter of time. Gravel garden looks modern and tidy, and care for them is minimal. If the flower beds to lay correctly, concerns they practically don't deliver — regularly remove fallen leaves and wipe occasionally emerging weeds. But dumping gravel does not look like a thorn in the eye, you need a certain consistency with the buildings on the site and the rest of the landscape environment. So, next to the house in a modern style look best gravel gardens with a scattering of stones quiet tones or made with patterns. Separate plants with a catchy "appearance" will complete the picture.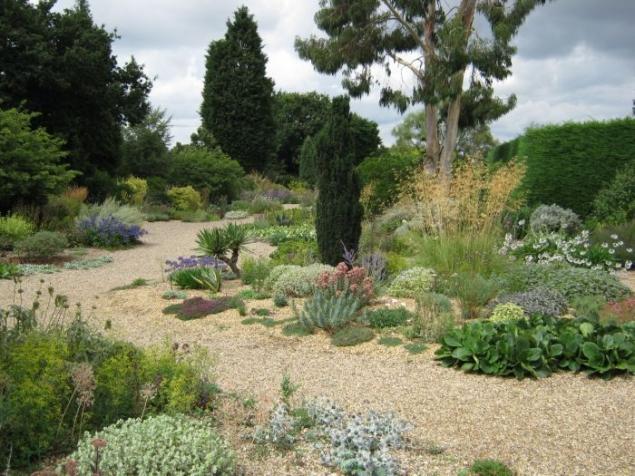 Alternatively, on gravel areas can be planted multiple trees or shrubs with crowns formed, for example in the form of balls, building them in a row or grouping square. If such plants are to be planted singly or distribute unevenly, landing, most likely, will not look too appealing.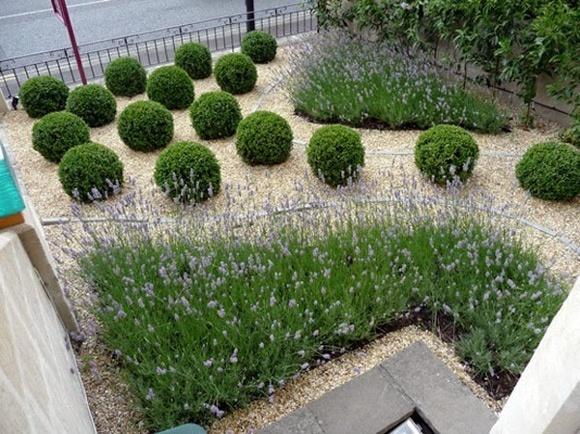 Gravel garden near the old houses it is better to break stones in colors that match the façade of the building. If, for example, a house brick, and the area around it strewn with gravel of cold grey or white, this ensemble looks contradictory. The older the building, the more natural it should look like space with its pretentiousness is misplaced.
Another important point — the choice of plants: and in the garden in a natural style, in a gravel organically will look tall ornamental grasses, small shrubs and low-growing cushion-like flora. In this case it is better to plant groups, and not singly to place on a rocky platform.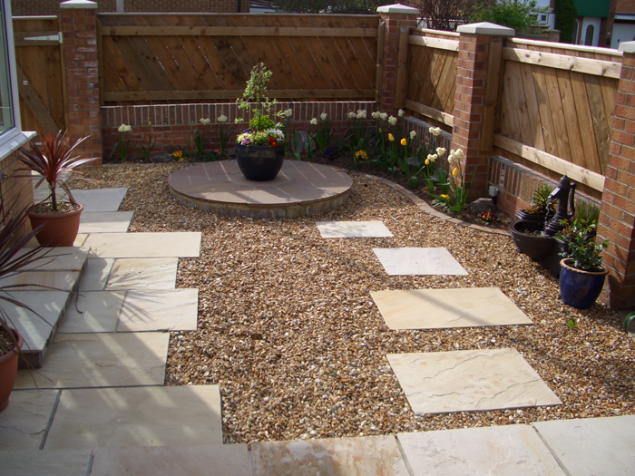 The choice of shapes (round or angular) is also largely dependent on the environment. Pellets of different colors and with a variety of stripes particularly pretty to look at large areas. But the good gravel on small plots of land. Mix both types of rocks is not recommended, and strong contrasts of colors and fanciful patterns after a time may seem too Intrusive and annoying. Try to make an object with an eye to mother nature: for example, create a scenic gravel dumps or river banks. This can be easily done using stones, different factions, unusual branches and driftwood, as well as typical for this area plants.
Sometimes the result is disappointing, as it happened with the garden in the photo. The reason for this was a mixture of too many different materials and styles, and the lack of harmonization with the environment.
That this did not happen with you, please note our recommendations:
Stick to one style (even if the rocks and plants). The photo combines elements of contemporary, Mediterranean and Oriental styles — they are lost against each other.
Rounded and angular, large and small, bright and dark — not the extreme of trying to put on the stones all the possible options. Select rounded gravel or angular crushed stone and pick up the relevant stones.
Very important role played by the environment: simple bare walls combined with gravel dumping look dreary and dull. To breathe life into this song, simply add a couple of tall and spreading ornamental grass.
Gravel flower bed is beautiful and practical, if it is properly laid and to provide competent care.
Maintain clean gravel areas — not the most difficult job. You need to regularly remove fallen leaves and any plant residue using rake or leaf blower, or organic materials decompose, forming humus — a perfect breeding ground for weeds.
Autumn can be much easier by pulling on top of the gravel backfill of the net. To prevent the appearance of moss on the stones, for laying such a site choose a Sunny place. If the plaque is still there, get rid of it will help a special technique, which can be found in specialized stores or online.
The stones are not "traveling" in the neighborhood, and "representatives" of different sizes and colors are not mixed among themselves, we need well defined boundaries, especially if gravel flower bed adjacent to the lawn or flower bed regular. Strong and durable edging work laid out in a row of pavers set on a bed of cement-sand mortar. Less visible boundary is obtained from the metal borders, such as stainless, galvanized steel or dark Korjenevskoy.
Important: on the trim of these materials, it is impossible to advance, because it is easy to bend. If a gravel flower bed is on a slope, the curb must be slightly higher than the adjoining lawn or path, the stones poured from the flower bed. The slope is very steep? Break it into several level terraces and every decorate to your liking.
For the present gravel flower bed is not enough simply to allocate on a non-woven material, a layer of stones of 5-8 cm Much better to mix garden soil with gravel or rubble to a depth of bayonet spade, to provide the typical for the rock garden drought tolerant plants ideal conditions for growth and development. Only after this spread non-woven material and spread it on the gravel. Layer stones are not just decorative — it also performs the function of mulch: reduces temperature fluctuations and delays in the ground moisture.
published
P. S. And remember, just changing your mind — together we change the world! ©
Join us in Facebook and in Vkontakte, and we're Classmates
Source: www.7dach.ru