Very early in the spring I cover the barrels with a special mixture.The best slices to cover the pitch. And the wounds and fractures and therapeutic talker. To prevent sunburn and healing frost cracks.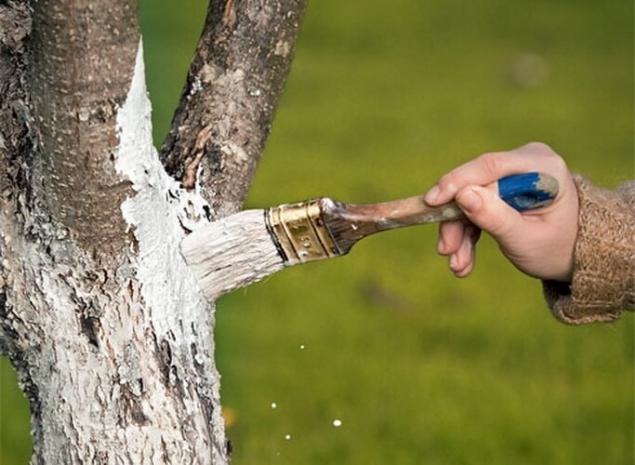 Take the clay, dilute it with water and insist no less than two days to lumps in the solution softened. And then add in the mash fresh cow dung (horse better, but I don't always manage to get it). The mixture is the consistency of sour cream 30% fat or mortar for plastering. Ie swollen clay becomes like watery dough for pies (to crush, soak for a day, stirring periodically, and then drain from the solid particles through the mesh 7х7мм — about). Then in half a bucket of clay, to be paid half a bucket of manure and mixed again. And then add 100g of copper sulphate (about a Cup) and again stirred. This mixture is easy to take a trowel, brush, it adheres well, does not slip neither thin nor thick, easily takes shape of the trunk. After drying, a light beige color with a turquoise hue. If the trunk has large wounds(missing or severely damaged a large piece of bark).
On top to enhance the wrapped bandage in a single layer. And a bandage again pass mixture with a brush, but a little more liquid consistency.
Good manure and horse and cow. Fresh, rested. Absolutely not any bird, the barrel will get burnt. published
P. S. And remember, only by changing their consumption — together we change the world! © Join us at Facebook , Vkontakte, Odnoklassniki
Source: vk.com/feed?w=wall-92403104_5887