I flew with a very nice woman and her brother from Warsaw to Moscow. In the plane we met. And when I landed they asked me:
"You expecting someone?" I remembered the instructions of her husband: "When you arrive take a taxi, do not bargain," and shook his head: "No, no".
Then these good-natured people put me in their car, but warned that they will soon come time to turn on the ring, and I need to move on Leningradke on.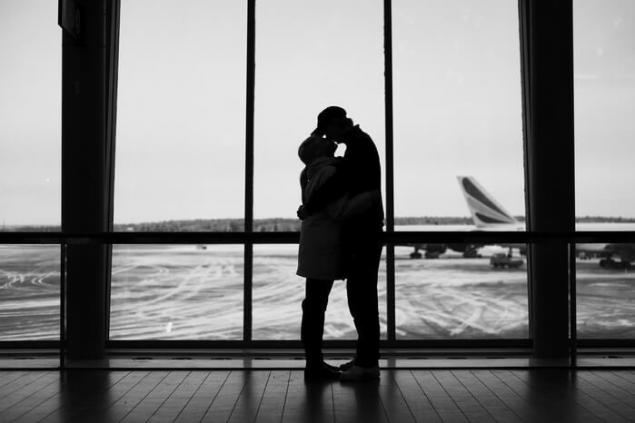 I did not pay attention to such trifles. The minute, how was passport control in Sheremetyevo and made sure that her husband really wasn't kidding about that taxi, I was very much distressed, and could think of only one thing:
"Why he didn't meet me? Why?"
However, my new friends quickly stopped and said that this is where we part ways.
I very cordially took leave of them. On the highway at a terrible speed raced cars. It was snowing. I stiffened in his shirt. In a minute I was able to release packages right hand and raise it parallel to the earth's surface. Ten minutes later, I realized that the car here will not be caught. Fifteen minutes later, I put on everything I had, and walked along the road.
In the end, I came across some kind of bus stop, got on the midnight bus, then ride on the bus, and then I picked up the car, and quickly, in just three hours I managed to get home. In the hallway I collapsed with their cheese on the floor. The husband was sitting at the computer — saving the Universe, so the approach could not, although the noise responded: "Well, sweetie, here?" I was lying on the floor, arms outstretched, and took the time to get up.
"What the hell, I thought. — What the hell am I doing with this person?"
I knew all that I was going to say. It was necessary to take a taxi, not to seek adventure on his head. It's silly to meet someone at the airport at night, unless you have a personal car. I'm just looking for a reason to quarrel. I knew all his reasonable and logical arguments that almost have nothing to say. But my heart knew — that something was not right.
Only a few months I was able to articulate the problem. On MTV was just showing a reality show of the life of the family the Osbournes. Mom drove the kids in the car to go to the airport to meet dad. Children are capricious, otbrykivatsya, grumbled:
"Why is it necessary to meet?" and then, mimicking the mother repeated after her in a funny voice: "Because we love him-and-and-iiim!"
Then calmed down, got in the car and went to the right place.
It was then that I understood. We meet loved ones, not because they have heavy bags. We meet loved ones because we love them. Isn't that a great slogan for good old chewing gum "Love is...": "Love — is to meet at the airport"! We want to please loved ones. Support. Hug. To say: "How good that you came back."
I've created a family not to me said: "Take a taxi", "don't touch me", "do Not disturb", "take care of him like myself, it's just". I created a family to someone standing in the arrivals hall and looking at me eyes in the crowd...
Yes, if you approach the matter soberly and prudently, all these meetings-parting with almost always uncomfortable, illogical and seemingly not needed. You can not drive to the airport, because the tube in the way, or is there a computer game. You can not go to the hospital personally, but to send a courier with oranges. Can you not mention the anniversary — it's still a stupid holiday that should not even spend money. It is possible not to make any unnecessary movements. And stupid hope that to you this indifferent, be indifferent.
But it does not happen.
A good relationship requires some effort.
"Of course" is only bad. Ozzy Osbourne rich enough to afford a car with a personal driver. But returning home, he first wants to see the driver, and the native people. I'm not Ozzie, but I also want the same. All want it. But not everyone is ready to do it.
And maybe those who are too lazy to meet, to listen, to comfort and delight your loved ones, just long ago they fell out of love? Or never knew this feeling. As the hero of the film "What is love" his friend:
"do You think my wife a shrew, so what do you think I need to pick her up from the airport. And I think I want to be there to meet her. That makes all the difference".
Strong lyrics, isn't it? Don't forget to share it with your friends. Let everyone know how important it is to celebrate loved ones with planes and trains. published
Author: Natalia Radulova
P. S. And remember, only by changing their consumption — together we change the world! ©
Join us in Facebook , Vkontakte, Odnoklassniki
Source: radulova.livejournal.com/3525928.html