You know why women today choose the black and jeans?
I don't know.
Why a woman refuses to beauty, from color, shape, texture and the opportunity to please yourself and others? Look at the sky, on the ground, on both sides – as the nature of the colors! Why not use this variety?
From black I refused for a long time. My wardrobe has been dark and bleak, dark brown and dark blue. It was not by accident, my mood was the same. The outer always reflects the inner. Sometimes, to change the internal, it is easier to start with the outside. For example, to change the color scheme of the wardrobe. Make it a bright, feminine and elegant. Mood and life will improve!
Many may say:
black everything fits;
I like the black color;
black hides figure flaws;
black clothing practical, etc.
Did you know that practicality and beauty are incompatible?
In nature, black color virtually no. It was an accident? I think not. And we, women, do not accidentally begin to wear a dark black closet.
I will agree that in winter it is difficult to wear bright and colorful clothes. Although in winter, no one bothers to add color. But if spring begins, and we all wear black, you need to think.
Selecting dark clothing is always a state of mind:
the woman in it feels secure, inconspicuous and conveniently. Question from what and from whom is she hiding?


undoubtedly the woman lost the taste of joy of life, her self-esteem lowered.


of course, habit and elementary laziness, unwillingness to change anything in your life. "It is difficult to become irresistible if you are lazy", said Sophia Loren.


or maybe the woman made a bet on the mind, rather than beauty. Went on the "men's way".


"Camping stuff" (I call it the working color and jeans) for female beauty are irrelevant. To say that it's boring – nothing to say.
There will have to work, will not be obtained immediately, there may be errors. But it's worth it.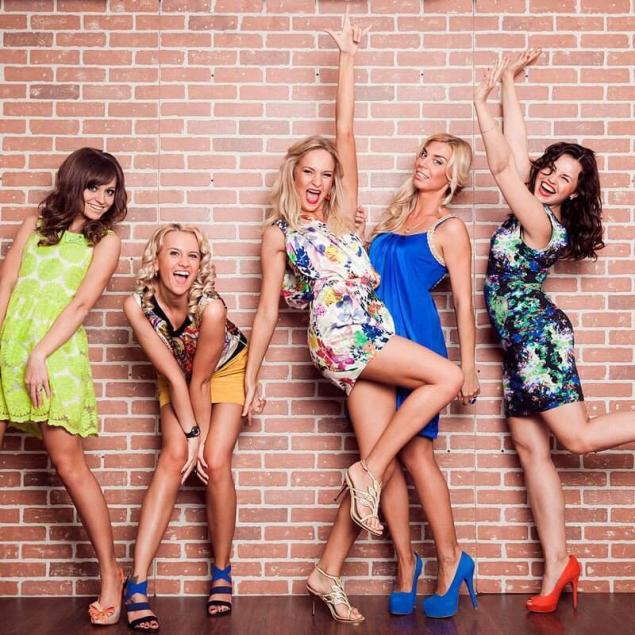 Recommendations:1) From the "black" come out the closet gradually.
For starters, stop buying black and dark clothes, and jeans too.
2) you Can start to dilute your dark black stuff.
This can be scarves, jewelry: necklaces, bracelets. Slowly introduced color.
3) Go to the store and take all the color bright, all "afraid" and what is "avoided".
Start to measure. Eyes you will not be deceived. You will see which colors suits you, what to face. You will find plenty of discoveries. I did so 2 years ago. But buy nothing. The next day, when you are sure that the color your.
4) Start with quiet tones, don't start with green or pink.
For example, brown range: not just dark brown, and try to try the full range of colors: cream, beige, sand, mustard, gold, tan, Terra cotta, brick, chocolate. To brown colors suit all colors, that grow on the ground.
5) color: Black can be very elegant and striking.
But the material needs to be expensive, not only in price but also in quality. The usual stuff: pants, blouses, sviterochke, t-shirts kill black. And it looks rather boring, shabby and rustic. The black cocktail dress was not canceled.
6) If the black to add another color, both colors will win.
That's the power of black.
7) Two bright colors to combine is not worth it.
Very bright colors are always combined with black and white. About the white color in the life of a woman will write a separate post.
8) to Have only "outdoorsy" things are very dangerous.
And suddenly you will be invited to the celebration, in a restaurant, on a holiday, and in the wardrobe of nothing? There is a sign, if in the life of a woman in a beautiful dress, then there is a reason to wear it.
9) And the Council of Evelina Hromchenko is generally considered universal: "
If you have problems with the combination of colors that refer to nature. She won't let you down
".  
10 scientific serials, which will raise your intellectual levelLife will be easier if you understand these things before 40
Any woman can be beautiful, colorful and interesting! You need to learn to work with color, experiment, if necessary, to consult specialists, read magazines. LOOK for your scheme. And this female investment.
When you look for your scheme, you make your life consciously, develop your intuition, create, expand its borders to understand the world, yourself. Changing your appearance with color, and you change its internal state. You start to manage your life. And send out into the Universe message: I'm happy, I'm happy, I'm amazing! The world is full of colors, to live only in black.published  
Author: Tatiana Dzuceva  
Source: womancosmo.ru/beauty-and-health/chernyj-cvet-v-odezhde.html