Good old jeans.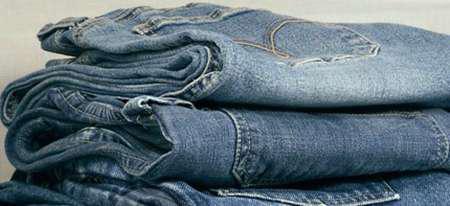 There are many versions, someone argues that the history of jeans began in France, since it was there that produced a solid fabric, the second homeland denim is America.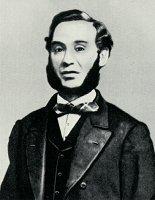 Levi Strauss (Levi Strauss)
It was there, in 1853, Levi Strauss (Levi Strauss) built the first jeanswear. It all started with pants for miners and prospectors. In 1860, they invented a method of fastening pockets, used metal rivets. But in the same year to the back pocket of jeans is added to the double stitching of orange thread. Now this stitching is known worldwide as a trademark «Levi`s» .

* In 1889, Levi Strauss (Levi Strauss) new competitors in the person of Henry David Lee (Henry David Lee), the creator of the line Lee. After a few years on the market of jeans Lee products ranked second after Levi`s.
* In 1890, Levi Strauss (Levi Strauss) was first outlined in the jeans batch number. In 1926, Lee products changed, and became the first in the market of jeans on the "lightning».
* In 1953, the company «Mustang», founded in 1932, creating the world's first jeans for women, and in 1961 - the first rubber jeans.
* In 1947, there was the third most popular American brand of jeans - Wrangler, created by Blue Bell.
* In 1960 the Italian family Fratini created a company under the brand Rifle.
* In 1965, another family founded its business on the production of youth clothing under the brand Benetton, which is the beginning of the 90s was a real empire and is known throughout the world.
* In 1978 in Italy, thanks to Renault Russia appeared the company Disel.
Today, anyone can fill up the collection of jeans from famous designers such as Calvin Klein (Calvin Klein), Gianni Versace (Gianni Versace), Dolce & Gabbana (Dolce & Gabbana) ... .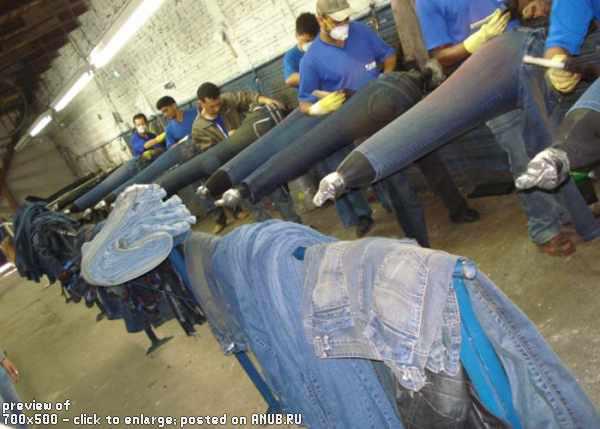 All about jeans
Blue jeans have been an important piece of clothing for decades. The chip of jeans is that they can be successfully and clothing for the workers, and the decoration of the most beautiful models or movie stars. Material cotton fabric was still in use during the eighteenth century, largely due to successful trading and abundant production of cotton. A cotton fabric worn very long. Jeans were already beautiful clothes for physical work, because for a long time and rarely worn torn.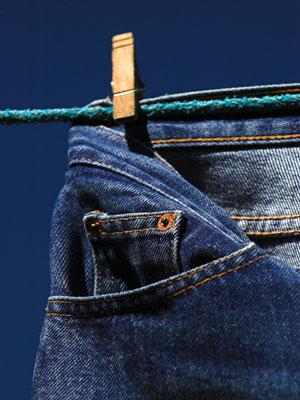 Outside the United States, especially in the Russian popular culture, blue jeans were fashionable and expensive clothes, symbolizing the American culture and the good life. Being imported American products, particularly in the case of the Soviet Union which restricted hard currency imports, jeans were somewhat expensive. In Spain they are known as "shepherds" or "cowboys" and in Chinese, jeans known as niuzaiku, literally, "cowboy pants", indicating their association with the American West, cowboy culture, and working outdoors.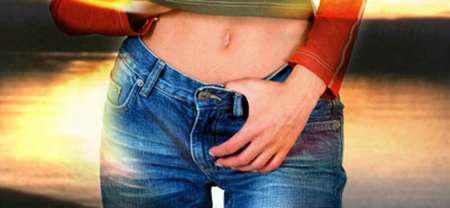 Fetishism jeans - sexual fetish concerning jeans or cotton, especially worn by women, but also men. There are many areas of the fetish jeans, mostly sexual in nature.
Jeans fetishism is:
torn jeans
jeans wear during sex
denim shorts
denim jacket
wet jeans
Being barefoot in jeans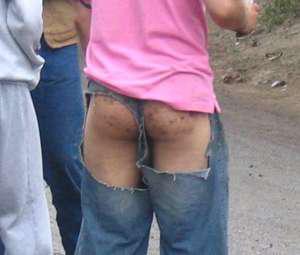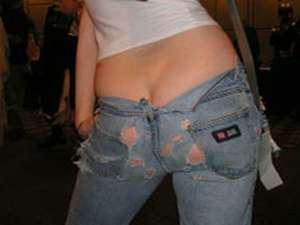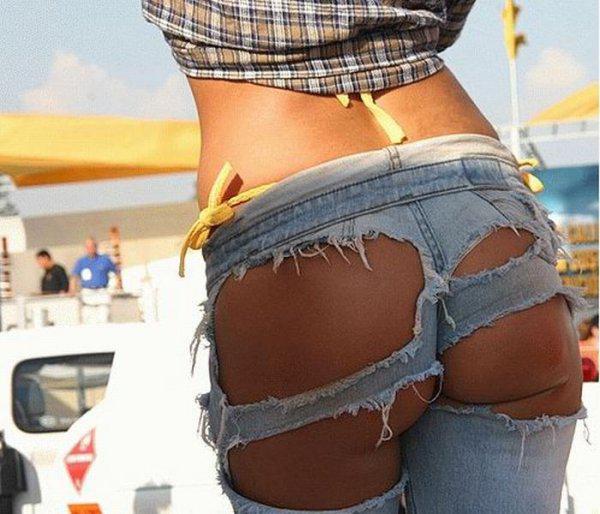 Trendy Jeans - a pair of jeans that were made as a fashion and a status symbol. Brothers Nakash (Joe, Ralph and Avi Nakash) is generally credited with starting the trend when they launched their Jordache line of jeans in 1978 Jeans Fashion done on jeans for women and men, are all available sizes, and are often sold and worn fitting. Posters and logos designer fashion jeans are usually sewn on the back pockets and on the right front pocket for coins.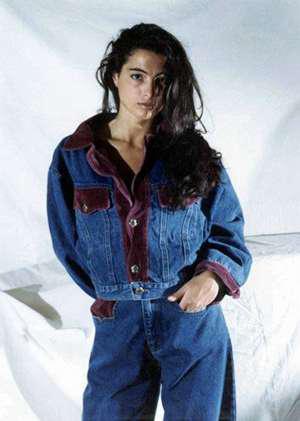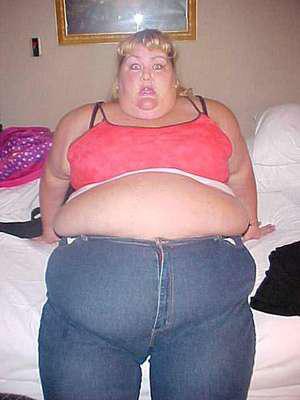 Varieties of jeans are determined by current styles, from, and manufacturer. That is - a part of the main types of jeans:
Ankle (ankle)
Loose (Free)
Straight (Straight, pipes)
Boot Cut
Baggy (Baggy)
Phat pants
Slim Fit
Boy Cut or Boyfriend
Bell Bottom / Flare
Saggy (Saggy)
Carpenter (Carpenter)
Original (Original)
Classic (Classic)
Skinny Leg (skinny leg)
Wide Leg (wide leg)
From denim also do:
Shorts
Dresses
Skirts
Shirts
Jackets
Bags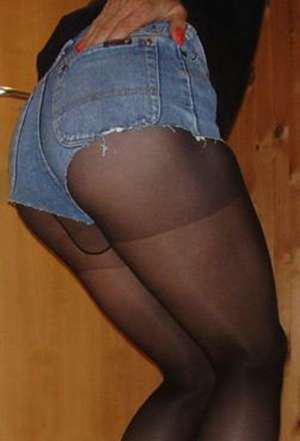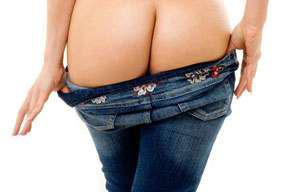 Classic jeans color - saturated blue. But at the same time, if you look closely, you can see that painted a warp, weft yarns remain white. Blue "denim", so-called "Varenkov" is obtained by washing classic blue material with the addition of chlorine or other bleaches. Indigo (from the same plant) - the so-called first natural dye for jeans, it was he who gave his trousers and blue. Today the popularity of jeans the most unexpected colors. Beige and pink, fuchsia and orange poisonous. Sometimes they write directly on the label, how many times the cloth dipped in paint. Usually, 6 to 16 times (Dips). Of course, the more dives, the more lasting color.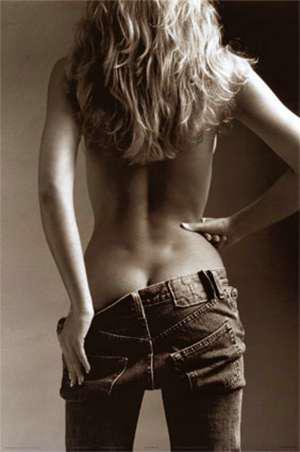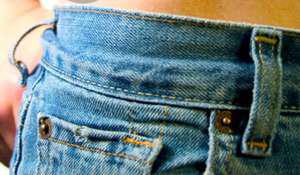 On the fake jeans is possible to run not only on the market. With the same degree of probability you can foist bullshit in stores, sporting goods stores, and even in the boutique. You ask, where is the better buy jeans? Better, of course, abroad. There's much less likely to buy the bad jeans. In this case it is better to combine leisure and shopping. Best Goods and vacation where there is no Russian. Well, if this is not possible, then we go to the store, so you can in a relaxed atmosphere to explore and buy jeans.
Many online shopping sites selling jeans is advised to pay attention to the choice of the manufacturer. It is fundamentally wrong! Online stores have only one aim - vparit goods. And so what they labeled as ... Remember the magic phrase: "All the smuggling is done in Odessa." With jeans, the same situation. All jeans, even the most complex Japanese and American long sewn in China, Thailand and other Asian countries. Well, even in Turkey. Another thing they are sewn on a legal factory or in dark erotic knee Chinese staruhi.