That the remaining tubers after harvest can climb, they know everything. That's only crop they practically do not give. This is not due to the fact that tubers were "inwinter". Simply, they are at too great depth, and therefore give only a trifle. If we plant potatoes for the winter, you can grow a very early harvest "second bread".
Precocity "winter" of potatoes is not the only advantage of autumn planting. Such plants better utilize winter and spring moisture have time to form a crop before the heat finish growth until the occurrence of Phytophthora and require virtually no treatments against diseases.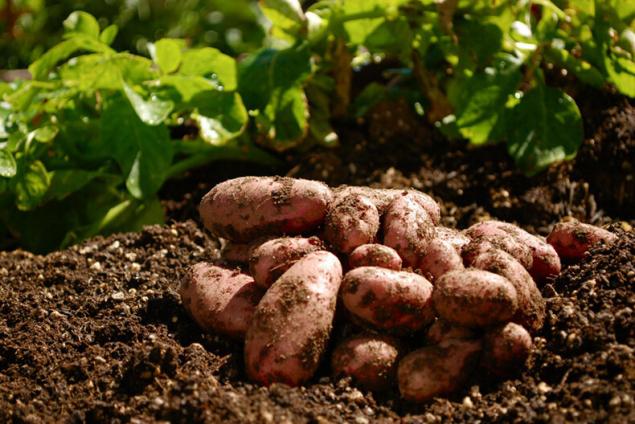 However, autumn planting of potatoes is a risky business, so no need for her to spend all seed tubers. Not more than half, the second half will remain to be safe in the spring.
Rules of planting "winter" potatoes
In order inwinter potatoes had been grown, it is necessary to withstand certain rules.
First, to protect the tubers against soil pests and root rot. This is one of the main causes of death of the tubers during the winter. To help in this will help correct preparation of the seed material.
Need little: in two weeks we need to put the seeds in a Sunny place, where they this time well will preselentsi. "Greening" can be considered complete if the tubers become green, not only outside but also inside, which is easy to check, cut a couple of potatoes.
Such enriched solanine the potatoes there are few consumers in the soil. And then it starts freezing, and plants until the spring will be safe.
Planting potatoes
After the potatoes dry, then we put the potatoes in the winter. The soil for this planting should be prepared – with a smile. The wells bring the ash on the glass. Such a fertilizer in the spring will increase the winter hardiness of the seedlings.
Depth of planting the usual leave – 8-10 cm on top of a bed still need to mulch a layer of 10-15 cm of straw or reeds. Without this insulation the planting can suffer greatly during a thaw, when facilitate the growth of tubers. A layer of mulch will create a thermos effect and smooth out the temperature extremes.
Well, in the spring there were bald spots — put in each well 2 of a tuber to save planting material is selected for planting shrapnel. Each row cover until the spring reed mats.  
Best supplements for supporters of natural farmingWhat vegetables to choose for winter forcing
What varieties to plant?
Another feature – better not to plant early and superrange varieties. The best is medium early maturing. They are more productive and give the seedlings a little later. Optimal plant – Svitanok, Volzhanina, Agrio, Agretto etc.
Given the likelihood that part of the seed over the winter will die, fit to make a tight pattern: 50х20 see This is enough to get a good harvest, even if all tubers sprout.published    
Source: vk.com/wall-65997559?offset=120&owners_only=1&q=%23%D0%A0%D0%B0%D1%81%D1%82%D0%B8%D0%BC_%D0%BE%D0%B3%D0%BE%D1%80%D0%BE%D0%B4&w=wall-65997559_71910