Honey is one of the most valuable products of nature, its useful properties has been proved by scientists, and all lovers of this delicacy regularly see improvements to the health and General condition of the body. Despite its long history, all the possibilities of this product to be fully explored, and the ways to use honey only continue to expand.
A huge number of microelements, vitamins and other enzymes that restore all processes of the body, strengthen the immune system, contribute to our health and beauty are contained in this product.
Honey today is actively used in cosmetology as masks and scrubs, this useful product promotes the conclusion of toxinoses skin, improves skin color, evens the surface, promotes rejuvenation.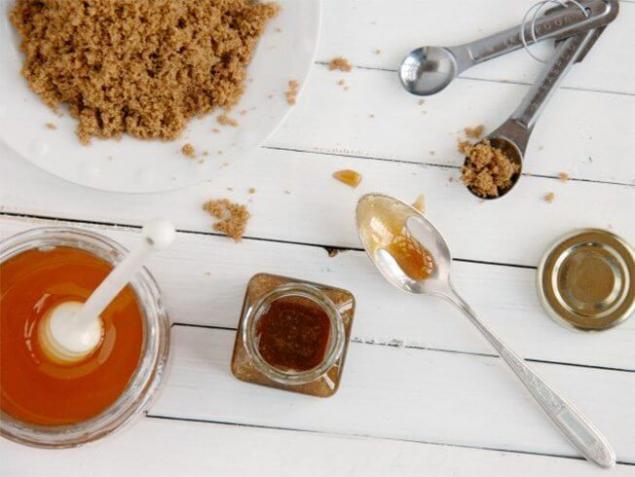 Scrubs honey for dry skin type:
1. Apply to the skin a mixture of one tablespoon of liquid honey, one spoon of a mixture of "Hercules" and one tablespoons of fresh milk. After applying scrub to massage the face with soft circular motions for about a minute, then rinse with warm water.
2. To prepare this recipe You will need: one tablespoon of high quality olive oil, one teaspoon of honey, teaspoon of sugar and grape seed oil. Thoroughly mix sugar, oil and honey. Then add five drops of oil of grape seeds. RUB the scrub into the skin for about two minutes and massage gently, then wash the remains with warm water.
3. Gender mix a tablespoon of liquid honey, a teaspoon of sour cream, half spoon of high quality olive oil and two teaspoons of natural ground coffee. Apply scrub on face, massage for a few minutes, and then rinse with warm water.
Honey scrub for oily skin:
1. To prepare the following scrub you need to melt one tablespoon of honey in a water bath. Once the honey has cooled slightly, You should add a tablespoon of wheat bran and a teaspoon of fresh lemon juice. Prepared according to this recipe scrub massage your face for about five minutes. After the massage, wash your face with warm water.
2. Preheat a tablespoon of honey for a couple and add in slightly cooled honey, crushed in a coffee grinder Fig. Dilute the mixture with boiled water and apply on face massage movements. After five minutes, rinse the scrub with warm water.
Honey scrub for combination skin:
1. Thoroughly mix liquid honey – 1 tablespoon and olive oil – one teaspoon. With this mixture massage the face for about three minutes and then rinse off the scrub with water.
2. Take a half spoon of fresh honey, a spoonful of milk powder, half a teaspoon of cosmetic clay (blue or green), half a spoon of sea salt and three to four drops of essential jojoba oil. Application: soak a pinch of the mixture with water and massage gently with circular movements face.published  
The only natural remedy will replace the floor-cosmeticsThe secret to a perfect skin Indian women
Source: vk.com/home_economim?w=wall-124929453_648