For example, Edna Chinese startups showed off his platform on electric. The first product based on it will be not a van, and the luxury sedan, which Atieva is preparing to release in 2018. Next, the company plans to launch two luxury crossover in 2020 and 2021 respectively.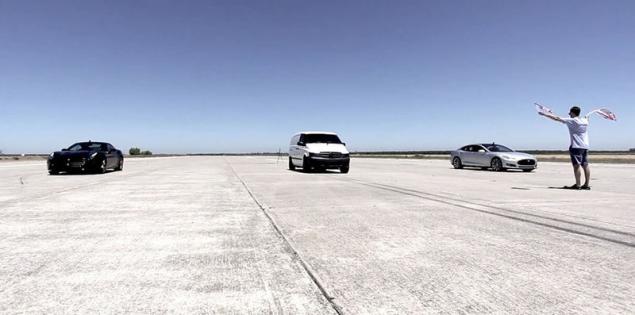 At the heart of the platform is based on two motor powerful electronics in two sets, two transmissions and a battery of 87 kWh. Power minivan is about 900 horsepower.
For example, Chinese Edna start testing the various functions of the car's features, including transmission and regenerative braking system, engine control algorithms, the cooling system and the operation of the accelerator pedal.
Minivan can accelerate to 97 km / h in 3 seconds. In the video Edna ahead of Ferrari and Tesla Model S. As Electrek notes there is a kind of Model S P90D c Ludicrous regime, which is accelerating faster than conventional models, but in the race it was not involved.
During the development of Edna is one of the leading Atieva engineers, former vice president and a leading Tesla Model S development engineer Peter Rawlinson.
Earlier it was reported that Atieva plans to build a car plant in California. The startup has already received permission to build a factory of electric cars, which will cost $ 530 million.
Atieva closely linked with two start-ups to develop electric cars - Faraday Future and LeEco. All three companies one key investor - Chinese billionaire Jia Yuetin.