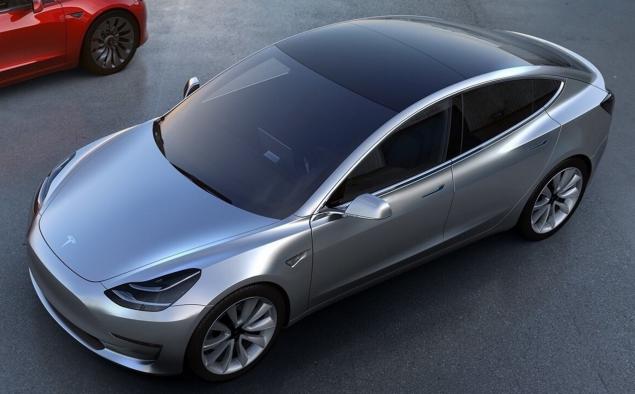 This week the carmaker Tesla Motors announced the sale of shares totaling $ 1, 4 billion. The company plans to accelerate production budget Model 3, the announcement of which caused a real stir. According to the original schedule the release of the new Model 3 was to be held towards the end of 2017. In addition, at the expense of borrowed funds is planned to increase annual production of 3 Tesla to 500 thousand vehicles in 2018.
In total, Tesla plans to sell 6, 8 million shares, or 8, 24 million, taking into account underwriting in the amount of $ 2 billion. In order to cover taxes CEO of Tesla Elon Musk is planning to sell 2, 78 million shares, without reducing its share in Tesla.
«Attracting additional capital - is a logical step for Tesla. This will defuse the current situation on the market caused by the concentration of shares in the hands of investors ", - says analyst Robert W. Baird & amp; Co. Ben Kallo.Na currently on the Model 3, the company received more than 373 thousand pre-orders at the cost of the car in the base of $ 35 000. About 8000 shoppers abandoned the pre-order, and about 4, 2 thousand orders were received from the speculators. After this information Tesla shares rose in price by 3, 2% to $ 211, 17 to the close of trading.
The sharp increase in the number of produced cars Model 3 to 200 thousand by the end of next year, Tesla greatly increases the cost of production. To this end, the company decided to expand gigafabriki batteries in Nevada. In total, the cost of production this year will increase by 50% to $ 750 million
«For us the additional investment will finance the cash buffer, a peculiar combination of own and borrowed funds on their hands", -. Said Elon Mask.Na end of the first quarter on account Tesla is about $ 1, 44 billion in cash and cash equivalents, compared with $ 1, 2 billion earlier this year. Among the owners of the shares present Tesla Morgan Stanley and Goldman Sachs Group Inc. Last acted as underwriter at the last sale of shares in Tesla.
Goldman Sachs analyst Patrick Arhambault also updated recommendations for Tesla shares, changing the outlook from neutral to buy.
Source: geektimes.ru/post/276064/