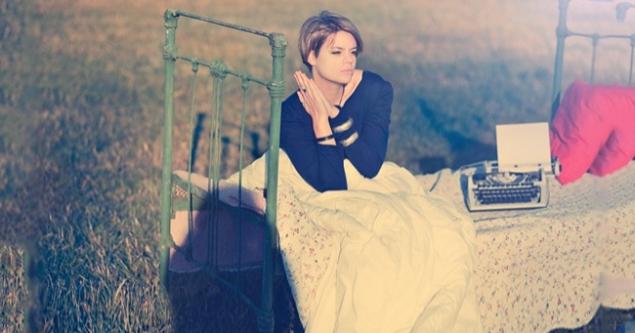 There are verses that we better understand the most native people, so that there is - it is better than we are. Sometimes, after reading the line - and crying-laughing, because it is so familiar
! Each time - its poets. < Website has decided to recall some verses of modern poets, who write so that the heart is compressed first anxious, then - easy
Vera PolozkovaFoto published bolshe_nikogda (@bolshe_nikogda).
July 9th, 2015 at 12:29 PDT
first poem composed Vera 5 years: mother enrolled her words a few rhymed lines. Today, it seems, do not write Faith can not, as she said in an interview. And the heroes of her poems, whether widowed, aging Georgians immigrant men with a bitter life experience - it's all in some way she was. Argue about her poems can be long, but the sincerity she can not refuse.
Try to eat at least one apple
Now without this his breath
of modern society, the sick tightly,
itself, in which all that bad;
without thinking whether
angle with this you would have him looked more favorable,
without deciding whether all you like about it - it is the charm of
. Stay with apple, with its grains,
Pearl pulp, scarlet side - rather than debating with illusory
opponents of the deep.
Well, how do you eaten? what do you feel?
how the minute your freedom?
how do you direct, without a share of artificiality,
statement of the nature?
cool here, right? trekked through all obstacles,
You see how much you lose by living in the mind only.
Yes, and what you may be given love and joy,
when you do not know how and apple.
Anna Dovgaleva (Lemert) 97,793,058
Here he writes about himself, Anna "impostor. Wild Hunter. Spiritually rich virgin. Ironically. At the amateur. Fomorsky changeling. About 40 000 kilometers a single hitch. Two books published. I carry a knife. Hours do not wear. »
Sometimes I do not want you to love, well, at least a few days. after a pause; with radars to leave; not to make it safer and black. Let others mourn for me, I do not want to think, not to see again. Sometimes I do not want to love you.
It angrier burning and shackles.
I am love, like The Eternal Jew on earth carries his unforgiveness. And coming century, and the earth trembles, one came over to me all, do not carry, not sdyuzhil and not live.
And my friends split foreheads, and go into the land of coffins. Sometimes love means to be. Sometimes I do not want to be.
Darkness purrs: quick, brave, it's just, I'm here, I'm here
. But spring is on my land, apricot blossom on it.
And the Earth is flying, and she sings, continuing time on it (sometimes I want to take a break from it, well, at least a few days). Ongoing time, and with it - the earth, and leaves in the foliage humus
. That is why I continue to be, and my love with me.
AstahovaFoto published Ah Ah Astakhov (@ah_astakhova)
April 26, 2016 at 3:12 PDT
She also wrote with his childhood, with 9 years. Now the poet often gives concerts in Russia and abroad. Her poems - simple and sincere - near and dear to thousands of people
If empty in the shower -. Means time to change the route
. Write legibly in the head, without ink:
if you like - must wait,
if happiness will come - then you deserve it
. no matter how much it was used years - whether young soul
and do not think, when and where will be your final.
I do not love you - safely give another
. reflection look in the shower, not in the mirror.
if the house is empty - do not be afraid to leave the house
. if the city is not the same - it's up and move away
! if you are lazy - all will be given to the difficulty,
and no one and nothing can help you.
if the enemy is you - the enemy of good
covet. every little thing in life always be open and glad.
if asked to leave - it means that you ought to,
and do not you dare ever reproachful look back.
and do not be afraid to look - such find their
! and do not be afraid to lose it any age, nor the energy!
if you like - must wait,
if happiness will come - it means that you've earned
Sola MonovaFoto published Sola Monova (@sola_monova)
. March 24, 2016 at 1:52 PDT
Her poetry is close to many girls, but often come to the concerts and severe man. The poems she shows vivid photos, and they fly in the blink of an eye on the network. Saul gives concerts in Russia and abroad and produces collections
This is not a simple illumination -. It is freedom from the pangs
. I read in the books that eventually
People get used to everything.
The man, in fact, plasticine
[The rest - a mere formalism],
Life is such a wise and long,
Because fall in love and pray.
Not reconciled with violent attacks,
Skipped going ahead,
Feel the wind bare shoulders
And grow feather wing.
Who lives in truth who - in good conscience,
Who - horoscope ... Choose
. Life is in full swing, and each has adapted,
Writing a personal paradise.
Weak happy Ahan and ohana,
A madman asking for trouble.
It just seems to me that bad,
And actually - well
Alya Haytlina (izubr) 23,188,954
Alya! He writes poems from 11 years. Her poetry was praised writer Dmitry Bykov and soloist of the group "Spleen" Alexander Vasilyev and director of the publishing house "Helicon Plus" Alexander Zhytynsky called poetry Haytlinoy "magnificent in tone, sincerity."
I work for a solar battery, I pocket the orange sun Gray, that it rose to the sky, and soon to be scratched the top of the sleeping limes. Sun catches for me fingers rays, I had tamed, and answering, the sun requests breakfast and a cup of tea, she asks him to pour straight in.
Sun so lonely walk in a circle - that's found, you know, a girlfriend, and he does not care - even love, even cursing, would talk about here is only nonsense. I carry it very carefully, because it is restlessness among other things, all the time want to jump out at night to suddenly occurred throughout the day.
I work sunny Entertainment, I feed him biscuits every morning, and then the evening tired sometimes I rub the back of his grimy. And when it's all scattered and sleep, I laundered the sun bare heel, and all because the notice spots on the sun, it would be much against the grain.
But then the sun gradually matures in puberty fries meaner, and purple spot at night Is Red, and sometimes forgets to come home. And come - hot as a roaster, says I, they say, he was no match, and I gave him a relative by blood, and that he disliked my views
. I understand that I, in general, she is such I indulge all the whims of the sun, and it is in my heart beams sticks, so painfully - and I feel so warm in my chest. Pokrichit treason, misery, deception ... and then quietly to his beckon and go to sleep quietly in my pocket, and I will be afraid to wake him.
I work as a solar battery. At dawn cool, east, turn gray, the air smells of leaves and lilac, and time would have to open the pocket. I keep a pocket is wider, so it was easier ... Sleepy Sun freckled nose wrinkled, and then goes over a quiet grove, scatters sparks home.
Chris AiverFoto published Kris Aivere (@aivere) August 24, 2014 at 8:16 PDT
Chris - not only a poet, but also a musician. Her poems are characterized by a deep sense, complex rhymes and rhythmic patterns. She loves fairy tales, and in many of its verses can be heard echoes of these stories. Chris believes that poetry - "is when you have something to communicate; poetry must lead to the light. »
Nothing sorry just before the first tears.
Places open arms of a stranger,
Punching through, be notified to the cheekbones:
Come, sit down. Tell me that he had brought.
I rolled a ball of ice half a lifetime,
I teach yourself no one to remember,
And now, look on, flinches back
Under a farewell glance, referring this back.
Light up the stars, look at the water bridges,
Ariadne tangle shakes over a pile of cards.
If you're lonely, it means that the blind is.
Will morning - see who covers the rear
. Will morning in Odessa, Prague or Moscow - No limits for singing words and stray
feet. Just if there is someone who draws along the bottom,
There is the one who comes himself and brings to light.
And this will never be lonely.
Even if that is blind.
Stefania Stefania DanilovaFoto published Danilova (@stefaniadanilova) March 7, 2016 at 12:43 PST
Stephanie only 21 year, but she was loved by many readers of the anguish and the sincerity of his poems. She writes down the recitations to music with the music and without, arranges reading, organizes recitals. And still he writes to his readers the real, living writing on paper.
Never go where banished.
Even if the back will start up again.
You forget yourself there in the original,
Not translated into the language of grief.
Do not pray for a miracle.
Do not cry out loud.
Remember, you did not come here for this.
Friendly night - not a prison, wallet - no scrip, the same day for all bright
. Never, which is bad, do not come back.
As you already ringing bells.
It translates into the language of happiness.
With the language of rain on sun tongue.
And let's shine and shimmer,
It does not happen under the sun we have closely.
With tongue lame to waltz language.
With language deserts woods language.
Do not look back to where you feel bad.
So to transfer you are given a reason to
With the language of people in the language of God,
Zero language,
The one to the mother.
According to the materials: aif, tvoyaparallel
Preview: Olga Pavolga
via www.pavolga.com/