< Felix Komarov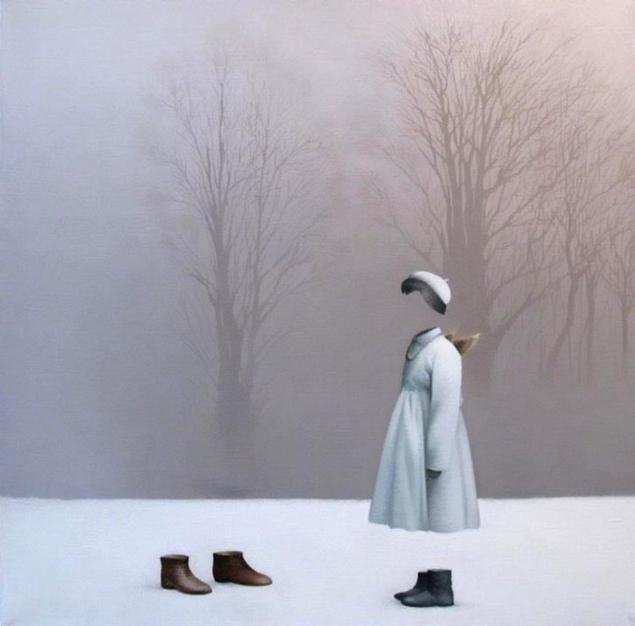 Look at yourself from the eyes of each subject frightened goats.
Smoky sky smokes a cigarette ... sos ...
It turns out that there is no blue and red do not find ...
To wake up a bad omen, as the Buddha found in the way.
And the cups, and spoons, ladle, and have their own secret way ....
Wait a little bit ... ... rest on the chest
Pours cold lump of sound ... the carousel wash down with rum ... believe
The order of God in the plan of the creator ... rolling hollow shadow person.
Much has disappeared, not even being born, the abyss looks into the abyss, and the soul is smoother
Erases shirt roar in the wind ... I see fear when lit up.
Smoked trees, smoke house and sunset feathers smoked down to the bottom.
Where the eye where the ears where the abdomen, where the mouth? "Now what I eat?" People say.
Hands, feet, face, snowstorm in darkness ... we have fun, butterfly in flames.
Not burning, dancing spirit butterfly ... spoons looking Kashi
Man - the result, all their effort, all their victories ...
But again, not ours, nor love, nor light.
I smeared darkness in thousands of hearts ...
"Say co me, do not be silent, Father»
Do not pray to sweat, only whine in the garden, I work to survive
And its end - car il award pit il flight ...
Older than a lie than the truth, who will disassemble them.
Spirit chained body. Ocean - wave ...
White on white ... I and the world with me.