American startup Arcimoto from Eugene, Oregon, is currently preparing to release in a series of electric minicar, which, according to the manufacturer's information, will be priced at less than $ 12 000.
The model, which is a kind of a hybrid three-wheeled motorcycle and a car called Arcimoto SRK. Electric car will have a cruising range of about 112 km on a single charge and a top speed of 130 km / h.
"I tried to create a simple vehicle that will not allow me to get wet in the rain and in which I could ride in the evening the city, but that it was not a full-size car. If you look at how people drive today, you will see a man almost two tons of steel chase, only to pick up a bag of groceries. This perfect madness "- says president Mark Fronmayer (Mark Frohnmayer)
. Fronmayer knows tricycle Arcimoto SRK - this is not the Tesla Model S. It is something completely different. Minicar has high-speed performance and driving range are almost the same as that of the Nissan LEAF, but it costs almost three times cheaper. This light and mobile vehicle, which led - a pleasure
.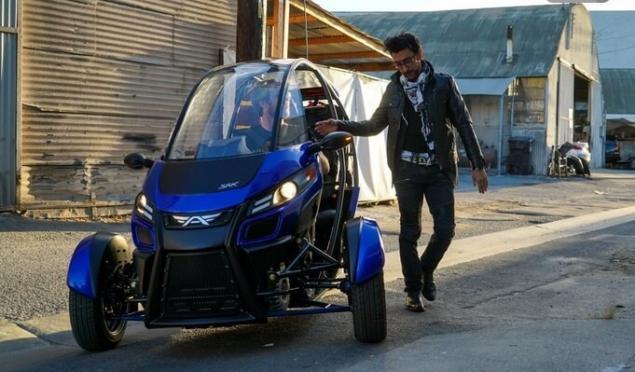 Miniature electric accommodates two people, also provides additional equipment Deliverator, in which the rear seat is replaced by a cargo compartment. Able to park anywhere where it can make an ordinary bike, Arcimoto SRK becomes simply irreplaceable thing for people who live in densely populated urban areas.
SRK is available with hinged doors that resemble the door "falcon wings" used Tesla Model X. Optionally, you can also order the roof, equipped solar panels that will charge the battery on sunny days.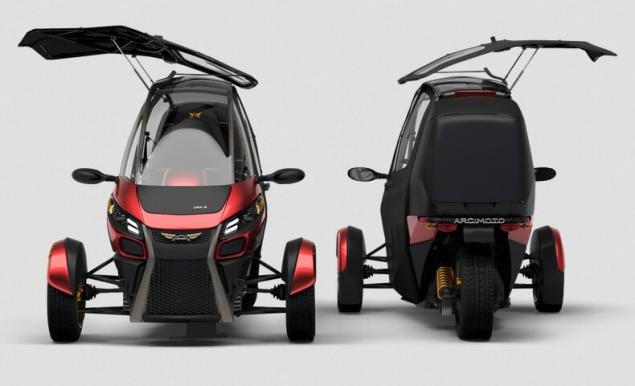 In fact, three-wheeled electric car SRK is the 8th Arcimoto model. His first prototype Fronmayer built in 2007 and now, after a series of improvements and modifications to the machine is ready to take the belt. It is expected that the first sales of the compact car will start in the second half of this year.
In the US, Arcimoto SKR included in the category of motorcycles, so safety requirements for it are less stringent than for automotive standards. Special driver's license to control the electric tricycle will need only a few states.
The battery electric vehicle uses the same lithium-ion cells of size 18650, used by Tesla. Standard equipment includes a battery capacity of 12 kWh, but for an extra fee you can purchase a 20-kilowatt unit provides a power reserve of up to 210 km.
Specifications Arcimoto SRK:
- Regenerative braking
- Multiple modes
drive - Front-wheel drive
- Mass of 463 kg
- 2 of the motor in the hub of the front wheel
- Acceleration to 100 km / h in 7.5 seconds
- Maximum speed of 135 km / h
- Accumulators installed in the vehicle based
- The capacity of lithium-ion batteries of 12 000 kWh (optional expansion to 20,000 kWh)
- Optimized ergonomics
- Power reserve: 112 km (basic version), 209 km (with extra batteries)
- Price: 11 $ 900
Reserve Arcimoto SRK can now on the company's website by making a refundable fee of $ 100.