Start decorating your house right seychasNekotorym people design capabilities are given at birth. Other coaching skills of decorating their homes and can apply them successfully. And then there are all the others. And if you're like most people, not too versed in interior design, you can help the knowledge of the basic principles of a situation.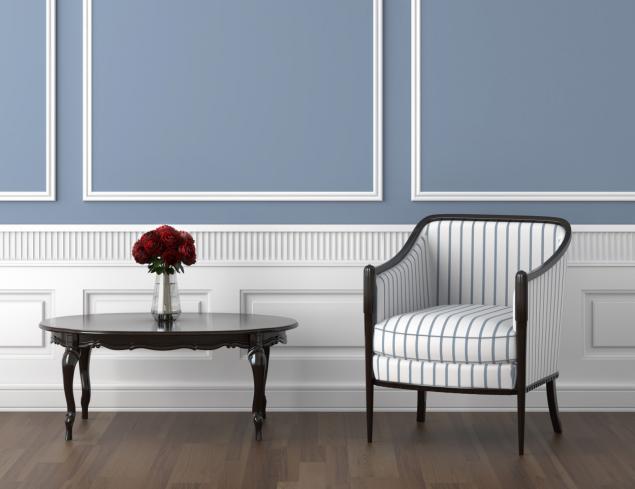 These rules decorating simple enough that anyone can apply them in practice. Your home may not seem like a picture from a catalog West Elm, but he has to look presentable.
Follow the rule of odd numbers, "you may already be familiar with the rule of thirds in the photos. Designing with an odd number as the foundation can create harmony and visual interest - explains the designer Cecilia Walker. - The basic idea is that the parts and objects that are located or grouped in odd numbers, more spectacular and more easily remembered than even the compound.
This helps classify objects of different heights, shapes and textures. At the same time, they must have something similar. This advice seems to contradict itself, but the point is that the objects in the image should be something that unites them, and that is slightly different each from the other.
Here is an example. Three vases of different heights. Basic materials identical - wicker and glass. But there are differences in the content elements - sand, water and lime fruits ».
Walker notes that the basic rule may not always work: "If any song at first glance does not look right, listen to your inner voice. The goal is to make sure that all of this is not uniform, and, as a consequence, boring ».
Find the center of his compositional komnatyKompozitsionny center or the focus of the room - it is the most emphasized feature, the thing that attracts the mind as soon as you walk into the room.
If you are confused and do not know how to begin to decorate the room, finding her focus will be a good start. Many rooms have built-in tricks: for example, a large window with a beautiful view and a fireplace. If your room is no such object, here are some tips and options for its creation.
Paint one wall a different color and add it art or shelves. This advice from an interior designer Corel Nefi.
Decide what you want to use the room and create around the composite Center, said in the journal The Inspired Room. For example, if you want to use the room for reading, make the center of the composition bookshelf.
Nefi also proposes to use as a focus just a big piece of furniture.
As the composite center you can use a large-scale piece of art. Good fit and a big mirror.




As soon as the focus point is found, decorate the space around it. Use its main color in all elements of the rest of the room. In the above example, the center of the composition - white fireplace. Red walls isolated and white candles and orchid vases, spaced around the room, emphasize it. Vases, windows and sofas are also used for the same purpose. If your compositional center - a large window with a beautiful view, you can arrange the furniture so as to draw attention to it. If it's a large mirror or an interesting piece of art, you can set off his two minor elements on both sides, as in the photo.






The point of focus helps to balance the room. The blog Apartment Therapy explained:



«The central point - the core layout of your room. It must not be exactly in the middle of the room, although it is the case in many homes. The focal point of the living room, for example, can be a coffee table or a large table with chairs arranged around ».

blockquote>




Know the basic rules izmereniyaKogda it comes to hanging curtains or furniture placement, most of us do it by eye. But there is a special measure for the decoration, which make the room look better. Here are some general rules of the measurements that need to be borne in mind:



Distance to the coffee table. Leave at least 35 centimeters between the coffee table and sofa, says decorator Mary Killen. Apartment Therapy offers to leave about 45 centimeters.
Posting of art. Placing a piece of art on a wall, place it at the center of the eye, usually located at a height of 140-150 cm from the floor, the site says Driven By Decor. If you hang some art, keep the center point of the whole composition at this level. Placing art object over the sofa, make sure that the width is not more than 2/3 of the width of the sofa. Be sure to leave a distance between the object and furniture 15-20 centimeters.
Hanging curtains. Experts furniture chain Crate & Barrel say that normally keep the overlay on both sides of the window width of up to 8 centimeters. Cornices are mounted on a 10 cm above the window. But maybe you want to look wider than the window, or higher? To create the illusion of height, you can go beyond the standard 10-centimeter, but not more than 20 cm, otherwise it will look awkward. To create the illusion of width, and do not hesitate to break the 8-inch standard. You can increase the width of the overlay up to 30 centimeters on both sides.
The distance to the TV. How far is your TV must be on the sofa, depending on its size. The simple rule of thumb: multiply the diagonal size of your TV by two. It should be such a distance between the TV and a seating area.


All of it. If the rug is large enough, you can put it all furniture legs. However, each side should be 30-40 centimeters free.
Everything Else. If at your disposal a small space, you can choose a small rug and place it so that it was not any furniture legs.
Forward. Many designers prefer to just put the two front legs of furniture on the carpet. It can tie it all together and create a sense of openness.




Consider the negative prostranstvoInogda less is better. The design of the negative is the space not occupied by objects. The most common are white areas on the walls. There is always the temptation to fill the void of any thing, but sometimes negative space speaks for itself.

Decorating negative space may seem a little complicated, but there are several ways by which anyone can do it.



Avoid clutter. This is probably the best and most common way to make maximum use of negative space. A bunch of stuff probably looks great on your desk, but that does not mean that it should be there. Leave some space in the room - a bit of negative space.
Proceed thoughtfully. Make sure that the negative space serves a purpose. You can leave a blank space to highlight the immediate area to decorate or create an interesting design.
Look to the forms. Two completely different shapes can create a country - or interesting - negative space. The curved coffee table can soften the sharp lines of the negative spaces created angular sofas and chairs in a square room. But it can not work in small spaces, where for the convenience of accounts move up a round table too close to the couch.




Distribute sources svetaOsvescheniyu can devote an entire article, but for now let's talk about what you need to know first. Firstly, there are three basic types of lighting.



Background or general lighting. Ceiling light for uniform illumination of the room.
Operating its name implies, it is designed to illuminate when performing certain tasks. The lamp in the living room can illuminate the area for reading. Furniture fixtures in the kitchen serve to illuminate the worktop.
Local or directed, is designed to highlight a particular object. For example, a picture.
You will probably want to make your home look like something special. We will introduce you to the basic principles that will help to create interiors to suit your tastes and preferences. Use these rules to get started, but do not be afraid to break them and trust your instincts, if something feels right to you.

via lifehacker.com/how-to-use-basic-design-principles-to-decorate-your-hom-1687607782