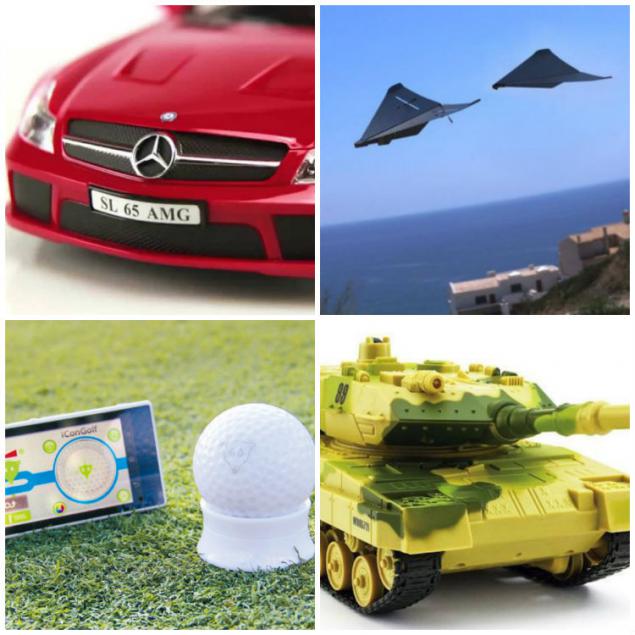 Rest may be different - for example, it is 10 minutes in between working on a new software platform for IoT. Or is it Saturday night, when you want to occupy themselves with something interesting, and as a cafe or movies already tired. In the end, the rest can be a two-week vacation at sea.
But geeks own preferences, and more often, it would be desirable for such rest occupy themselves with something appropriately. For example, to play with the robot, or send an aircraft on a flight from carbon. In the continuation of - a whole collection of gadgets that are used for interesting pastime.
iConTank
For many years, the online game «World of Tanks» beats all records. If you want to play something like that in real life, you can use iConTank. Unfortunately, Tanchiki not shoot, but the sound of gunfire issue is quite plausible.
It reproduces the sound of the engine, the sound of gunfire and more. Managed by a tank via a wireless communication system, the device is compatible with iOS, and with Android.
Features:
Toy moves - forward, backward, turn left or right, turn on the spot; communication standard - Bluetooth; twist tower at 350 °; li > distance of the connection - up to 10 m; the power - battery "AA" 3 pieces; uptime - 2-3 hours (depending on battery type); length - 24, 7 cm; width - 8, 8 cm; Height - 7, 7 cm; Weight - 210 g.
 By the way, iConTank received awards at CeBIT 2013 - the geeky toy, yes.

Ball robot Sphero 2.0



Bright ball with a large number of LEDs can not only become a favorite toy for the child and adult. It is also a way to learn to write programs for such devices. The fact that the developers have opened a software platform Sphero, and now anyone with the initial programming skills can practice in the management of the ball.

In addition, for the ball is already a catalog of applications, how to create a company and third-party developers.

Management is carried out using a smartphone. This can be controlled and the movement and changing colors of the ball. In addition, there are programs to control the ball with the help of the characters in mobile games.

Thoughtful and social component - you can set records in the game with the ball and share them with friends, and then open new possibilities, hitherto hidden.

Carbon Flyer: controlled from your smartphone carbon fiber airplane



In addition to a carbon fiber body, Carbon Flyer boasts two screws attached to the wings. Thanks to them, the airplane may be enough to gain more speed. Besides screws, there is no more moving parts for high reliability design.

Managed Carbon Flyer smartphone on Bluetooth (Bluetooth 4.0). Communication is maintained at distances up to 75 meters. But on board the airplane carries a small video camera that lets you shoot video while the airplane is in the air. You can shoot photos and if there is no desire to write video.

In addition, the airplane can be run at night - and for a person to see where the device is located, Carbon Flyer is equipped with a pair of bright LEDs. Of course, the night is to start your vehicle in an open area - trees and other obstacles will not be allowed to enjoy the flight in the dark.

This toy has collected the right amount of funds Indiegogo, and in August already start sending customers airplane.

iCess Mercedes-Benz SL-65 AMG



This is not a real car, but the exact copy. The scale, which is used by developers - 1:18, with the car can crash into any obstacles without consequences - material housing is very durable.

Managed by the device from the mobile device (iOS and Android). Avtomobilchik flashing lights, including turn signals and stopsignay. Doors, hood and trunk are not open to the salon but you can look through the window.

Proceed according to two different principles. The first - the application of the usual virtual joystick. The second - the use of the built-in accelerometer mobile devices.

In general, iCess Mercedes - This radio-controlled car on steroids, for lovers of the existing car models.

RC ball iConGolf



This bulb is suitable for a normal game of golf (although at short distances, without strong shocks), and for pampering with a remote control. The ball can glow, and riding on a given route.

With the new toys you can play not only in golf, but in football or just a race between friends. Adjustable from a smartphone, the ball accurately repeat all your manipulations, although you can program it to autonomous actions.

In general, it is quite simple toy, but office iConGolf can be a great distraction.

Osmo: children's project for the iPad with the analog Leap Motion



Osmo - is an educational platform game that combines virtual reality and the reality of the ordinary. The project uses the idea of ​​Leap Motion, whereby its capabilities are very broad. If you go on holiday with children, this toy - just what you need. Play in Osmo for hours, and this training program is interactive, not mind-numbing brain Dress Up Doll.

Osmo Comes with a small mirror, which is attached to the plate, and three toys: «Tangram», «Words», and «Newton». The mirror is mounted on the camera plate, so that the tablet is able to "see" everything that happens on the table in front of the camera.

More information about this project can be read Habré .

as O
Source: geektimes.ru/company/medgadgets/blog/252688/