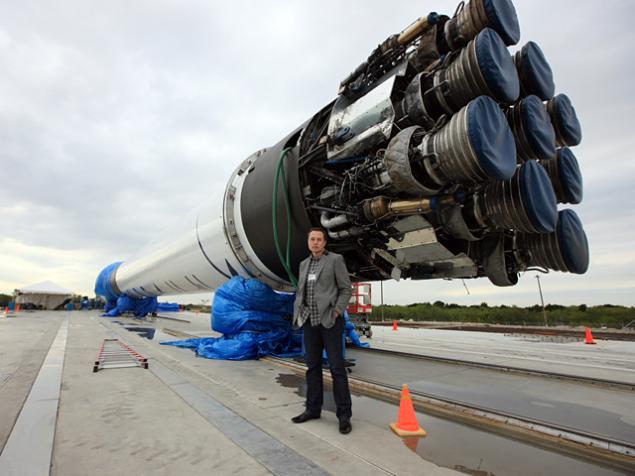 Company Elon Musk SpaceX plans to fit the Falcon 9 first stage is not an offshore platform, and on solid ground. Such a statement
сделала president Gwynne Shotwell
not going, though the details - it is not known when and where will be planted stage Falcon 9.
According to the company, landing on solid ground is more reliable than landing on an offshore platform. In the latter case, a number of natural causes (weather conditions, for example) impede the implementation of the landing stage on the platform (during the second launch of the Falcon 9 plant stage failed due to strong winds and high waves - stage had to be planted on the water).
Perhaps, landing on the ground level will remain in the upright position, which would mean a successful attempt. According to Shotwell, even under optimal weather conditions, landing on the platform - not the best option, since the minimum pitching will still (calm can be expected for months), plus a stage, compared with the platform is too big and heavy.
Falcon 9 first stage landing burn and touchdown on Just Read the Instructions https://t.co/4Te0BfT2Qn - SpaceX (SpaceX ) April 15, 2015 blockquote>
 Why did the company still decided to use it and the sea platform, despite all the difficulties? The fact that water is an additional safety factor - even if all will burn and explode (in fact, as is the case now), no one suffers because of the sea no settlements or bystanders.



Looks like Falcon landed fine, but excess lateral velocity caused it to tip over post landing pic.twitter.com/eJWzN6KSJa - Elon Musk (elonmusk) April 14, 2015 blockquote>
 Shotwell also expressed his attitude to the project Vulcan, launch vehicle whose engines authors also plan to develop recycled and used again: "They want to reduce the cost of launch. Our plan - to save the rocket itself, we are planning to send people, and take them, but the return is not possible, unless you have a rocket. "

Source: geektimes.ru/post/249234/