The new feature will be the answer to Skype Translate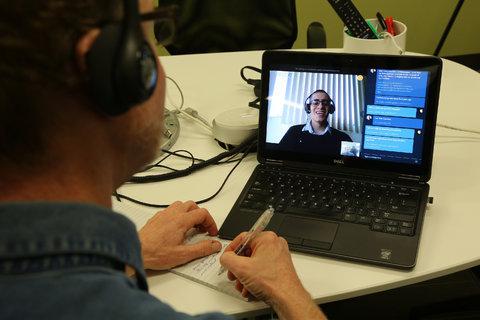 «New York Times»
сообщает
, that Google is going to release an updated version of the Google Translate app for mobile devices on the operating system Android. In the application will add the possibility of simultaneous interpretation of speech. The official announcement from Google yet been received.
At the moment, Google Translate is already able to translate human speech, but the function is far from being dreamed about science fiction authors. Smartphone need to put on record, and wait for the machine translation is ready.
The update will add a system that will recognize speech a few of the most common languages ​​and convert it into text. Translation will be available immediately.
The article also stated that with the new version of the application can point the camera of the smartphone on a street sign in a foreign language and get the automatic translation on the screen. In August 2012, Google Translate
added a similar feature, but it needed to take a photo and select the area of ​​interest with your finger.
The ability to recognize and translate the text directly from the phone's camera mode augmented reality application was
Word Lens
. In May 2014 Google
купила
Quest Visual, creator of the product. It seems that Google Translate app will get a re-branding of this function by a third-party solutions.
Demonstration of Word Lens em>

Google обещала "Almost perfect" revolutionary translation without delay even a half years ago.

According to statistics, Google Translate application is 100 million units, and as stated in the company's publication "New York Times", most of the devices will be able to upgrade to the new version with simultaneous translation. Each month, half a billion people use the service on many different platforms, helping to improve the database machine learning transfer system.

At the end of May last year, Microsoft presented translation function of speech in real time. About a month ago new feature added to the Skype . At launch it was available only two languages ​​- English and Spanish.

In October 2012, Japanese mobile operator DoCoMo showed function translation of speech in Japanese and English.
Sebastian Kuberos testing Skype Translator. Photo of Jim Wilson, The New York Times. Sub>

Source: geektimes.ru/post/244097/