Waldspirale
Austrian architect and artist Friedensreich Hundertwasser despised symmetry in any of its manifestations. In 1970 Hundertwasser expressed interest in architecture. He condemned the professional institutes of architecture because they did not give fans to practice this activity in its own way. He designed several buildings that were huge reproductions of his paintings. Among them stands out Waldspirale - residential complex located in Darmstadt, Germany. Waldspirale formed as spiral slopes which includes flats 105 on the floor 12. Each element of the building is unique, it is impossible to find two identical apartments or windows of the same shape.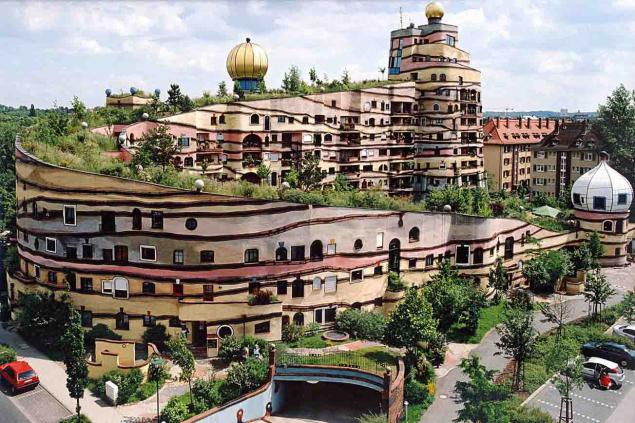 Cherrapunji Living bridges
In the depths of the north-east of India, in one of the wettest places on the planet, do not build bridges, they are grown. Live bridges town Cherrapunji made of ficus elastic, aerial roots which can perfectly napletatsya on huge boulders along the river banks. It is an ancient tradition of using rubber tree in construction technology. Some bridges reach a length of more than 30 meters from 10 to 15 years spent on the acquisition of full functionality, and they are very strong - can withstand up to 50 people at a time. Some bridges in these neighborhoods are the man for more than five hundred years!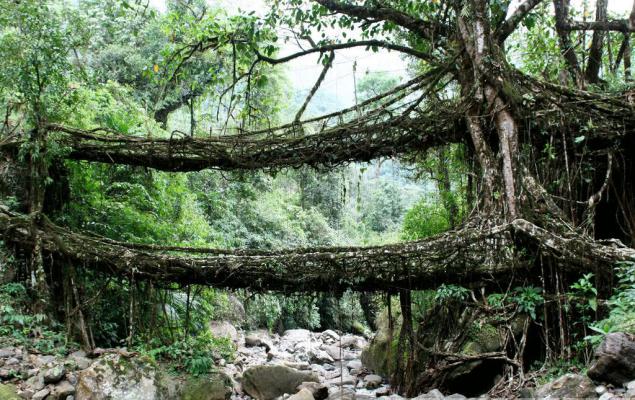 Arthur Harold Beal in 1928 he moved to Cambria, California, where for 30 years he worked dustman, after which he was dismissed because too much time spent on garbage collection. Then Bill decided to take his building project, started on a piece of land they bought out for $ 100, which later went on for 50 years. Applying a toolbox, Bill began to lay the foundation of stones and concrete. Construction was carried out mainly due to the materials that Bill collecting the trash, even the interior was decorated with the fact that he found in the trash. This building received in 1981 the title of "Historic Monument California»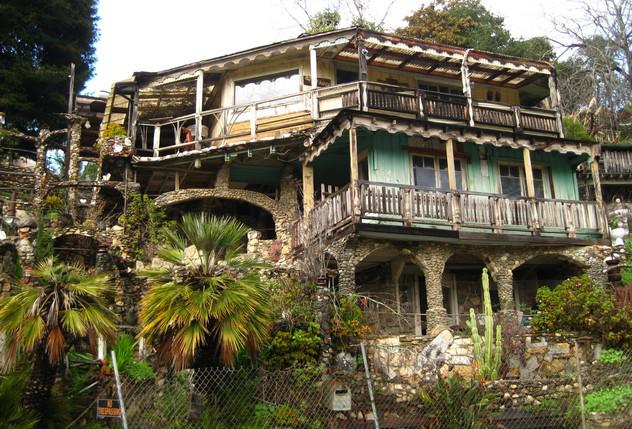 Nakagin Capsule Tower-
In 1970 in Japan, a new architectural movement called "metabolism". One of the most famous projects of this movement was the tower of capsule Nakagin in Shimbashi, Tokyo. Built in 1972, the building consisted of 140 concrete capsules interconnecting its two towers. Each capsule acting as a single apartment. But these apartments were not popular, and soon the tower was abandoned.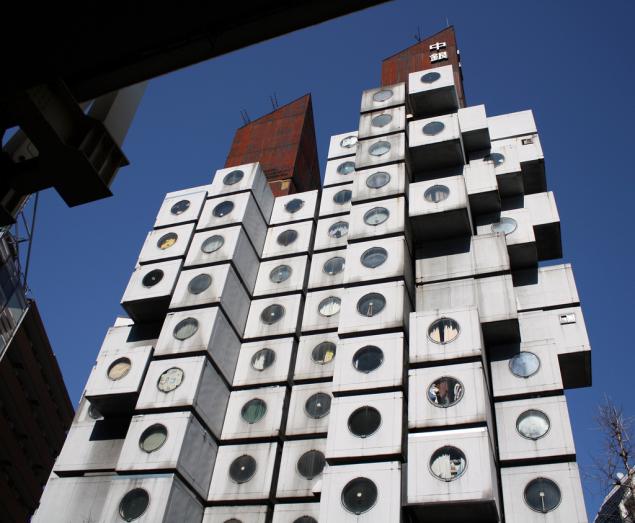 Ideal Palace
Joseph Ferdinand Cheval from Sharm-sur-Lerbassa, France, in 34 years with the help of the most unpretentious tools built his palace. In 1969, Ideal Palace, and in 1975 and the Shrine, were officially recognized by the government of Charles de Gaulle's historical and cultural monuments.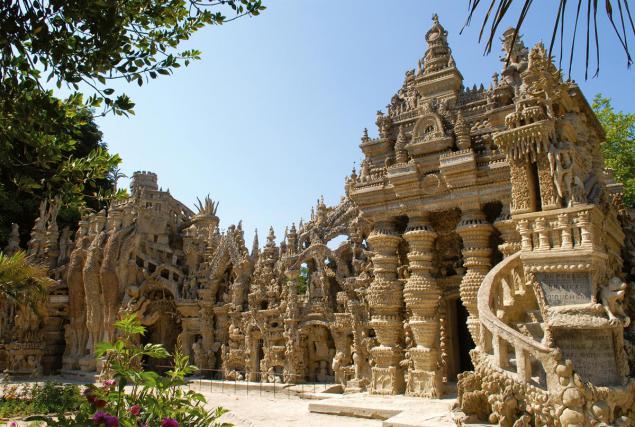 Gate Tower Building
Sixteen-office building in Fukushima-ku, Osaka, it is noteworthy that the highway passes through it. Building owners had to install additional soundproof corridors, as well as not to use the elevator on the first four floors.
The smallest house in Britain
Located on the waterfront of Conwy in North Wales. House only reaches 1, 8 meters wide and 3 meters in height one. Despite its size, it has been inhabited by humans since the days of the 16th century. The last occupant of the house was a fisherman named Robert Jones, the growth of 1, 9 meters, which in 1900 moved.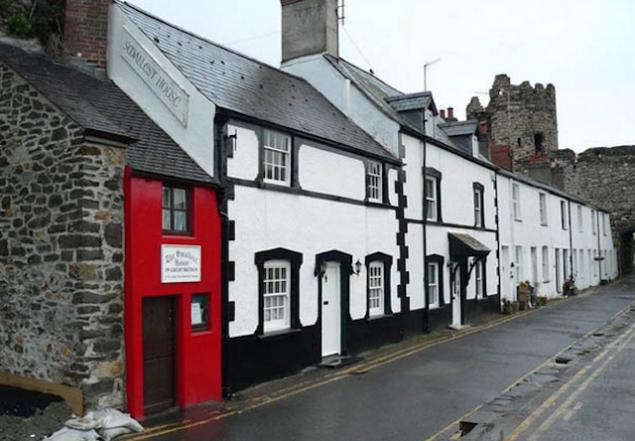 The lowest skyscraper
12-meter four-story building in Texas. Legend has it that the building was built during the oil boom in 1919, when the neighboring town was discovered rich deposits of oil. Thousands of residents took the opportunity to Wichita and sold the rights for subsoil use in no time become millionaires. An endless stream of visitors to Wichita Falls seekers oil was too great for the town. Deal with the oil companies mainly committed in tents set right along the streets of the city. This lasted until until a McMahon not figured out how to solve this problem. He promised to build a multi-storey building in the neighborhood with a successful local hotel St. James. After submission of all necessary drawings, McMahon immediately gave investors shares in the amount of 200 000 dollars. The only thing that was silent at a meeting with investors McMahon, was the fact that the scale of his drawings was listed in inches, and they were very excited about the upcoming project, to notice this annoying little thing. Upon completion, investors were shocked by the tiny size of the building. At that time, McMahon, of course, long since gone.