When you go on Vietnam by car, simply amazing incredible amount of goods that are sold along the roads. Here you can buy anything - from chips with beer to large wood and stone sculptures.
And okay, these stone statues caught my eye once or twice, but no, they are sold in quantities such that it seems as if half the country is occupied in their vytesyvanii.
But, as it turned out, in fact it is not so.
On the way from Hanoi to Halong Bay, we stopped at one of the factories, where from a single block of marble and stone hew true works of art.
28 photo.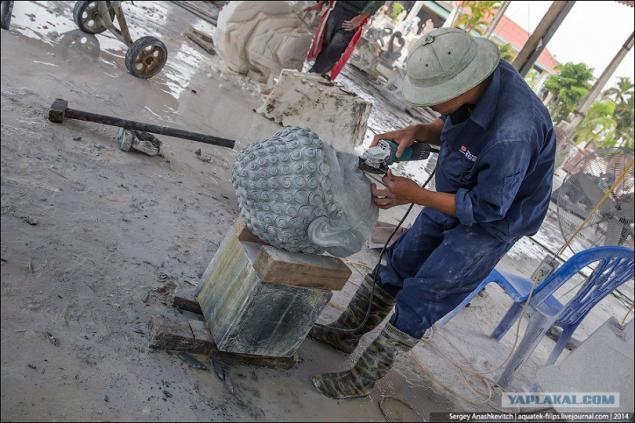 2. Lions, Hotei, fish, and whole figures futuristic sculptures.
From small, fist-sized to large, tall with a two-storey house.
All this stuff is sold only in bulk along the Vietnamese roads.
If you stay in some of these points and go into the yard, you can see with your own eyes how these stone figures do.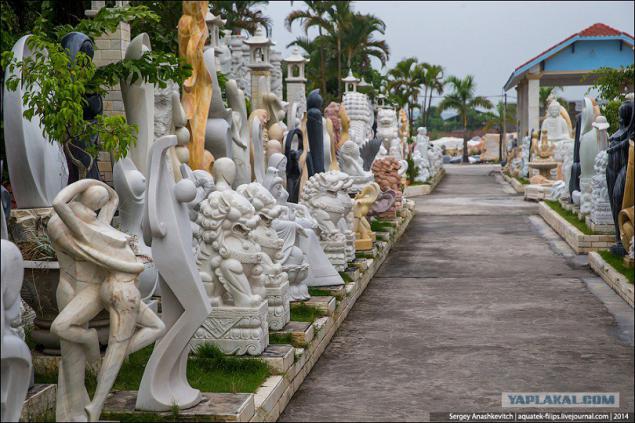 3. All production - two large canopy under which are blank, half-made pieces and almost finished sculptures that have only sanded.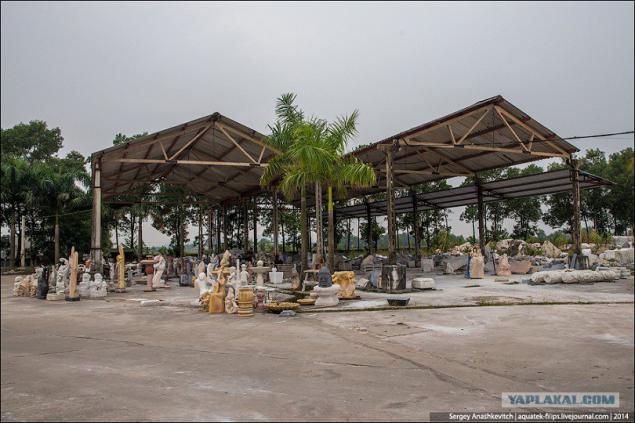 4. Here, in the open air, is raw.
Huge chunks of marble and stone, which zdut the wings turn out shapeless pieces into a beautiful sculpture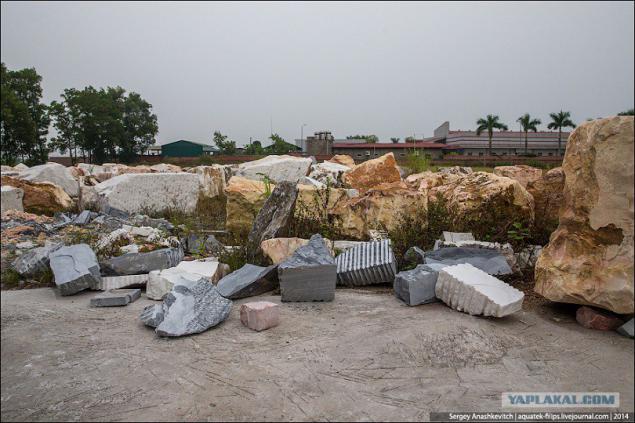 5. Neighborhood "warehouse of raw materials" and primary processing plant is very symbolic.
In the photo at all seems like stones, slowly crawling under the canopy, take shape and contours of a future article and figures.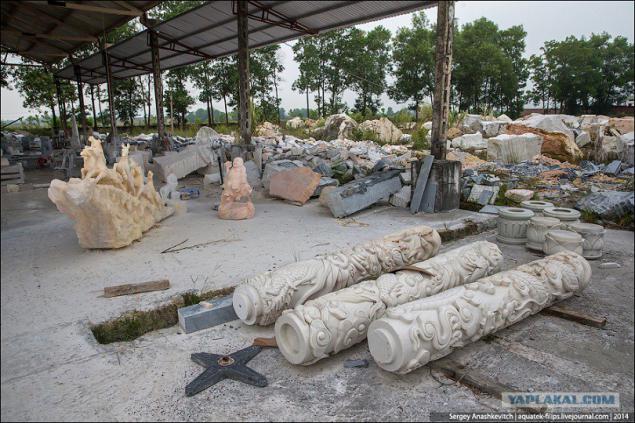 6. Semi lions among fragments of stone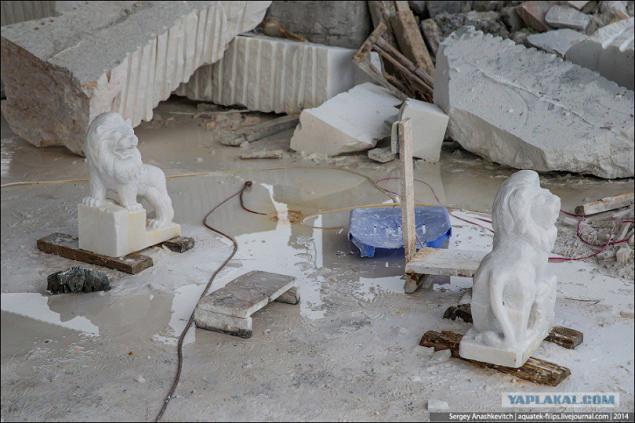 7. From this lump already started hew chariot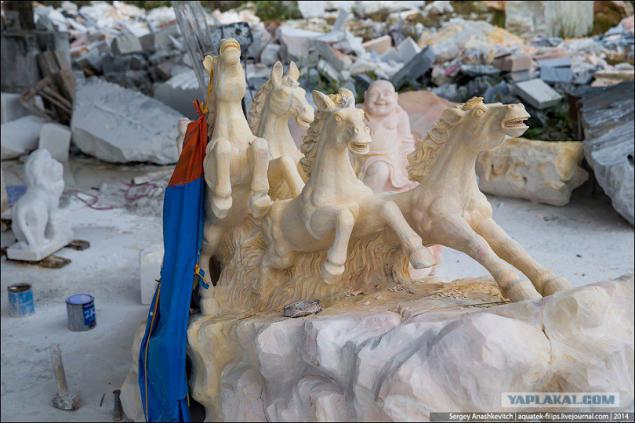 8. While we look half done figures come to work stonemasons ...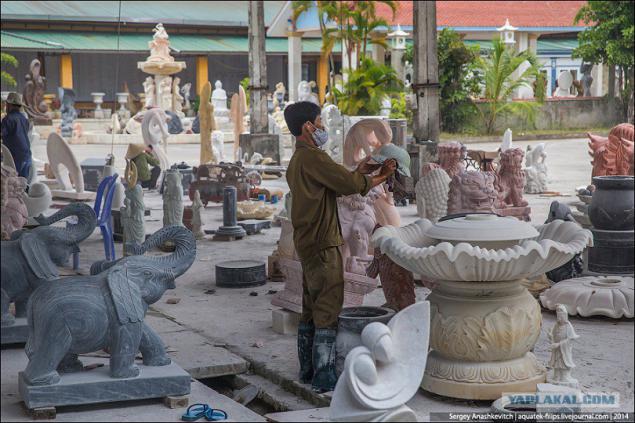 9. And then he rips the silence howling grinder ...
Yes, most of these figures do not with a hammer and chisel, and with the help of the Bulgarian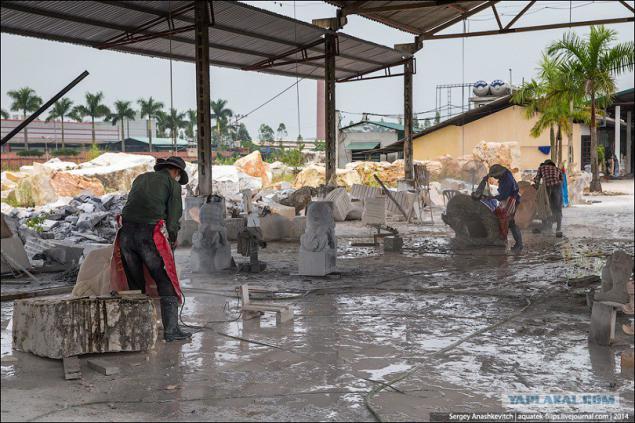 10. The Bulgarian allows much faster to give the desired shape boulder.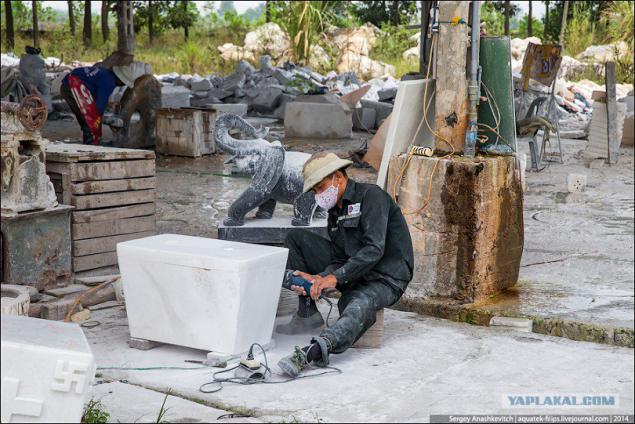 11. It would seem that such beauty ... and done in such a simple way.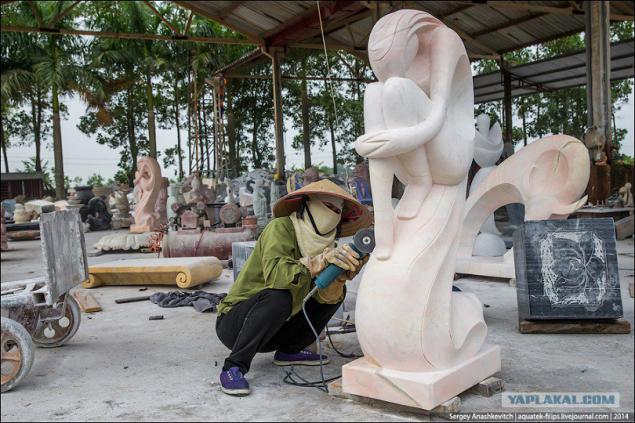 12. The second indispensable tool stonecutters - water.
With figures should always wash off the dust and heating and cooling stone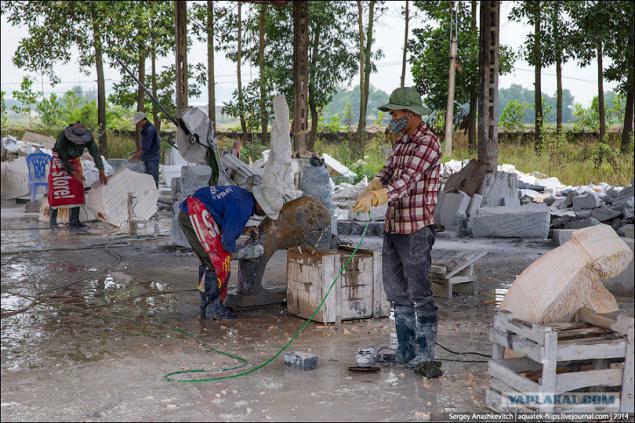 13. Fine finishing is done with the help of tools like Sverlova "Dremel».
Different nozzles allow you to make the depression inducing fine lines and shapes to give the feeling that they are "live".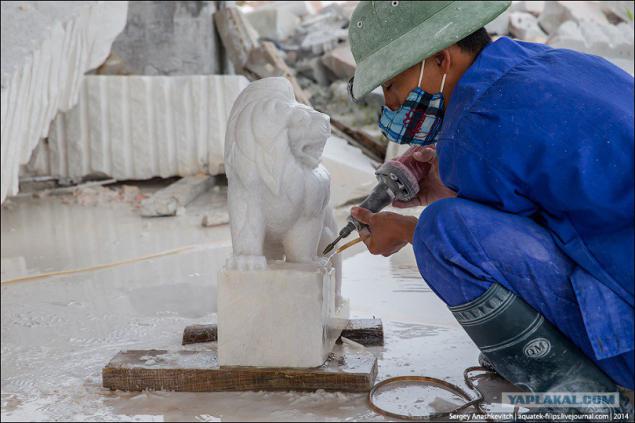 14. A little more about the whole process with an example.
This guy is finalizing ordered a wealthy Vietnamese head of Buddha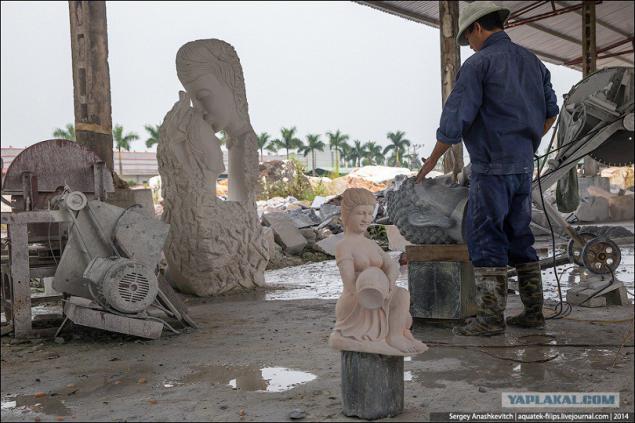 15. Here are all working Booze drawings and diagrams.
All art on view stonemason.
And, I must say, it manages to perfectly embody their opinion in stone.
Tries ...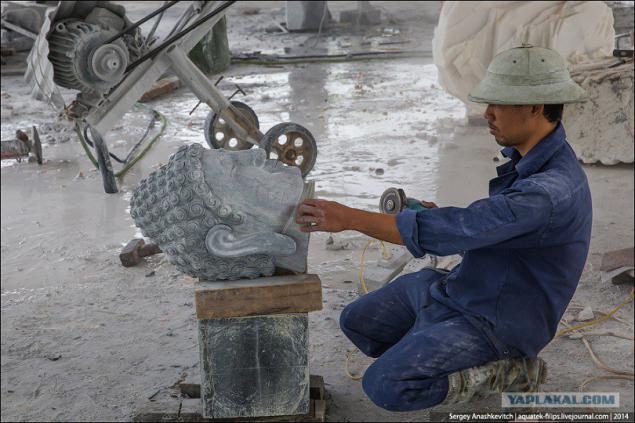 16. Gently podtesyvaet like shaves thin bristles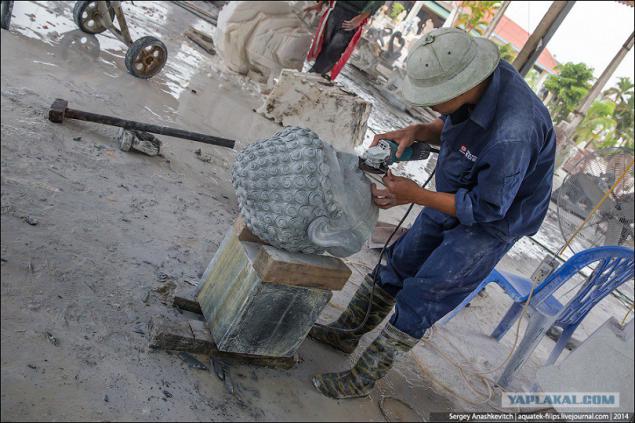 17. Then the waters to wash away the dust and see if there is enough removed the thin layer of stone, or need more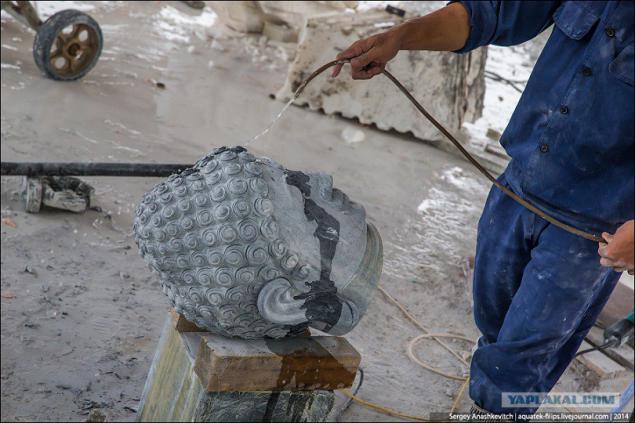 18. Wash your face ...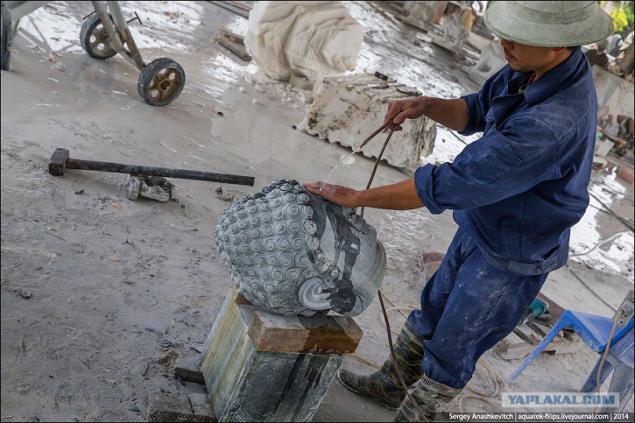 19. No longer bristles pricked, well shaved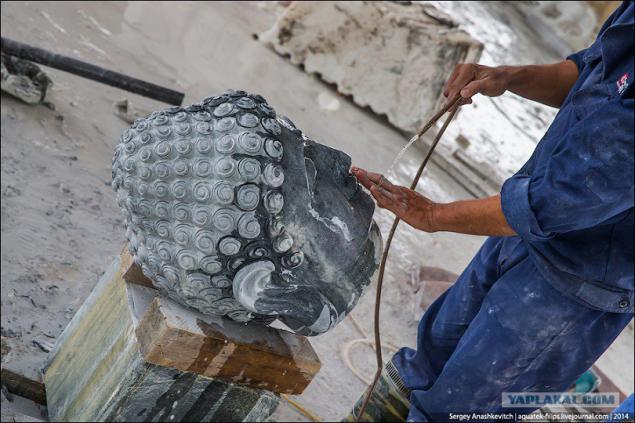 20. Small figurines Khoteyev waiting polishing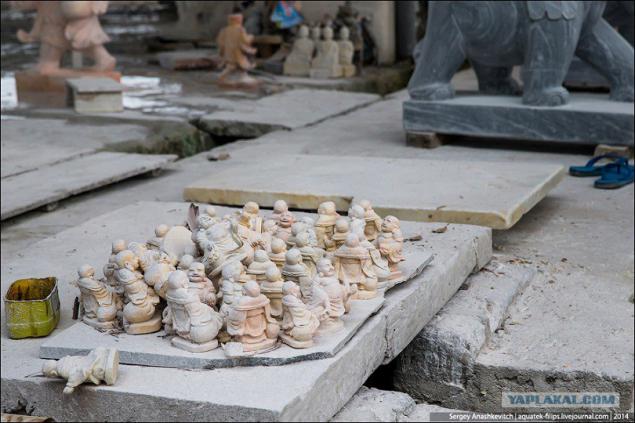 21. When figures polish, they look completely different - rich, beautiful, lush oriental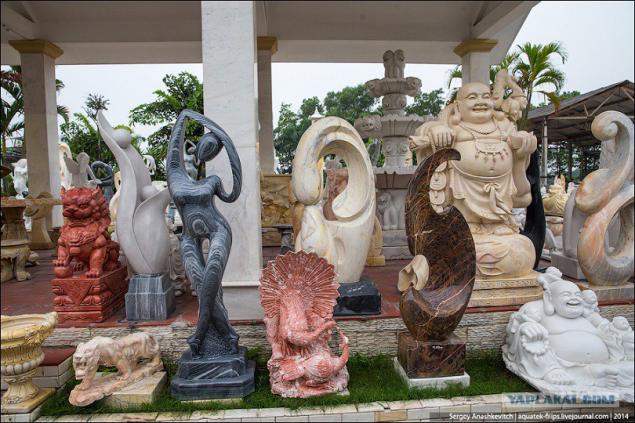 22. Classic Vietnamese lions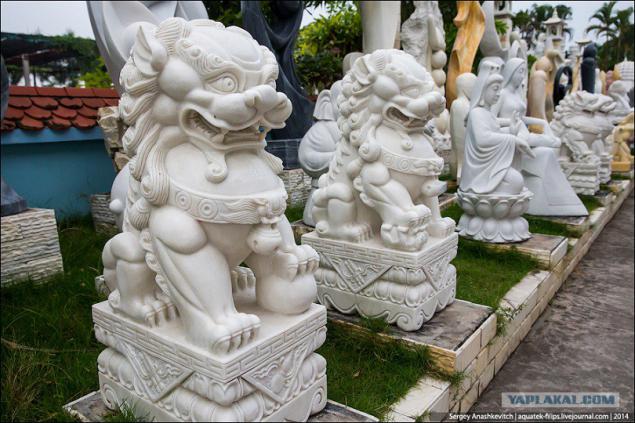 23. Trio gods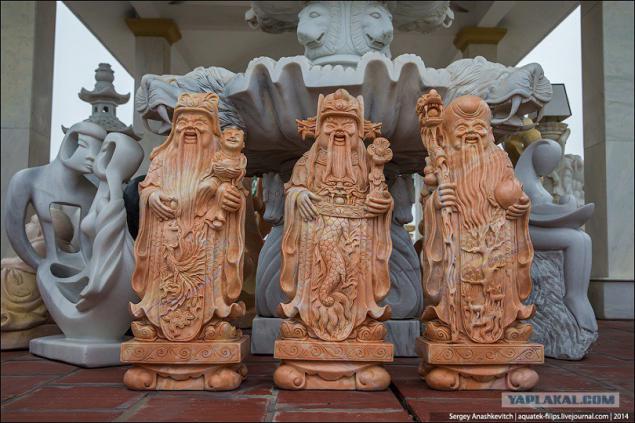 24. A carved fountain and many figures await shipment to other outlets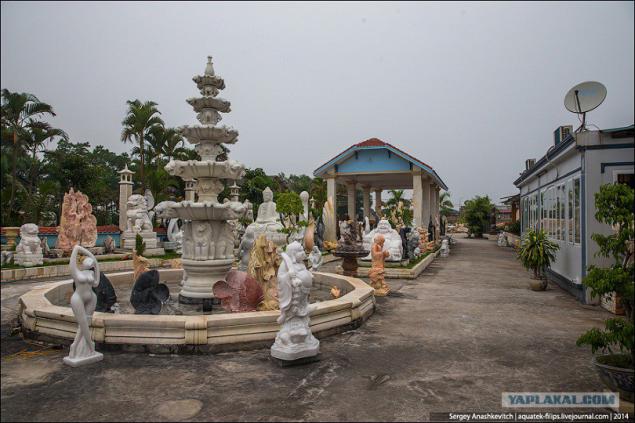 25. Bristling tiger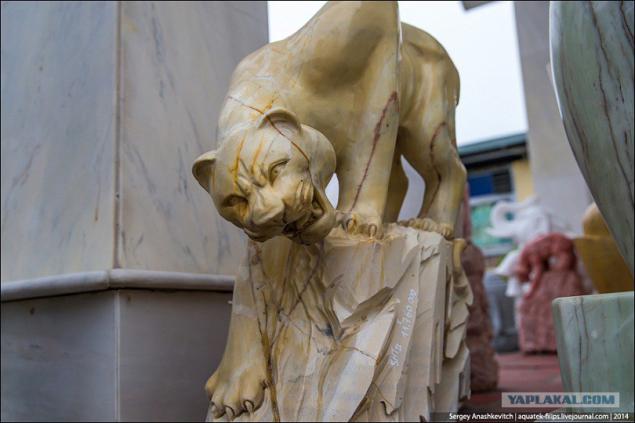 26. Love idyll
27. And in the back of "factory" set of figures, which never managed to find his life in stone ...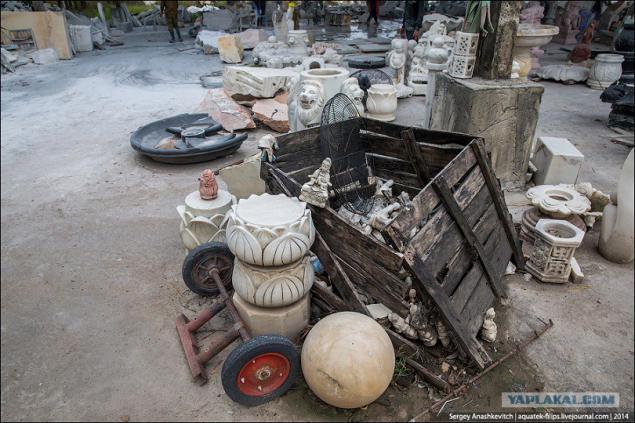 28. They are dumped into the box, becoming completely useless piece of stone
29. Who knows what he wanted to embody stonecutter in this composition ... but batted chin and figure sent to landfill. livejournal.com