Aesthetics bullfighting, female bullfighter and gypsy motifs, the design duo Dolce & Gabbana presented a feminine sexual collection inspired by Spanish tradition, going back to the origins of the DNA of the brand with the hot Sicilian roots.
The contrast of ideas as the main theme of fashion shows complement each other as Domenico Dolce and working in one direction, and a Europe that is able to be so different from a cultural and historical point of view. History of contrast, the inspiration for inspiration, silhouette behind a silhouette.
The Spanish influence on the culture of Sicily can be seen in each image presented on the podium. In a year when the famous brand proudly approaches its 30th anniversary, the designers are inspired by the most memorable themes of their own collections, which brought him worldwide popularity and recognition.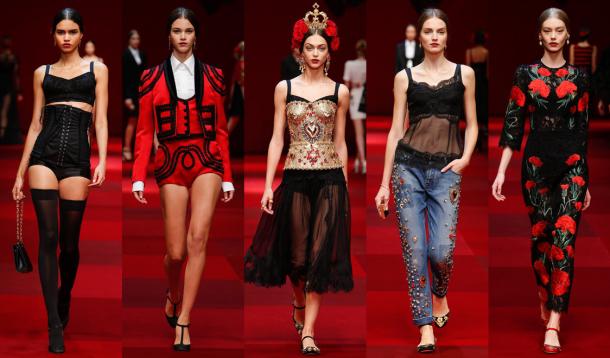 The images show a collection of Dolce & Gabbana, spring-summer 2015
The Spanish influence on the cultural heritage of Sicily in the period of 16-18 centuries is clearly reflected in the prints "peas" and red carnations, decorating light chiffon dresses.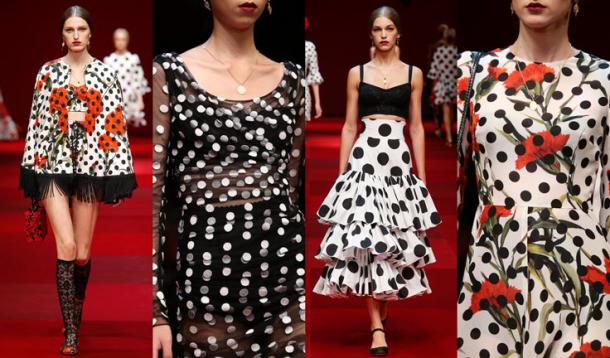 The motives of passionate flamenco dance became the second main theme of the collection. The abundance of black chiffon, lace, sheer fabrics and bandage corsets - all a tribute to the traditional aesthetics of the brand.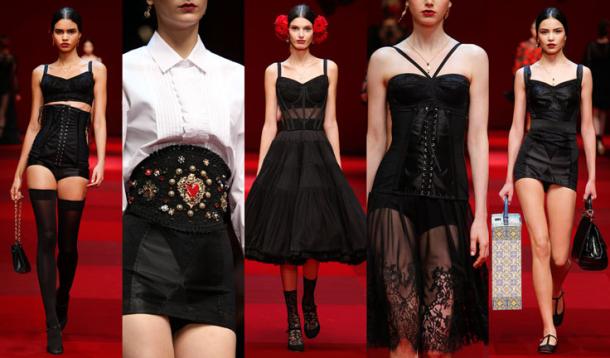 Appeal to religion is characteristic for each collection of the brand. Spring-Summer 2015 was no exception. Religious motives are traced in thematic prints enshrined in the hearts and Catholic symbols, the abundance of elements and gold tiara with rich decor, adorned head models.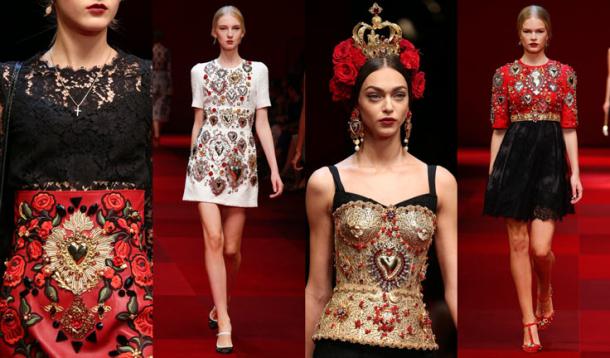 Working with exquisite lace for Domenico and Stefano received a new breath. This time the designers turned to the possibilities of modern technologies in order to maximize visualization of embroidery.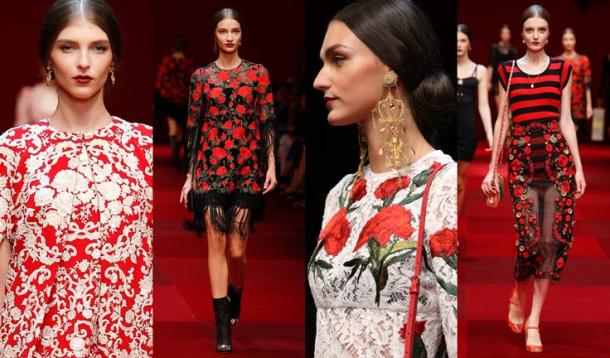 Designers could not do without another favorite material - denim. Luxuriously decorated jeans have got into the coveted list of must-have purchases upcoming spring.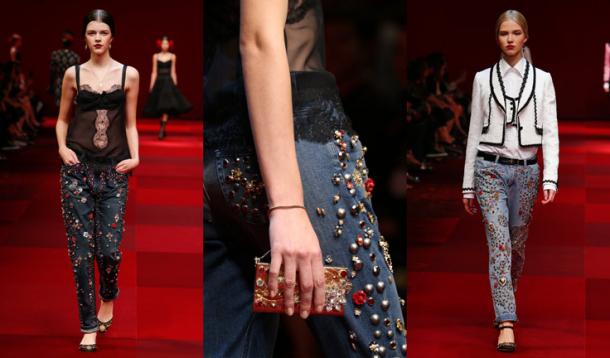 Emphasis was placed on the shoe heel, but neat ballerina occurred.
Sometimes images of the models looked familiar, recalling the previous collection of the Italian House. Playing on the contrast of red, black and white, shiny gold accents and feminine seductive elements, perhaps, a memorable collection of spring-summer 2015 by designer duo Dolce & Gabbana.