Post-Olympic Sochi, or the future of Russian Nice: How does the resort area of ​​Imereti, where "square" costs $ 4200
Back in late March, the Russian company "Glavstroy Development" announced the sales of apartments in the resort area of ​​Sochi "Imereti". Against the background of the stories experienced bloggers that streets and beaches of sunny city like never empty and reminiscent of the "casting", such commercial "initiative", which started at $ 4200 per "square", caused a lot of gossip and speculation. Bloreg Alexander Belenky decided to personally make sure that the same is happening today in Sochi and a housing offer for such a lot of money developers.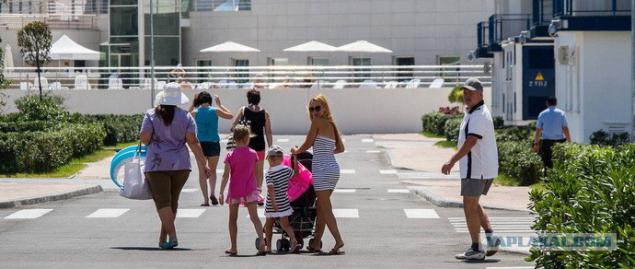 2. Want to know what happens to the Olympic venues in three months after the Olympics? I this is not haunted. Someone wrote that the dead city, all abandoned. I went to see whether this is so.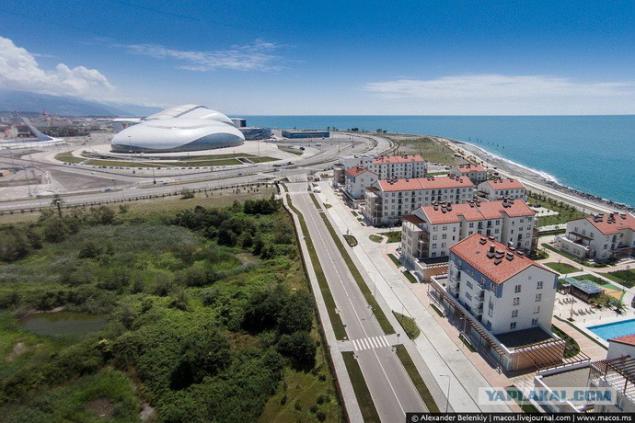 3. Upon arrival in Sochi airport meet such wonderful girls here.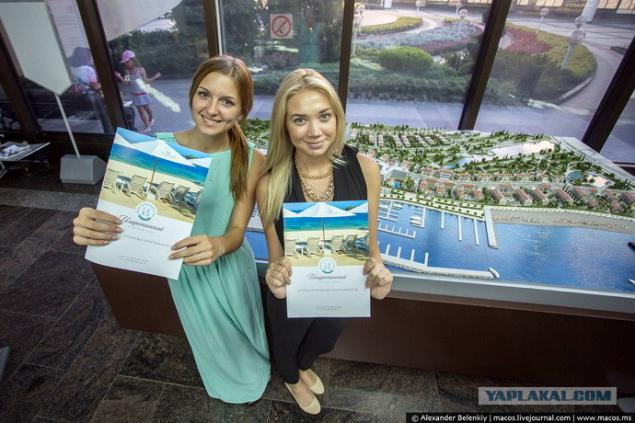 4. I have visited several facilities built for the Olympics, and so far everything I saw, operated or rebuilt under the new needs. There were projects that were built specifically for the Games, but their main purpose - the commercial.
For example, the coastal Olympic Village from the beginning conceived as apartments for sale. Three years ago there were swamps and grass as a man, and now the whole area on the beach.
Olympic Park during the Games were able to visit many. It is shown on TV, upload photos to the Internet. The Olympic Village has remained behind the scenes. There lived the athletes and would not let anyone: safety and operation.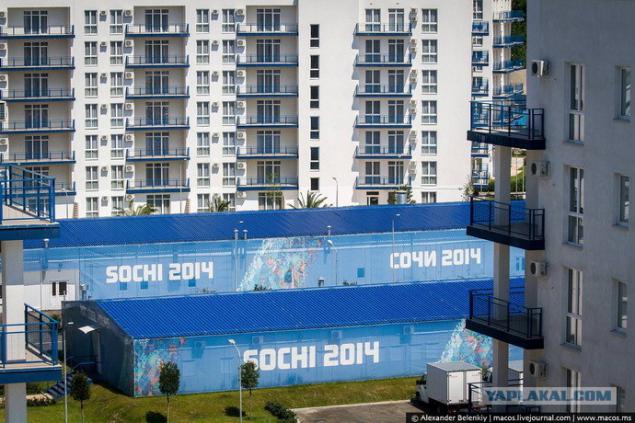 5. Now here can hit each. Furthermore, guests are welcome. Once the Games are over, all the athletes left for their countries, nearly six dozen residential buildings were transferred back to the developer.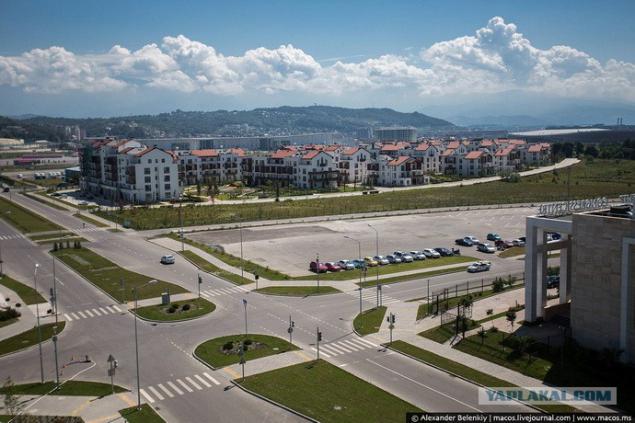 6.I now building prepared for further exploitation of apartments in newly built houses will be rented or sold. Called all this resort area Imereti, in honor of a place name lowlands, where.
Of promotional leaflets, and external design, it is clear that this resort premium: that is not the room with my grandmother for the summer shoot in an old house in the distance from the sea. By the way, is not the whole area was used for living athletes, there are absolutely "pristine" apartments. In Imereti four sets, different in style, number of floors: Coastal, park, reserve or marine.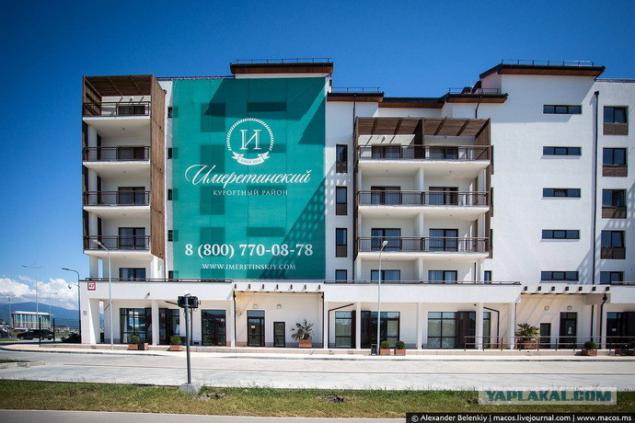 7. Not only that, you can buy an apartment, it can be removed. In the summer, for a month, but at least for a day! In coastal eleven seven-story building is white, and the apartment here can be "rented". According to the principle of "tenements" Petersburg imperial times. It's fine, I regret that such does not exist in Moscow, although well developed abroad. When the house has one person or company directly and tenant rents an apartment. It pays fees and receives service, maintenance, cleaning, parking. All inclusive. So it is here. And since Sochi - a resort, there is also included pools, cafes, restaurants, even a seaport! Immediately planned the mass of interest: yoga, school jetski and yachting, tennis courts and volleyball courts.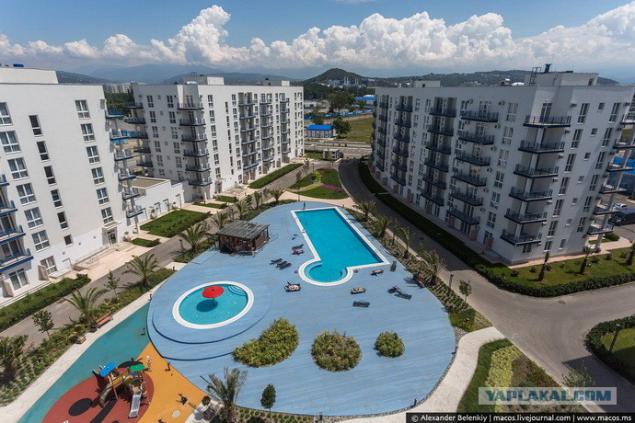 8. Sochi Airport is a ten minute drive from Imereti and glide slope is located almost above the coast. Inside the houses aircraft noise is not audible.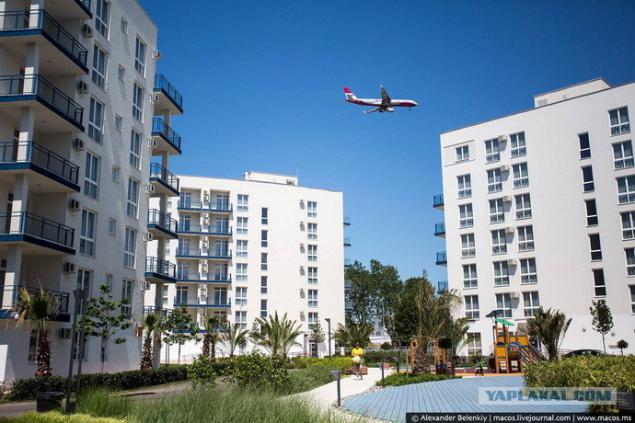 9. I asked her to show me the most standard apartments that can be rented. It is also the most small apartment studio, only one room. To choose from "odnushek" to huge four-room dwellings.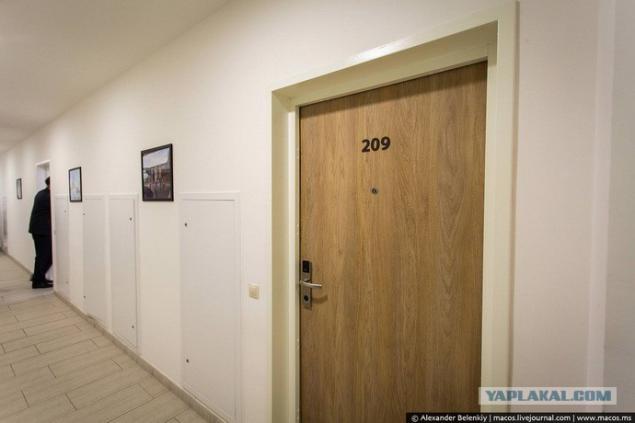 10. All the furnishings, which is convenient. In this room the size of a lot more than a standard hotel room in a four star hotel.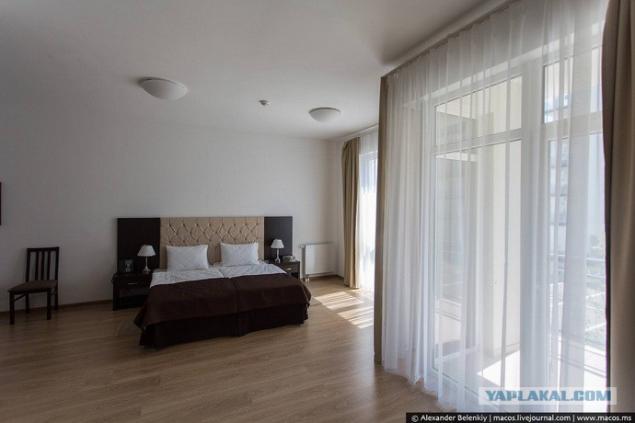 11.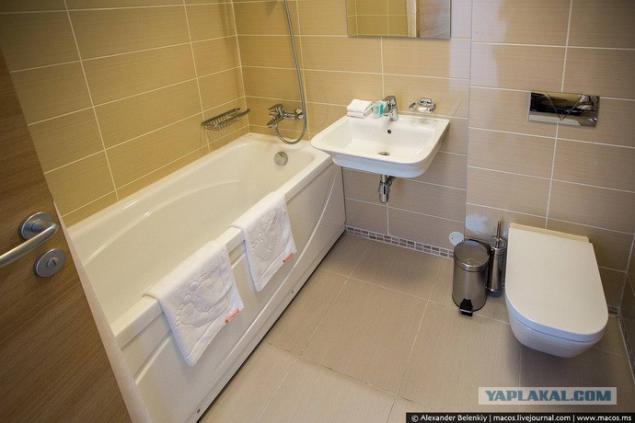 12. How it all worth it? This one-bedroom - $ 50 per day, but the monthly rent - $ 800. I do not know whether it is expensive for Sochi, but for Moscow, in a good area and a new house - inexpensive. Despite the fact that Sochi hotel room ready to deliver at least $ 70 per day.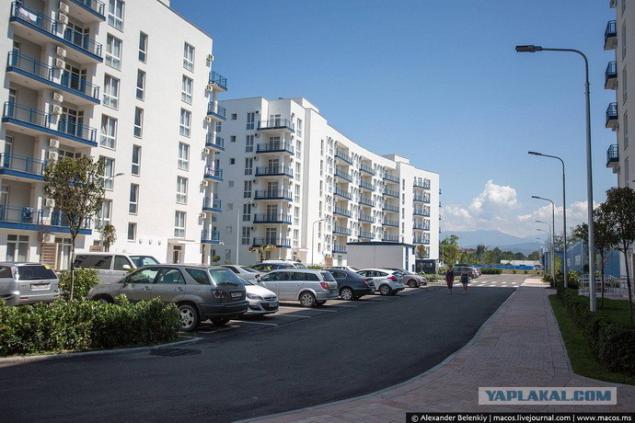 13. At the time the lease is available parking space. The complex has a fitness center, SPA, playgrounds, swimming pools. And, as I said, a number of restaurants. A car will need only to go somewhere far away. According to the district is best to walk or ride a bike or Segway, which can be hired, here.
14. The first time I saw a robot cleaner for the pool. He goes, collects dirt, twigs and leaves, works on the principle of a vacuum cleaner.