Can you live in a big city without a personal vehicle? In Russia, it is difficult to imagine. People do not even admit the thought that someone might limit their comfort travel by car through the city. Look up any post about paid parking. Be sure to find a bunch of motorists who believe that they have attached to the machine a piece of land in the city center, or right next to the entrance where they should put their car. I wonder how motorists survive in other cities?
I asked my friend Kostya moscowlondon write whatever they have in London things with parking? How to survive in London motorists? Next Bones lyrics, and my photo:
"Varlamov me for several months and terrorizes crook asked to write about how things work in London with cars and parking. And every day I promise to finish and truly believe that I shall add. When I promise. But today is not otnekatsya, so I write as it is. About machines and parking.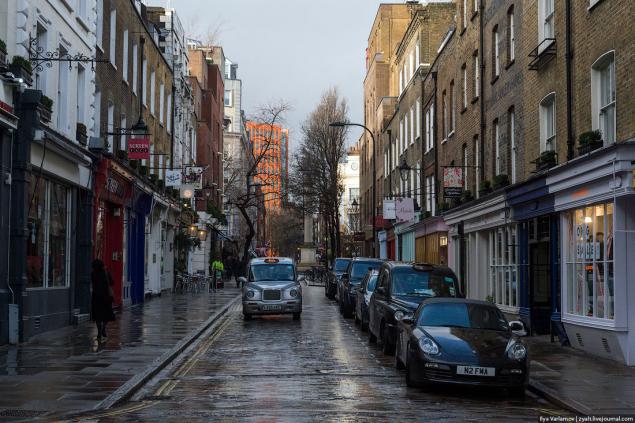 A car in London - is the exception rather than the rule
Let's start with the fact that London - it is rather a red double-decker bus, subway and black cab than the private car.
Towards the center of the vast majority of Londoners are not going by car and public transport. Machines disappear from the streets Nerezinovogo years now 20.
I post about Metro said it - many people do not believe. So this time, and not too lazy to find the official statistics. See, in 2012 in London, 45% of households do not have a car. London - is the only region in the UK, where the number of cars is reduced, but not growing.
I imagine it is fine to have noticed. Over 8 years of living in London, I totally lost interest in cars. When he lived in Moscow - with closed eyes could distinguish all brands of cars, know the approximate prices for different configuration of any BMW, thinking, dreaming, wondering, I knew what my car is when I earn X or Y million. In London release. It became absolutely indifferent vehicles.
On machines then go family - scatter children to schools and kindergartens. And again - probably those with two or more children. Youth and simply those who do not need to transfer large amounts of goods to different points of the city - ride bikes or public transport.
By car and drive, it is mainly within their district. If you need to go to the center, even if you have a car, it is likely that people will prefer public transportation.
And this despite the fact that used cars are 2-4 times cheaper than in Russia.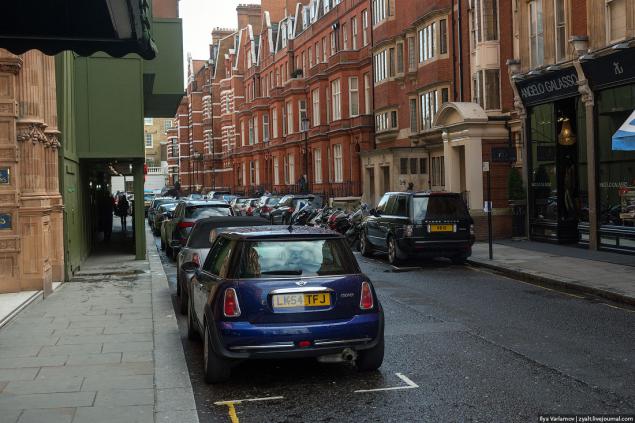 The explanation is one thing - travel by car is very expensive and not very convenient. Expensive not because the machine is expensive, but because insurance costs a lot of money, gasoline twice more expensive than in Russia, for entry to the center you have to pay £ 11.50, which is about 670 rubles on the current exchange rate. And then still need to park.
How much is parking in London?
The simple answer to this question - in different ways. There are so many components - an area popular place, time of day, and so on. In any case, it will be expensive. Much more expensive than in Moscow.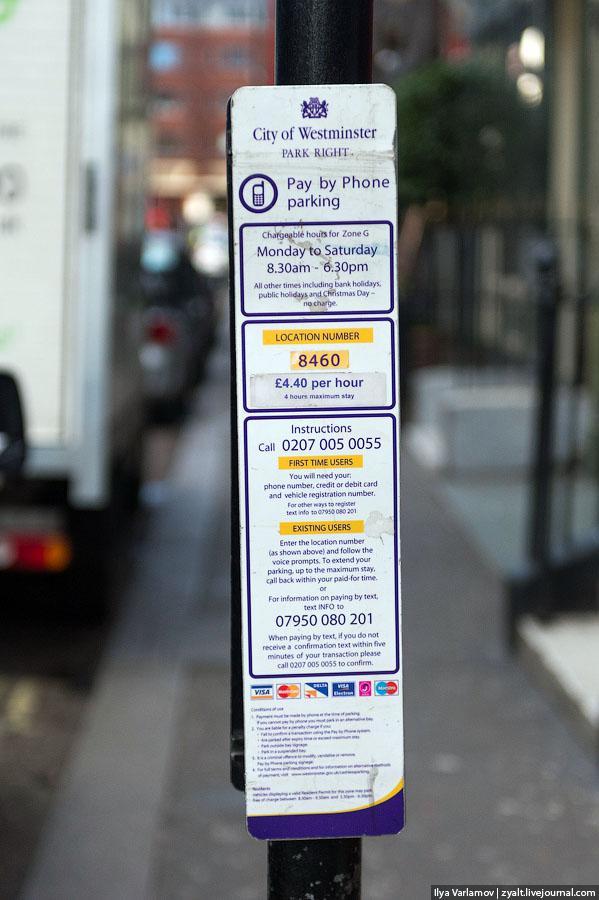 Let's show the price range and a couple of examples. Of course, there are a million exceptions, but in general - in the center of on-street parking will cost between £ 2.4 to £ 4.4 per hour (ie, from 140 to 260 rubles per hour). Who likes to delve into the intricacies - details here. Even as a bonus track sometimes you have to travel around to find a parking space. And yet more than 4 hours in one place often can not stand - the penalty will be discharged.
That's the price for parking in the center - 23 rubles for 5 minutes (276 rudders per hour!). Can be no more than 2 hours!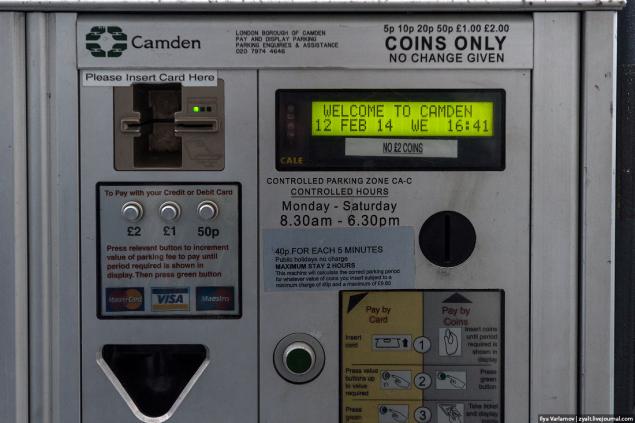 Covered parking with varying degrees of protection - from 5 to 15 pounds per hour (300-900 rubles per hour). In the residential districts - 2-3 pounds per hour (120-180 rubles per hour). On a special website can see concrete examples - there map of central London, with an indication of parking.
Paid all quickly and easily - or shower the money into the machine and get a special piece of paper, which hung on the window. Or pay by phone, indicating the number of the car.
Are there exceptions?
Yes - at night you can park for free :)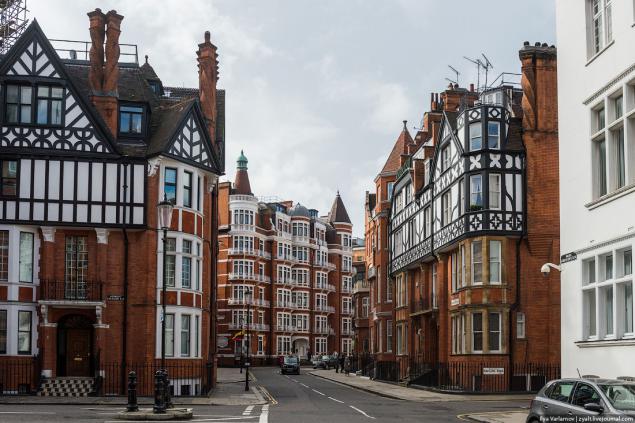 In most areas of the center of the money for the parking charge from 8.30 to 18.30. Where many theaters and restaurants - there is also a fee on Saturday. Sunday is usually free.
And at home something for free?
Differently :) Let's start with the fact that there is no guarantee that you'll have to park near the house. Parking may be absent. Modern building complexes is based on the fact that no one has a car (car free housing so-called).
In poor areas can be found typical Russian painting - all parked sidewalks.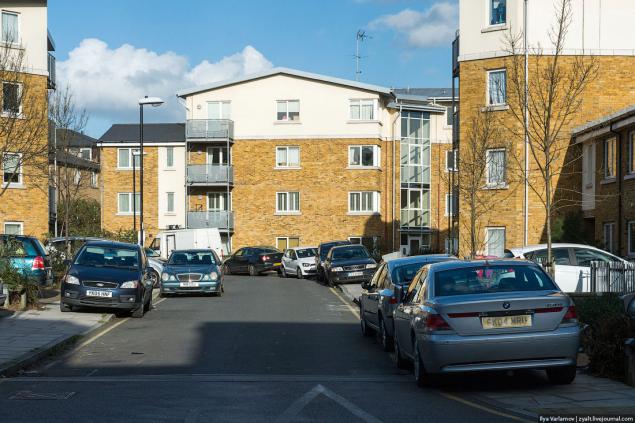 Sometimes there is parking in the basement of the building, but it is worth the extra 50-100 pounds per month.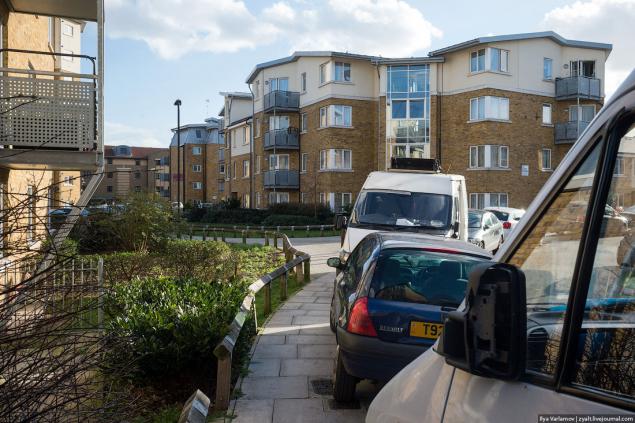 Sometimes you can hide in a narrow passage between buildings.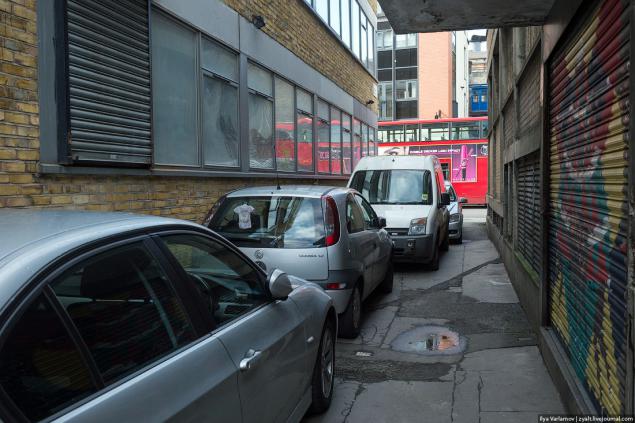 As in Russia, when in London someone locked, leave the phone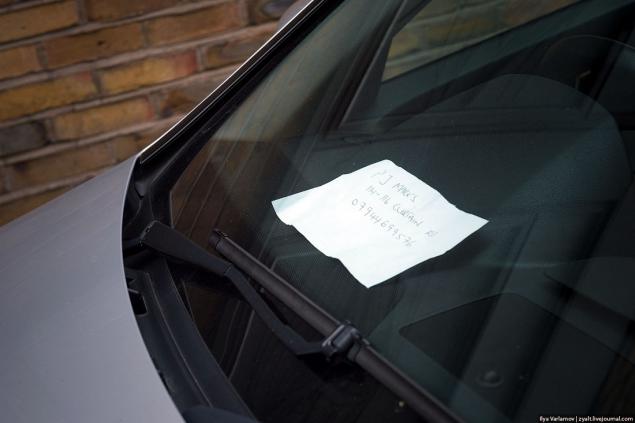 But it is very rare.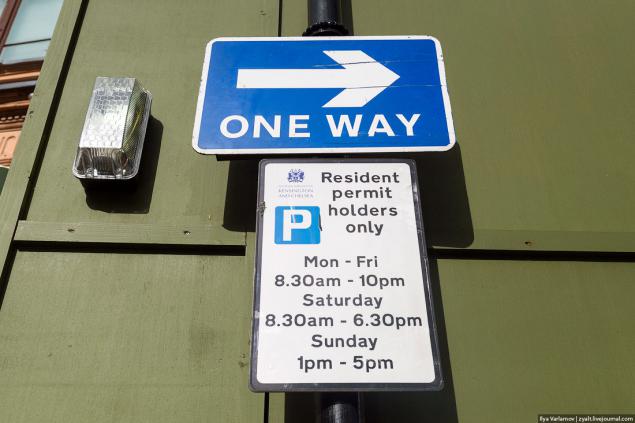 On the street, in most cases need a Resident's Permit, that is what it says about the fact that you did not just come as you live here. Typically, such a year and buying cost greatly and depends on the area of ​​the vehicle. For example, prices in Islington, where I live (this is the second zone).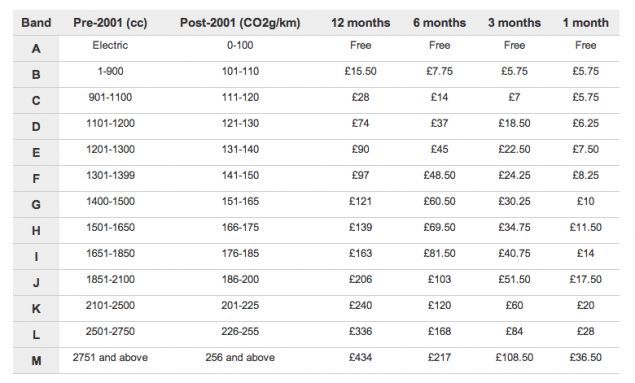 1 pound now for simplicity = 60 rubles.
And how people relate to the fact that it is impossible to park for free?
Normal. Britain - a nation of landowners. These people for centuries to buy and sell land and appreciate it. They just remember when buying a piece of land. And just know that with the car no one sells 6-10 square meters of land in any part of London.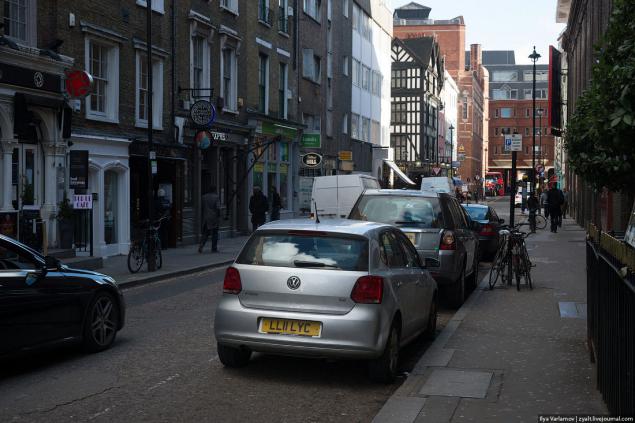 Parking in London for many decades worth a lot of money.
Is it possible to avoid parking fees in London?
Possible, but in a good game is not worth the candle. You can try, but the chance that you get caught by the tail and then not wriggle - very big. And you would pay dearly. 100 times easier to pay.
Circumvent the system difficult, because compliance with the rules followed by the people. People whose salary depends on how many fines they navypisyvayut.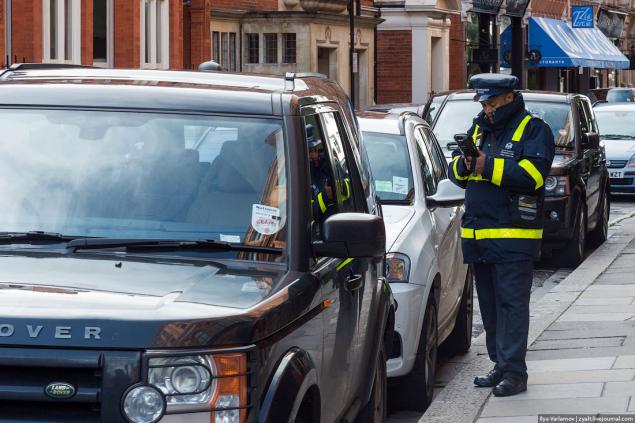 It is now possible to pay smskoy. Most hitrozhadnye can sit in a cafe or office next to the car and pay for parking if the parking appears on the horizon. But they, too, are not fools. Will sit in a trap and will fine you so that you do not understand how it happened. And then the court can not prove anything. Most played cat and mouse with the valet parking to the first penalty.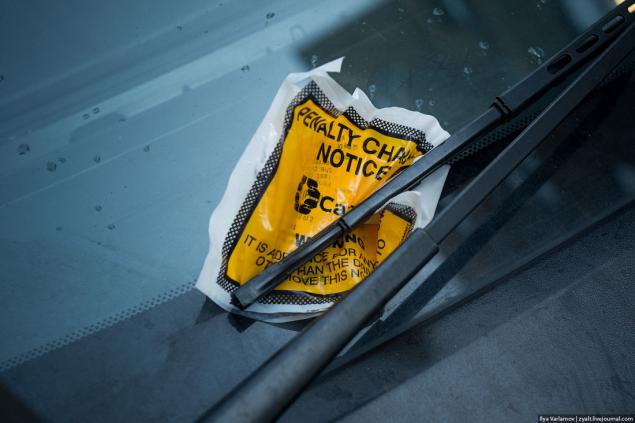 Obedience to the law as a whole exceeds the limit, but still fine and make a lot of money on this. Central District Westminster izves his cruelty to violations. Last year, only in the area have collected fines by 24 million pounds. You understand that the money for the budget is not unnecessary.
£ 80 fine if paid immediately - 50%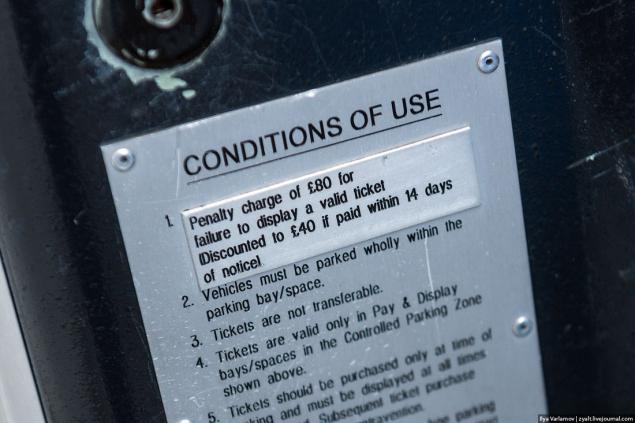 And how do you live there?
Yes great live. Rules are clear to all. Do you want to travel by car - pay.
But the streets free and no traffic jams. Though the city and was built in the Middle Ages. Streets and narrow curves and traffic jams in times less than in Moscow.
Many streets are now completely done hiking and much nicer city. Now is hard to believe that once the same has been Carnaby st and travel on it in two rows still parked. Nightmare.
And without a car to live - really great fun. No cost, no headaches, car washes, car service, vehicle inspection, repair and other expenditures of time and money.
Public transport
Yet there is one point.
You can not just ban cars and make their way - should be at the same time to develop the infrastructure and public transport.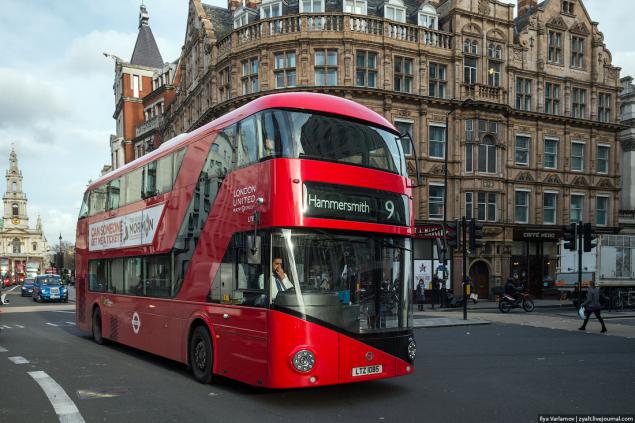 In London, up to the 60s believed in the bright future of the car and up to 80 were killed on the subway and buses. Only after a fire at Kings Cross again began to fund public transport. These investments began in 1999. It was only then by bus and subway ride was nepozorno. The machine has ceased to be a status symbol and the number of trips by car came down to make way for buses to the metro. »