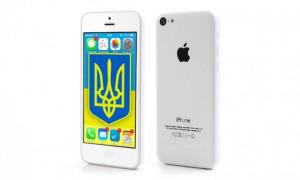 From June 26 in Ukraine begin official sales of smartphone iPhone. In particular, the model will go on sale iPhone 4S, iPhone 5C and iPhone 5S. Told UkrainianiPhone.com. This information was confirmed AIN.UA several sources on the market. Preparations are underway to sales representatives of companies, resellers have access to training programs Apple.
Top managers of large Dnepropetrovsk network electronics confirmed AIN.UA data about the imminent start of official sales of iPhone. According to him, the official iPhone will soon be in the range of large networks of electronics.
It is worth noting that these smartphones will be more expensive than those devices that are sold in Ukraine now. Accurate information on prices is not, but according to various estimates, they may be close to the European or to Russian (plus or minus 5%). For example, about 11 000 UAH for the iPhone 5S 16GB.
Unfortunately, the start of sales does not mean the long-awaited entry into the Ukrainian market the company network Apple Store (according to surveys, about 30% of Ukrainians would like to present this network in our country). Smartphones will be sold in major retail chains and resellers Apple.
Representatives of the official distributor of technology Apple, the company ERC, declined to comment. Around the world, Apple sells its smartphones in partnership with telecom companies. The company "MTS Ukraine" reported that in stores operator until the iPhone is not sold, there iPad (sales in stores MTS in partnership with the "Hello»).
At the moment, Apple smartphones sold in Ukraine without a contract with Apple. Official sales mean that sellers have entered into an agreement with the official distributors of Apple, for users, this means a guarantee authorized service support and other services that Apple offers to customers.
Recall that in September last year, Apple introduced new versions of its popular smartphone: iPhone 5C colorful and powerful iPhone 5S.