In an effort to replace the non-cash transactions in the "plastic" modern gadgets (which can be not only a convenient means of payment, but also an original accessory) tireless developers have decided to develop a "contactless theme", and enterprising bankers - earn extra income and achieve customer loyalty through the use of innovative products in a unique form factor.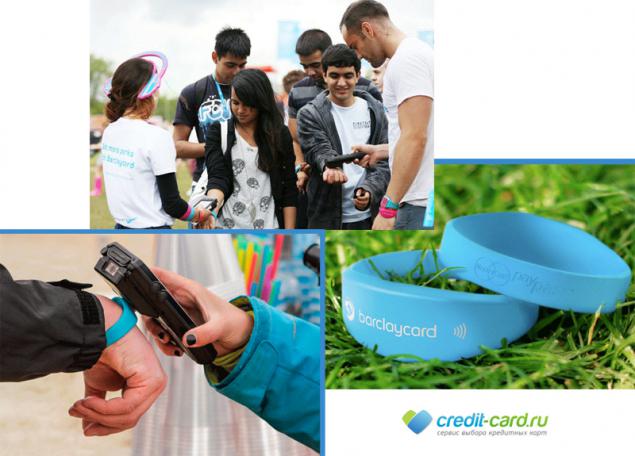 For example, the British Barclays Bank decided to issue
rubber bracelets contactless
for active people. Such a device can be paid for the purchase of up to 20 pounds throughout the UK - enough to bring the wrist to a special reader at the checkout. The convenience of contactless payments using gadgets already estimated audience of music festivals, where similar rubber device bPay tested in the last 2 years. According to the developers, bracelets can pay in shops, bars, public transport, and they will be issued to customers of any UK financial institutions for free. Manage account and analyze the costs can be online through your account, which is tied to a bank card (you can leave the house and enjoy outdoor activities).
Another exciting innovation in contactless payments became
male costume from the Australian Heritage Bank
. In the sleeve of his jacket sewn chip (attached to an account at Heritage Bank), with which you can pay for purchases by Visa payWave technology in any TSP that accept contactless cards (enough to touch the sleeve to a special terminal). NEW Made in Japan from the finest merino wool. The pilot project was sewed 12 costumes purses that were sold throughout the country. The bank noted that such a suit can be safely dry cleaned, but at the expense of a better time to lock.
And the owners of brand new smartphone Samsung Galaxy S5 have the opportunity to log in and
make payment using fingerprints
any merchants that accept PayPal. Due to security biometric decisions of users no longer need to remember passwords, registration information for the purchase. To log in to your account, the client need only apply your finger to the screen of the phone. In Russia (along with 25 other states), a new convenient way to pay for purchases was presented this spring.
In turn, the people of Zimbabwe will soon be able
pay using sounds produced smartphones
. New mobile payment service based on technology NearBytes, developed a local company Edgetech Solutions. For each transaction, the application generates a one-time Edgepay unique code via sound signals transmitted to the payment terminal of the seller (the device must be equipped with a speaker and microphone). The developers claim that the new method of payment confirmation is safe, because the possibility of unauthorized access to the transmitted data is completely excluded.
But
mobile service CashFon
proposes to make payments without using the card directly from your bank account. Enjoy a unique application can smartphone owners who have opened a card account in any financial institution. Thus all debit transactions are carried out in the online-mode without the use of complex processes. Payment for orders from the online store on the phone screen is made by a unique invoice. Thus, convenient, safe and easy startup can become client "personal ATM machine in your pocket».
In fact, every week there are new original design, allows you to make cashless transactions truly comfortable for users, and provides additional protection for sensitive cardholder data. Learn more about the unique start-ups and get detailed information about the intricacies and benefits of using "plastic" on our website.
Source:
habrahabr.ru/company/credit_card/blog/226363/