Welcome,
With flying, type quadrocopter and his brethren, I am very familiar surface. Saw a couple of films and promotional videos, and live only in pictures and little desire to buy something like this.
But as is often the case, certain events change the course of action. That's happened to me. I saw the video "Kasparov and Ride of the Valkyries" :) and decided "I want».
After reading various articles / forums about quadrocopter and seeing dozens of videos with flight and downs, my choice narrowed down to models like ready-to-fly. I did not want to collect the drone itself, did not want to solder anything and did not want to process a file after the assembly that he flew. I wanted to get the goods box, charge and fly.
Further topics shtudirovanie stopped my choice on the company DJI. The range of models were heaped with many-megapixel camera, a larger radius of flight batteries and other long-playing buns. But the price is pushed. Run more than 1000 euros in the stratosphere - no thanks. For the first "stack" is a chur Kucheryavyi and I lowered the price level.
In the end, I was chosen model DJI Phantom FC40.
Website (dji.com) has issued a list of European dealers. Looking Websites dealers and compare prices, letters were sent in 3 shops - in England, Belgium and Germany. The Germans and the British are very reluctant to communicate (or not willing), but the Belgian shustrosti very pleased - even my questions at night, I spent hours getting satisfactory answers.
After 2-3 days of correspondences, the Belgian store sent me a proforma invoice for the following items:
1x - DJI Phantom FC40 full set
1x - prop guards
1x - extra battery (3S 2200 mah).
1x - shipping
- Total: exactly 500 EUR
And after 3 hours after the payment account, I was sent parcel number that used to monitor its further movement.
After doogih 7 days of waiting, I received a long-awaited box.
1.
A general view of the parcel
Large box - kvadrokotper. Package - protection of propellers. A box on the left - additional akum 3S 2200mach. A box on the box - mini wifi-camera.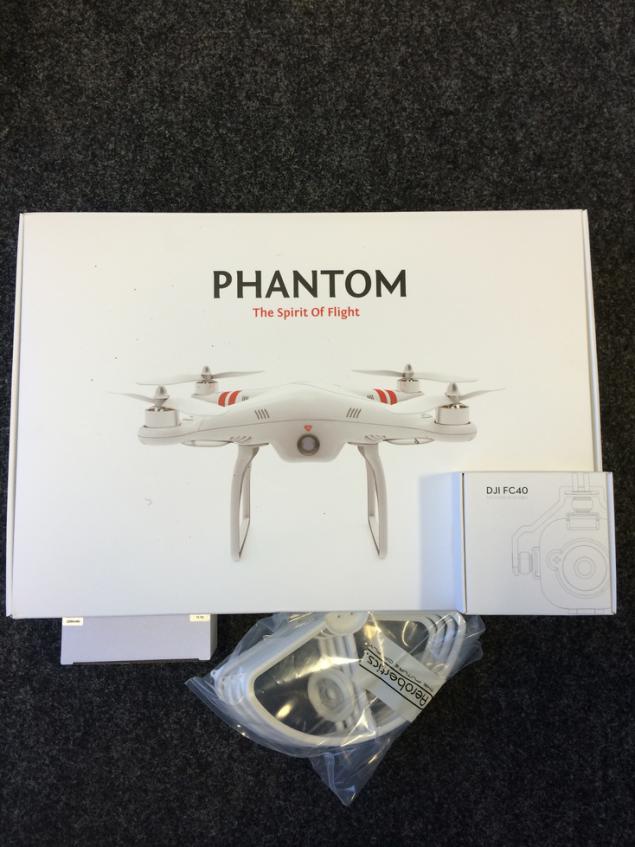 2. Inside the big box
All items are carefully arranged in cells, all packaged trifle on bags. All screws are rubberized, what would exclude them samovykruchivanie. 3 different types of adapters for sockets. Holder for smartphones. Remote control. LiPO battery on 2200mach. 8 self locking of propellers. NB! Remote Need 4hAA and complete not provided.
Despite the week-long journey in about 2500 kilometers, everything was in place.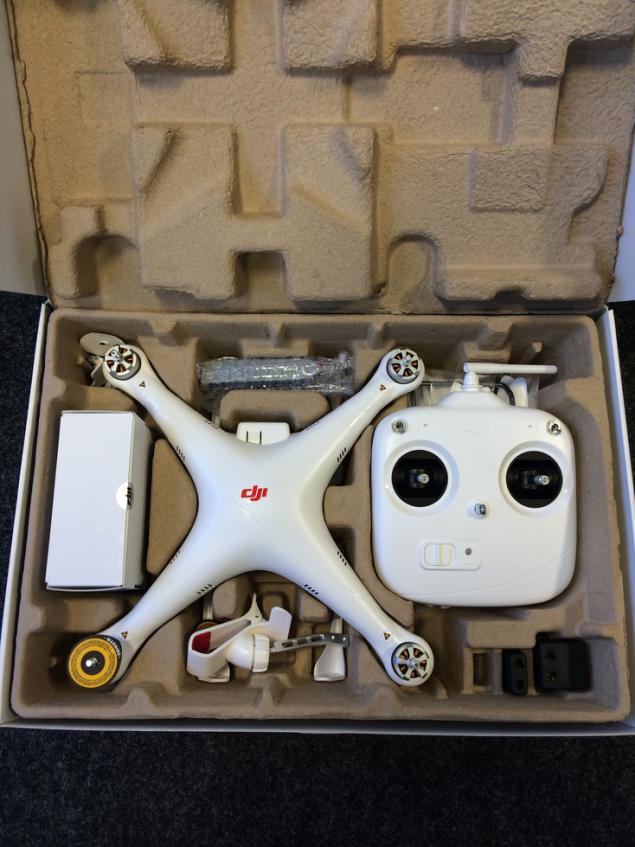 3. Camera
After opening the box with the camera, I thought at first that they sent me some smaller sample sham - too small it is. But alas, the camera is a real and a real-wai FEMA. Camera weight of only 38 grams and is removable.
Includes USB cable, fasteners for the copter and rubber pads (2 sets), which would reduce camera shake when flying and a little to get rid of "jelly effect" when shooting. NB! Micro-SD card is not supplied, but it is written.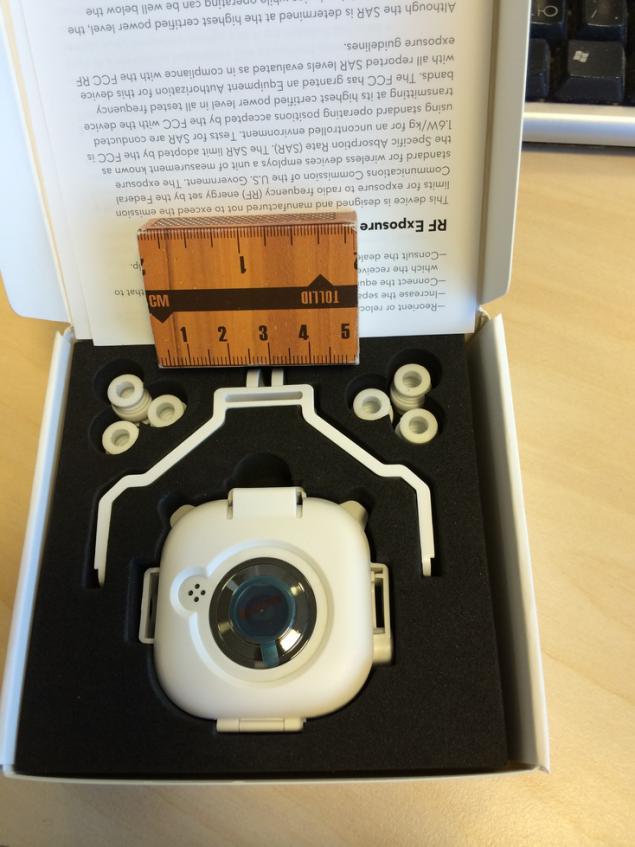 4. Charger
I is not strong in the electronics, but has the charger control ports (2S, 3S, 4S), switch-type battery and a switch amperes (1, 2, 3).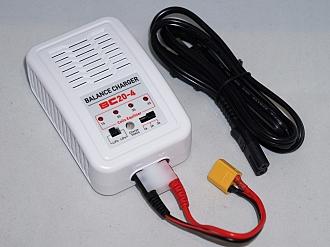 5. Build machine
Collect was easy, even without auxiliary video previews. The instructions (PDF online) all painted in detail and painted what where and how to fasten, can not go wrong. If someone makes a mistake and in the assembly, then it makes it uniquely special.
And so, the assembly - to tie the two legs (chassis) and fasten 4 samozatyagivayuischihsya propeller. That's the whole assembly quadrocopter.

6. Protection propellers
As a newcomer in the flying business, I took care of the additional protection of propellers. Better to spend 14 euros on it than after each curve fit to change propellers.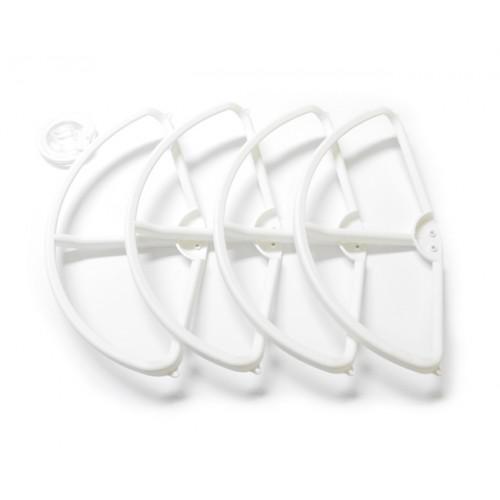 7. Everything in the collection
Remote control with holder samartfona. Copter to the protection of propellers and a camera on the belly (pictured beneath it copter and it is not visible :))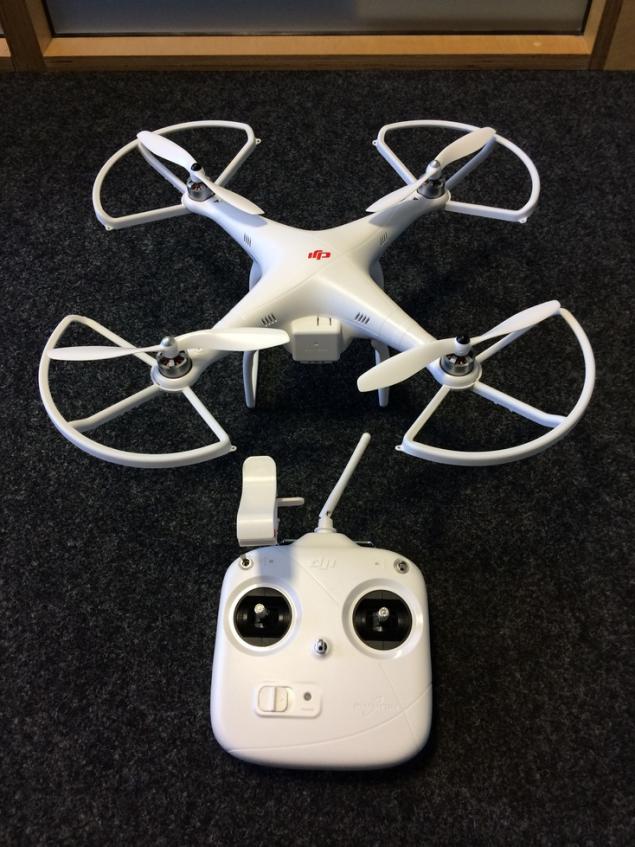 8. Features DJI Phantom FC40:
- 5.8 GHz remote control
- GPS-device Naza
- Self locking system screw-propeller
- Wifi-Camera 2.4GHz (38 grams)
- The user-friendly interface applications Apple Store and Android for FPV (video in online mode on the screen of your phone or tablet)
- Ability to 10-fold approach during the flight (FPV)
- Low latency video signal from the board quadrocopter (0, 5-1 sec)
- The function of go-home, the machine returns to the "base" if, within 3 seconds, there was no connection between the transmitter and the quadrocopter.
- Range of equipment: up to 300 m in the mode of CE. 500m mode FCC. Tuned to the transmitter.
- Bright LEDs that help good to see front / rear quadrocopter and battery status

9. wifi-camera Feature:
- Sensor camera with 720p 30fps / sec
- Shooting angle of 100 degrees
- Aperture 2.2
- 10 x digital zoom
- Battery 700 mAh

10. FPV:
With the App Store downloaded native program - DJI FC40. After turning on the camera, the phone through wifi is connected to it and the program is ready to work. On your phone, you can enable / disable video recording, there is also mode photography. All videos and photos can be copied to your phone, or connect via USB of the port to copy to your computer.
If you start to shoot video with the camera and the connection will be gone, the video will continue to be recorded.
Digital zoom is not a fountain, and so I do not use it.

11. He said: "Let's go!" He waved his hand. I>
Start very simply:
- Enable remote (necessarily include his first)
- Enable copter
- To wait when the copter finds satellites and note the location of rise (about 1 minute)
- Start the engine (both joystick down to move to the center). If within 3 seconds to take off, the engine automatically vykyuchayutsya
- Take off (left stick up)

To determine the height of about the first flight, decided to fly near the 16-storey building with an approximate height of 50 meters.
That's actually a video of the first full-flight takeoff-landing:



For the camera, the size of a matchbox and 720, the video quality is very good.
Potryasyvanie and pull is enough pictures - this is the reason for the strong wind and inexperience upravlyatelya.

My impressions:
- The battery would keep longer. In securities of 8-12 minutes of flight, but it all depends on the wind and management style.
- Wifi cameras are stated at 100 meters. FPV picture disappears somewhere on 30-50 meters.

Plans for the future:
- Fly, shoot, fly, shoot
- Increase the range of the camera
- Find the maximum height / flight range.
- To increase the flight
- Check the function of «go-home»

Thank you for your attention,

Source: habrahabr.ru/post/219253/