macos: A week ago, I still managed to get into the holy of holies - the kitchen McDonald. In my opinion, has the smell of fried! So what does actually make terrific burgers and big poppies? Do you want to learn?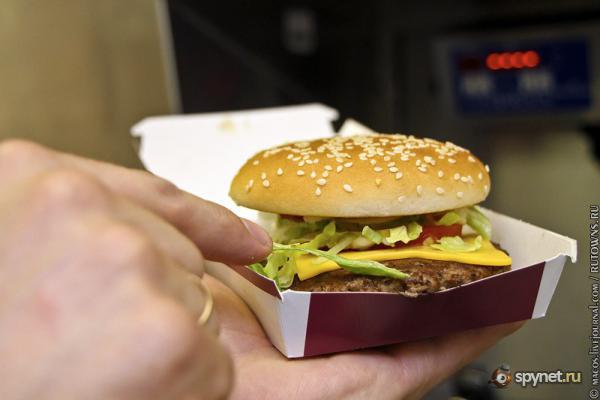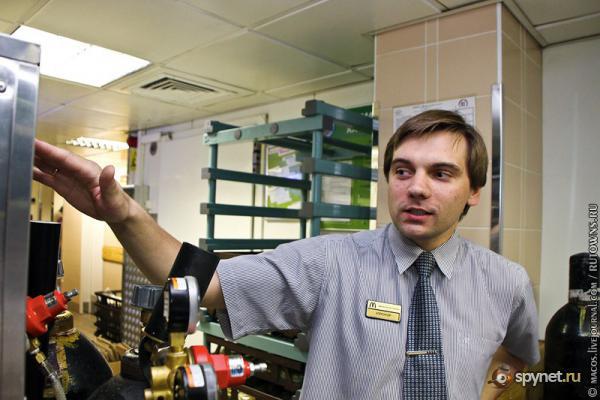 At the stage door we were met by the director of the restaurant on Bauman Alexander Ostroukhov and leads to his office. The room with the director absolutely tiny - just two per meter. Where there until the office of the director of Soviet canteens! Dress shoe, white robes and special hats for hair as in the pool. It is unusual, but you can walk.
At first we had a long walk on all sorts of stores, and "inspect" products.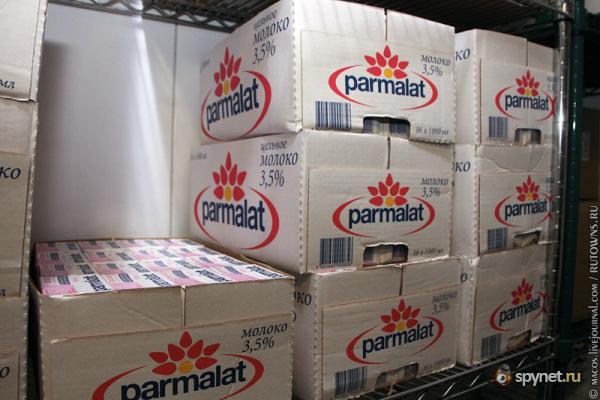 What surprised me is the fact that all of what is prepared in the Mac - the most common food. Exactly the same as we buy in the grocery stores. Previously, most of the products for McDonald prepared a special MakTsentr, but now it only works as a distribution center - everything from muffins to tubes made third-party vendors. And most of the products do not need to specifically prepare for the Mac (as opposed to rolls, cutlets and packaging for sandwiches). For example, the most common milk Parmalat.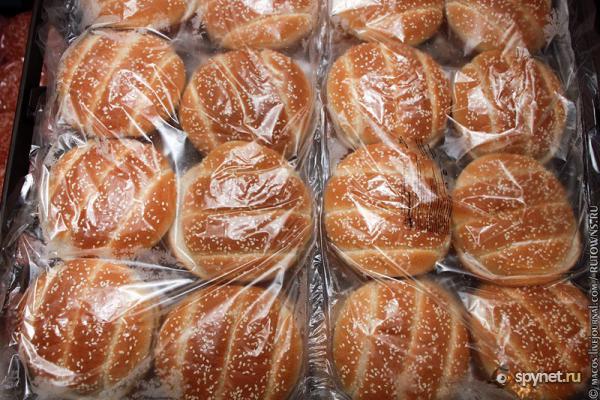 That buns. They are the same everywhere, but it is different for different kinds of sandwiches. A single standard production rolls allows you to make logistical miracles - that these rolls can be made as in the Moscow bakery and baked in the Ukraine or even in Finland.
Cards attendance. The fact that Mac salary workers paid by the hour - about $ 100 per hour for regular employees. Coming to work, he must hold his card through the reader, leaving - do it again.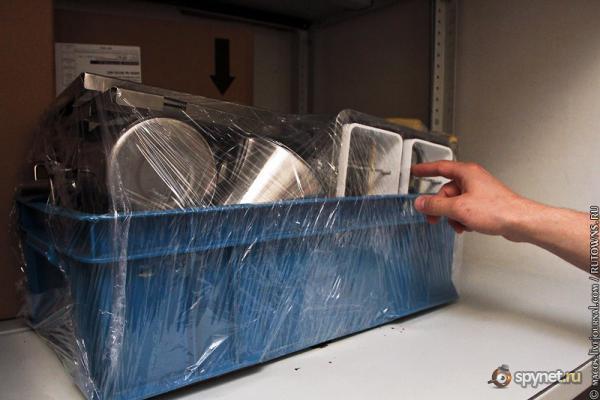 Service area McDonald's is much less than it seemed before. A feeling that is generally nowhere to turn. They say, in separate buildings fully owned Mac, larger premises. Restaurant on Bauman - not the only tenant of the building where it is located. So we had to expand its customer service area due. In the picture you see fit for MacBreakfast - and took only three hours each day - from seven to ten. Here, all sorts of things to cook omelets and hashbraunov. Tk free space is very small, as I said, all the "Breakfast Cabinet box" then washed and put to warehouse until the next morning.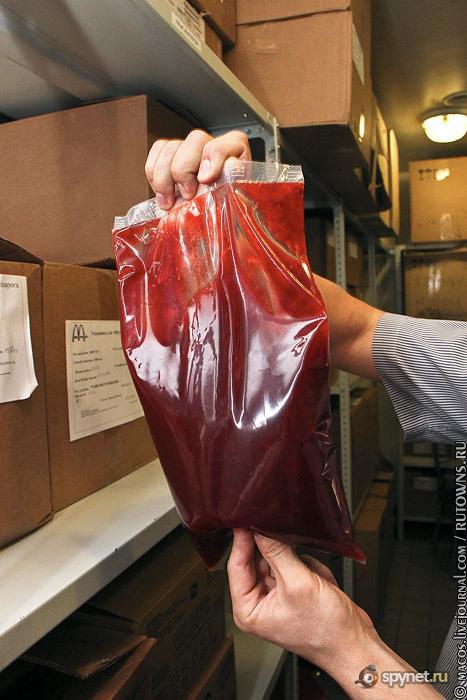 Sometimes in a restaurant come and ask the vampires blood. Joke. This is just a strawberry topping for ice cream.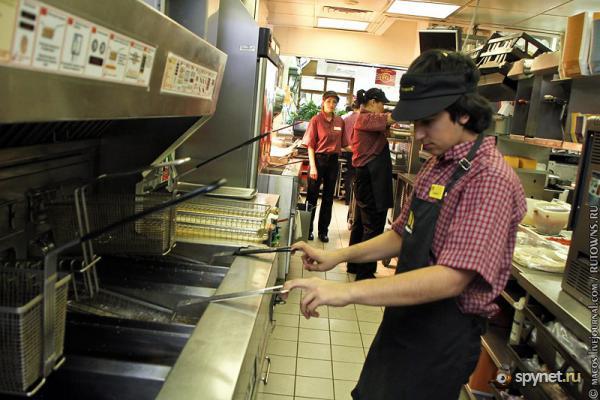 And here is the kitchen! Boys prepare potatoes ...
In general, the kitchen is divided into two zones - zone "always ready" and "sandwich for you." In the first zone to cook the most popular dishes - they are always in demand, and the guys working here as on the conveyor. The second zone - is if you ordered a fillet-o-fish, for example, or chicken sandwich. They are not as popular as the Big Mac hamburger, or, moreover, they have different cooking technique.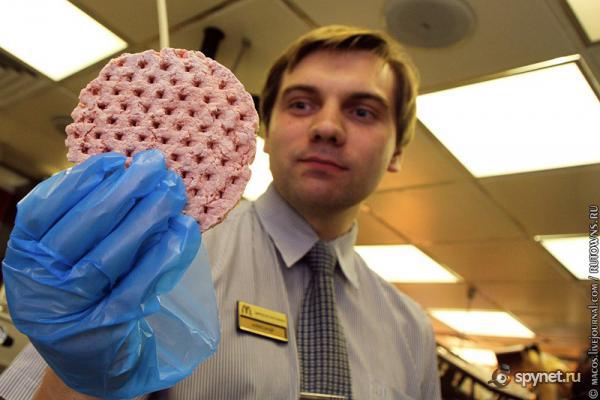 And we prepare ourselves with Alexander his sandwich. Let it be the Royal de Luxe, for example (though to me it just did not really like). That is, to reveal all the secrets of corporate Mac - I wrote a detailed recipe.
Take cutlet, beef patty. Put in the oven and close the press. Something like prigotvlenie waffles :)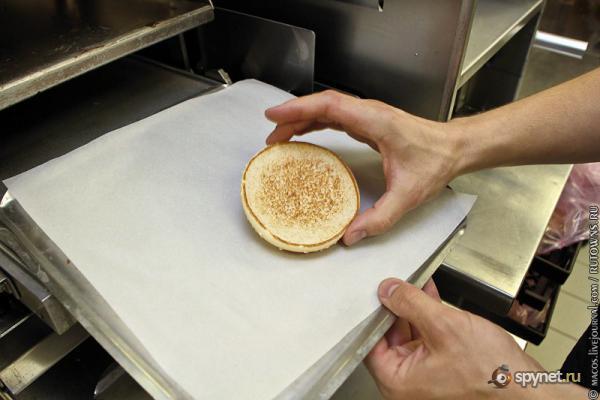 While we fried steak, and it is not more than a couple of minutes, we should bungle all the stuffing. Take a roll and put it in the toaster. The structure includes a roll a little sugar to get this here fried crust.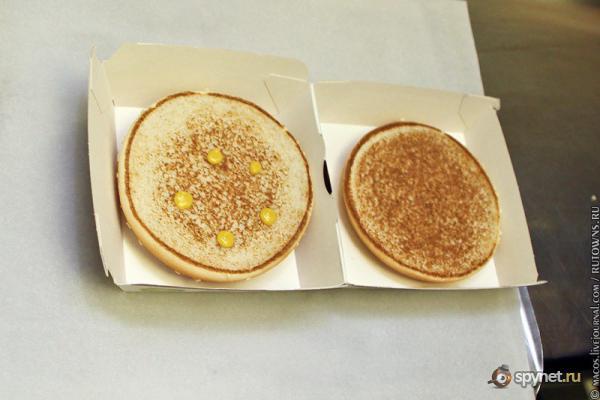 Take a sandwich box, put the two halves back bun - "stump" and "tip." Now we took up a special "gorchitsemet" (a device something like a gun mounting foams s), and click once. On bun appears five points smooth mustard. Even if you do not like mustard, you will not feel it - it in the Royal de Luxe only 0, 7 ml.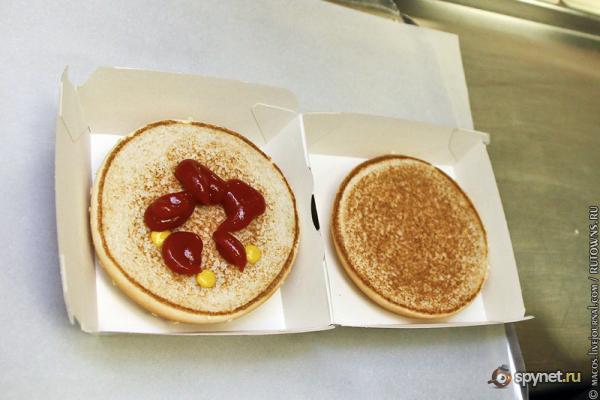 Now ketchup. Adding it from the same device. That's a lot of ketchup - as much as 15 ml :)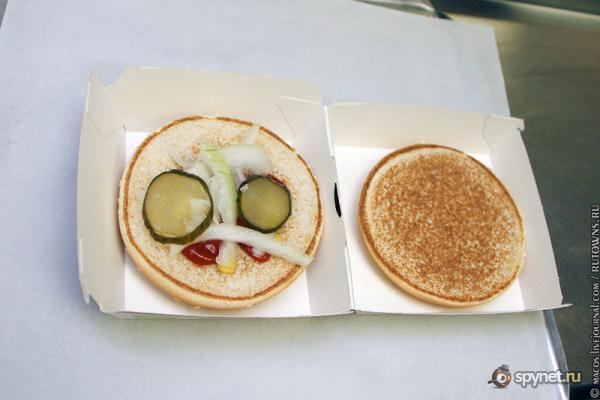 Bow. Awesome, beautiful, loved and hated. Seven grams of onions! By the way, my main discovery in the Mac was that it appears, you may be asked to prepare any sandwich without any ingredients. Now, I will always order sandwiches without the bow :) You can add and indgridient - for example, to make a hamburger with bacon. How do you? It will cost a bit more expensive, 15 rubles to just try.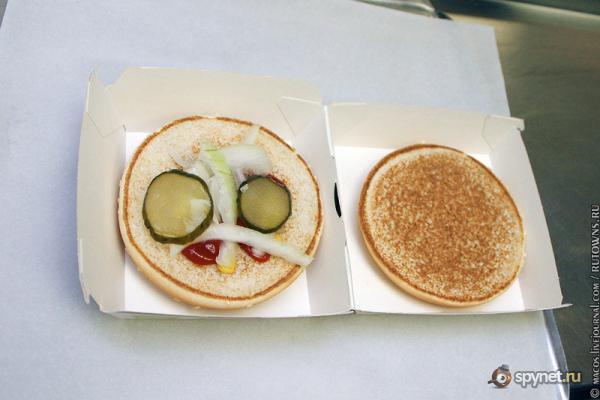 On stage there are two round slices of pickled cucumber. By the way, cucumbers come here already sliced, in airtight containers.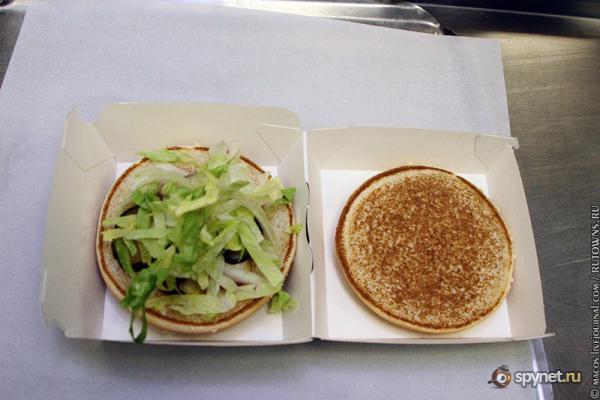 Over cucumbers - 12, 5 grams of iceberg lettuce.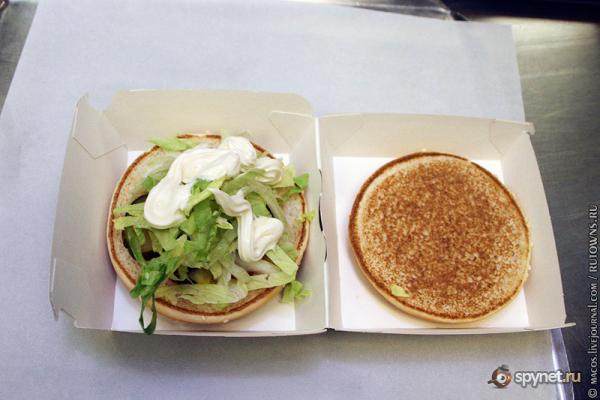 Please, sir, drip 15 ml mayonnaise. Thank you!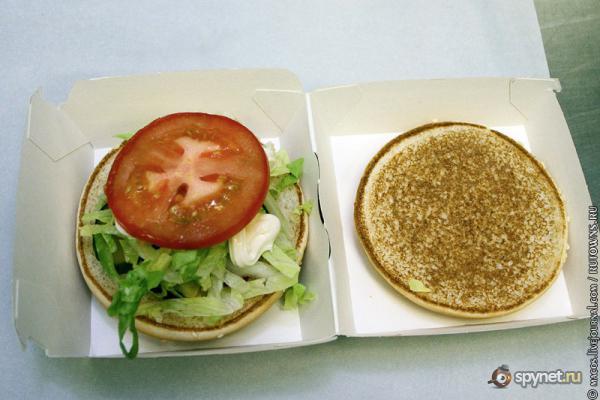 And now the turn of tomatoes. Here they are delivered in the most ordinary box, and produces them "Belaya Dacha". That is, cut tomatoes, cucumbers - already cut.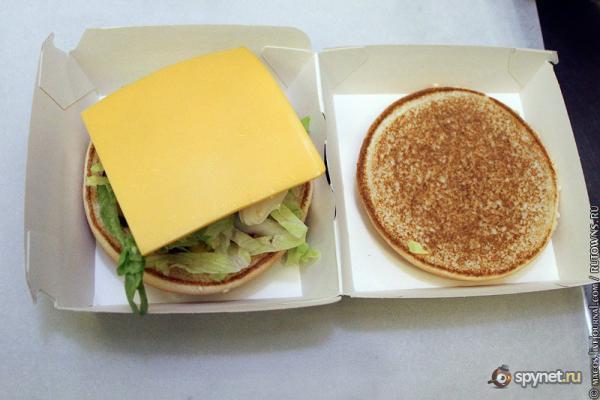 Now, put the cheese. The product McDonald's only two kinds of cheese - cheddar and Emmental. Manufacturer - all known Hochland. Yes, you guessed it, the same processed cheese 8 pieces per pack.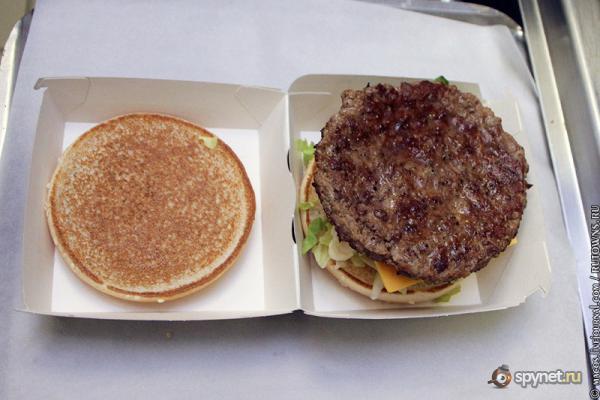 Now, finally, we obtain patty and put it in the resulting pile of products.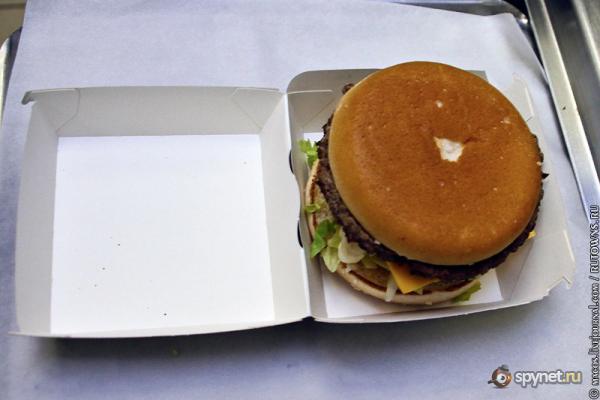 Close the "stump" and turns.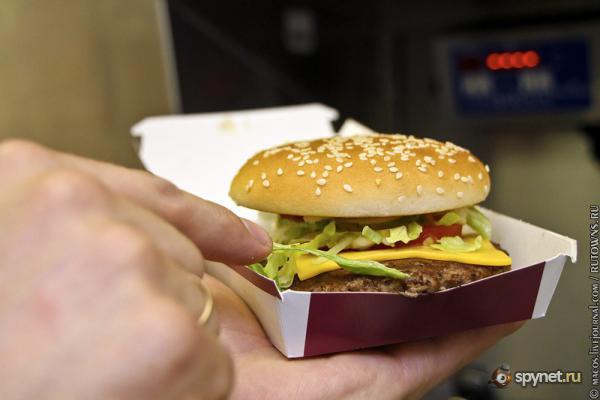 That's it - Royal ready. Tasty?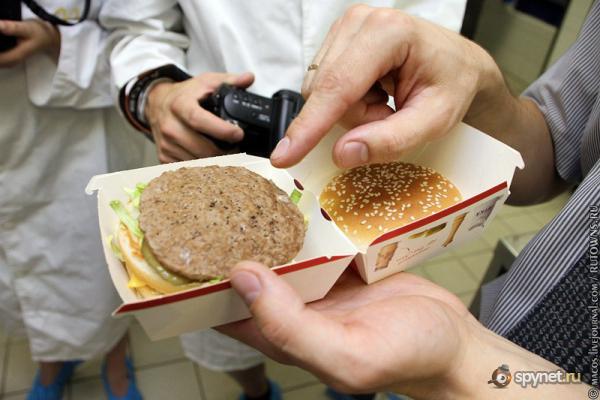 That's just to live a freshly prepared sandwich soon - about ten minutes. Scenario two - or he would be eaten by one of the customers, or if the 10 minutes it will not buy, will be thrown into the garbage.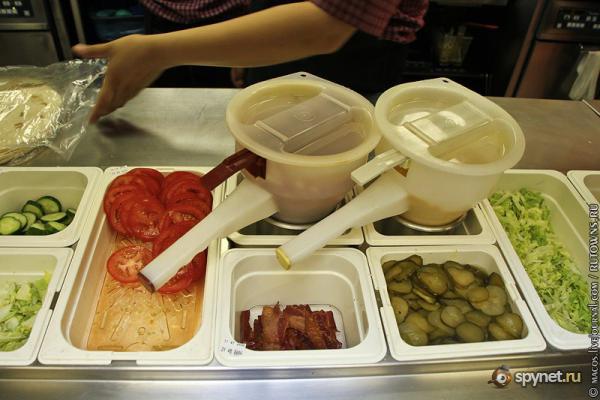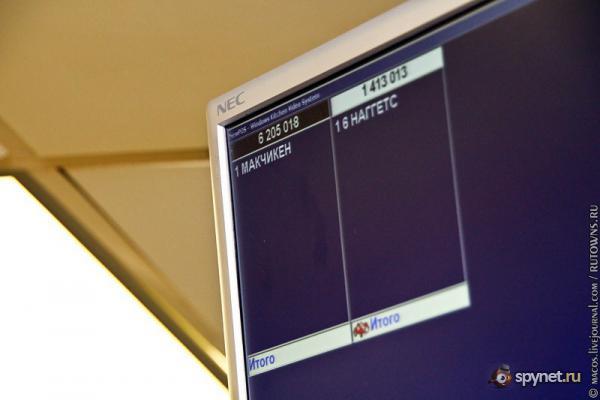 This so-called zone of "sandwich for you." The monitor displays information about the chicken and fish sandwiches, which you need to cook, and the employee starts his magic.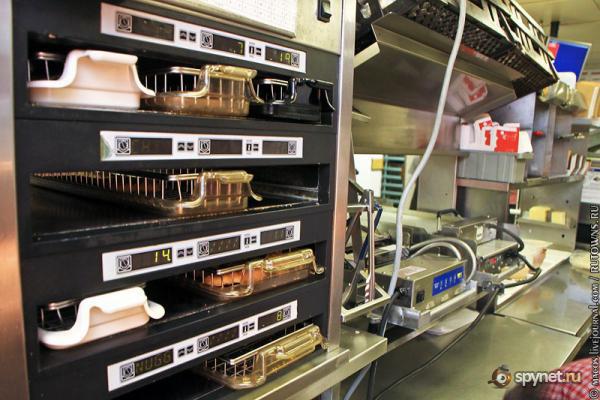 This oven is called "chicken cabinet". Here are stored cooked nuggets and chicken patties. They have a statute of limitations - twenty minutes. Then also unceremoniously - emissions.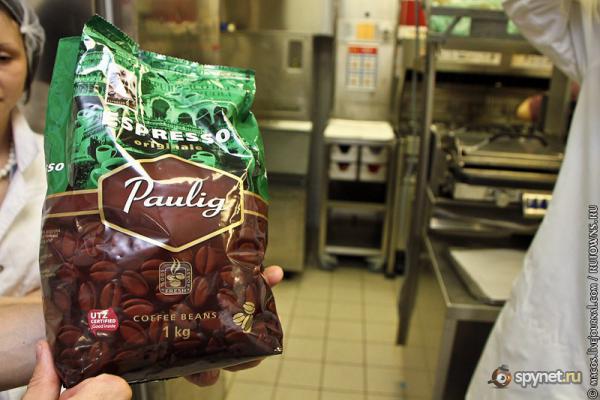 At the request of one of the participating tour brought us coffee, which is brewed at McDonald's. It turned out normal Paulig. Good coffee. This is how I will even not liking the drink talking.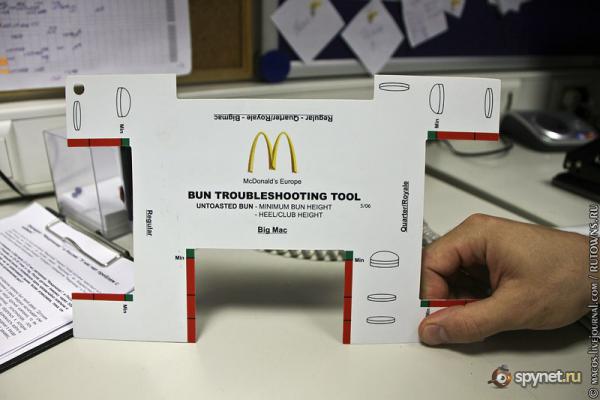 But this device allows you to check how this or that complies with international standards bun McDonald. If a roll falls into the "green zone" - that's all right, it can "bring to the table».
And yet I show you some pictures of the standalone-the Mac. I believe in signatures they do not need.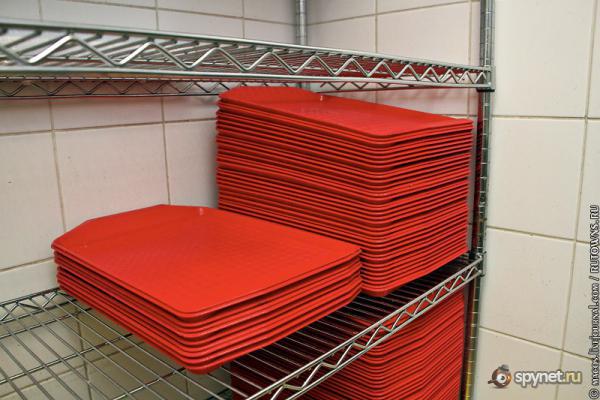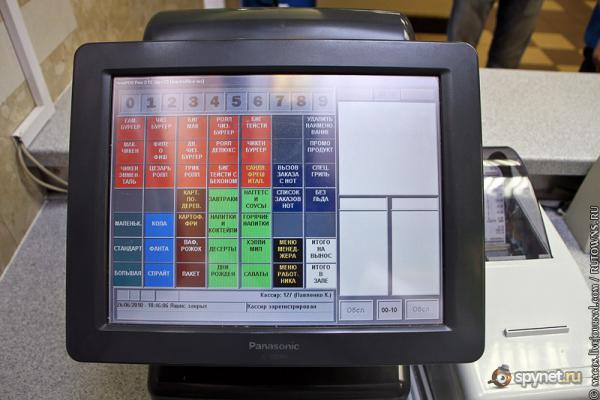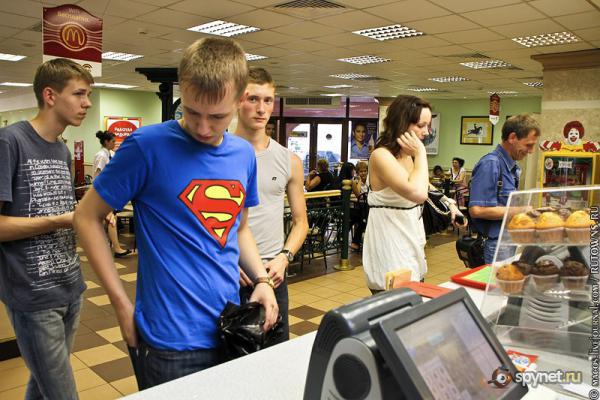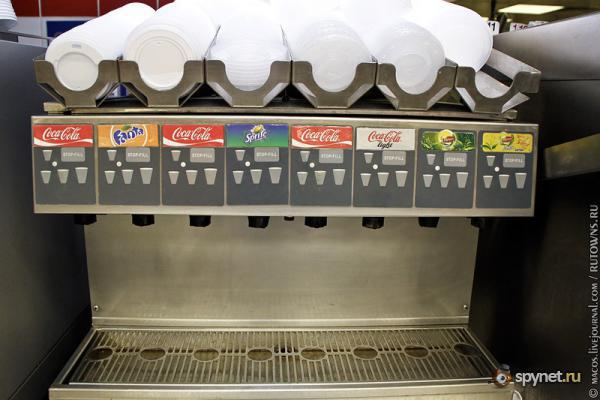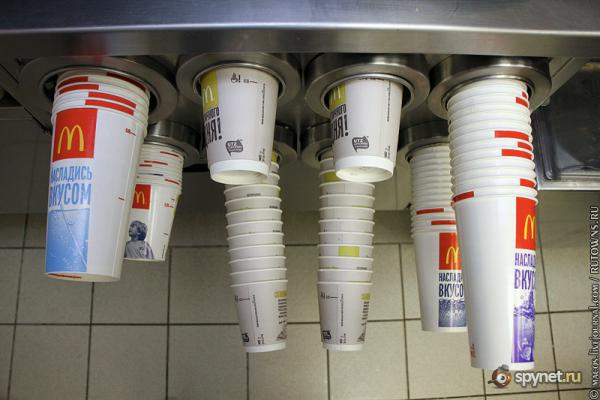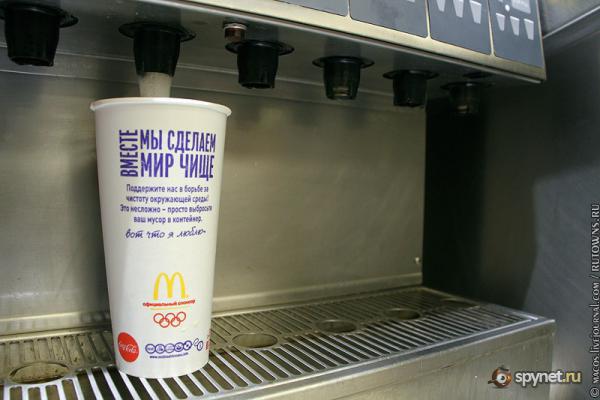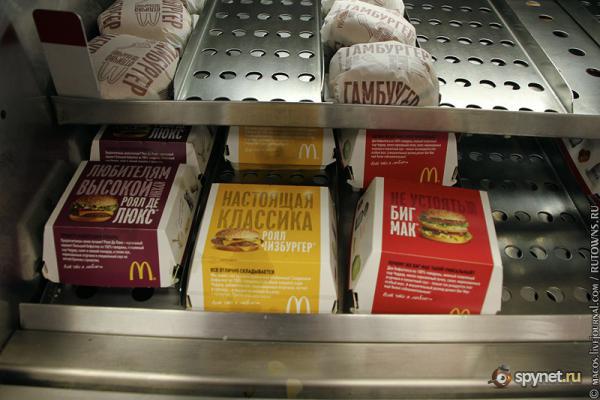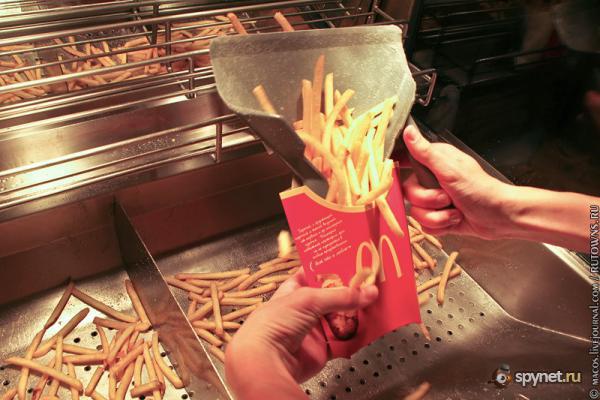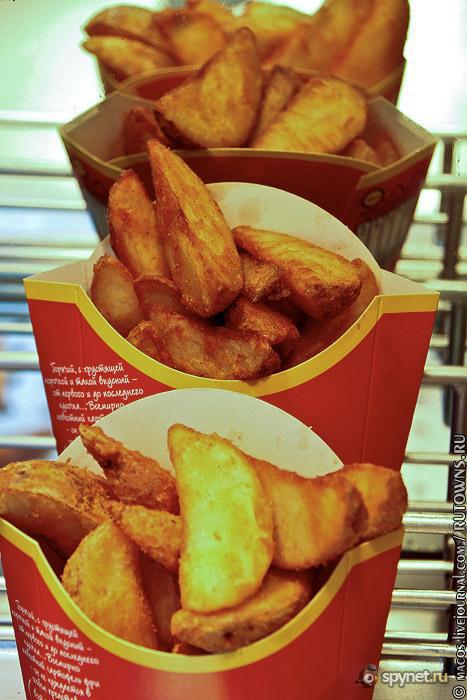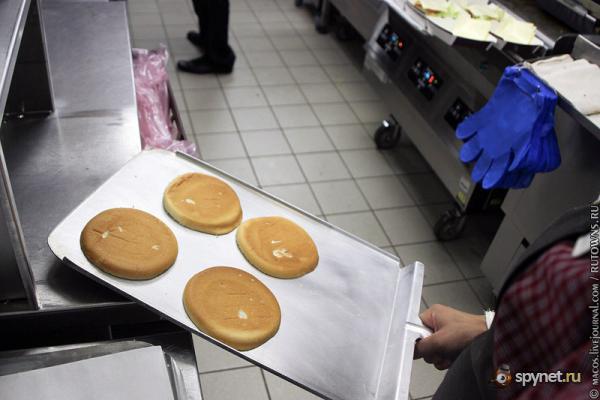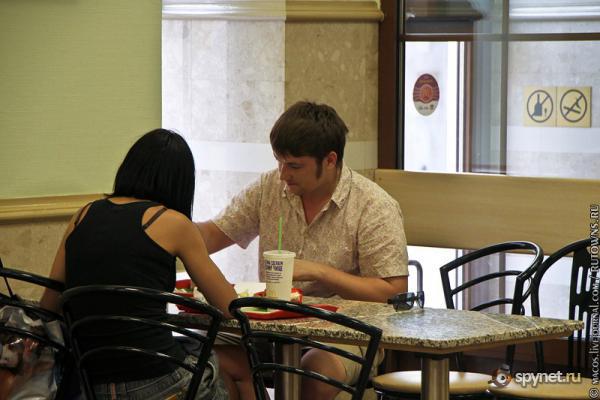 And we talked with Alexander Ostroukhov - about his career at McDonald's and the characteristics personnel policy chain restaurants.