< Angela Merkel gave Xi Jinping first accurate map of China with the temporarily occupied territory of Russia on her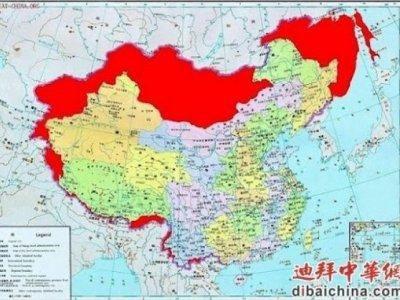 During a visit to Germany President Xi Jinping, Chancellor Angela Merkel has made it meaningful gift. She presented the communist leader of China's ancient map. This gift literally blew the Chinese blogosphere.
According zn.ua, citing epochtimes.ru, March 28 Merkel and her husband had a Chinese leader and the first lady of China welcome the Summit. During the meeting both sides exchanged gifts. C presented as a gift set of porcelain vases, and his wife, CD-ROM with a record of Chinese folk songs. And Frau Chancellor gave Xi "first accurate map of China", composed in Germany in 1735 (map section in the photo).
Information about the maps, pictures which published some Hong Kong media, with the speed of lightning spread throughout the Chinese blogosphere and sparked a new wave of patriotic feelings.
The fact is that on this map so many areas not currently belong to China, most of them mistakenly considered part of Russia
In 1735 China was the Manchu Qing Dynasty. The structure of the Chinese empire at the time included in particular the Far East, Uryankhai territory (Tuva), Siberia and South China Sea, with all the islands.
Many Chinese bloggers Merkel grateful for the gift and say that he is "more eloquent than a hundred thousand words».
Red marked area which China lost after 1949.
Below are some of their remarks with characteristic Chinese indirect but fairly clear hints:
"The example of the Crimea Russia gave us a good lesson of how to defend their territory».
"Yes, since ancient times, our country has decreased markedly. When the Qing Dynasty was our Mongolia, and "Sixty-four villages east of Cupid" (the current site of the Annunciation and the Tambov region, approx. Ed.) And, of course, Hayshenvey (Chinese name Vladivostok, approx. Ed.). "
"This card, which we gave the Germans, without another word said about who our real enemy».
"We have almost a hundred years joyfully bear the flag of the struggle against imperialism, but in the end it turns out that our land grab is not evil imperialists».
"This card - a real treasure! This is a valuable gift with deep meaning! Meaning it is difficult to overestimate, but just can not talk about it, or block the [censors] ».
"This map is all that we need to have, especially in the northern part!».
"We just say straight out that of all the countries of Russia took most of our land».
"Let our leaders look closely at this map and to compare with the current. How much less become our country! Is not it a shame them for it? ».
Source
Your text to link ...