Ten guineas to see the world
William Buckley (William Buckley, 1780-1856), a native of the English town of Marton in East Cheshire, early had to take the job - a period of carefree life of boys from poor families in the XVIII century usually ended in twelve years. Houses believed that William was very lucky when he took a stacker at the Brickyard. His duties include laying out on a pallet of pressed clay pieces before they are sent into the furnace. But the fate of his successful Buckley did not believe. The work was hard and dull, and he wanted to see the world, because more than thirty miles from his native city, he never removed.
For a while, the young Buckley had to put up with his share, but when in 1796 he knocked 16 years, he decided he'd had enough. But fate had she sought him in the face of military recruiters prowling for English towns and villages. They needed just guys like William: young, strong, from poor families who are ready to take the risk. So when, finally, the case brought Buckley with a typesetter recruits case they cope very quickly. Were treated to the nearest pub at public expense, William signed the appropriate paper, the recruiter gave him 10 guineas, and a few days later Private Buckley was in the camp recruits 4th Royal Regiment (4th King's Own Regiment of Foot).
Three years later, part of which served Buckley, he was transferred to the continent for the war with the forces of republican France. In the first battle in the Netherlands young man was seriously injured. His flown back to England, and after the treatment is recognized as unfit for service. But even finding themselves out of work, William did not want to go back under the paternal roof. He took it for one, then another, and finally got a supervisor at the Brickyard. There happened to him "nasty history" - he caught buying stolen goods. Buckley was given to the court, which sentenced him to exile for fourteen years in Australia - in the province of New South Wales, which is south-east of the continent.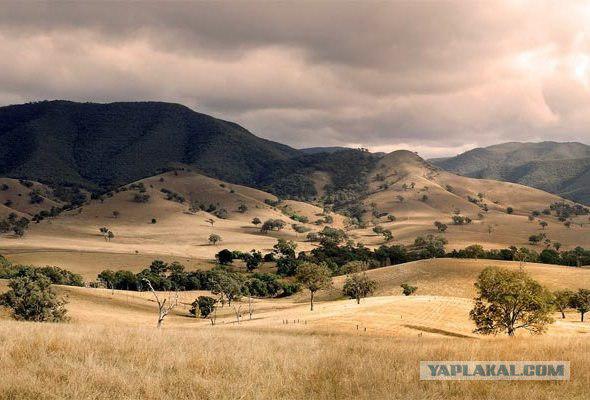 A typical landscape of the southern Australian state - Victoria. Having escaped from the place of their settlement in New South Wales and moving towards Sydney, William Buckley took not the direction, I wandered into these places and nearly died of thirst. Photos (Creative Commons license): Trodel
Liberty close - only 1,000 km
In October 1803, having done the heavy six-month journey in the hold of the ship "Kolkata", the party of convicts, among whom was Buckley, appeared on the Australian coast, where they were to establish a colony and live without the right to return to the mother country. On the ship they were given the most necessary tools and accessories for arrangement, as well as supplies for the first time. Everything else they had to do themselves. Rolling up his sleeves, the colonists went to work. As in England, Buckley was involved in the production of bricks, then in Australia, he was sent to work on this front.
Among the exiles were different people: someone saw befallen trials chance to finally begin to live an honest life, others simply resigned to their fate, without placing any hope for the future, and someone all this rigmarole on a wild shore tired , has barely begun. The latter belonged to William.
He found half a dozen more of the same, as he himself dissatisfied, and began to prepare them escape. Poor knowing geography, Buckley and his associates were convinced that somewhere very near their settlement is the port of Sydney, where you can board a ship bound for America. The exiles were unaware that separates them from Sydney almost a thousand kilometers. But be that as it may, in December 1803 runaway success. Soldiers were sent after them, they came back with nothing. However, they are not particularly zealous: in these wild lands, they believed, was still running nowhere.
The fugitives were reserved for the road dried meat, bread, took a pot, knives, flint, and besides - gun, stock powder and bullets. But their idea was initially doomed to failure: the detachment Buckley took not the direction. Soon the exiles reached a lake. After wandering along its shores a few days, the fugitives have not decided which way to go to them.
When run out of food, the fugitives quite Homesick, and after a while there was talk about the need to return to the coast and bring recanted his head. "Punished for running away with whips, so what? Usual thing! - They reasoned. - Do not hang same ... And not exiled. Then exile and so nowhere, we're in Australia. " When all his companions decided to go back, to go with them, William did not want to, but it did not captivity. "Returnees" left his gun powder and stock pot, said goodbye and went home.
Left alone, Buckley was not discouraged: he dug edible roots, tore the young shoots of plants, sometimes he was able to shoot game, and he took the water from the rivers and streams that fall on the road. But a week later the terrain on which it was, has changed dramatically, and on the eighth day, William realized that he had gone into some wilderness day was terrible heat, and he was a few days in a row could not find a drop of water. Finally he was so exhausted from thirst, hunger and the scorching sun that fell unconscious, thinking that no longer rise. But a heavy swoon was replaced by a deep sleep, and in the morning was a little rain and a fugitive was able to quench their thirst.
Comfort a little, William went on, and a few hours later came across an oasis - a grove of wild vishennika, sprawling around the creek. Buckley drank water, narwhal wild cherries and decided to have a rest to recover. He built a hut, he had collected shells and catch fish. However, after a few days this idyll violated the visit of a large group of Australian Aboriginal hunters, who crept up to the hut Englishman when he was asleep.
They grabbed William and led to his village, but on the way made a halt, and the first night Buckley, using the sleep time set by his guard, escaped. Only once free, he realized the horror of his situation: no food, no weapons, one in the wild ... It seemed he was doomed to destruction. But Buckley was strong small, undemanding, hardy and not prone to panic. Not a day or two, he wandered on the virgin forests of the Australian bush. So it took a few months of his lonely wanderings, and Buckley quite wild from such a life.
William Buckley in the era of his "reign". Darts and boomerang in his hand - a sign of power, not weapons of war. Photo: National Library of Australia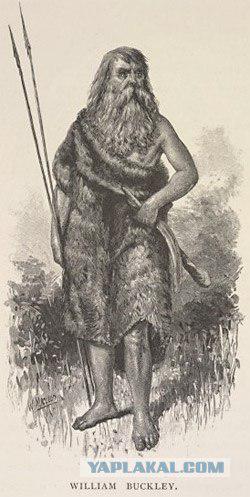 What good knife leader
But one day his wandering incredibly lucky - in the woods, he came across some hill, which was a lovely big knife stuck. It was a real miracle - a knife in this uninhabited area! Spacey happiness Buckley long considered a find, and then a nap near the mound. William woke up from the unpleasant sensation, feeling that he was someone watching. Opening his eyes, he saw Buckley on the edge of a forest clearing frozen four black figures.
It stared in mute amazement, two men with spears in their hands, and two women with a wicker basket. Savages is clearly not going to attack - on the contrary, find that Buckley woke up, stretching his arms and began to look at William almost pleadingly. I understand nothing Buckley picked up a knife and tried to get up, taking a menacing look, but strength failed him and he staggered. Aboriginal immediately rushed to him, reverently picked up by the arm and gently somewhere suffered. Nothing was wondering, and not having the strength to resist, William had decided that it will certainly kill and eat: about Australian cannibals chatted a lot on the ship until they were transported to Australia.
When the natives led William to his village, situated at the shore of the ocean, they began to shout something poured out of the huts tribesmen. After listening to them, the natives suddenly fell down before the filthy, ragged, overgrown wild beard and shaggy-haired Englishman. Then for Mr. Buckley started some Eastern tale: he bathed, wiped oils, fed and watered. Young women caught any of his look and gesture. He could not grasp why these people are being treated like a god? However, he soon got accustomed and took honors for granted.
Everything became clear when William learned the language of the aborigines. It turned out that fate has played with the Englishman another amusing joke: the natives who lived on the shores of Port Phillip Bay (south-west of Melbourne), took him for his resurrected leader, or rather his spirit returned from the dead in the form of a strange white a bearded man. It turned out that William in the forest came upon the grave of the leader of the tribe, which has been stuck his hunting knife. When four natives assigned to look after the grave came upon a burial mound near the sleeping outlandish man with a knife in the hand of the leader that might think these people whose faith is not allowed to touch things in order to avoid the late revenge on the part of his spirit? Of course, they decided that William - is the reincarnation of their leader, the only way they could explain to himself why, in his hands was a knife from the grave. Buckley and named - Murranguk, "returned the dead man».
Figure out what's what, William Buckley did not dissuade aborigines in their error. He just became the ruler of "his" people, listen and read it. Experience overseer at the brick factory and tested techniques in their own skin the royal army sergeants very useful Buckley, and he quite successfully managed the tribe of hunters, fishers and gatherers. In his new role, William wore robes of the best skins, every day feasting, was himself a harem of a dozen beautiful women and married the daughter of a local nobleman, what is even more strengthened its position.
Australian Aborigines from the south-east coast of the continent. Buckley nothing frightened: the tribes who lived in these parts have never been cannibals. Photos from the archives of the Library of Congress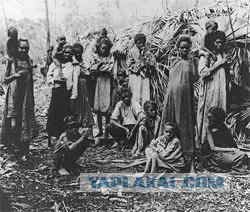 Tale-long thirty years
Over time, Buckley is quite wild and almost forgotten English. As many as thirty years he lived himself and lived, quite pleased with himself and those around him. But once all this fairy tale is over. By the shore, where the rules Buckley came up big ship, the mast which developed the British "Union Jack". Seeing the blue-red flag distant homeland, like Buckley woke up - he suddenly felt like it back in the civilized world that the role of a demigod among savages it became absolutely unbearable. However, knowing the habits of his subjects, just rush to the British Billy did not dare. With commendable caution cunning ruler of the tribe announced that it will visit a large cake alien with an official visit in order to find out their intentions.
On board the ship he arrived in the best outfit, accompanied by all the "officials" of the people, so that the British did not know it compatriot. Only alone with the captain in his cabin, Buckley, difficulty remembering and mispronouncing words, explained to the sailor, who he was, and asked to take him. Captain, shaken by its history, William hid in the hold and ordered removed from the anchor before telling to throw overboard "officials" who came to Buckley.
The former leader was taken to the place where just starting to build the city of Melbourne. At the request of the captain of all past sins Buckley, including escape from his place of exile, it was decided to write off "after so many years." Pragmatic colonists decided to use the unique experience of William communicating with the natives, and Buckley identified for the position of an interpreter for the local administration.
Gradually, William Buckley once again learn to live like a civilized person, but a place he still could not sit still. In 1837 he moved to the island of Tasmania, settling in its capital - Hobart. There he became an agent of the company, helping immigrants, met with the widow of an English merchant and married her. So William Buckley entered the third and final stage of his life, last as long as nineteen years lived in full prosperity, and respect from others. In 1852, his detailed account of his adventures was recorded and published as a book («Life and Adventures of William Buckley»), which immediately became popular and later reprinted several times. Buckley died in 1856, aged 76 years.
In September 1835, William Buckley was pardoned and in 1836 he became a translator from the language of the aborigines. Photo: State Library of Victoria
Dobavleno1 in [mergetime] 1269800187 [/ mergetime]
Valery Yarkho, 18.03.2010
www.vokrugsveta.ru/telegraph/history/1120/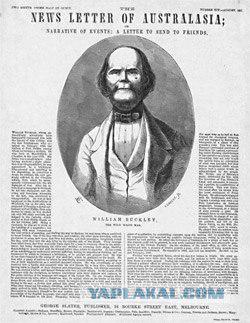 Source: