In addition to the May 9 Victory Day in many countries and also celebrate Mother's Day, a holiday dedicated to all mothers and pregnant women. Specially prepared for this day, this compunctionate edition of The young and caring moms.
19 photo + letter
1) The little red-gray wallaby sitting in a bag of his mother at the zoo in Hanover, Germany. (Stefan Simonsen / AFP - Getty Images)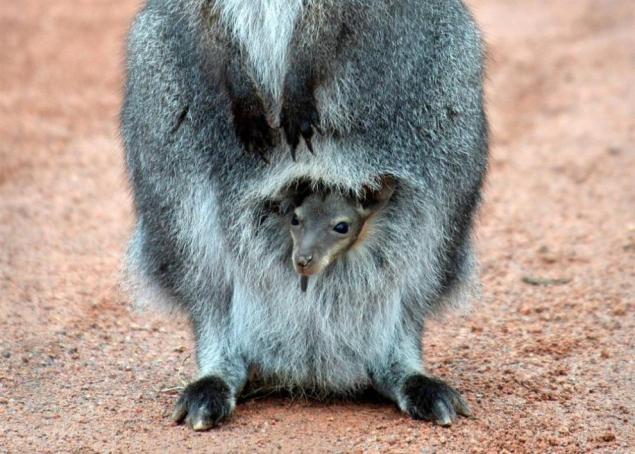 2) The baby chimpanzee bonobo hugging his mother named Kuni zoo Jacksonville, Florida. Recently, the couple first appeared before the public at large. (Marian Brickner / Zuma Press)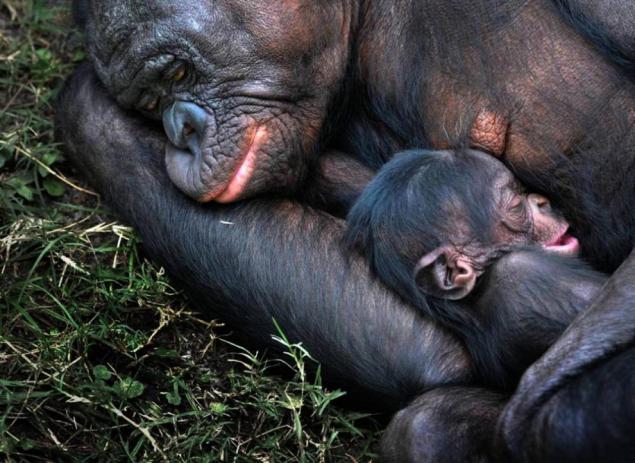 3) Three kitten with cat-mom on a small ladder on the porch in Harlingen, Texas. (Gabe Hernandez / AP)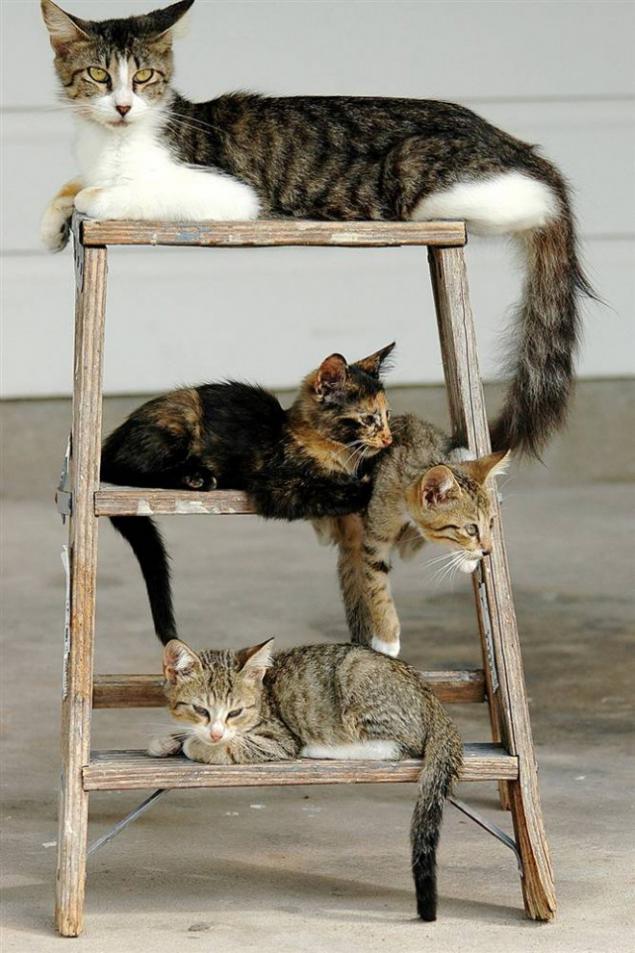 4) Canadian goose with gosling near a pond in the city of Roseburg, Oregon. (Robin Loznak / Zuma Press)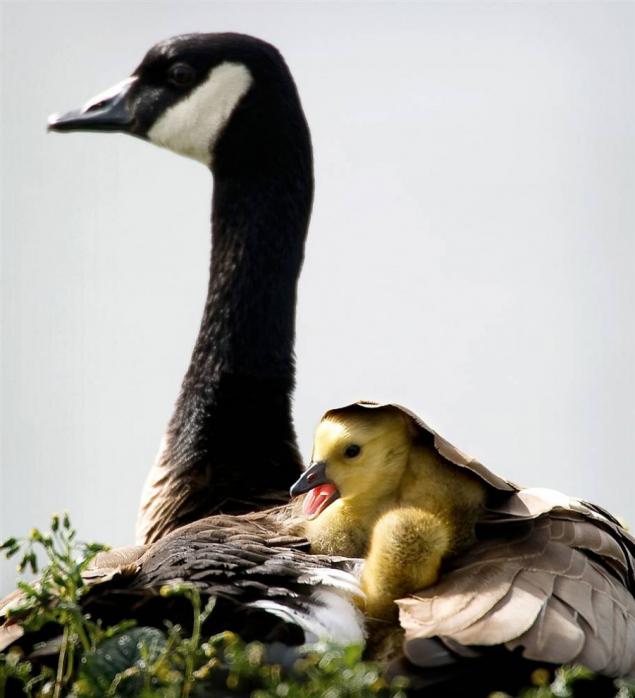 5) Geraldine, a small female rhinoceros, runs next to his mother Claudia in Safari Park in Hodenhagen Serengeti in northern Germany. (Christian Charisius / Reuters)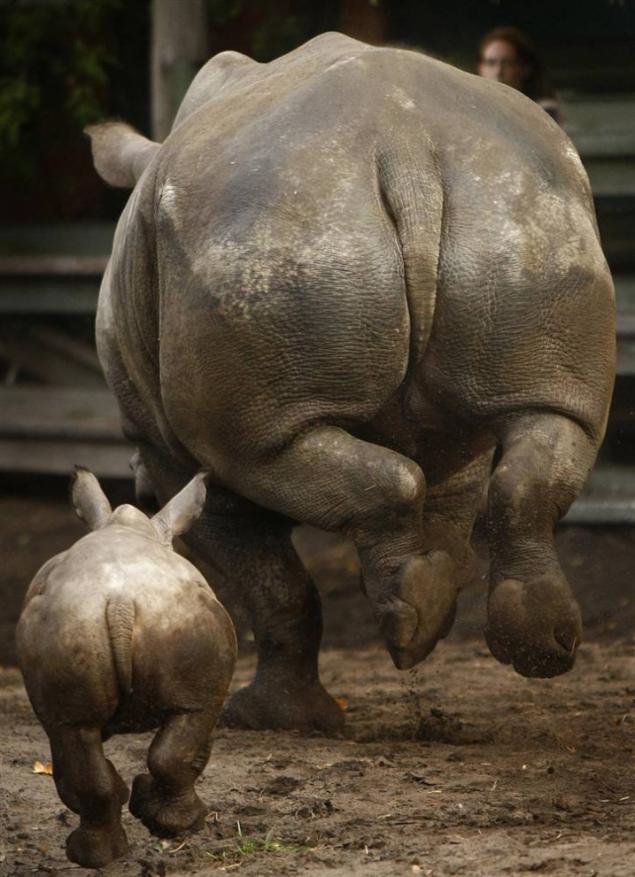 6) Orangutan Daisy kisses her baby, nicknamed Dodi at the zoo in Dresden, East Germany. (Norbert Millauer / AFP - Getty Images)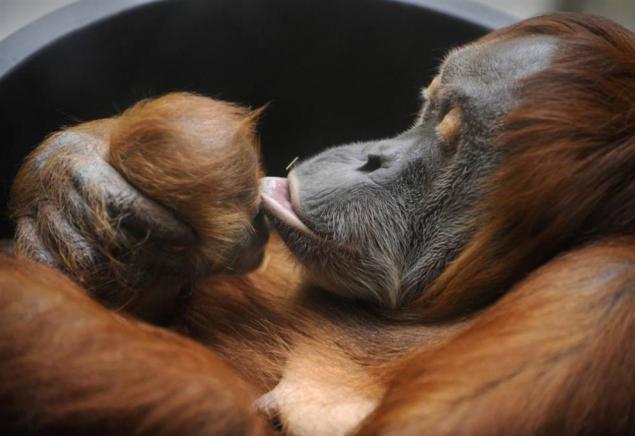 7) Canna, a female Bengal tiger, with its cubs in a private house in Jakarta, Indonesia. According to official sources, in Indonesia have been found 5 Tigers, who lived in a private house of a man of about 25 years. (Adek Berry / AFP - Getty Images)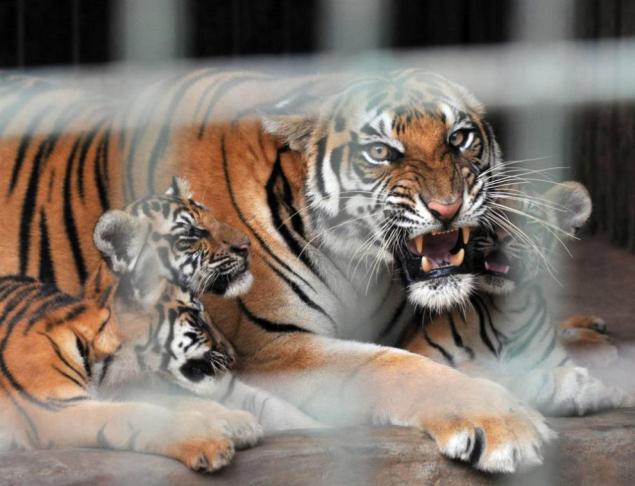 8) The newborn zebra next to his mother named Yoko at the zoo in Lima, Peru. (Martin Mejia / AP)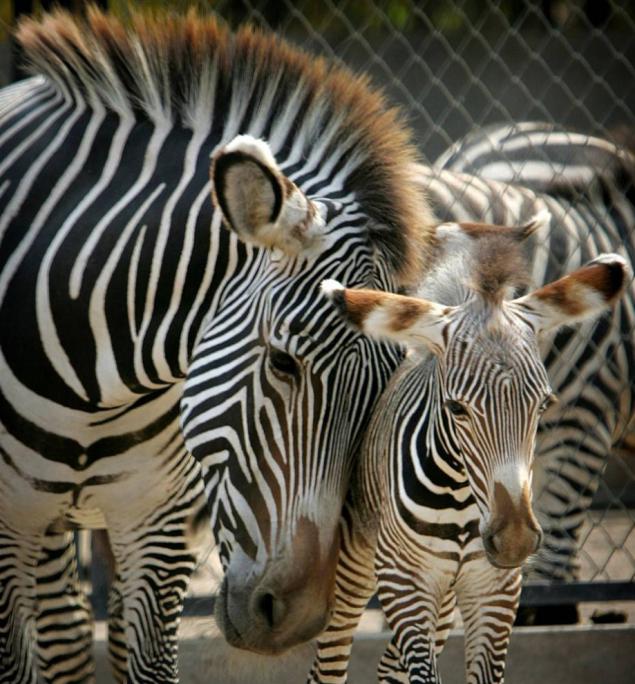 9) Adult Chilean flamingo looks at his two-week baby in the Bronx Zoo in New York. Nestling pink flamingo deceptively white, but in two years it will gradually change the color of the plumage. (Julie Larsen Maher / AP)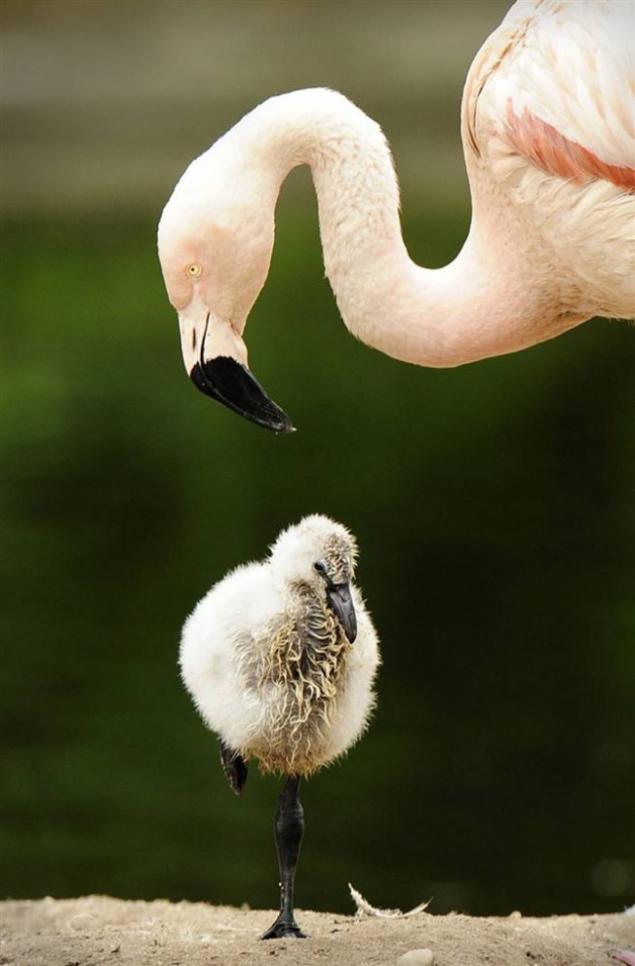 10) A pig with piglets on a pig farm in Thame, near Oxford, southern England. (Eddie Keogh / Reuters)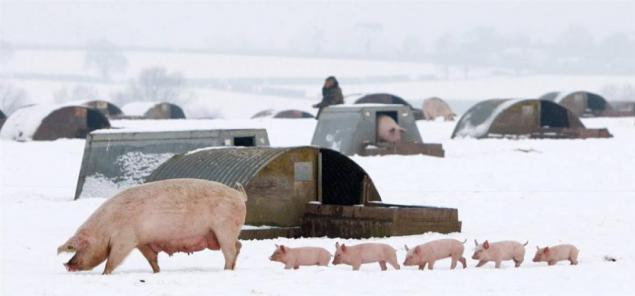 11) Brown bear and her newborn cub basking in the sun in the Attica Zoological Park, on the outskirts of Athens. (Orestis Panagiotou / EPA)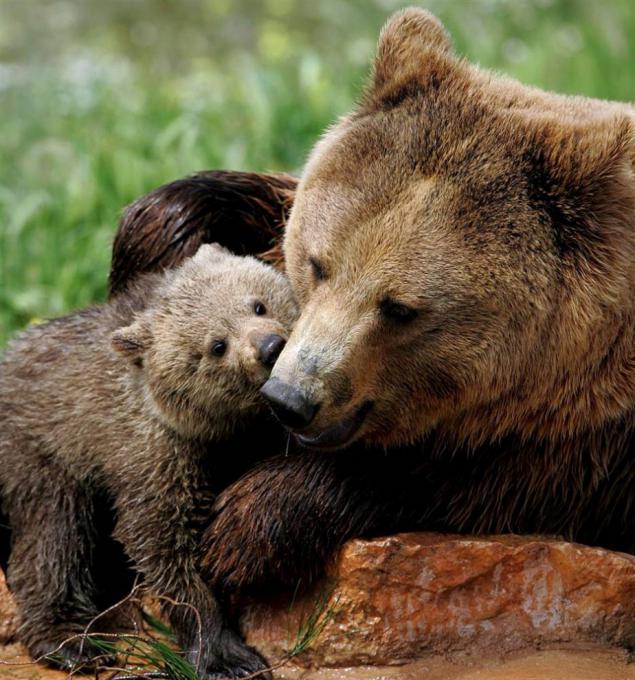 12) giraffe calf with his mother in the zoo in Hanover, northern Germany. (Kai-uwe Knoth / AP)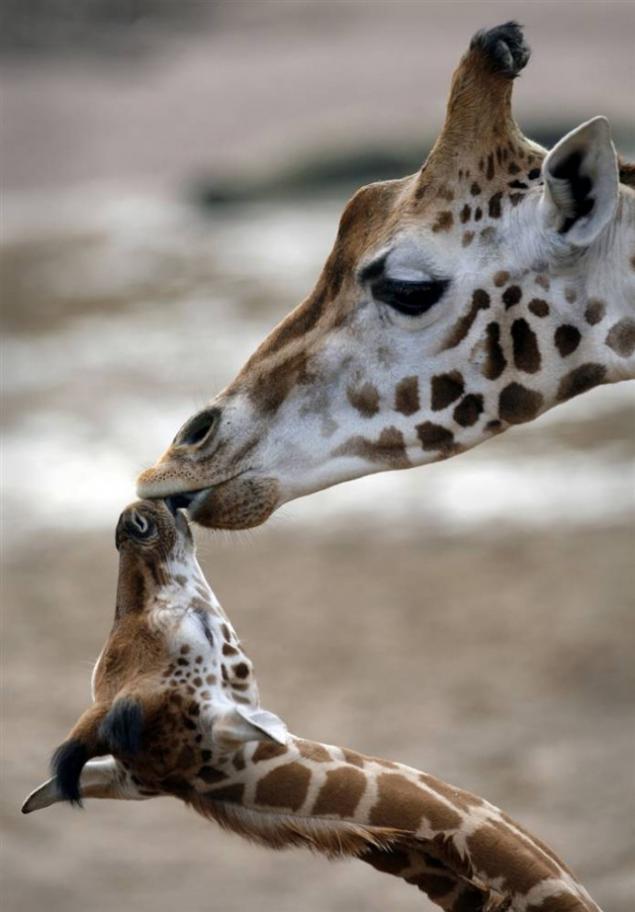 13) A monkey with a baby on the fence around the ruins of a mosque Feroz Shah Kotla in New Delhi. (Parth Sanyal / Reuters)
14) The six-day lamb clung to his mother named Mana in the children's zoo in higashimatsuyama (Saitama Prefecture), which is located near Tokyo. (Itsuo Inouye / AP)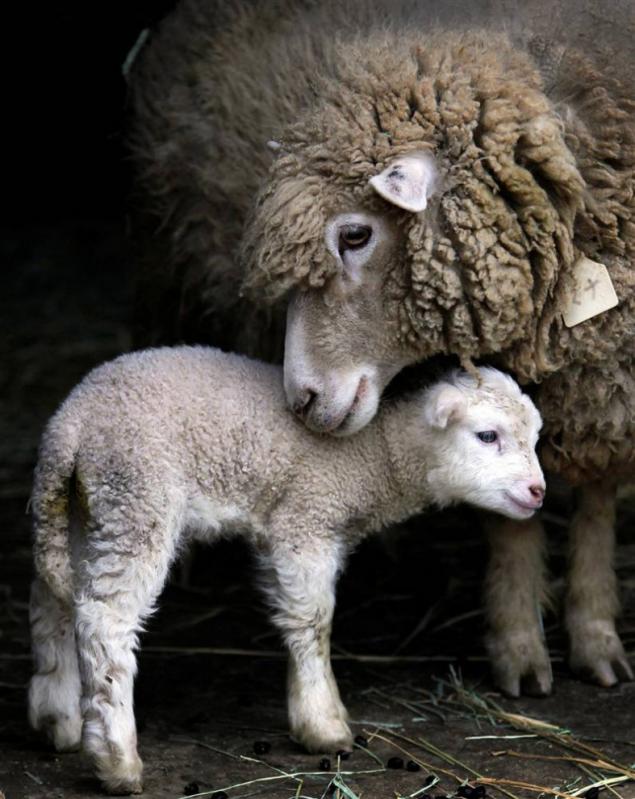 15) Three-year Galia feed their pups, the first-born in the heart of St. Bernard breeding Barry Foundation in Martigny, Western Switzerland. (Fabrice Coffrini / AFP - Getty Images)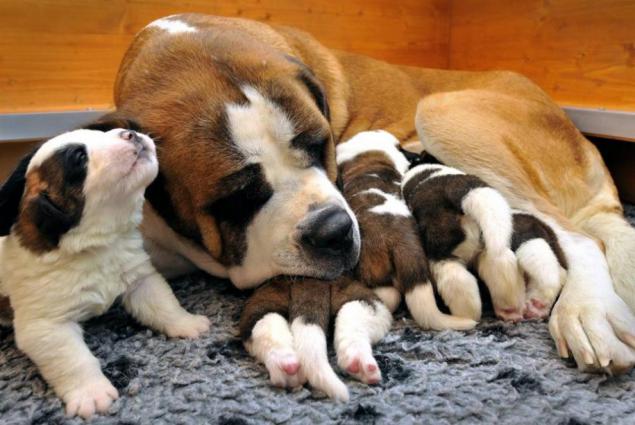 16) Mello - lion, which was only a month, put his head on the leg of his mother named Veni. The picture was taken in a safari park in Pasuruane in East Java, Indonesia. (Trisnadi / AP)
17) A manatee (sea cow) helps to sail her newborn calf, an hour after his birth. The picture was taken in a zoo of Singapore. (Straits Times / AFP)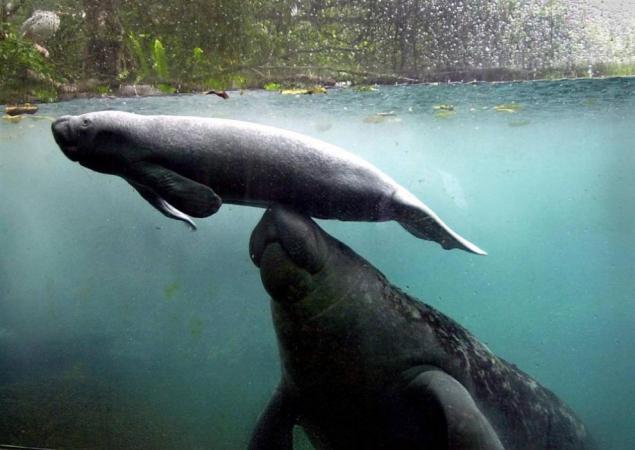 18) The four elephant next to her mother nicknamed Karisma. Karishma became a mother for the first time. Photo taken at Whipsnade Zoo near Dunstable town in central England. (Adrian Dennis / AFP - Getty Images)
19) Black Jaguar named Lolo with a newborn cub at the zoo in the city Yaduda Jordan. (Ali Jarekji / Reuters)
Congratulations to all present and future moms on Mother's Day! You have the best and we love you very much!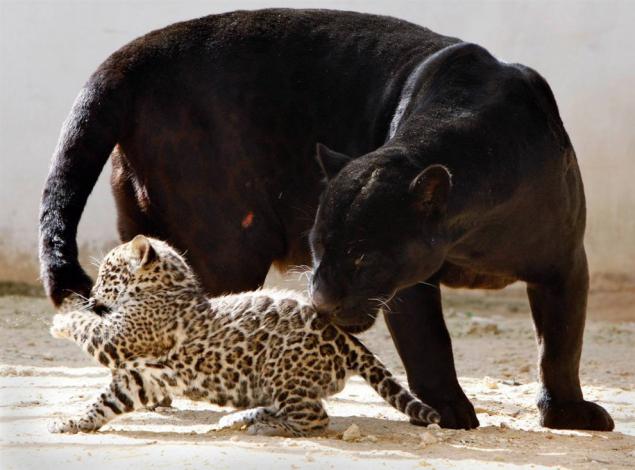 Source: