Yaplakalovtsy, hello! PWHT is dedicated to my favorite TV series «IT CROWD» - geek. After a long break consummated fourth season, I raced, then at me, and disappeared into the NAS to a shelf «MUST HAVE». I have long wanted to write about the shirt of one of the main character, the Scottish programmer named Roy, played by Chris O'Dowd. Checkered shirt with short sleeves and authentic ties Moss may also be of interest, but still. In all series, Roy change their shirts and not one time.
Roy shirts can be divided into:
 - The inscription of a large number of small letters;
 - Little letters, but larger (there are numbers);
 - 8-bit-nye pictures;
 - Just pictures;
 - Other.
But after I grouped screenshots of The above classification and see what happened, I decided to change all the same group on the series. I do not know about you, but in this case very clearly be seen as an actor growing up. Here and I left.
As the presentation of T-shirts will try to comment on them, to find meaning depicted on them to describe my association. All driven: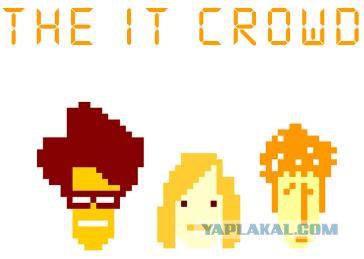 Season 1
-1.1- All computer related to people familiar with this reduction. RTFM (read the fucking manual) - teach Math part.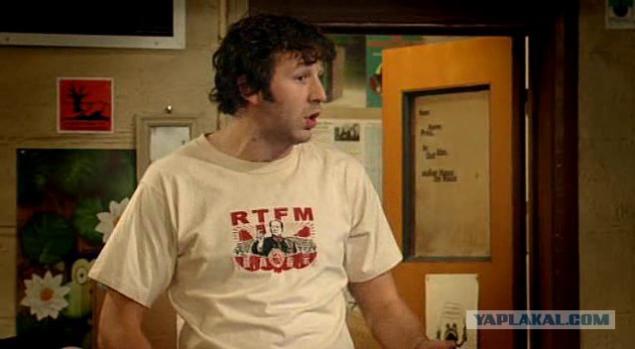 -1.2- 8-bit-tion toy (about space aliens). She is still in the animated series Futurama lit.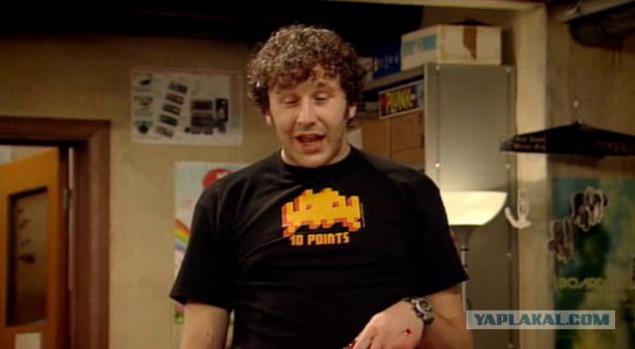 -1.3- No comment, only one association - a cartoon VOLT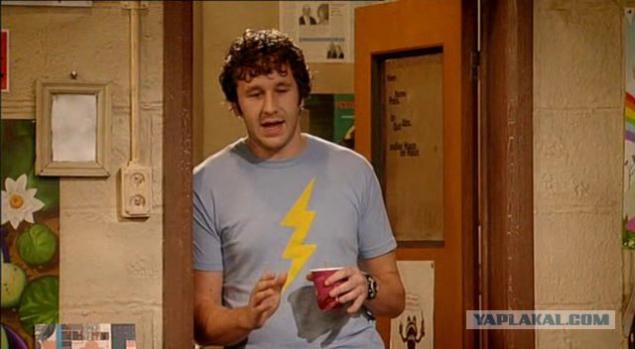 -1.4- Like inscription reads THE IMPORTS (or Che?).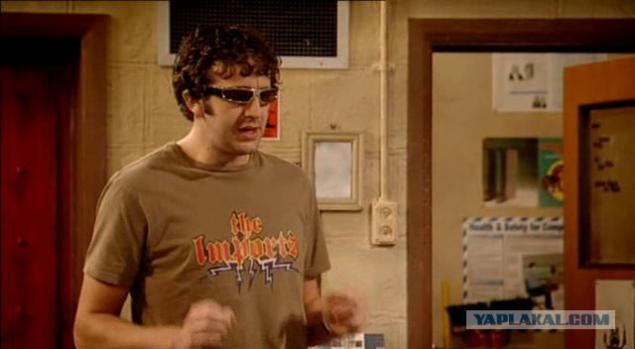 -1.5 - A frozen moment of the game PACKMAN.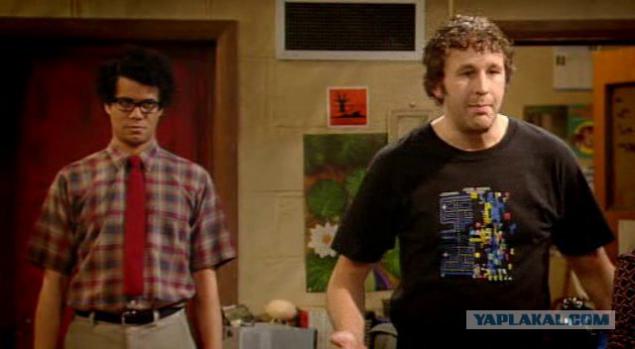 -1.6- Mike nothing about that, but it is repeated in the fourth season only actor of the opposite sex.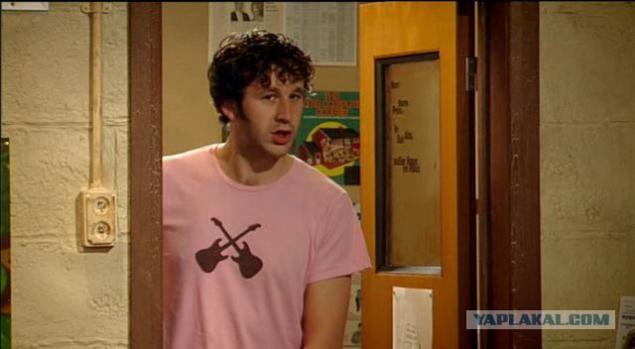 - 1.7- Oh! Mike is notable - based on the "Hitchhiker's Guide to the Galaxy»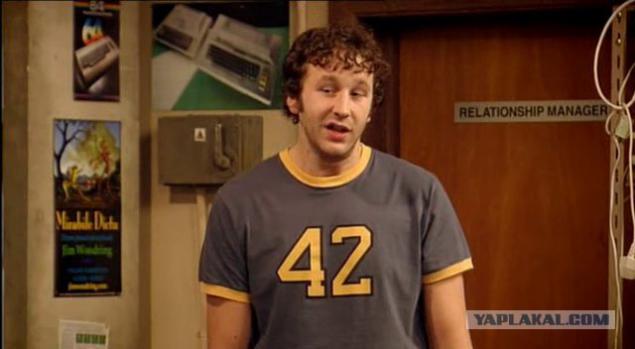 - 1.8- shirts about them. Some sort of crap.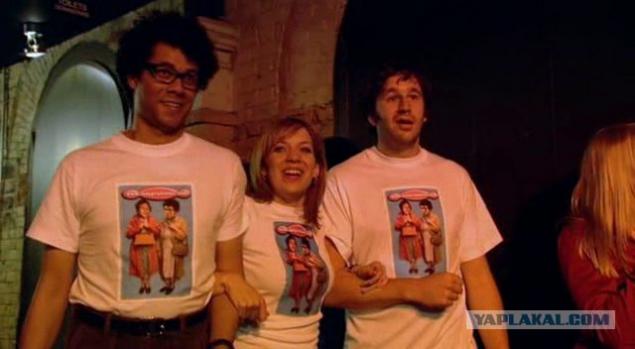 Season 2
-2.1- I do not know - a dog with a human head, or what? the meaning is not disclosed. Search WWW nothing.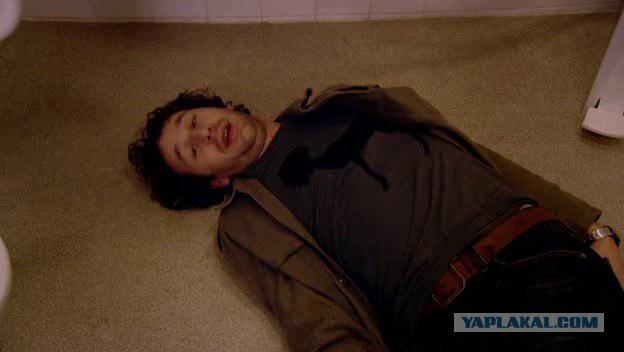 -2.2- I like concise writing. "I see stupid people." (not strange there is on sale - up to 900 rubles)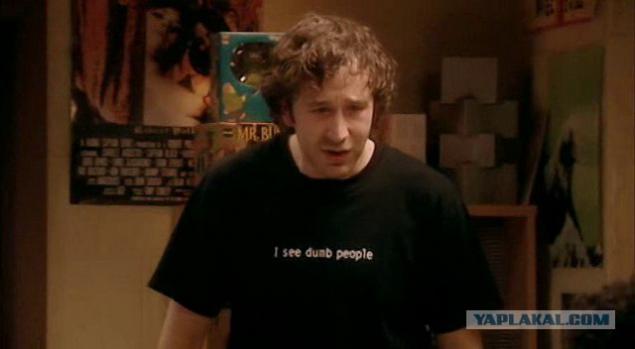 -2.3- Came too small. Robot at work on the PC. It may make sense that he himself programs (see the connection cable)? Moss all still a cutie. It will be necessary and it psto pstvyatit.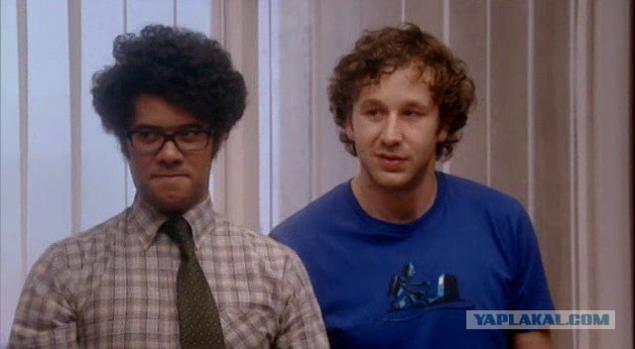 -2.4- Uninteresting collage with a pig. Added stupid pile up.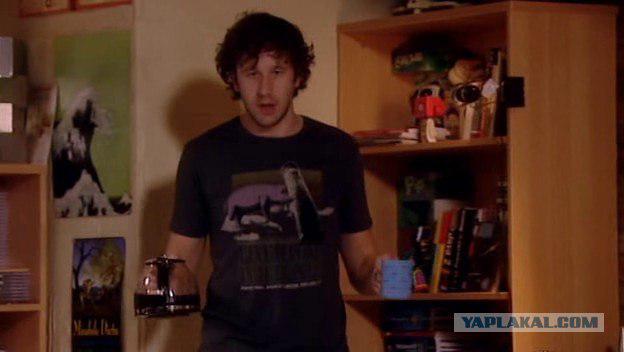 -2.5- Just inscription. Internet says Presumably, the word came into widespread use due multserialu "The Simpsons" and, in particular, its heroine Lisa Simpson.
Experts also say it can be translated as "non-A" or I drive.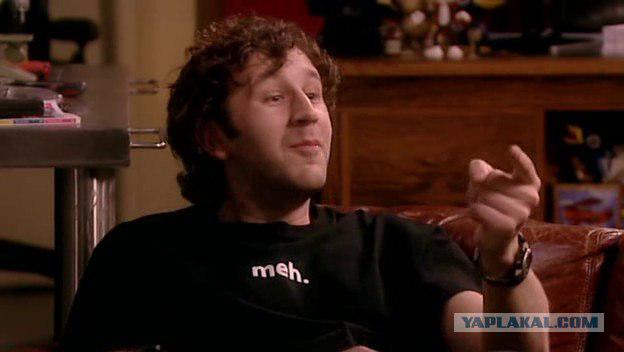 -2.7- "Sun is trying to kill me."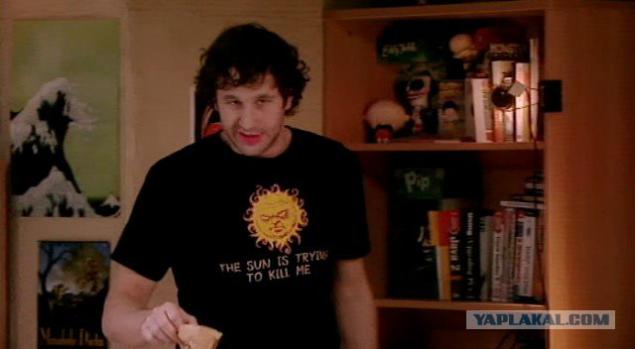 -2.8- Something Makovsky (CTRL-Z on the window language?)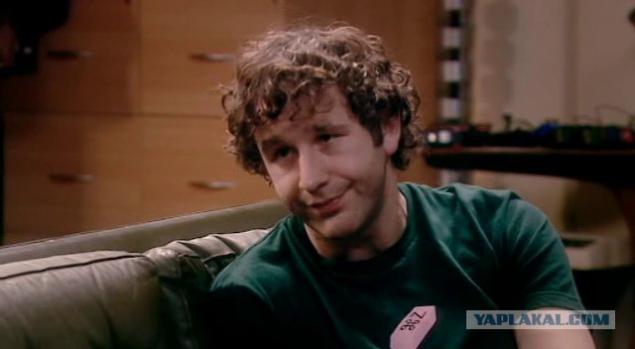 -2.9- Did not understand - but another new shirt (T-shirt, T-SHIRT) counted.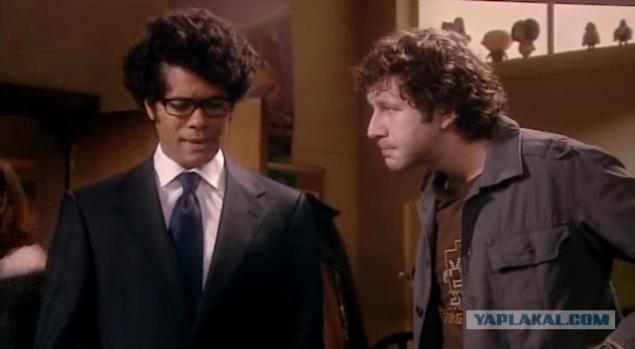 -2.10- Human head again, but this time fastened to the body of a lion (or dog, compare with -2.1-). PS: He heard for muse scroll up.
-2.11- Ovechko-man (8 bit), CTRL-ilyayuschy engergii clots.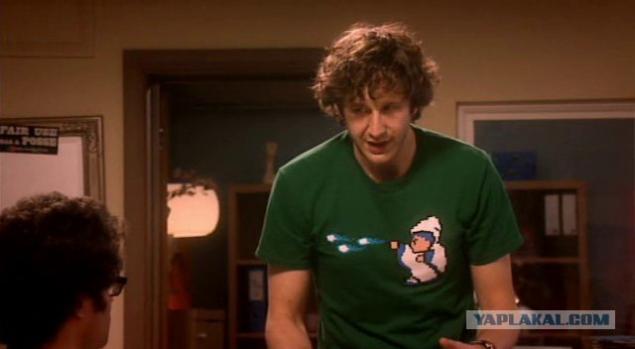 -2.11- Mike has a downside. The inscription reads: Guns do not kill people Magic Missiles do. This t-shirt on the internet is $ 16.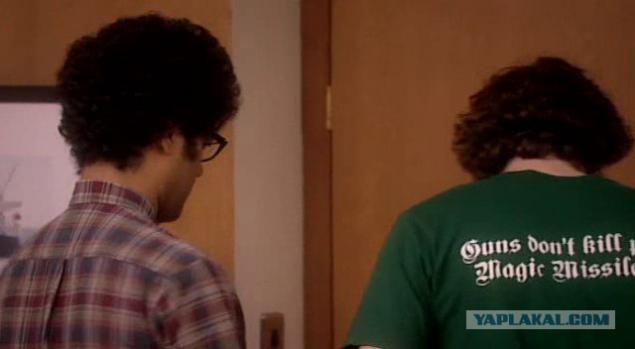 Season 3
-3.1- Very popular topic now - infographics or graphic visualization. Caption: MUSIC I LIKE, MUSIC YOU LIKE and MUSIC I USED TO LIKE at the intersection.
-3.2- 8-bit-ny frog.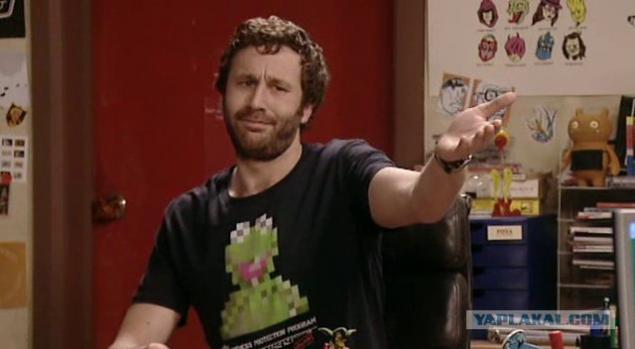 -3.3- Illegible. Japanese cartoon hero?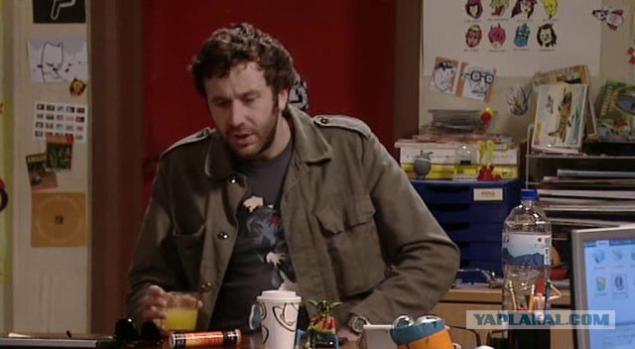 -3.4- Not clear too. But the reverse side of the track from a cup a coffee (it was broke screens do)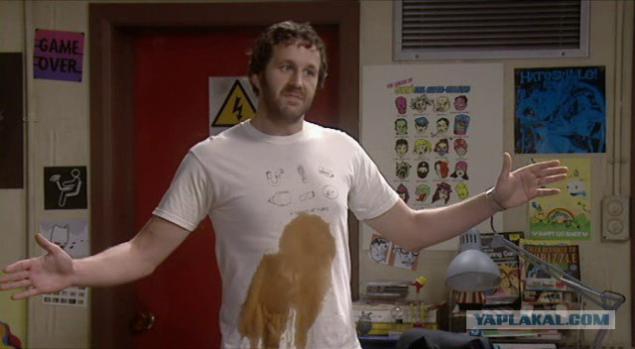 -3.5- Third season. The inscription on the jersey unreadable on. But counted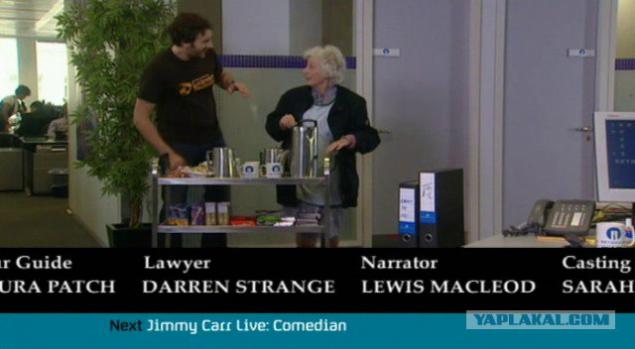 -3.6- Well my characters generally weak spot.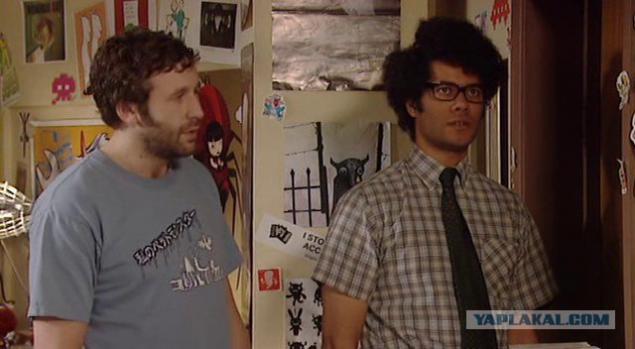 Again -3.7- pass. Too small.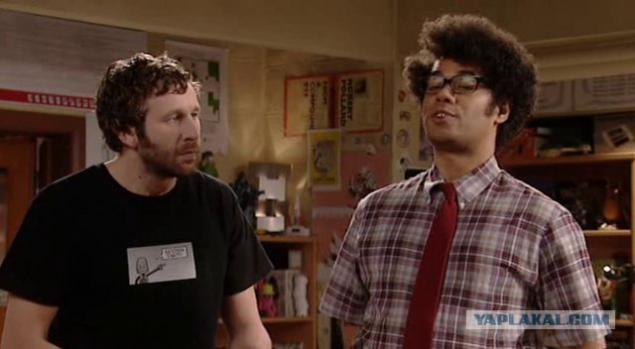 -3.8- THE OVERLOOK HOTEL - a fictional hotel from the novel Stivín King's "The Shining» THE SHINING. There is even a movie - google to help you.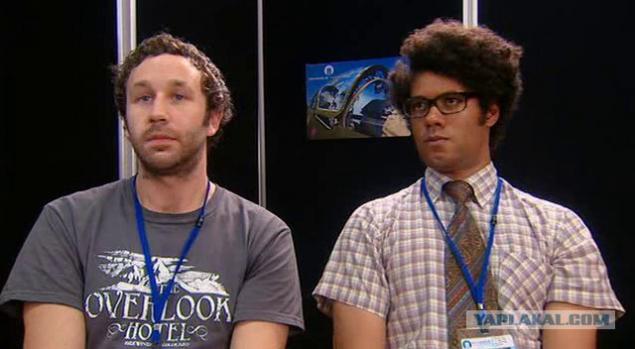 -3.9- Ideas point there. Translated as Panda-ugly duckling. It seems like in Happy Tree Friends such a character was not.
-3.10- Failed to recognize the inscription. But the robot militancy and bezgoloff.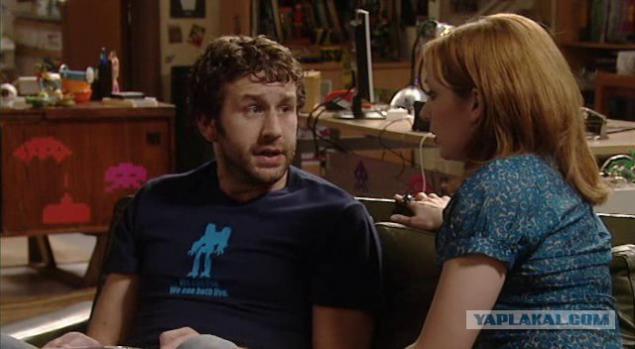 Translate -3.11- possible. but it turns out some garbage. Lingvo and PROMT assistants.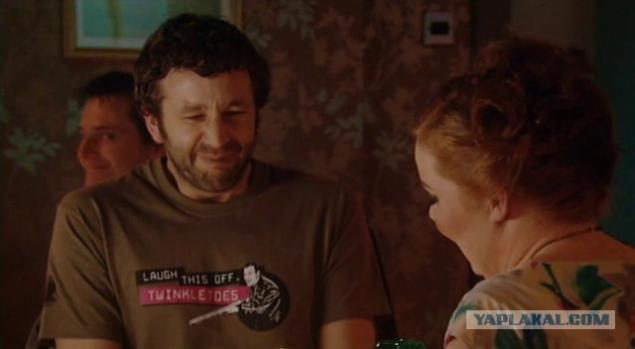 -3.12- Firefighters are firefighters. T-sided.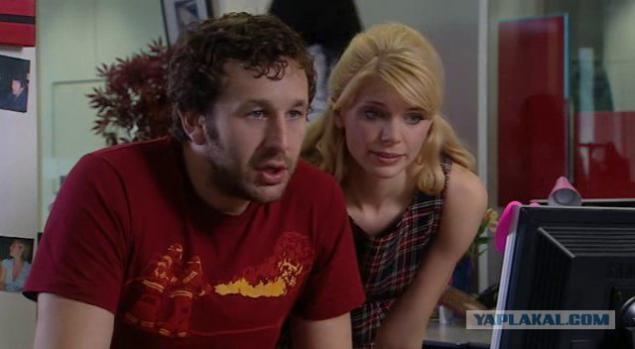 -3.12- And the back of the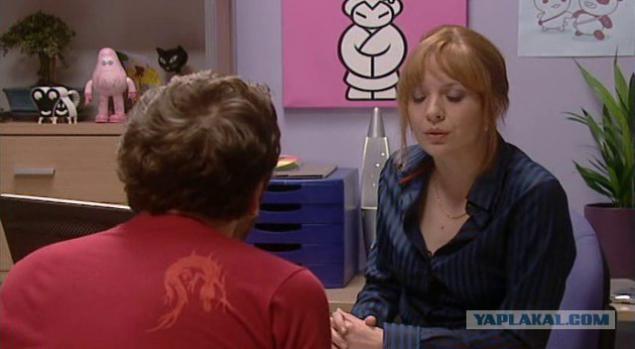 Source: