Prime Minister Jens Stoltenberg appointed Minister of Culture of the country's 29-year-old Muslim Hadiyu Tayik.
Link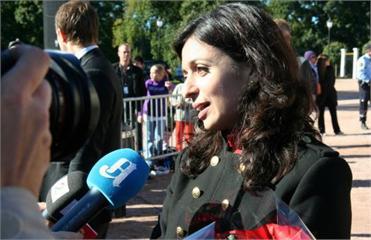 Norway's government reshuffle affected not only the Ministry of Culture, the former head of which Anniken Huitfeldt was appointed head of the Ministry of Labor. The post of Foreign Minister of Norway Jonas Gahr moved from Stere, who headed the Ministry of Health, the Ministry of Defense to the head of Espen Barth Eide,. Defense Ministry headed by Anne-Grete Strøm-Erichsen, who led the MFA to Støre.
Tayik became the youngest minister in the history of the country and the first Muslim woman in the government. The new minister has voiced his program in the near future.
Tayik stated that the cultural diversity of the post to become an integral part of everyday life in Norway. Note against the policy advocated terrorist Anders Breivik, who was convicted on August 24 21 year of imprisonment with the possibility of extension for the organization of a double bombing that killed 77 people.
Tayik intends to integrate ethnic minorities into society, create conditions for social mobility, and build a new social elevators for visitors.
According to the minister, often immigrants do not take an active part in society, simply because they can not find good jobs and quality education.
Tayik born into a family of immigrants from Pakistan, has long worked in the leading Norwegian media, and then became advisor to the Ministry of Labour, which was engaged in social issues.
Government reshuffle took place against the backdrop of unrest in a number of Muslim countries, caused by the shot in the US film Innocence of Muslims. September 21 for more than 3, 5 thousand. People staged a picket outside the US embassy in Oslo. The Prime Minister instructed to prevent the escalation of conflict in the country.
Source: