Hello everyone! I want to tell you about how I was lucky enough to find a treasure and witness the findings of the second treasure. Please do not break, will be a photo, and will report at the end as it should be, you can be my stumbles, because the post first.
Treasure №1
It was like this. In the past year, relaxing with friends on the sea, I have asked for another metal detector, try that kind of thing. Half an hour walking on the beach under the curious eyes of tourists, I found 100 rubles a trifle, a bunch of traffic jams and what that costume jewelry. The unit I was given, but the thoughts and feelings remained. At home I have a dream that night, I found a treasure of coins, and in the morning I started to study the market of metal detectors in Russia. I decided to just take a good, the choice fell on the French Deus. And money sent huckster, and I'm waiting for sending the instrument shtudiruet forums and vintage card. Reading the forums, I realized that pripozdal this passion for 10 years about everywhere is all dig dug. After receiving the unit, immediately decided to test it on the nearest beach. Again a bunch of modern coins and condom ... unopened ... - I thought about it, maybe it's a sign from above, saying "Dude, it's not yours, you throw this thing." And that's how I decided to just go wherever the desire to withdraw. Desire Elizabethan brought to the village, not far from Rostov on Don, almost opposite the glorious, rich historical events of the city of Azov.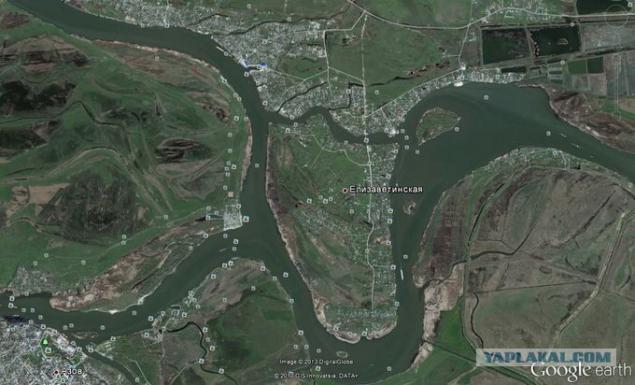 Crossing to the village, he saw a beautiful meadow with grazing cows on it and decided that I would go here. Six hours I was excavated a certain amount of congestion on the vodka, coins, both modern and early Soviet Union, pieces of wire, shells, bullets, fragments and other shmurdyak. So it grows dark and I decided to make the last pass through the meadow and go home. After twenty meters I longed to turn right and walk a little bit the other way and suddenly I heard a clear headphones "mint" a signal with high conductivity. Carefully determine the center, I dug a spade, departing from the center (this is done that would not damage the blade of a shovel target), and at a depth of bayonet spade in the ground, I saw pieces of fine ceramics and burgundy fabric or leather, and amidst all this scattering of small coins. For some time I realized what had happened to me, in short, I trite ohuel. Words can not convey the guys are feelings and emotions that I have experienced! Call a friend, he said he found the treasure, he does not believe me, but his wife, remembering my story about a dream she believed a treasure once. Unfortunately I did not take pictures immediately come to mind, I thought of making before leaving. In the end, I counted two hundred silver coins the size of the current 50 cents.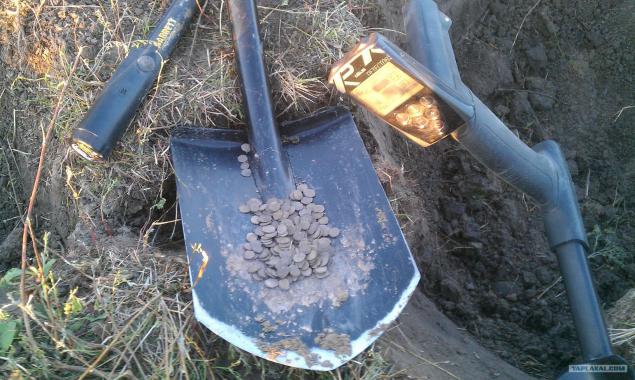 I think only about who and when the ceramic vessel with coins inside could be buried here and what kind of coins and how many years they have lain here. As it turned out (with the help guys now) is the coin of the Crimean Khanate & quot; the reign of Khan Devlet Giray (1551-1577 year) Perhaps someone during a raid in 1558 and prikopat money. This amount then, the warrior could buy a pair of horses, which in general is a lot. And today, these coins have historical value rather than numismatic. After a while I went out to the man and gave a good price once for the entire treasure and a place where I found it. Until now, I remember the moment when I realized that I found the sound of a handful of silver coins pour from one hand to another, it is the breath of time ... I'll never forget.
So he could look like a warrior, bury the coins.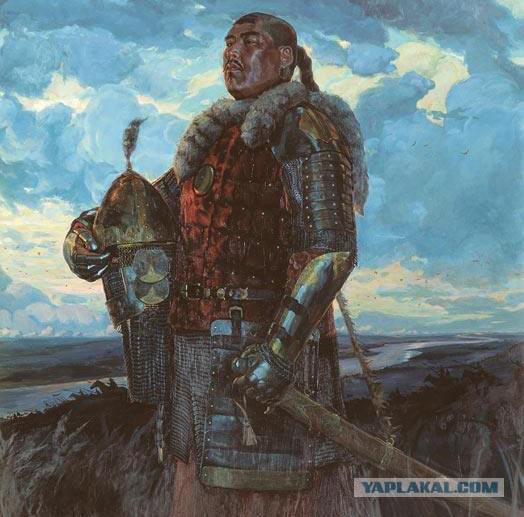 Coins in a pile until it shelled.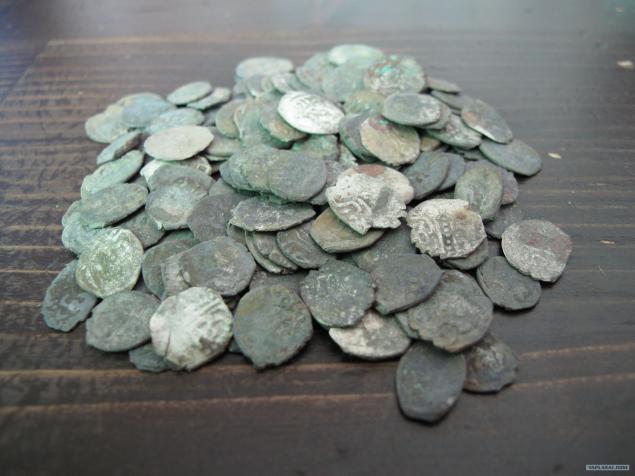 Cleansing. Obverse and reverse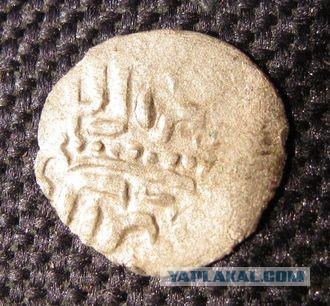 Tamga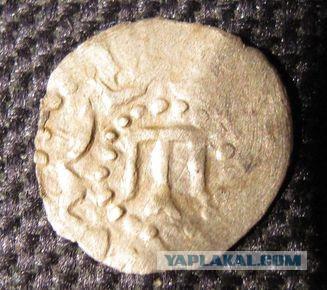 Treasure №2
After a little time after my findings, we went to the place of the former "Petrovskaya" fortress. The road to the site was difficult, at first it was necessary to cross the river on a boat with a decent passage of the fairway, and then walk on the overgrown meadow to the remains of the foundations of this fortress. Some how to get rested and collecting equipment, rebuilt from the ground, began to search. Again vodka cork, wire and sleeve ... as I see my friend and teammate running toward me with a completely moronic expression. Immediately thought that he found. And so it proved. But he found no less ... - drumroll ... two 3 liter cylinders GANDZHUBASA !!! There were on the metal cover on the cylinders. Open, sniffed and ... - closed back. To say that we prifigeli is nothing to say, we just ohueli. And the second time I have for this autumn - such stress on the nervous system! We started savvy that this treasure to do. We certainly understand that there is grass for a considerable sum, but since we do not indulged in grass, and were opposed to this, we decided perepryatat. Take out and hand over the police also did not dare to, that would not be a witness, the accused. Perepryatat qualitatively find FIG. The photo shows blue trousers, they were wrapped cylinders, apparently that would not crash into each other. Now I imagine the thought of a people who prikopat this nychku ... :)
That this was the last year, there were interesting findings, some more than two thousand years, but these emotions were no more. Let's see what 2013 will bring. All the good humor and joy, thank you for your time and read this story.
Posted in [mergetime] 1363026285 [/ mergetime]
More photos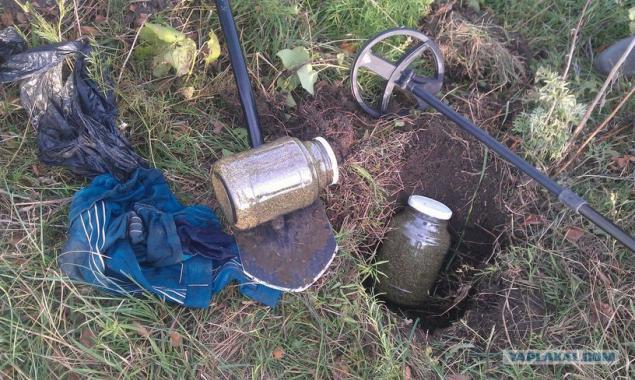 Gandzhubas!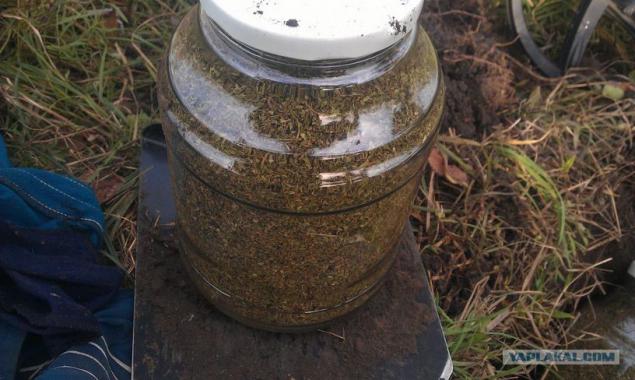 And the last photo
Posted in [mergetime] 1363026366 [/ mergetime]
Phew, all can kick ...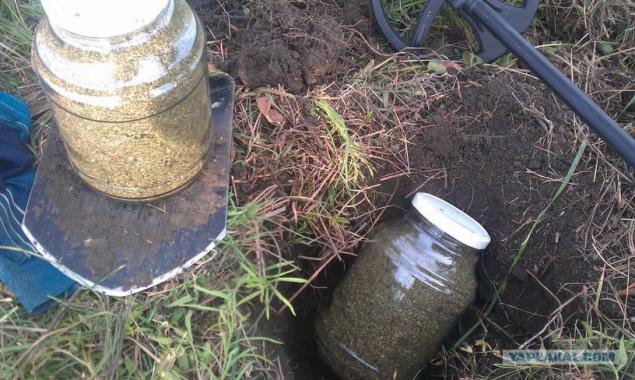 Source: