Doctors from Kurgan Ilizarov clinic put on its feet baby, who because of illness threatened amputation.
Specialists of the center of the famous city of Kurgan held a unique operation boy of two, would be born with severe pathology. Doctors leading Russian and foreign clinics offer baby legs amputated, but doctors were able to transplant the Ural his feet and learn to walk.
Little Kerim clinic Ilizarov parents brought from Turkmenistan. Baby born with serious defects in the legs and can only walk on all fours.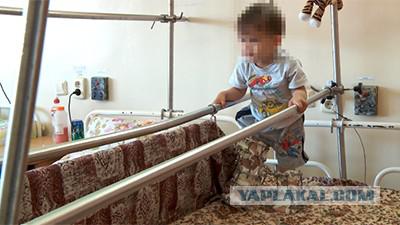 - We showed him the best doctors from Moscow and St. Petersburg hospitals, even for consultation were taken to Iran, but they all said the same thing: it is necessary to amputate the leg, - told Life News mom Kerim, Shirin Annaberdieva. - When I first heard that his son will have to wear dentures, I felt sick!
Learning that there is a clinic in Kurgan, where work wonders, desperate mother brought Kerim to the Urals. The doctors examined the child and found that the pathology is very heavy: in the lower leg kid did not have many bones, tibias were absent, so the foot up where they should not be: in the peroneal. The poor boy could not stand up on its feet and even crawling with difficulty.
 - Indeed, the approach to treatment of these problems, even in the most developed countries of the world is one: to further amputation prosthetics, - told Life News Head trauma and orthopedic department number 13 Ilizarov clinic Konstantin Novikov. - But we have decided that this child should avoid the terrible fate, and promised to raise him from his knees.
Complex process of correction has taken six months. First, doctors removed the dislocations and distortions on both feet, lengthening them and prepare for the main stage - transplant. Then, using a special medical Ilizarov moved to the foot of the fibula to the tibia, created from scratch ankle.
 - In fact, we have replaced the foot kid - continues Konstantin Igorevich. - In the Russian practice is the first time, and probably in the world too, as overseas such problems are always solved only amputation.
 - While there was a treatment, I could not believe in the success and constantly asked Konstantin Igorevich: "He will go? He will walk? "- Tearfully recalls Shirin. - And the doctor each time answered, "Sure, why else would we do it?" This is a blessing that we have met these gold doctors, they have created a miracle! Give them health and happiness, God, sorry I do not speak in Russian: I would like to say a lot, I have a book written about them!
Now the little patient may already be on the legs, and even taking the first steps. It will have several stages of treatment, but the trauma orthopedic confident that everything will be fine.
 - We have the most optimistic forecasts we keep baby feet, and they will be living, warm, beautiful, and her - smiling Konstantin Novikov. - The boy is not just their will feel he can wear shoes and drive a car - as well as all.
Gavriil Ilizarov - Soviet orthopedic surgeon, Hero of Socialist Labor, academician, doctor of medical sciences, professor, honored doctor of RSFSR.
Ilizarov has in 1951 developed the universal device of external fixation for the treatment of fractures and deformities of the so-called Ilizarov apparatus.
Together with this substitution technique invented by Professor defects of bones by means of his apparatus. With this method it is possible to restore the missing parts of limbs, including foot, fingers, as well as lengthen the limbs. The unit subsequently constantly improved.
Ilizarov founded the Center for Restorative Traumatology and Orthopaedics in Kurgan, bears his name to this day.
Source: