Famous Hollywood actor and screenwriter Steven Seagal admitted that hopes to become part of the Chechen Republic, - he said this on Saturday in Grozny, speaking at a gala concert dedicated to the 195th anniversary of the city.
The celebration of the city of Grozny, which is celebrated on a large scale in Chechnya since October 5, 2007, coincides with the birthday of the head region, Ramzan Kadyrov. Saturday to congratulate the residents of Chechnya in the republic gathered stars of Russian and foreign music, including Valery Meladze, Victoria Dayneko, Timothy, Lev Leshchenko, Nikolay Baskov, Snap, Lou Bega and London Beat.
"Congratulations to the Chechen Republic and his brother, Ramzan Kadyrov. I am honored that Ramzan Akhmatovich invited me and my family to visit this wonderful event. I hope that in the future will become part of this country. Ramzan Akhmatovich, I'll always be your friend, "- said Segal.
He added that above all respects the head of Chechnya as a "great leader».
"My father, Ramzan Kadyrov - Akhmad - laid the foundation for a great Chechen Republic. His son followed his father and turned the war destroyed the region into a thriving region. I respect Ramzan Akhmatovich as a friend, as a great warrior, but most of all, I respect him as a great leader, "- said Segal.
Earlier, the head of Chechnya, Ramzan Kadyrov invited to settle in the country of the French actor Gerard Depardieu has received Russian citizenship in January. Later in February, on his page on Instagram Kadyrov said that Depardieu became an honorary citizen of the Chechen Republic, he also handed over documents to the five-room apartment.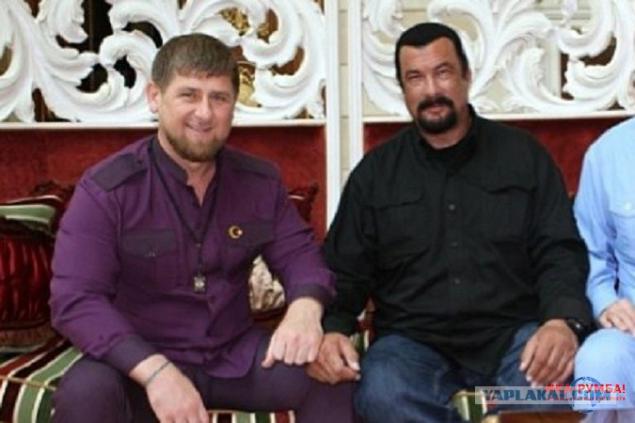 Source: