- I hate this holiday, the most disgusting of the year! - Muttering tipsy accountant Love Semenovna, sitting at a table at a birthday party colleague. When the talk was more about what, when greetings were over, began to discuss the upcoming holiday. - Cook all day, thirty-first day, all day want to eat, and you stand, waiting for the night for some reason, suffer. Then comes the 12 drinking a glass of champagne alone (my mother had already will probably sleep), eat these stupid salads, watch TV and go to sleep. What is good? I hate this holiday.
It took twelve days, and it's December 30th.
Love Semenovna habitually went to the supermarket for groceries, to perform a traditional ritual sacrificial cooking and agonizing wait battle chimes.
Entering the hall illuminated large store, Love Semenovna, head bowed down, walked to the endless rows of goods. But then it stopped someone. She flinched in surprise, and was about to resent such utter disgrace, (accountants because you can not bother about nothing!), When he came to her senses and bulged his eyes in front of her was a big Santa Claus in a blue coat and with his staff. Red-man enthusiastically yelled:
 - Ljubasha, hello !!!
 - Excuse me, but who are you? - Love Semyonovna discourage unexpected familiarity, from which it is for many years of service to the calculator has managed to break the habit.
 - Luba, and not you recognize me?
 - But how do I know you, are you? What are you really stuck with me ... - she tore to leave. Santa Claus stopped her.
 - Luba, I, Nicholas. We studied together with you.
Love Semyonovna, of course, did not recognize the man in a suit, but his voice still it looked like someone.
 - We learned together with you! - And he pulled his beard to show all his face, and Love Semenovna saw the smiling red-faced man with a vaguely familiar features.
... Love Semenovna many years living alone. Golden time when you had to start a family and children it stupidly missed by opting for a career and making money ... And then someone suddenly called her Lyubasha ...
Love Semenovna, in its 40 years already forgotten this form of his name.
Nikolai asked her to wait until he change clothes, and invited her to sit with him in the cafe. The woman agreed, even though he knew deep in his accounting of the soul, it's a waste of time.
It's amazing: Nicholas talked to her as if they did not come from the supermarket hall and from school, as if there were these twenty years. For one evening Love Semenovna felt myself Anyone Lyubasha, and already at December 31, it was decided that they celebrate the New Year together. Nicholas also lived alone and was glad that they met by chance on the eve of such a wonderful holiday ...
On the morning of the 31st, Ljubasha fluttered in his kitchen. There was boiling, seething, shkvarchalo from all sides, and it was time to up to 16 hours, because for her was to call Nicholas to go together to celebrate the New Year. Have much time! After so much time lost for nothing! ..
When the salads and baked chicken already singing solemn hymns on the table, Love Semenovna remembered that he still had himself put in order. Went to the mirror and thought, "How much I have changed ..." At this point, it ceased to balance the mind to control it, and Love, the former Semyonovna did not impose their usual dark shadow on the eyelids, lips looked around not maroon pencil ... I do not become converted to an accountant. She just brushed her hair, refreshed face light cream, slightly touched up eyelashes, found somewhere light lip gloss and once twenty years younger. On those same twenty years that she missed because of misplaced priorities. And somehow joy and light became the soul of Lubasha.
The doorbell rang. She opened the door and saw on the verge of Santa Claus. He handed her the package.
 - What is it, Nick?
 - Change clothes and go.
Luba took the bag and found it ... suit Snow Maiden.
 - Nick, you're crazy if something has gone? Yes people laughed at me!
 - Who are you laugh? You're the Snow Maiden! Snow Maidens And everyone loves.
Luba looked at herself in the mirror. Something incredible happening! .. What to do? Oh, yah them all, who says that?
Went into the room and changed. To gaze Santa Claus left already cute blue-eyed Maiden in a silvery dress. Woman again went to the mirror and was stupefied ...
 - Nick! It's incredibly beautiful! It's me? Or is it someone ???
Nicholas went to her and kissed her ... Snow White.
 - Come soon, we have many cases.
... Love, the former Semenovna, after that December 31 was no longer a former bookkeeper. Santa Claus magic staff, even if not present, made her woman.
And with the New Year, Luba and Nicholas began a new happy life.
THE end.
© Larissimo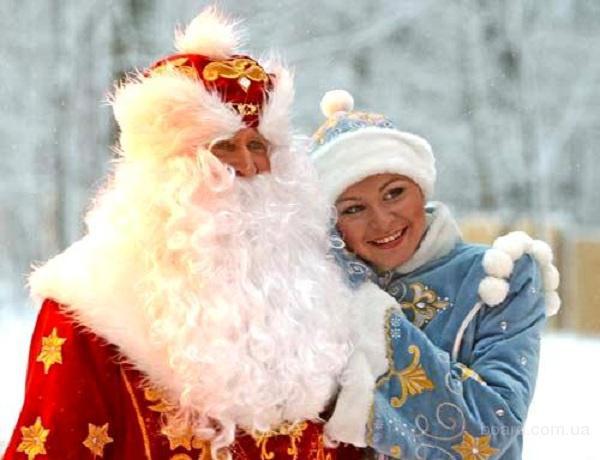 Source: