"Vrungel" - 35 years. When in 1979 the premiere of the first Soviet cartoon series - in the courts was not a single child. They literally stuck for 10 minutes to the TV. And so it was every day, until you have shown all 13 episodes of the cartoon. In total, the two-hour-trip adventurous gangsta-story "The Adventures of Captain Vrungel" Cherkassky David made a real breakthrough in animation.
8 photos.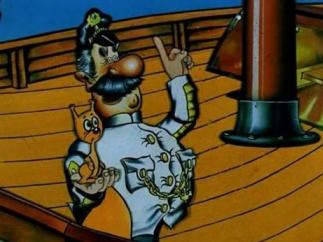 Animated films created in the art rudder, but there are also traditional animation. And when the subject is moving the viewer or away from him, it is an imitation of filming. For the first time there was a combination of animation and cinema: in one series used footage from "Solaris" Tarkovsky. The picture is crammed with avant-garde techniques, that has not stopped her from becoming mega mixed-age audience. The expression "win - trouble" defines our history and phrases cartoon characters - immediately went to the people:
"Ma Ben»;
"Always drink Cinzano, constantly sated, drunk, o yes!»;
"In my opinion, the case of tobacco! - It is true. Lights up, guys! »;
"Hands up. Your song is sung! »;
"Yes, I have izmochalyu, erase in a powder and fry over low heat. However, I come up to you something worse. I'll throw you, and you will again have to be honest people! »;
"Let me wait in the pyramid of Cheops, eight mummies, third left corridor»;
"I am here and there - where they sent. And often send »
David Cherkasky said he could not find a "meaty" voice for Vrungel,
Why danced naked on a table, where he took his thugs, and why censors missed mafia
- After the premiere of the cartoon, I, like all children then rushed to read the book, but did not find a trace of a detective with the theft of Venus.
- I say. On "Kievnauchfilm" writer Ivan Vorobyev sent a script based on "The Adventures of Captain Vrungel" Nekrasov - it was just a fascinating journey. But not enough of the conflict. And I came up with the theft of the statue of Venus, so the chef came. Then - gangsters and Agent Zero Zero X. Samu book with stunning pictures of Constantine Rotova I read before the war. Artists put, the book disappeared. When she appeared again - there was no Rotovsky brilliant illustrations.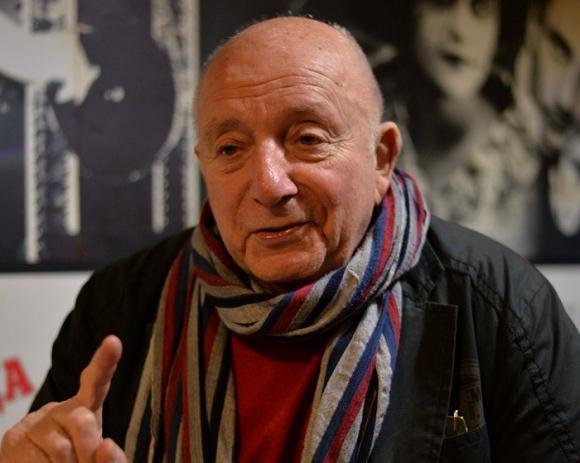 - You censorship quietly resolved to put in place the members of the Mafia?
- In all animation allowed. Kiev - peripherals. In Moscow, however, kept a sharp lookout for this.
- And why do cartoons began to do in Kiev studio of documentary films?
- Before the war "Kievnauchfilm" was the animation department. For me, the main teacher - it is Disney and Dezhkin. As the last work, I saw on the "Soyuzmultfilm", which was sent on a business trip. Dezhkin watched his one eye - and rapidly edited, throwing extra pictures. I worked as an engineer, graduating KISR, but not bad drew. I chose the studio. Where then came my friend Volodya Dahno Alla Grachev, Marik Draytsun. When the "Soyuzmultfilm" began to lose face, our studio, on the contrary, it is gaining momentum. Later, however, they rose again: Yuri Norstein, Eduard Nazarov. We have several different culture - we drink juice Kiev. We are no better, no worse, we - the other.
Posted in [mergetime] 1390931234 [/ mergetime]
- Have you had problems with voice acting?
- Yes, but only with the captain Vrungel. Three series were completed, and I could not find such a meaty voice. I invited Oleg Anofrieva, Gregory Guy of Theatre BDT. He said, "I have a small problem - I can not hear the music." I do not understand how. A cartoon in the 19 songs. One song Guy wrote down all day! He was not hearing. But when he came Zinovy ​​Gerdt - everything sounded. It was flat, and suddenly - beauty. After the animation is - voice, image, movement and music. Brilliant people are simple, charming and live somewhere (David Yanovich showed up. - Ed.). We go up to them! In Gerdt many nuances in the same sentence! We walked here for five or six days, drinking. He was so clever that your mind even humiliated others, while not doing anything special.
- And how did Faraday, voiced Dzhuliko Banditto? Where did you get images of gangsters?
- I Senya was a sign of the studio "Our House" Mark Rozovsky. This - the level! Another source of inspiration - westerns with Gary Cooper, who I saw at the club in Irpen. Well, not for nothing that Yuri Norstein said: "Stealing is necessary skillfully."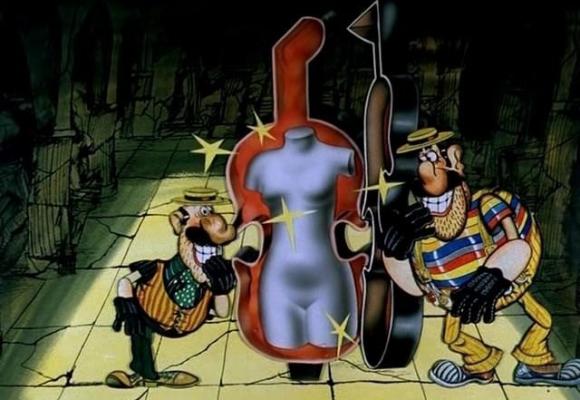 - You opened your multi another level of freedom. The country began to sing: "Always drink Cinzano, constantly sated, drunk ..." Egypt, submarine shooting, card, yachts, baths, drinking. By the way, what kind of story that has kept urban folklore, where you dance on the table?
- Already working on "Kievnauchfilm" I went to work in the old "Proektstalkonstruktsiya 'meeting in 1961. I drank a glass of wine. It was boring, all began to disperse. I undressed and danced on the table - half of the people returned. Well, I had a mood to bring a room!
- You opened his act freedom 60s!
- You could say that! At other times, I put to, and I just kicked out of the Komsomol, and moved to lighters! Incidentally, I worked as a gaffer on the film "After two hares»!
- Understand that are present at the creation of a masterpiece?
- No of course. You know what I thought? On the women. But everything else, including cartoons, made in passing.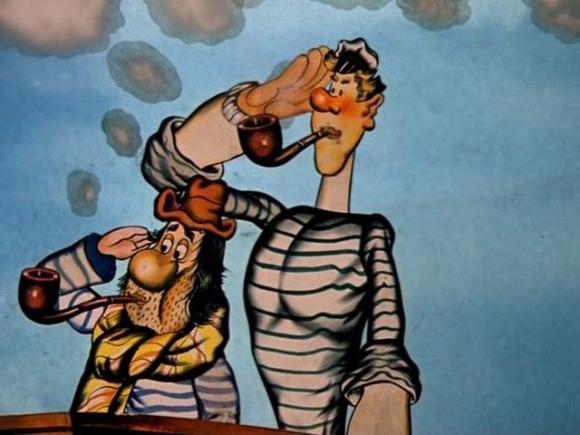 Eugene Paperny told us to someone copied the voice for voice and they drank the entire crew company
- Eugene, you have voiced in the animated Loma, Chef, zoo director, a reporter, a member of the yacht club. How many votes?
- I had a great set of nablyudashek more of the Shchukin School. I've portrayed fellow students and teachers. I tease them on skits. He became chief engineer of the scene Uncle Kolya Bersenev - he always had the cigarette in his mouth, we Chef in the cartoon - with a cigar, too. He said: "You are not the students - you are wanton and disorderly informer. And die at the station. " He predicted a future for those who dared to copy it. Kostya Raikin did scene: Kostya portrayed ne'er student, and I'm Uncle Kolya, who taught him the tricks of life. And delicately showed Uncle Kolya. He liked! Uncle Nick himself gave accurate klikuhi. We had such an old teacher, professor, former actress Vakhtangov Theatre - Vera Lviv, which was shaking from Parkinson's disease. Uncle Nick called her the queen of vibration ... So when Uncle Nick looked our scene, said: "I portray myself Paperny permission. He does it gently, tactfully and tastefully. " Thus was born chef.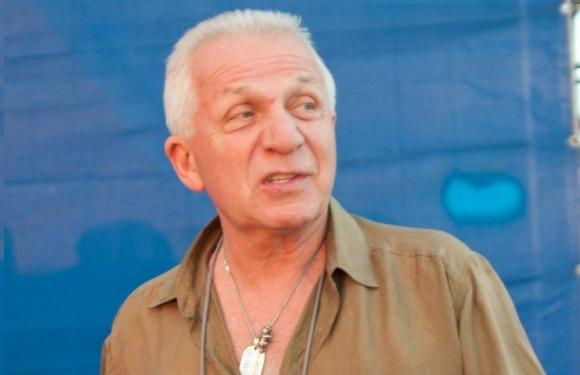 - A Scrap?
- It is deducted from Leni Slutsky, is a writer and close friend of David Cherkassky. He is so eternally cheerful optimist with horse grin. Not teeth and stumps of enormous size.
- Your Scrap then turned to Dr. Livesey of "Treasure Island».
- Yes, but Livesey - have a frank grotesque. And here - a positive example for children. To his example, they want the Navy.
- While you have it and with a slight touch of idiocy.
- Yes, straightforward. But, paradoxically, it has a lot to me. I was 29 years old - freshly artist. Voice energetic. I gave him all his enthusiasm. And physically I was a good athlete. He bends, but also keeps the fig in the pocket: a helper Lom does not dream to become a captain? In Kiev, there are many - from the villages. In contrast to the indigenous people of Kiev, these have an incentive to break through the wall!
- You crossed Zinovy ​​Gerdt?
- I've met him. CHANGE was with him at the microphone. It's at least eight hours at times - twelve. And he's a lame, one leg shorter than ten centimeters. He rested his knee short legs in a chair, and was healthy. He was not easy.
- And why it was impossible to sit down?
- Because it is necessary to move the body to work in voice acting. Plastic affects intonation. But we are not only working with Gerdt, and rested. He invited to his hotel room in the center of Moscow on Pushkin. Cherkassky, I Jora guts to voice Fuchs - a dozen male company. A Gerdt smoked a lot. And only "Marlboro". We had drinks and snacks went and stayed Gerdt finish smoking at the entrance. Five minutes later, a happy flies. Before the urn was about five meters, he snapped his fingers - and the arc hit. "I - screams - sorry that you have not seen me throw a three-pointer." But his old trick seen on the other side of Pushkin. She and Gerdt said: "You are not only a talented artist, but also an outstanding athlete!»
- Artists - like children ...
- We need to play to old age! And this should be naive enough to believe in the given circumstances. To get believable.
- And about the real yacht clubs knew something?
- Then - no. I myself have had the yacht, but later. I was such a fool that he bought the yacht two tons of weight. The yacht was riveted on the "Lenkuzne" in 1983, on an individual project. Cabin for 10 people. When gasoline became more expensive, I realized that remain without pants. And I sold it.
«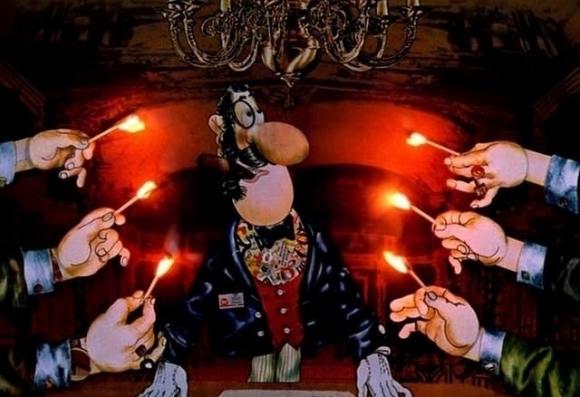 - What was the name? Not "Victory»?
- No (laughs), just the room was. But everyone knew - a yacht Paperny. David embroil me in this matter. But he had a powerboat. After recording in the studio we went. He has a love affair began with the participation of our live - Natasha Chernysheva, who became his wife. It - also a multiplier. He worked as an assistant. And grew up in the director. And so it went for David, I, Natasha, Jora intestine. He is my classmate at the Shchukin School. Kishko me to Kiev and dragged. David got wind that there Shchukin, and immediately we enter the studio. We started with a ten-minute cartoons. And off we go. And then bam - the state order for
series about Vrungel!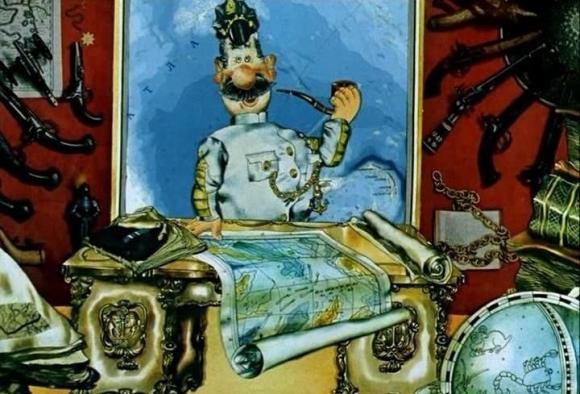 "News" have found an experienced yachtsman, to ask how in the cartoon authentic nautical terminology and practices, for example, to celebrate the first crossing of the equator. Multiple participant of the sea and ocean crossings, the designer of the yacht, the captain and the founder of the yacht "Kupava" (9, 2 meters, a displacement of 3, 5 tons), which in 2009 made a trip around the world - Yuri Cooper told us: "Maritime terms in the cartoon For example, "capstan", "fall calm", "ballast" - are real. He is based on the book by Andrei Nekrasov, who was a sailor. But, of course, all of this in a somewhat simplified form, but filed a fun and understandable for children. If lying Vrungel, a little. Belief "How do you call a boat, so it will float" exists. The cartoon has footage of the sea, shot with this yacht. By the way, you need to build a yacht old dry wood. And here it was taken raw and the situation brought to the grotesque fantasy - yacht took root (laughs). Funny name Assistant - Lom, given that scrap - not a floating object. They say: "You swim like a stone." And the custom of celebrating the first crossing of the equator is. Rookie smear fuel oil, chocolate - below the line. We have to "Kupava" only poured water. And we drink a few mouthfuls of salty Atlantic water. In the barrel "dip" - dedication - also have a ».
All finished!
Source: