Cartoons!
:) I love cartoons. And recently in Moscow immediately passed on nine floors "Big Animation Festival". I suggest you see a selection of the best of 5 and shown in the animation festival.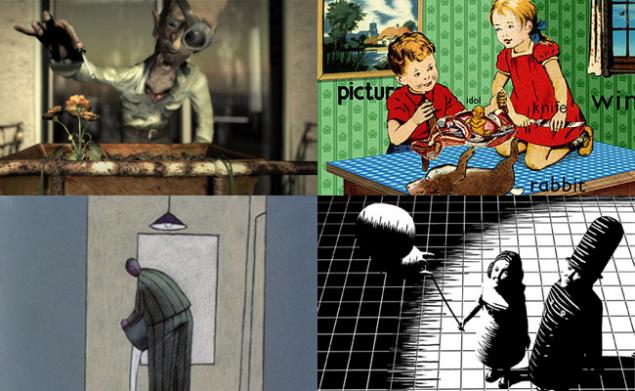 "Delivery» / "Delivery".
Director: Till Nowak.
Script: Till Nowak.
Artists: Till Nowak.
Studio: «Framebox».
Release date: 2005.
Country: Germany.
Duration: 08.42.
Adorable!
But this cartoon I was just amazed. Now it's one of my favorite cartoon with a very impressive soundtrack.
Industrial depressive world where there is only depressing gray plants with pipes that smoked nonstop black smoke. Single grandfather lovingly cultivates its plant in this stuffy and anti-utopian world - a flower. Then he receives a strange package - white box, looking into that ...
In general, look for yourself. Be sure to watch.
«Rabbit» / "Rabbit".
Director: Run Wrake.
Studio: «Sclah Films».
Release date: 2005.
Country: United Kingdom.
Duration: 08.26.
One of my favorite cartoons. We are waiting for «Rabbit».
Probably quite a famous cartoon on the Internet.
Immediately impressive absolutely everything: the soundtrack and graphics (at pictures style cards, which in the 1950s British children learn to read, next to each subject signed it - «rabbit», «window», «idol», «tree "and so on), and the plot.
The girl looked at the rabbit and wanted to clutch. The girl and the boy caught the rabbit (boy jumps on him from a tree and pushes it) and cut it. From the body of the rabbit jumps Idol, which requires a jam and turns flies gems. Realizing how to make a boy to a girl, to attract flies, kill cows and chop them. But in the end resorted rabbit ...
Above all praise.
"Insomnia» / "Insomnia" - an incomplete version due respect for copyright :(.
Directed by: Vladimir Lesciov.
Artists: Vladimir Lesciov, Taiga Zile, Ieva Smite, Dita Smite.
Studio: «Film Studio RIJA».
Release date: 2004.
Country: Latvia.
Duration: 07.
Very atmospheric cartoon.
"It comes at night quiet as a cat, and remains as long as you do not feed it. All that she needs from you - a carton of milk, located somewhere between dream and reality. Her name - Insomnia. After several sleepless nights, you know where it comes from unwillingness to sleep: at night it seems that the day is not over yet, in my head spinning thoughts, plans. This amazing film is quite accurately reflects this state "- a quote from the official site of the Big Cartoon Festival.
"Adjacent to the city» / "In the Neighbourhood of the City".
Directed by: Josko Marusic.
Studio: «Ars Animata Studio».
Release date: 2006.
Country: Croatia.
Duration: 09.10.
Very good cartoon (which is very cool drawn).
Somehow, it would be desirable to advise all those who loved and loves.
Man and woman are found on the beach near the town. So runs their lives next door to the city in which the changes occur.
«Manager» / "Le Regulateur".
Directed by: Philippe Grammaticopoulos.
Screenwriter: Philippe Grammaticopoulos.
Artist: Philippe Grammaticopoulos.
Studio: «Haidouk! Films ».
Release date: 2004.
Country: France.
Duration: 15.30.
The most gorgeous cartoon festival.
Cartoon scary and somewhat crazy. Cartoon really influenced me. After him, I even had a terrible dream. I will not recite it in full, but the child of the "Manager" in my dream was a doll, on which I do not advise to get rid of, or start trouble. I do not get rid of. Nightmare.
So, the couple chooses a child. The choice is not very easy - you first need to select a soul (and then she will cut the umbilical cord, and parents will carry the child the umbilical cord, like a balloon). Then - arms, legs, eyes. The problem of choice can bring to quarrel. Perhaps the parents are responsible for any errors account for your child?
Everything is painted just great. Fantastic soundtrack.
Best Cartoon.
via _pioneer