< Victoria Slavskaya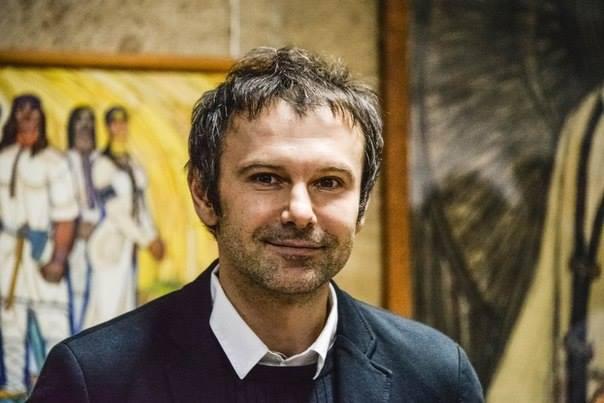 Despite the scandal Cancelled concerts in Russia, the leader of the group "Okean Elzy" Svyatoslav Vakarchuk did not lose time in vain, and spent several educational lectures in the "hot", but rather controversial points in eastern Ukraine - Kharkiv and Donetsk. Lecture in Kiev, admits there was spontaneous. But the gathered students from all leading Kyiv universities. Chapter lectures slogan: "We are different, but we are together." A main task - to bring the youth that the future of our country depends on the actions of each. Over one and a half hours Vakarchuk is holding the attention, the force of his musical authority and active citizenship inspiring young people to action. And this is what he gets, because students not only carefully outline the his words and ask intelligent questions, but also take the initiative in wanting to build a new civil society. And at the end of one of the students declared musician "vote of confidence" by all students and urged that he went to the presidency. Glory to embarrassed, they say, not for this has come to enlighten people. But as a man, well versed in economics and international politics, yet admitted that he could cope with this role. We exclusively asked Slavik Vakarchuk several troubling issues - on the eve of tomorrow's referendum in Crimea
.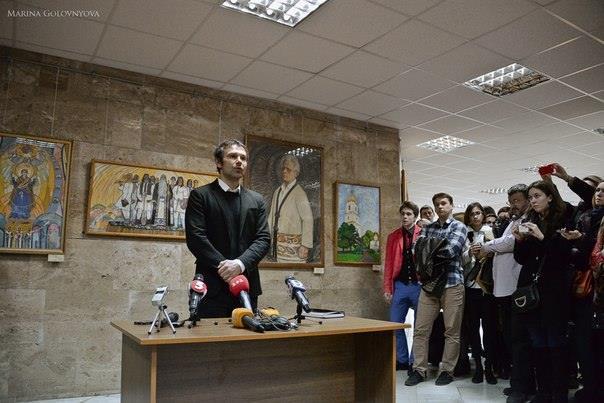 All - maybe except Putin, it is clear that the referendum in the Crimea completely illegitimate. What are your predictions?
About the legitimacy and illegitimacy have to say diplomats. Although still understand that this is totally illegitimate. But the question of legitimacy is much lower than a question of political relevance. And especially in today's world it is very clearly visible. Rights is not the one for whom the law and the rights of the one for whom there is a big army. And we see a clear example of this. It is important that at the moment of the talk about the legitimacy of oohs, hysterics and lamentations at the expense of what to do tomorrow, etc. we did not miss the main point and have not lost the country.
What to do?
We should all be ready today, as a whole, all as one huge and strong design. The whole country must defend itself. In every way possible, we must show the world that we are ready to defend themselves. And not only be prepared, but really defend, if necessary. How? Show experience? How? Know professionals. How? Must declare the government and the country's leaders. But we all need to be prepared and to do everything possible to protect their own country. This is now the main thing.
And if the army is not enough - as human resources and armed? Then what - full mobilization?
I think that our army is ready, all the wonderful morale. Look at our soldiers in the Crimea, how they behave. And I'm sure that the entire Ukrainian people are ready. Personally, I'm ready for anything! At 100%. I already took out his military ID. -Ranking lieutenant and I finished the military department, took military training. Although I do not have a specialty trench. It - military intelligence and psychological Borotba. About what I'm doing in everyday life.
You had time to visit with their lectures in the East. Feel the spirit of separatism?
No, such a spirit among young people is not hovering. Neither in Donetsk or in Kharkov University. And on television, which is now called the reaction with respect to Kiev. Everywhere it went quite friendly. I felt absolutely pro-Ukrainian support. In Russian, but pro-Ukrainian support. And this is exactly what is necessary today. Actually, I believe that the theme of the language should be taken by us is widely adopted. After all, the Russian language - it is the same property Ukrainians, as well as Russian. This is the same our language as their. And we have every right to believe that it is our people and use Russian as well to protect them.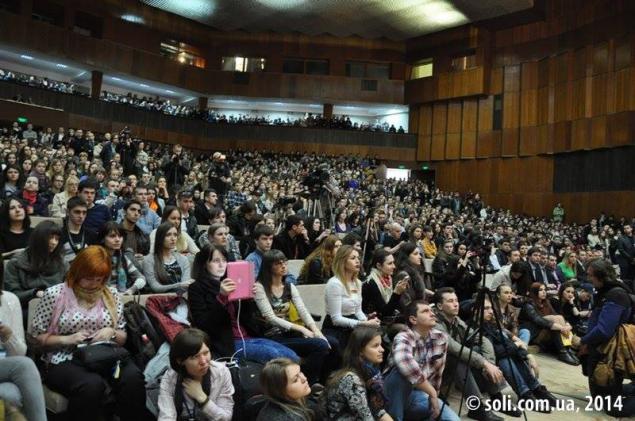 And how you reacted to the fact that the students read out to you "vote of confidence", asking to go to the Presidents and lead them?
Now it is difficult to comment on. But what I will say for sure - I honestly was not prepared for such a question. This is a very serious thing, so it lightly and by the way I'm not ready to talk about it. But for his part I am ready to do anything to change our country. And I'm not going to give up. Where is the need - and I'll be there. As for this particular idea, it captured me almost by surprise. I think that besides willpower, the spirit of patriotism and steadfastness of character, very well aware of the need and expect all their strength. I always make a decision only after I know well, at least, all the different probabilities of events - what will happen tomorrow and the day after. As a physicist by training, I calculate the 10 steps forward. So as soon as I realize that I will have an adequate answer to this question, I will give it, and yet it's just emotions.
Why do not you go out with the likes of lectures on the Square?
I would not want to associate themselves with any politician or political force, relating to the Maidan. I played there once the scene as a musician, to unite the people of the Maidan and Antimaydana. For this, we came together and the old structure "Okean Elzy". And we have it seems to work out. In another context, I do not consider myself a person who must look solely to the Maidan. After all, it is for me a very sacred significance. Especially after the deaths have occurred there. Yes, Maidan - a very important part of the country, but it is only part of it. There are East and West of the country. Because I want to appeal to everyone at the same time.
What do you think about the current government? Do not you think that this is the flea?
Here you journalists like to say big words. Wait and - we'll see. And that means - to change completely the power? How to make sure that one day everything changed - Rada, the President, the Constitution? And suddenly we earn angels managers with Harvard diploma in his pocket, which will be live on a salary of $ 2000 per month, and the country will have prosperity and heaven. You all want to do that, but it does not happen. Everyone has to start with yourself. I start with myself. I see that the government, despite the fact that, frankly, does a lot of stupid things, there are a lot of good. Including appointed to key positions in the financial and economic sphere of people not from politics and not for the quota principle. And I like that. I would like them to adhere to all. But for that, and we, the society, to control them.
And how you reacted to the "letter of the signatories" from the sphere of culture? And is consistent now speak with them on the same stage?
I am ready to stand with anyone on the same stage, to negotiate with anyone, anyone shake hands - if only it worked. I believe that everyone has a conscience and history will judge all. Judge not, that ye be not judged. "The skin has its own truth i svіy a Way." Once upon a time in the Soviet Union, we have been through various letters of support - and "for" and "against". Surprise for me was different. That the country, which we sincerely believed sister, holding on our borders his army and military equipment. And this is a country which for so many years we believed and still sincerely want to consider a friendly and brotherly. But at the moment we need to stop believing in the illusion that someone will come on a white horse or a beautiful bomber and begin to protect us. No we will not protect. But ourselves. But. If the world will see how we are ready to defend themselves and their sovereignty to the last - this strange world helps. In this I am sure.