Photo and movie kisses that made history.
1. "From Here to Eternity»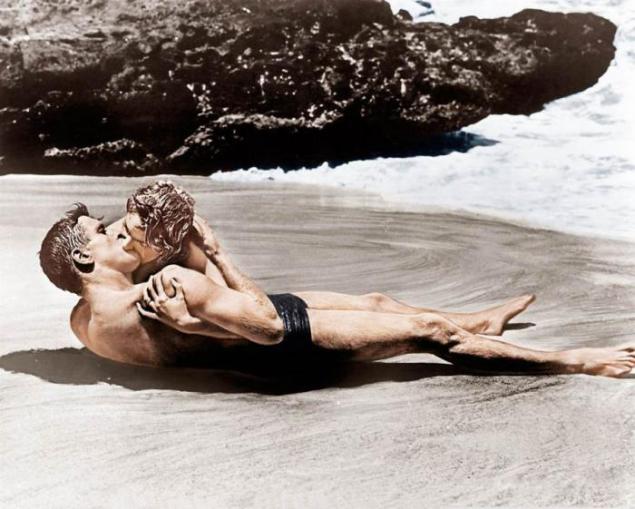 Bert Lankatser and Deborah Kerr in one of the most legendary embrace in a scene of the film in 1953. Religious scene filmed on the beach in Hawaii. (Everett Collection)
2. "Gone with the Wind»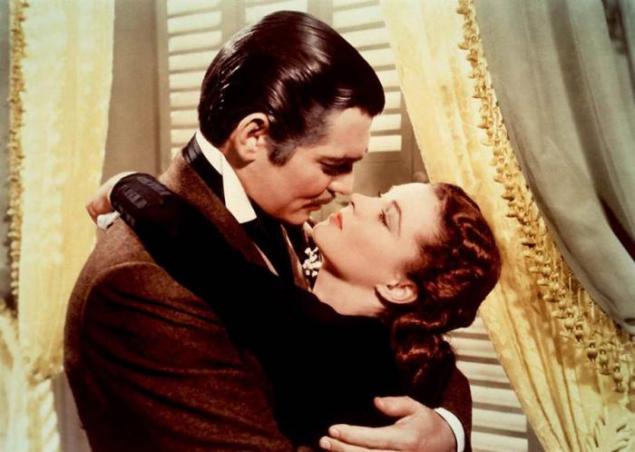 "You urgently need to kiss," said Clark Gable as Reta Battler Vivien Leigh as Scarlett in the cult film in 1939. "You have to kiss ... and often. And you need to do is the one who knows how to do it. " (Everett Collection)
3. "Brotherly Kiss»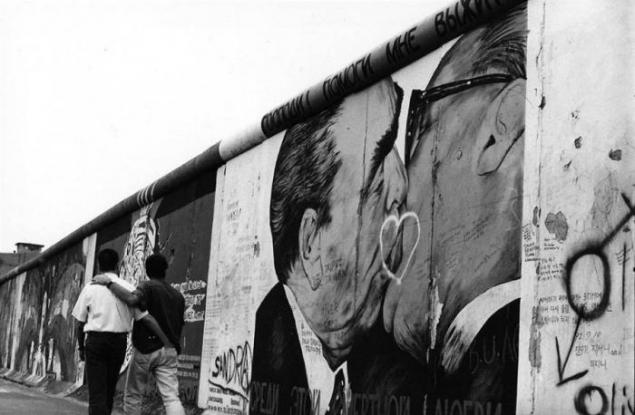 This graffiti Dmitry Vrubel - one of the most famous on the Berlin Wall. On created in 1990, the figure depicted kissing "brotherly" Leonid Brezhnev and Erich Honecker. Graffiti erased in March 2009. (Steve Eason / Getty Images)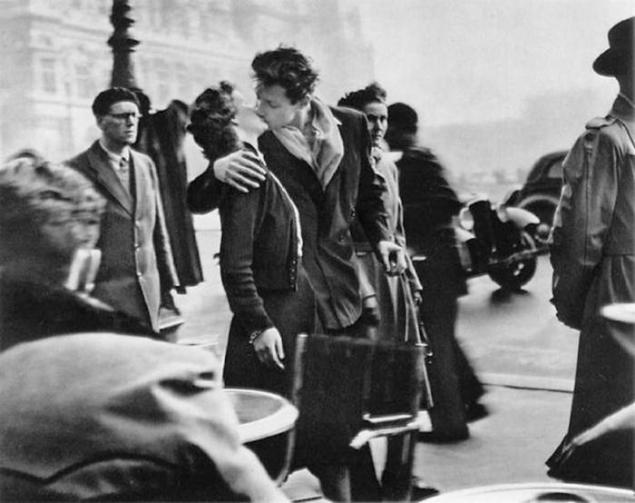 4. In 1950, the French photographer Robert Doisneau made his most famous picture: «Le baiser de l'Hotel de Ville» - a photo of a couple kissing on a busy street in Paris. The picture has become an international symbol of young love in Paris. (Robert Doisneau, courtesy of Bruce Silverstein gallery)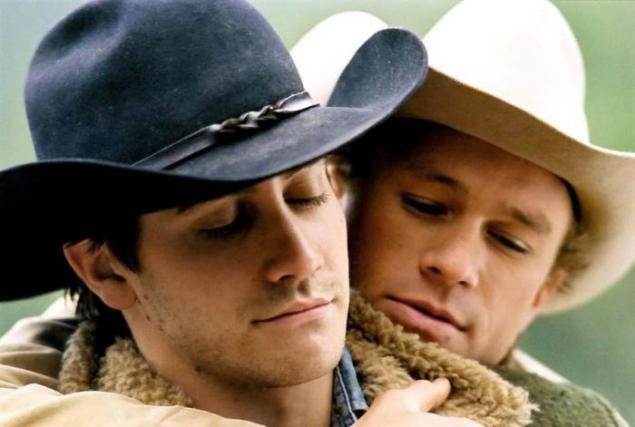 5. "Brokeback Mountain" - the drama of 2005, which shows the complex romantic and sexual relationship of two young men in the west of America. Starring Heath Ledger and Jake Gyllenhaal. (Everett Collection)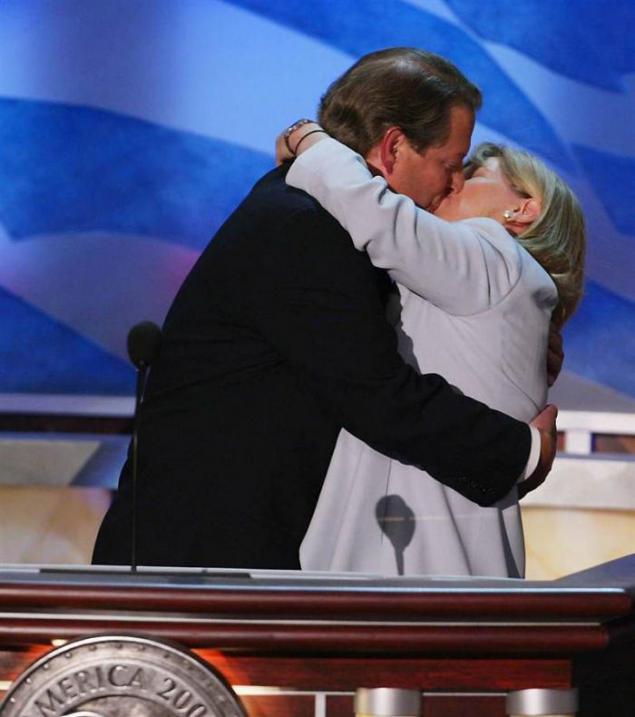 6. Al Gore and his wife Tipper kiss after his speech at the opening night of the Democratic convention July 26, 2004 in Boston. Energetic Kiss drew the attention of the public. In 2010, the couple broke up Gore after 40 years of marriage. (Mark Wilson / Getty Images)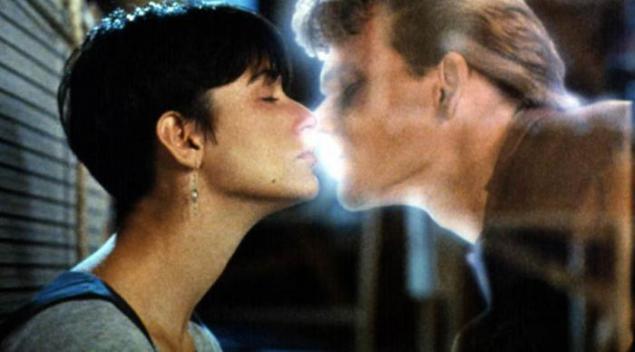 7. In the romantic 1990 film "Bringing the" love between the characters of Demi Moore and Patrick Swayze won even death. (Everett Collection)
8. "It's a Wonderful Life»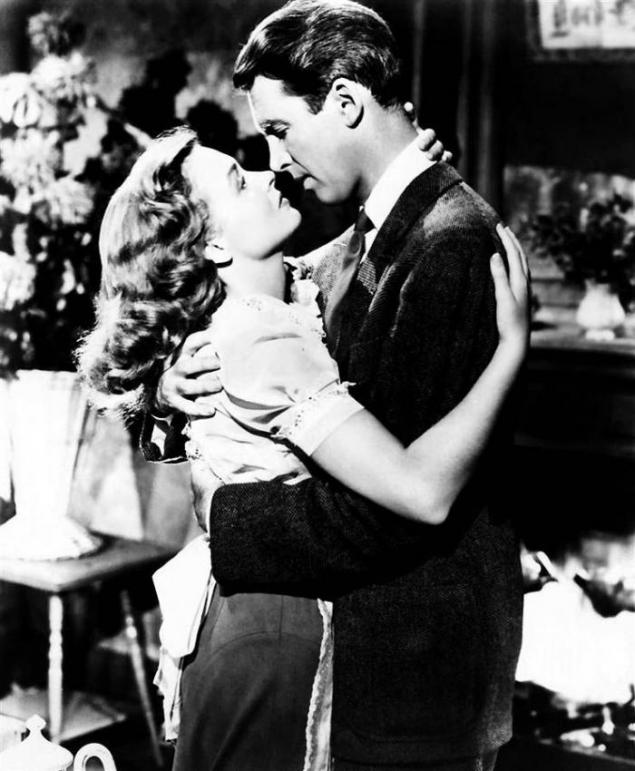 In the 1946 film James Stewart played a resident of a small town caught in such despair that he was ready to commit suicide. He married his longtime love Donna Reed. From lethal step off the bridge saves him a guardian angel who shows him what life would be like if he had not been born.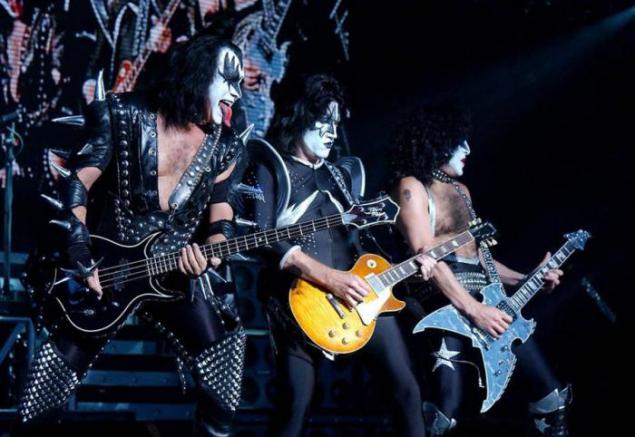 9. Gene Simmons, Tommy Thayer and Paul Stanley - members of the group «KISS». Well, it was impossible to post about kissing ignore the group, which is called in English the "Kiss". (WireImage)
10. "Lady and the Tramp»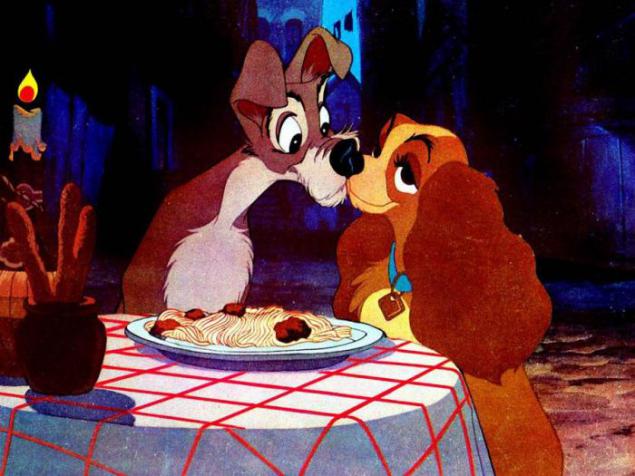 Cutie cocker spaniel named Lady in love with Tramp - mongrel street. Their famous kiss remember all those who watched the cartoon - they ate spaghetti, took the same, and met in the middle. (Everett Collection)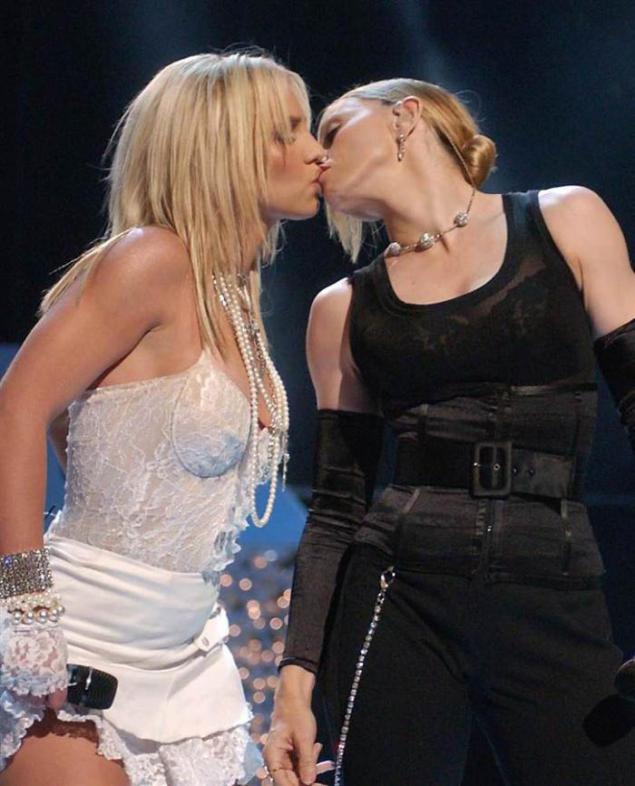 11. Britney Spears and Madonna kiss during a speech at the award ceremony «MTV Video Music Awards» in 2003. Spears said she offered to kiss Madonna. (Frank Micelotta / Getty Images)
12. "Breakfast at Tiffany's»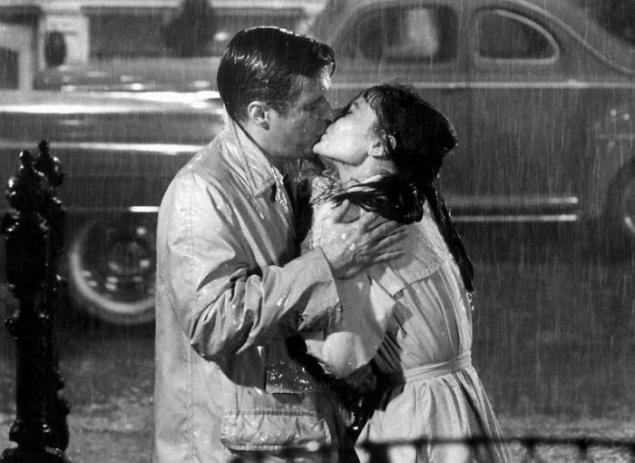 Holly Golightly (Audrey Hepburn) jumped out of the taxi into the rain to kiss his beloved (George Peppard) in this classic 1961 film. (Everett Collection)
13. "The Princess Bride»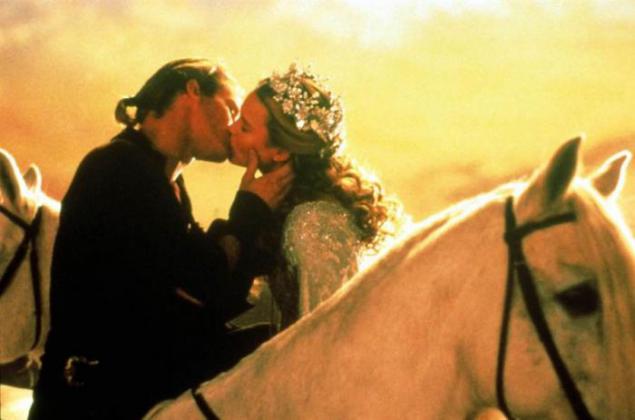 Carrie Elvs and Robin Wright in a scene of the film in 1987. Sayings was: "Since the introduction of the kiss of all five of them called the most passionate and friendly. Here is one of them. " (20th Century Fox)
14. "Planet of the Apes»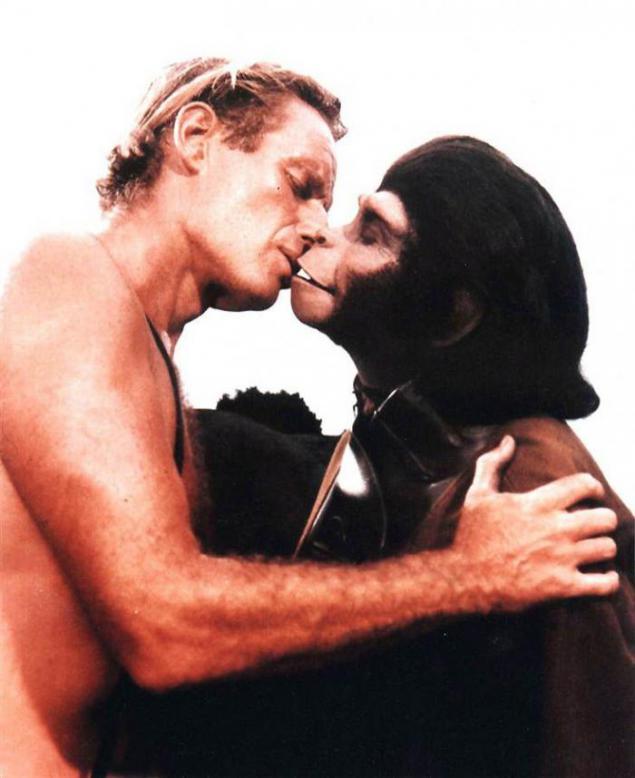 The first kiss "between species" in the movie appeared in the 1968 film. Chimpanzees psychologist Dr. Zira (Kim Stanley) met the injured astronaut George Taylor (Charlton Heston) and helped him recover. Before shipping out, Taylor gave her a kiss goodbye. (Everett Collection)
15. "An Officer and a Gentleman»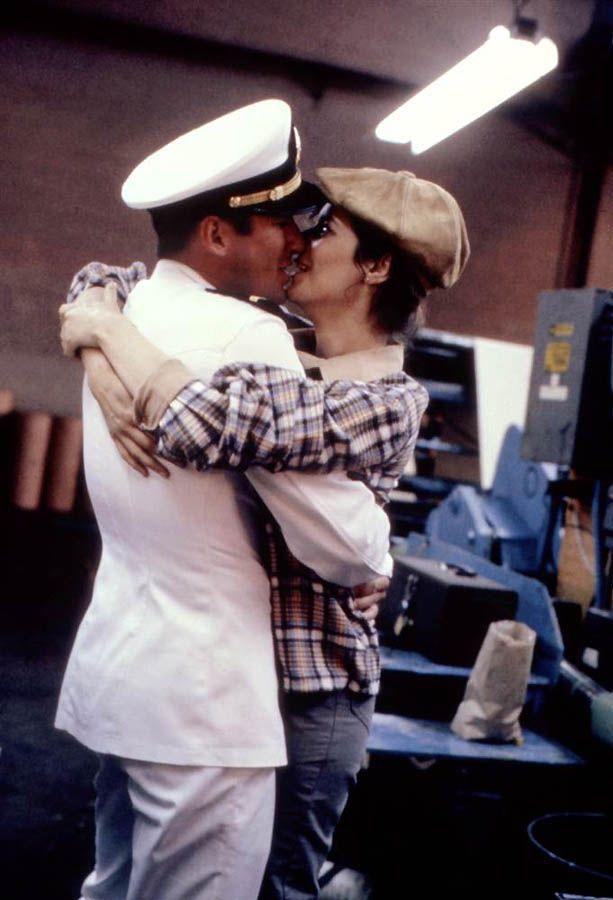 Richard Gere in naval uniform suddenly appeared at a garment factory Debra Winger in the finale of the film in 1982. He kissed her, and took with him a loud applause from her colleagues. (Everett Collection)
16. "Star Wars: The Empire Strikes Back»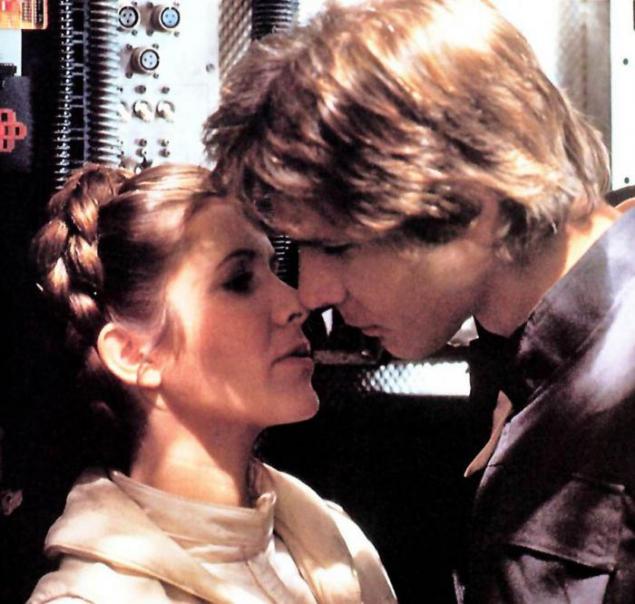 Han Solo (Harrison Ford) and Princess Leia (Carrie Fisher) succumbed to the force of mutual attraction in the second film series "Star Wars." (20th Century Fox)
17. «The Notebook»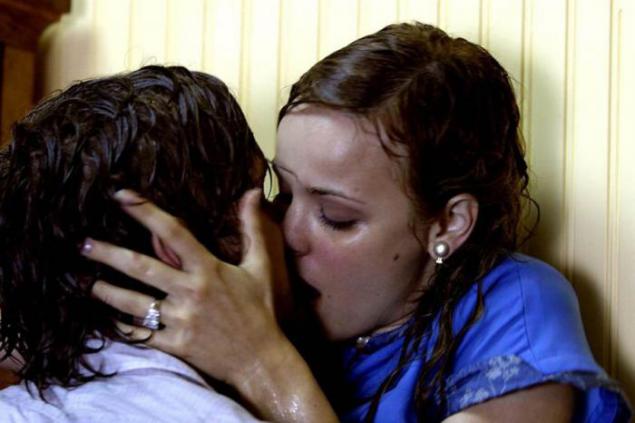 Allie (Rachel McAdams) and Noah (Ryan Gosling) kiss passionately in the rain after a few years of separation. Even the disapproval of family and the presence of the bridegroom can not separate them in this romantic 2004 film. (Everett Collection)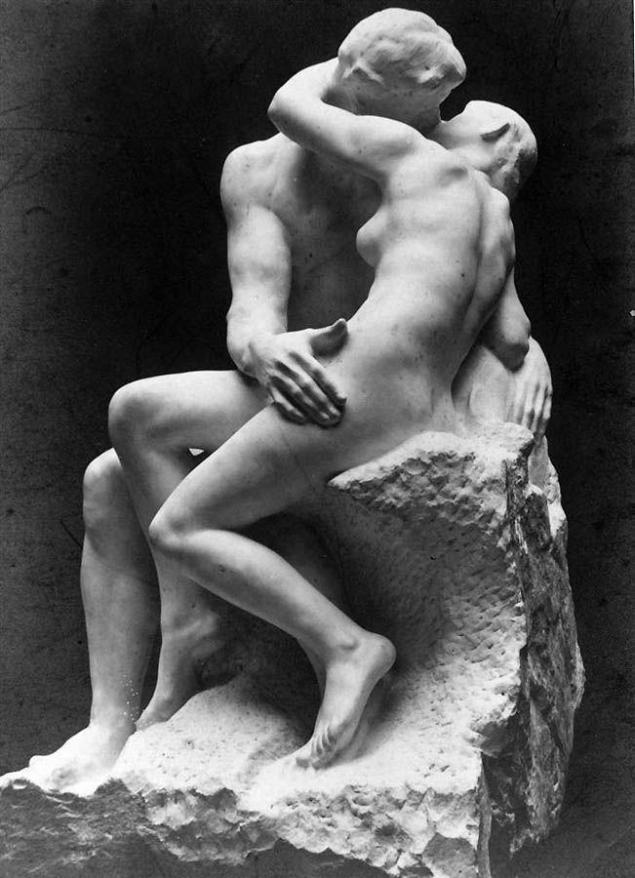 18. "The Kiss" 0 iconic marble sculpture 1889 French sculptor Auguste Rodin. On the creation of a masterpiece was inspired by the story of Paolo and Francesca of "The Divine Comedy" by Dante. (Getty Images)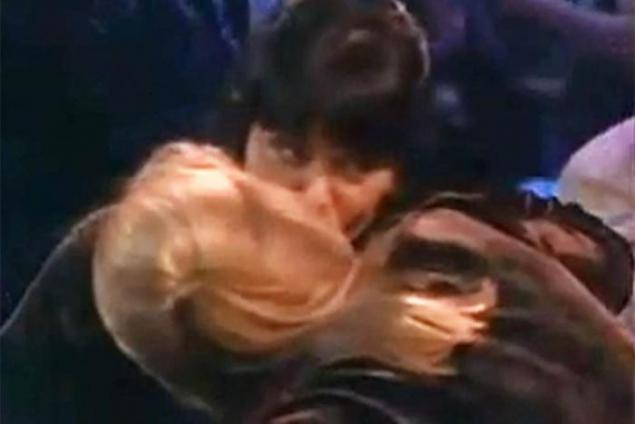 19. One of the first series, which openly advocated the rights of gays and lesbians - "Roseanne" - aired in 1994. In one series of Roseanne Barr and Mariel Hemingway kissed a gay bar. It was one of the first same-sex couple kissing on TV. (ABC)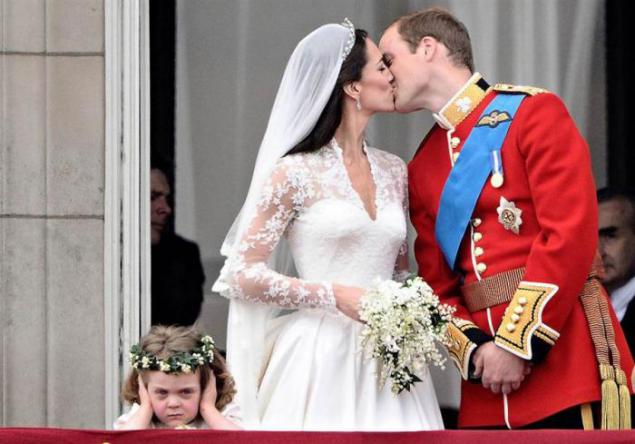 20. Britain's Prince William kisses his wife Kate have, Duchess of Cambridge, on the balcony of Buckingham Palace after the wedding ceremony April 29, 2011. This girl at the bottom of the frame immediately became a sensation on the Internet. (Leon Neal / AFP - Getty Images)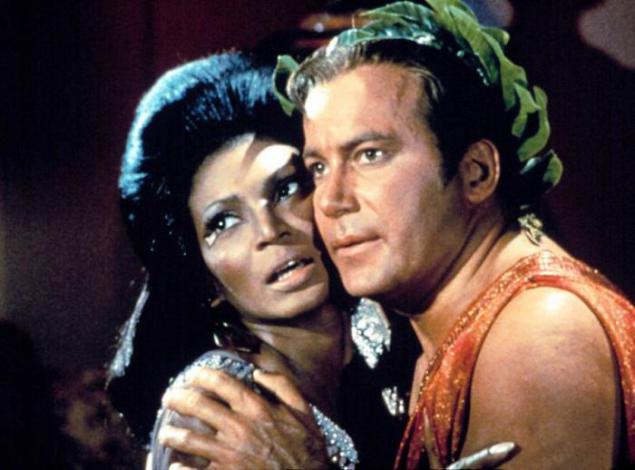 21. In the role of Lieutenant Uhura kissed Nichols white actor William Shatner as Captain James T. Kirk in "Star Trek", released November 22, 1968. This kiss is often called the first "Race" on TV. (Everett Collection)
22. "Sixteen Candles»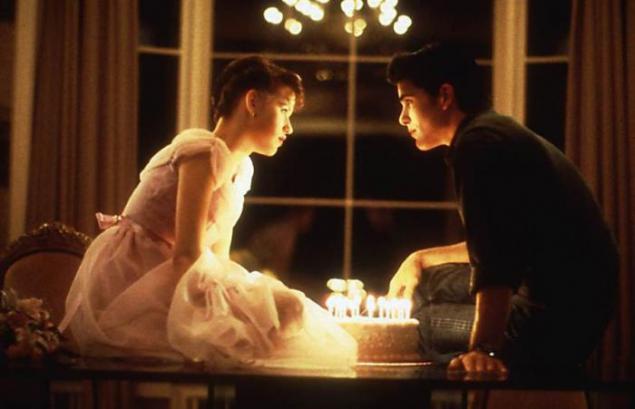 In this film, in 1984, few people forget the 16th birthday Samantha (Molly Ringwald). Fortunately, at the end of the film, she still kissed a guy of her dreams (played by Michael Shofflinga) next to a cake with 16 candles. (Everett Collection)
23. "When Harry Met Sally»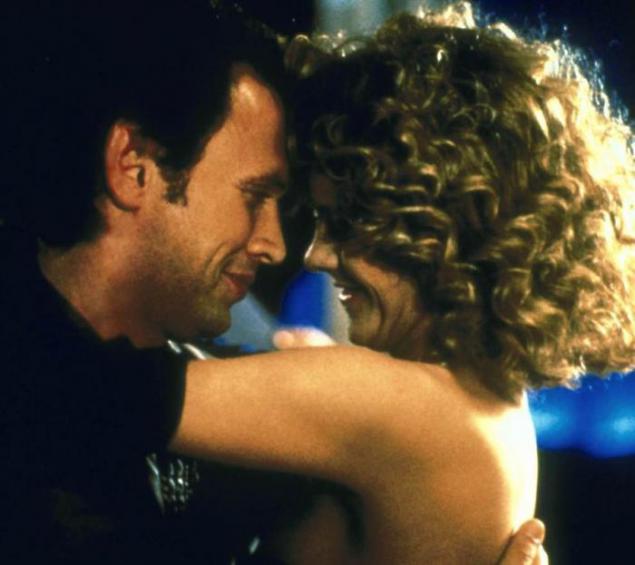 Kiss New Year's Eve between Harry (Billy Crystal) and Sally (Meg Ryan) - one of the most recognizable in the film. (Everett Collection)
24. "Spider-Man»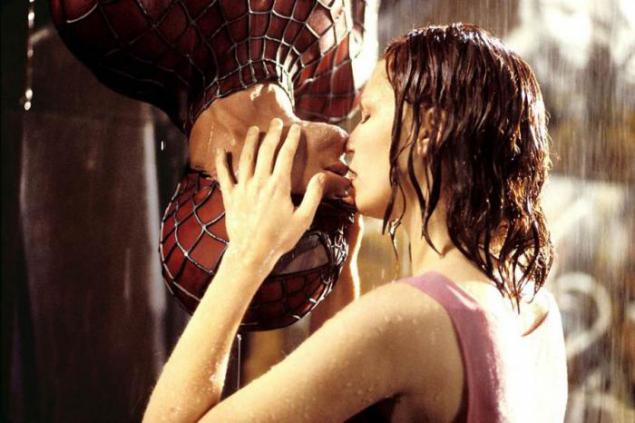 Peter Parker, aka Spider-Man (Tobey Maguire) on the ears in love with Mary Jane Watson (Kirsten Dunst) in this 2002 movie. Kiss have been one of the most unusual. (Everett Collection)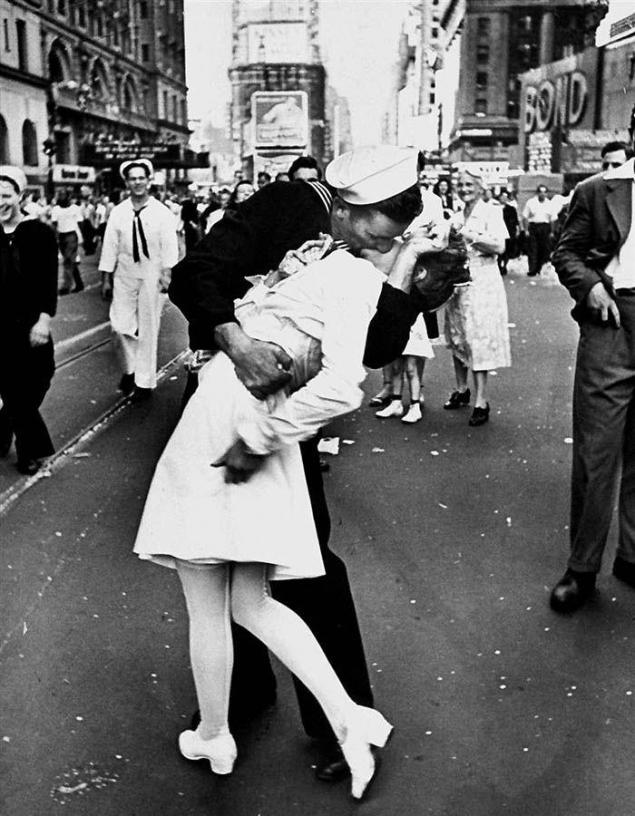 25. Perhaps one of the most recognizable pictures kiss: a sailor and a young nurse in Times Square, after the surrender of Japan in 1945. Joyful moment filmed on camera photographer Alfred Eyzenshtedt. (Alfred Eisenstaedt / Time & Life Pictures)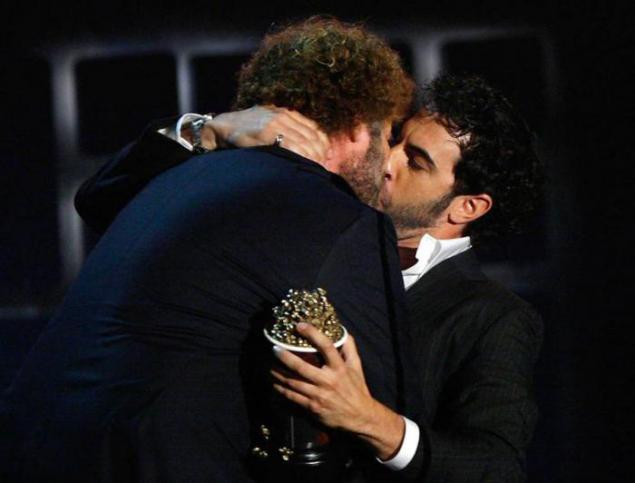 26. This was the kiss said everything after the awards ceremony, "2007 MTV movie awards»: actor Will Ferell (left) and Sacha Baron Cohen pointed out the award for "Best Kiss" ... kiss. (Kevin Winter / Getty Images)
27. "Titanic»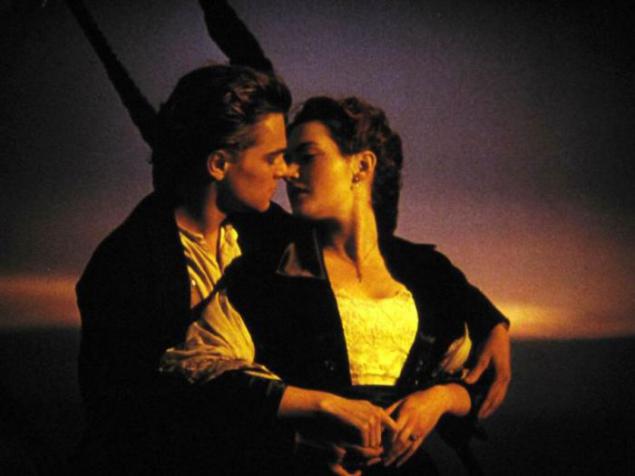 The famous kiss of Rose (Kate Winslet) and Jack (Leonardo DiCaprio) on the deck of the "Titanic". Received 11 Oscars was the first film that earned at the box office more than a billion dollars. (Everett Collection)
28. "Sleeping Beauty»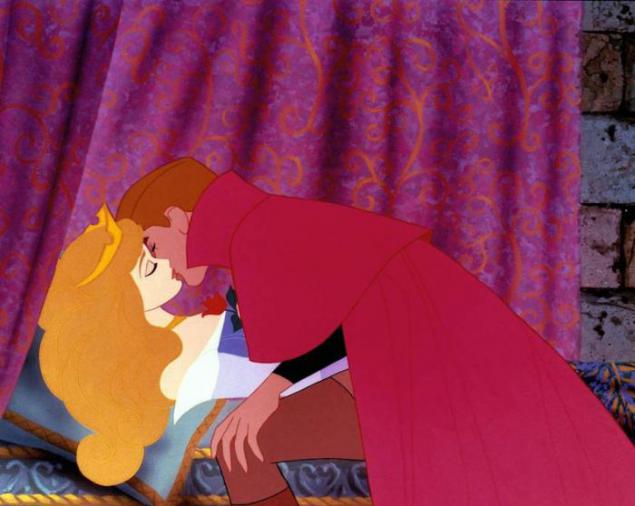 Princess Aurora was supposed to die in its 16th anniversary. Thank God, the good fairy bewitched her, so she just fell asleep, and only a kiss handsome prince can wake her. Prince Philip is quite fine, he will awaken her and, yes, they lived happily ever after. (Everett Collection)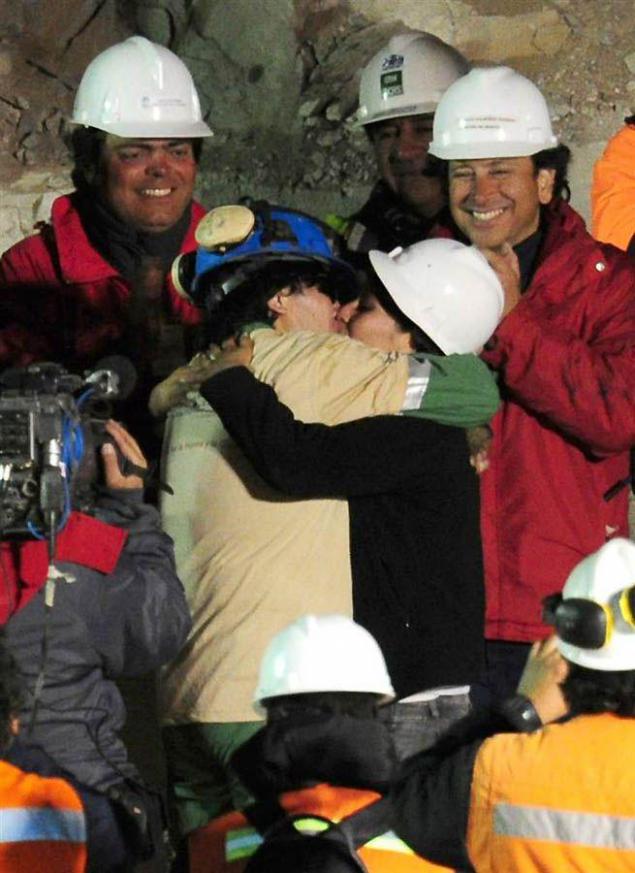 29. Miner Osman Araya kisses his wife Angelica after it was pulled from the San Jose mine, where he spent the rest of the 33 miners 69 days. (Martin Bernetti / AFP - Getty Images)
30. "Twilight»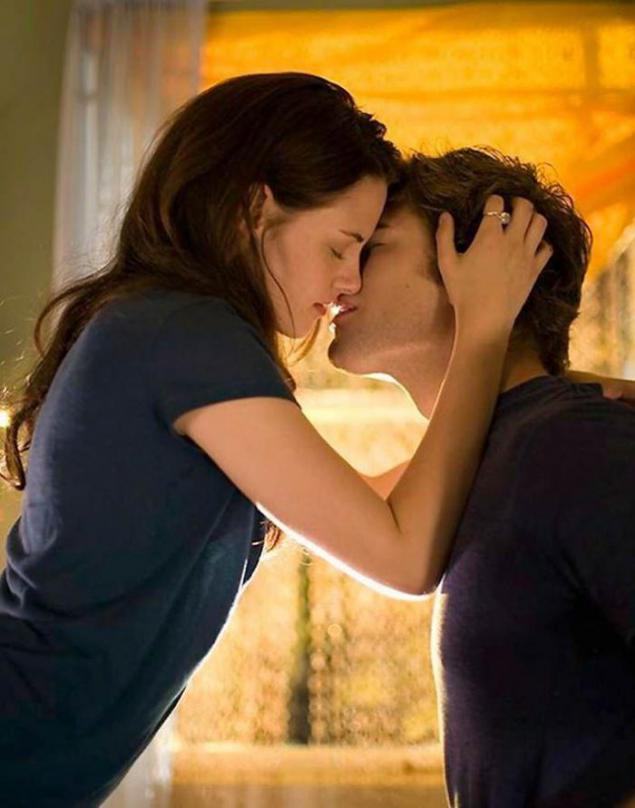 Kristen Stewart and Robert Pattinson kissing in the movie "Twilight" in 2006. Vampire Edward is not easy to kiss his beloved, because his instincts may lead to the fact that he simply drank her blood. (Summit Entertainment)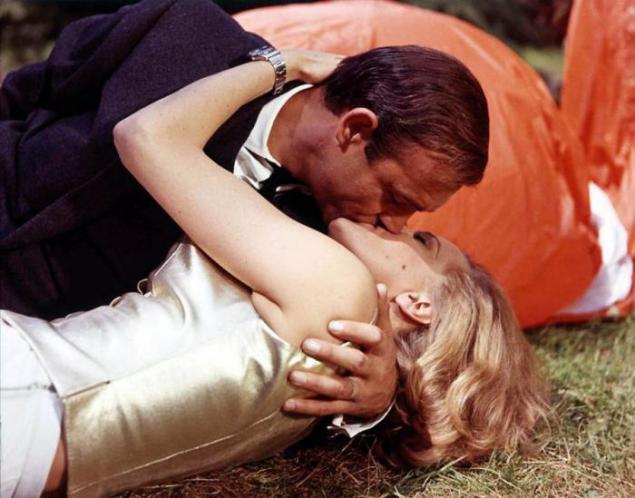 31. In this stage of the third James Bond film "Goldfinger" James Bond (Sean Connery), passionate embraces and kisses pilot Pussy Galore (Honor Blackman). Is there any James Bond film, in which he does not kiss the blonde? (Getty Images)
32. "The Godfather 2»
"I know it was you, Fredo - you broke my heart," - says Michael Corleone (Al Pacino), his brother-traitor (played by John Casale), before kissing him in one of the key scenes of the saga of the Godfather . (Paramount Pictures)
33. "Casablanca»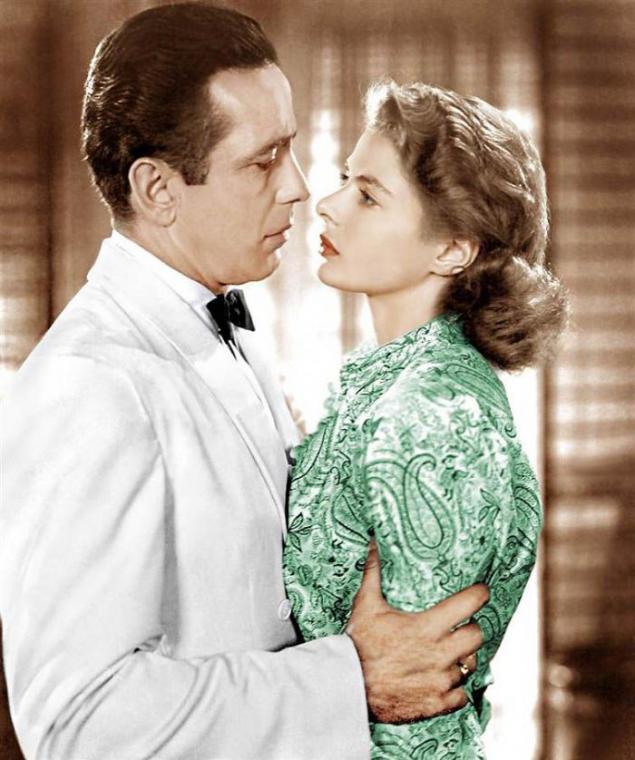 "You have to remember: the kiss - it is just a kiss," as sung in the song «As Time Goes By» in the drama of 1942, which many consider one of the best in Hollywood. In the film, Humphrey Bogart and Ingrid Bergman portrayed lovers separated by World War II. (Everett Collection)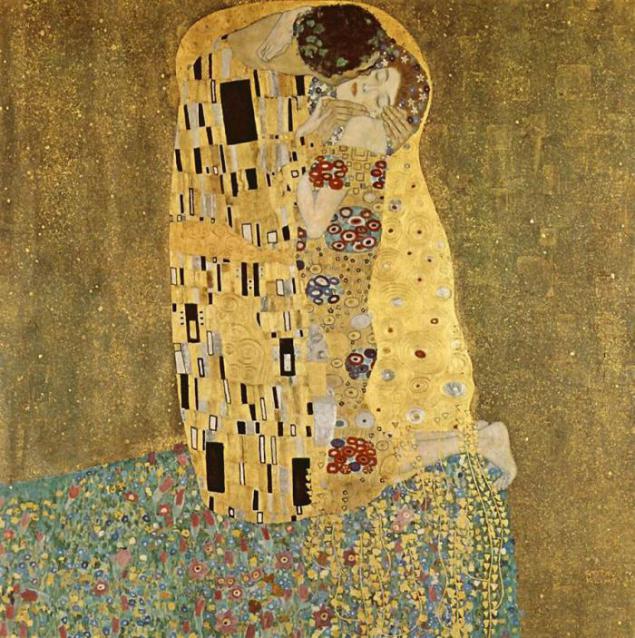 34. "The Kiss" - probably the most famous work of Gustav Klimt (1862-1918 gg.). It depicts a couple kissing in various shades of gold on a bronze background. (Getty Images)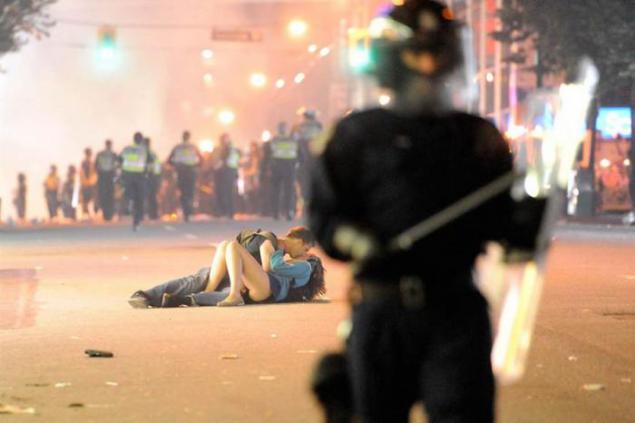 35. The famous photo taken during the chaos on the streets of Vancouver, June 15, 2011. The riots organized hockey fans after losing to the team «Vancouver Canucks» in the Stanley Cup Finals. (Rich Lam / Getty Images)