Wonderful, and at the same time a sad story about Paralympic record holder.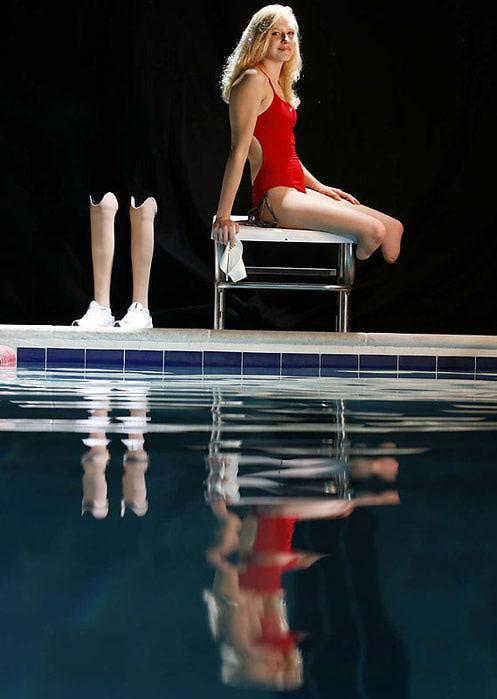 American star Paralympic sport, winner of 18 world records for Jessica Long culminating in London Paralympics won 8 medals in swimming, including 5 gold and 2 silver, and set a new world record.
Few people know that Jessica was born in Russia and at birth she was named Tatiana. 20 years ago in the city of Bratsk hospital from her own mother refused. At birth the baby had been injured - absent tibia and foot bones. The legs had to be amputated. Then doctors said that the girl will never be able to walk.
A year later, the girl adopted by a family in the US - mom and dad Steve Bette. They gave Tanya Kirillova new name - Jessica Long. Over the years, Jessica has become world famous athlete, but all the time she wanted to find his home mother from Russia.
Program "Live", which goes to the TV channel "Russia 1", managed to find a Russian family of Jessica. As it turned out, native athletes live in a small village, thousands of kilometers from Moscow. In the broadcast transmission acted sister Paralympic champion Anastasia Valtysheva.
The girl told: 8 years old, she learned that she had a sister. "I was very surprised. My mother said that she was very beautiful. She said that her hard to talk about it, and I do not ask questions, - says Anastasia. - But sometimes I think about it. I thought that when I get up on their feet and going to work, maybe I'll find her. " According to the girl, she only recently found out who her sister was and where she was all the time.
"I am very happy that she found. And very proud that I have a sister with what she has achieved. And, of course, I would very much like to meet her, if she wants to, "- said Anastasia Valtysheva.
Search for Russian relatives Jessica Long engaged correspondent Victoria Petrova. According to her, it took a lot of time - about six months. "I was negotiating with someone, you can only: and the hospital, and with people who could help on the spot. One man helped me to make inquiries. I gathered all the help, discharge from the hospital, got on a plane, went to Irkutsk, Bratsk, drive through the villages and found Nastya and her mother, "- said Viktor Petrov.
It turned out that in addition to Jessica Long Anastasia yet a brother and sister - twins. The younger sister was born disabled. According to Anastasia Valtyshevoy, her mother did not doubt whether to leave a sick child in the family or not. Now she could not give up the girl in the hospital.
A father of Jessica Long Oleg Valtyshev told how he and his wife took that fateful for their first daughter's decision. The man admitted that he was not ready to have a child with a disability. He at that time was 17 years old, and his wife - 18, they were not married. According to Oleg Valtysheva, he saw the girl in the hospital and wanted to take her home. But apparently influenced advice of doctors - very young parents would be difficult to raise a child with a disability in the Russian province.
On his desire to find relatives in Russia Jessica Long said in an interview with the newspaper "Soviet Sport" Nicholas Roganova. The journalist said that the history of athletes and shook it, and all the editors. "I pulled into the Olympic pool - he recalls. - Jessica said that she'd like to come to Russia and talk with my mother ».
Athlete confessed that when she was a teenager, there was no such desire. She knew that American parents - adoptive, and possibly harbored some resentment toward family back in Russia. But now, according to the correspondent, she wants to come home and share their successes with their families.
According to the journalist, about a Russian family, Jessica knows very little, in Russian can only say "goodbye." But she is very positively disposed towards his mother. "I talked to her just seven and a half minutes, but realized that she wanted to come here to say that does not take offense at my mother that she did the right thing," - said Rohan.