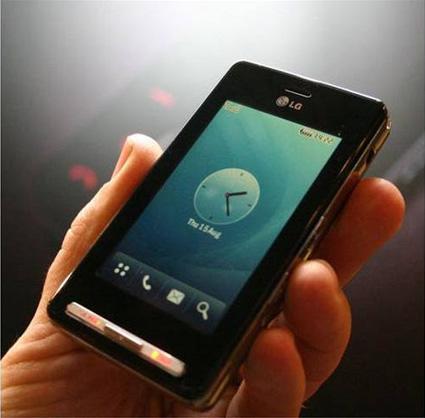 LG has introduced a mobile phone under the brand Prada. A distinctive feature of the device under sonorous name KE850 is its external (and partially functional) similarities with the notorious's iPhone of Apple, according to the website The Register.
The similarity lies largely in the touch screen through which users will have to control all the functions of a mobile phone. Device LG Prada is capable of operating in three ranges GSM / GPRS / EDGE, is equipped with a megapixel camera, supports memory cards MicroSD. In addition, KE850 is equipped with Bluetooth and USB 2.0 port for connection to a computer.
Differences KE850 from the iPhone are in the dimensions and the absence of Wi-Fi have a mobile phone from LG. In addition, the LG Prada announced the price will be higher than the iPhone - while the tube from Apple will cost $ 500 to $ 600, KE850 phone will cost customers in the amount of 600 euros, or 777 dollars. But LG Prada phone will go on sale in Europe much earlier iPhone - KE850 will hit the market in February 2007. But iPhone sales in Europe will begin no earlier than the end of 2007. Will there be a mobile Apple's Russia is not known so far.