March 26, ie, yesterday, the Central News Agency of North Korea (KCNA) published pictures teachings that have been given in the film, was made on March 25 during the exercises the North Korean Army. Immediately after the publication there are many replicas of what is actually in the photo, two, maybe three, real hovercraft, and the rest - it's just a digital processing.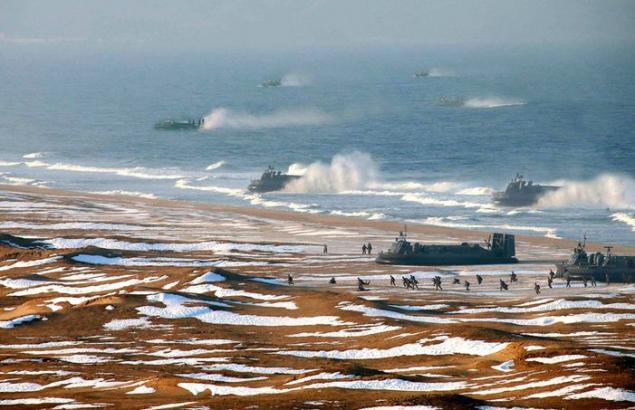 And even our untrained eye sees strange shadows, duplicate body and weird faded spots. Two hovercraft under the roar of the motors close to the shore, then six more ... The big fleet ... But clearly, the eye that does not like in the picture. On the strength of three near real ship, although the third is already showing signs of treatment. Then even worse ... You look at them and think that they are blurry digital twins. The third and most controversial ship, even to us striking mismatch of color, light aura of incomprehensible, and soft (blurred) edges.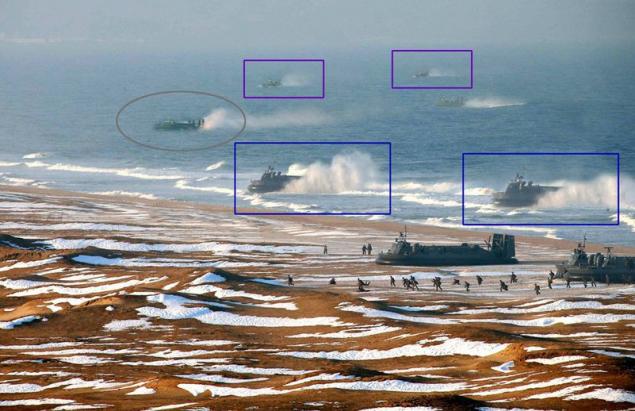 Photo released by Central News Agency of North Korea March 26, 2013. The landing was made, says the agency, at a secret location and that the maneuvers took a flotilla of boats on an air cushion.
Hovercraft image within the rectangle, clearly, digital clones of each other. The most obvious is the cloning of the ships in blue boxes, which left the ship, apparently, was the donor for the right, which is embellishing a bit "zablyurili." Also left the ship and probably was the clone to the other as he is the only ship in the clear water
In this picture there is no obvious traces of a photomontage, but there Blur people run the same way as in the first photo (lying cut) and the question of what happened to the ship 2 more ??? There were 8, and on the banks of only 6, and the men fled from the only one pair of ships ...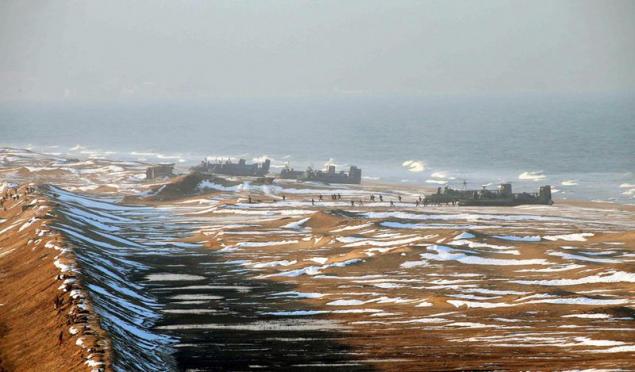 Very strange, smeared and "sunken" hovercraft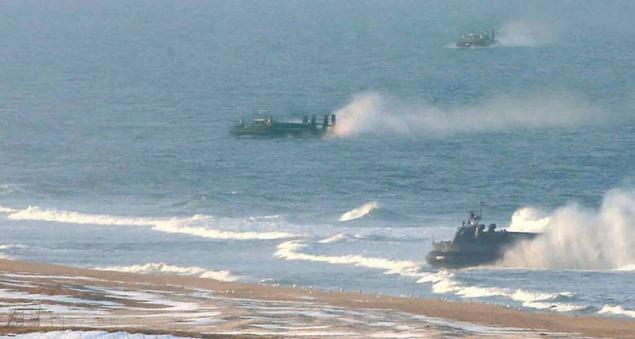 The three-stage sequential animation showing how the left hovercraft was cloned. 1) select and copy. 2) Copy the overlay background. 3) After the transfer, copy, and smeared traces of blur added.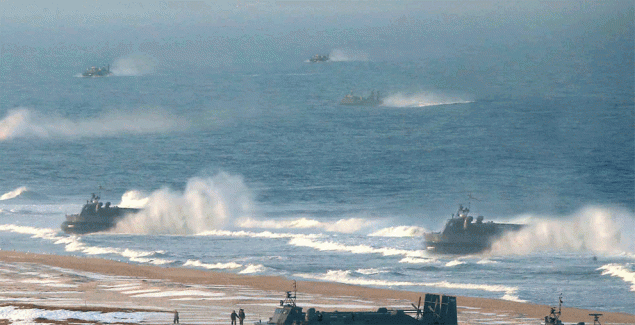 Source:
www.theatlantic.com
, muz4in.net