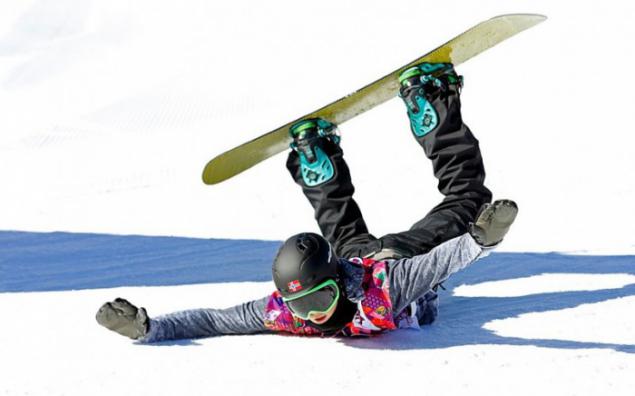 Snowboarding
After analyzing the statistics of past Winter Olympics, experts have identified the most dangerous winter sport. The most traumatic recognized snowboarding, a sport discipline that was included in the Winter Games in 2006. There are frequent fall athletes and collision at high speed. In Vancouver, 22 snoubordistok injured 16, while among male athletes - four out of 35 total in this type of injury received 35% of the Olympians.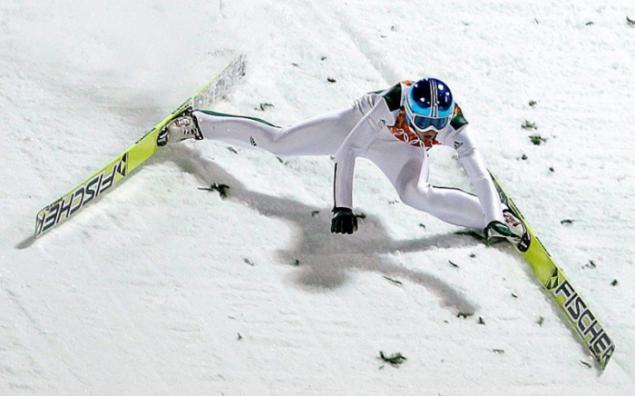 Freestyle Skiing (acrobatics)
This sport involves the performance of different tricks on skis, ski acrobatics, jumping from a special jumping and downhill skiing on a special track, replete with mounds and mounds. As a result, numerous cases of injuries and even deaths freestyle ski athletes earned fame dangerous sport that alienated from the competition sponsors, as well as the long closed road freestyle in the Olympic program.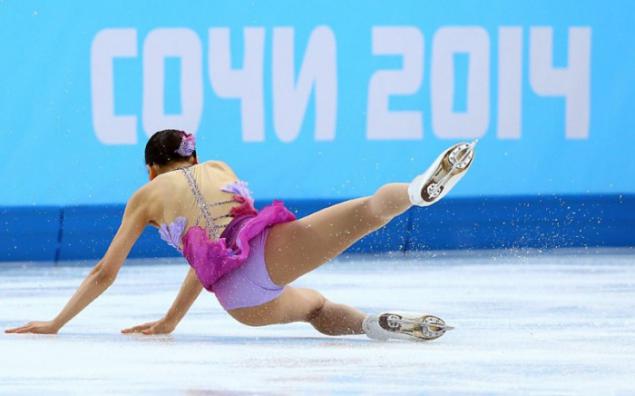 Skating
In order to get injured, skating, it is not necessary to jump a triple toe loop or twist Bilman like eminent figure skaters. Even just skimming along the perimeter of the rink, you can fall very badly.
Ice skating is also characterized by a high degree of traumatic. This conclusion was reached by British scientists analyzed the official statistics, according to which every year in the United Kingdom recorded hundreds of accidents that occurred on the ice arenas. Most often it is - bruises and concussions from falls, but there are also more serious consequences that are typically associated with injuries from skate blades of other sportsmen. One of the most common types of injuries is a hand injury, particularly when a person begins to fall and puts his hands before him, the risk that they naedet another horse ride, can be quite large.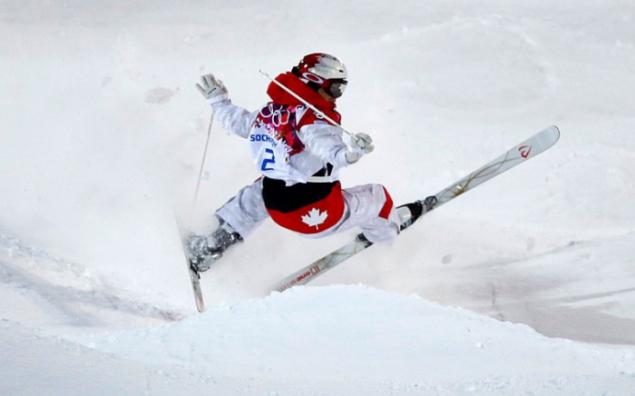 Skiing (downhill skiing)
Prefer steep mountain slopes skiers can get injured legs or spine because of an unfortunate fall, during which particularly affected knees. Novice skiers are particularly at risk because their muscles are not strong enough, and the movements are not coordinated and are not sure. One of the common mistakes novice - is crossing skis. In addition, you can not put the stick forward as such a situation increases the risk of injury. But carelessness on the hillside as well as possible collisions dramatically increase the risk of crash.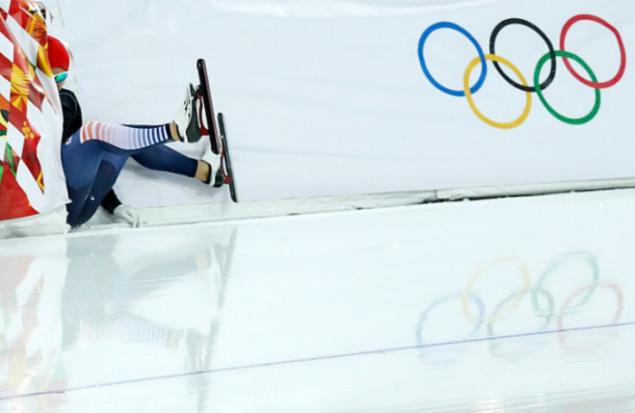 Short Track
Short track (from the English "short track") is a relatively young, but the most extreme and dangerous type of skating. During races speed skating athletes can reach up to 50 km / h. It is clear that with such acceleration of a fall or collision athletes may have very dire consequences. Not without reason, this sport for a long time did not make the Olympic program (the first competitions in short track speed skating at the Winter Olympics were held in 1988 in Calgary), appealing its danger and serious injuries of athletes.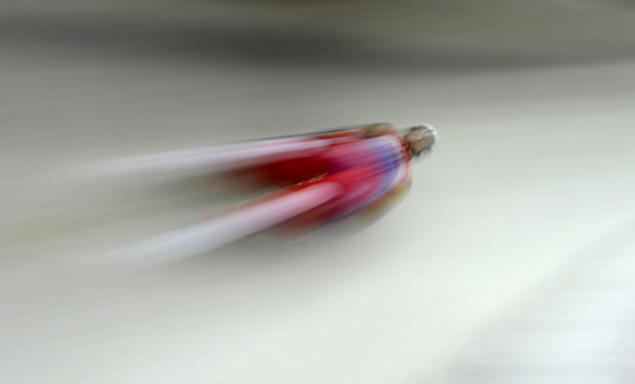 Luge
The tragedy began 4 years ago Olympics in Vancouver - even before the official opening of the Games on the bobsleigh track in Whistler death crashed Georgian athlete Nodar Kumaritashvili. He lost control of the sled in the last corner, which includes athletes at an angle of 270 degrees at a speed of about 140 km / h. Sleigh overturned, and luger slammed against the metal stopper, received injuries incompatible with life.
This case clearly illustrates how dangerous could be tobogganing. It should be remembered that the risk of not only professional bobsledder, because even on ordinary sledging can be seriously hurt. And the descent on a sleigh with a steep slope at a speed easily broken, as is often necessary to slow down. And possible head injury in a collision with other athletes. As a rule, most of all injuries sustained in the luge slope up head injuries.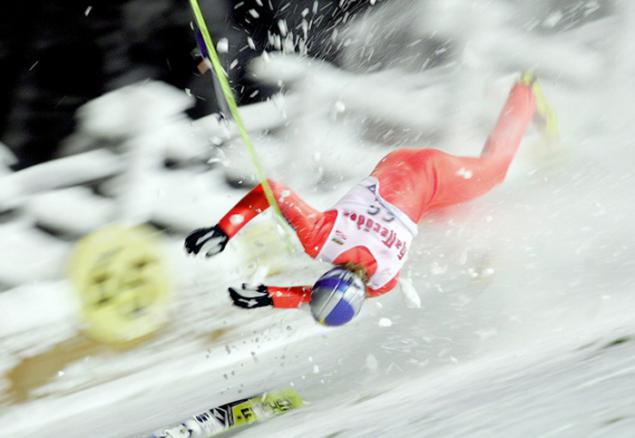 Ski jumping
This sport - exciting and extraordinarily beautiful. But the beauty demands victims, and entertainment is due to extreme. As a consequence - high travmoopastnost jumping. Even experienced divers are not immune to surprises in this dangerous sport. It is necessary to take into account all the details and nuances. Imagine an athlete whose speed during acceleration up to 100 km / h, and that jumps from a height of 70-90 meters. At the same distance of the jump is an average of 80 to 140 meters ...
Due to such a high traumatic, jumping - it's almost the only discipline of skiing competitions in which women do not participate.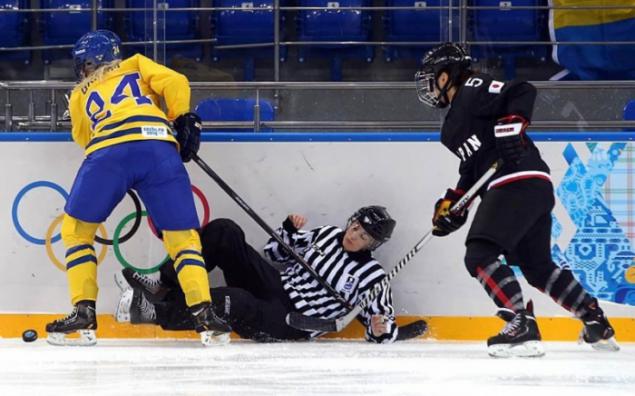 Hockey
All of you have probably heard the song "Truth does not play hockey." It's really traumatic game, during which athletes are constantly exposed to the risk of collisions and falls. Dangers added sharp skate blades and washer. A broken teeth hockey have long been one of the "business card" for this sport. Downs, sweeps and kicks the opponent, massive fights, getting the puck and sticks - all weekdays hockey.
However, more than a professional athlete - the game safer because experienced players better coordinated, able to be properly grouped in the fall or deftly avoid a collision. Besides modern hockey has become much safer due to improvements in protective clothing.
©