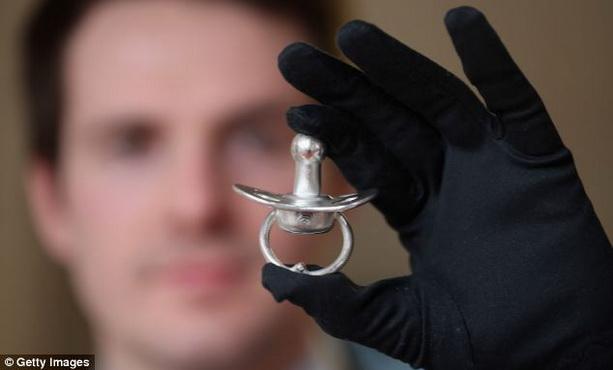 What did not come up with creative jewelers - the latest in the world of jewelry - the most expensive in the world of the nipple, which decided to produce pure platinum.  
Especially for the exhibition «UK Baby and Toddler» (Child UK), which is held these days in Liverpool, jewelers Russell and Case created extravagant platinum pacifier, which costs five times more than the previous record holder - a nipple made of white gold with diamonds which had previously submitted the American jewelers, its price - 17 thousand dollars.
Experts estimated the pacifier precious called «Bling Bling» and a weight of 250 grams of 85 thousand dollars, and her record recorded by representatives of Guinness World Records.
Jeweller Matt Case is known for creating the most expensive, at the same time everyday and necessary for the kids things, making them extremely pure platinum, this time he and his colleague Russell decided to do something out of the ordinary - in the end come to them idea to present to the world a unique pacifier.
See firsthand original accessory can only be February 2 and 3 in the conference center «BT Convention Centre» in Liverpool.