The story of how a woman from Moscow to marry a man her husband is originally from Cameroon.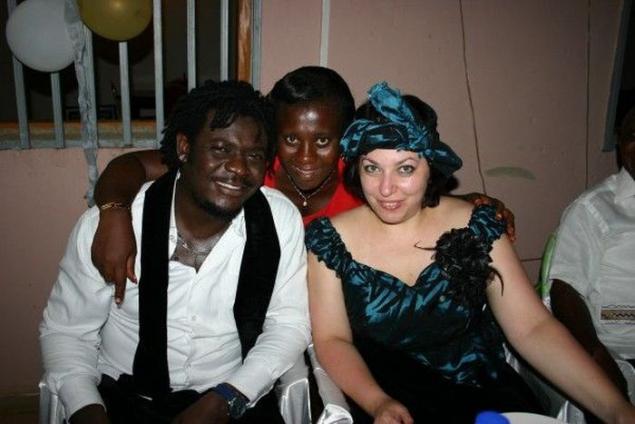 Hello! My name is Jan, I have a very adult daughter and her husband recently. I live in Moscow, but today's post is not about the Moscow day. This is my second attempt in the community. The first day was from New York, and then all I peck for bad pictures. What can I say about this? a couple of years I did not become a pro, but has got an iPhone. So - watch out! today I want to show you on February 22 - the day when we played the second wedding. the first was in Moscow at the registry office, as it should be. and the second - at home my husband in Cameroon.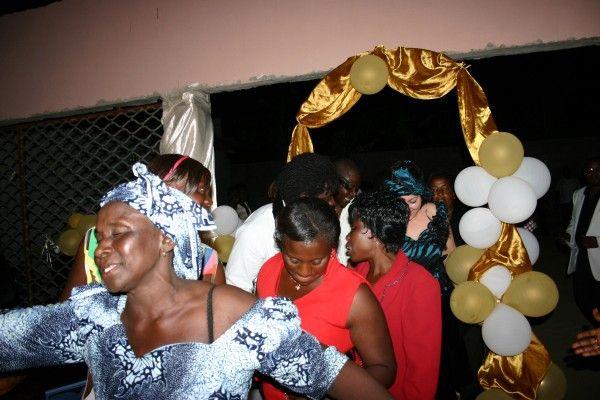 So we are in a small (150 thousand inhabitants) town called Kumba in the British part of Cameroon. I wake up and see the pink walls of the hotel rooms, "Vianello." air conditioning worked almost without interruption, electricity felled night quite a while, so you can breathe - what luck!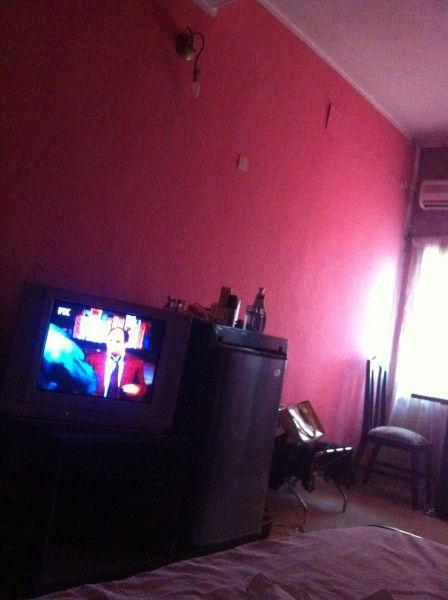 I wake up alone in the room - my husband ran early in the morning to monitor the preparations for the wedding, he did not sleep in a day. I - first, the terrible owl, secondly, what the heck, I Honey Moon. Thirdly, it is me, of course, I woke up at seven ... then went on business, and I went back to sleep. shorter hours now already half-past eleven - time!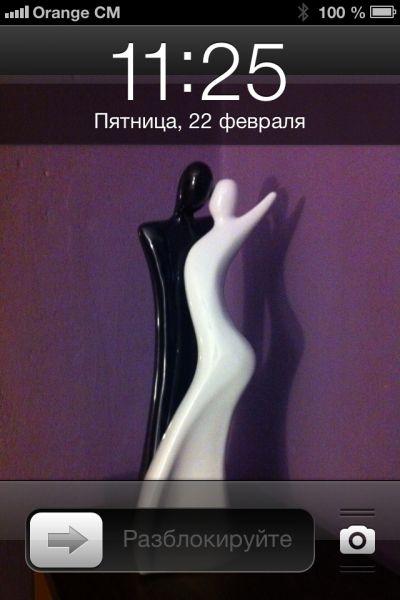 spooky crossbow morning in the mirror. Well, excuse me, I am for the truth of life!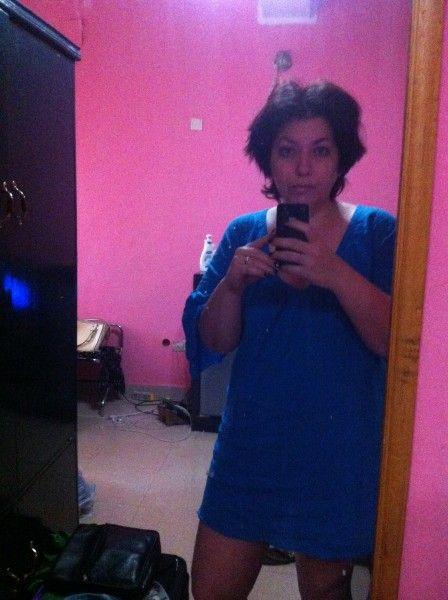 the key is turned in the lock - came Moki, all foamy - on the street, as usual, 35 degrees for some reason, my African tolerate heat is even worse than I am. Perhaps that is why, in particular, he left here. five days before our return began whining «i wanna go home, i want to see snow and feel cold!»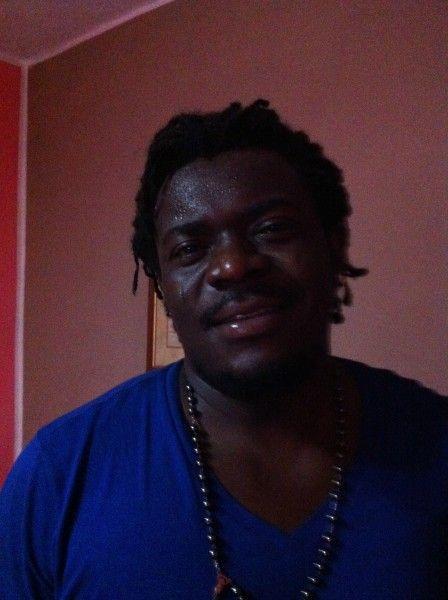 We go out of the hotel. and take pictures with the local guards, Switzerland - two creepy-looking lion with brutal grin. to me they are terribly like. Yes, children from better screens to divert for a moment.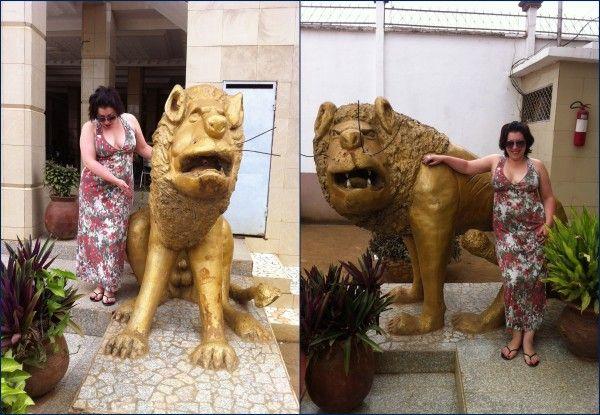 lounge Moki meet sister and her husband Ernest Glenn. they live in Nigeria, came on the eve to attend our wedding and the day after a party in honor of his newborn son.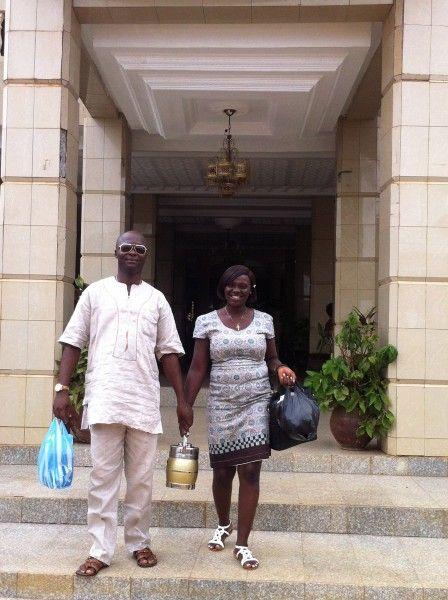 we need to go to the dressmaker - measure wedding dress. My newly acquired in-law with her older daughter ordered it without me, focusing on the description of Moki. so that may have something customized. I have no idea what it would be for a fee. and the color and style, and length - all a surprise. however, as the whole wedding. cumbe in general as in Cameroon generally move mainly on bajkah. still have a yellow taxi in which stuffed for 5-6 people. Public transport as such does not exist, at least in small towns and villages. I personally ride the bikes wildly afraid. never tried. but there had to - to find a taxi in the evenings, especially in remote from the main street lanes. but today, fortunately, we ignore the stories and catch a taxi - the four of us!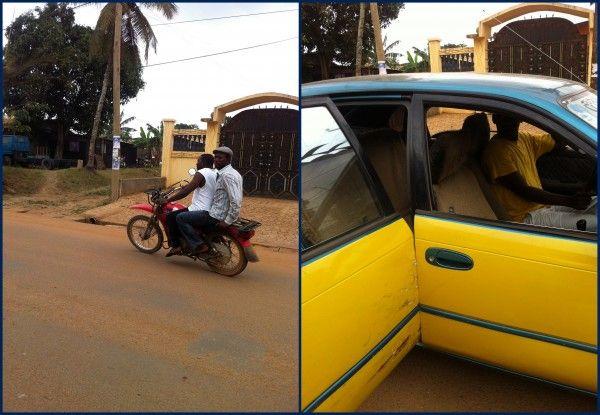 arrived. Kumba ordinary street. dressmaker very nice and silent, just smiled and spoke exclusively in-law. dress almost like the time to take in a little bit. It seems, perhaps, the American Cocktail Dress times 80-90. Well, I thought so. fun in general. I'm on this trip accept whatever comes, so decided - why did not even say whether I like or dislike. I do not feel rejection, then everything is fine. it was impossible to take pictures, so your dress is not going to show.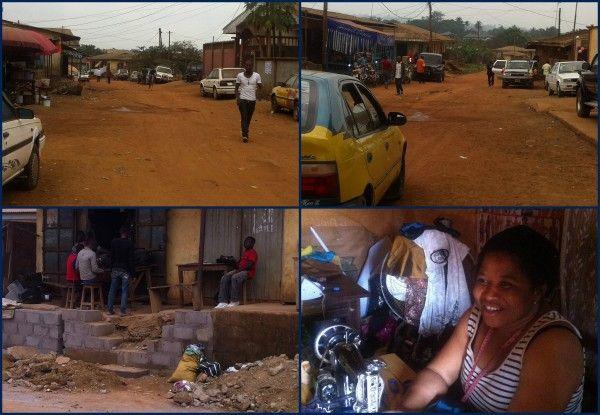 and here, by the way, and it is - my new maser-in-low. neformalka so, yeah. Today I see it a second time in his life, and the first was five days ago.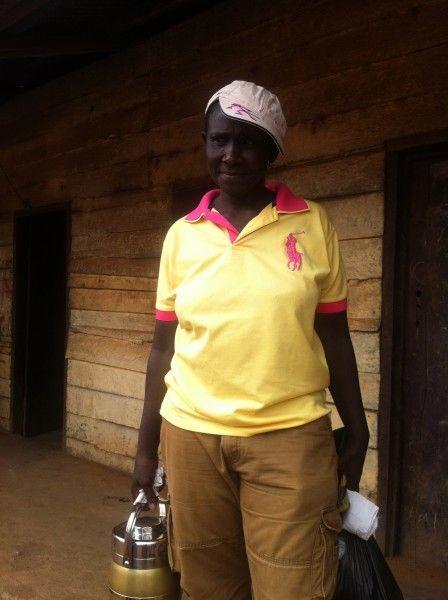 Moki mother met one of his friends, who also lives in Moscow. to stop, talk, tell, how there in Moscow. in the evening it will certainly be at the wedding.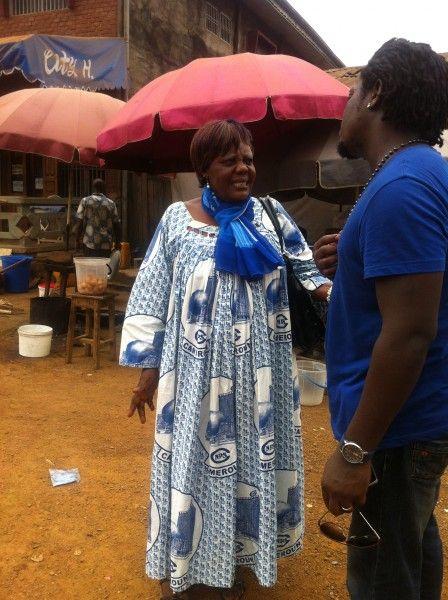 go down the street, trying to find a taxi to go back to the hotel, have breakfast or lunch. human encounter with goats.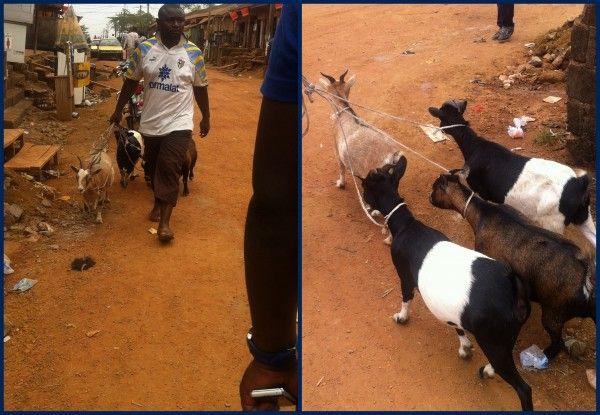 until we found the food, we decided to buy nuts from a street vendor. He cleaned them quite unique, I even recorded a video. just put a handful of roasted peanuts in a bowl, and then started to throw up and catch it, throw up and catch - several times. and in-flight nut husks with them overfly. it looked like juggling, cool.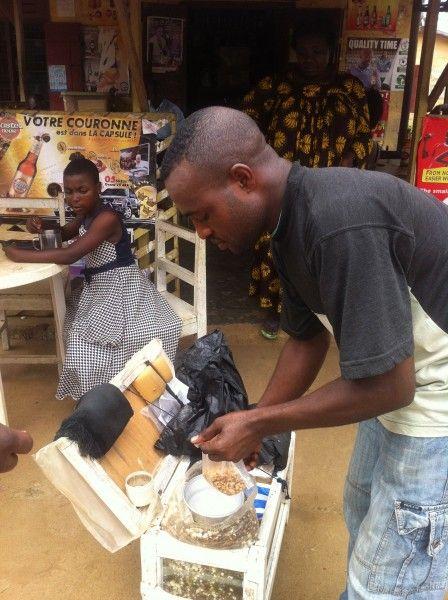 and it is a beauty salon nearby. In my opinion, a wonderful creative))) By the way, I have here was a serious problem: I did not bring shampoo, apparently mindful of the European-American hotels, where they usually are, naive) arrived, began to look in the shops - and Figures here are not sold in stores here shampoo! turns out, local women are decent, run weekly salons, where they washed the head and make styling with lots of styling. and only one complex African hair, and generally to the beauty. and I went there an ugly duckling, without any styling, a la naturel, with hair washed with a shower gel. the next time will be more intelligent.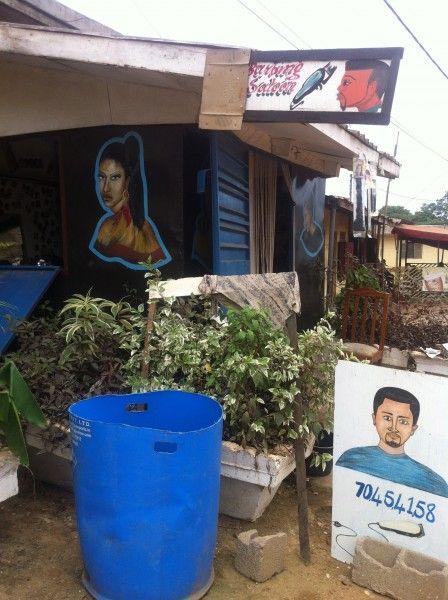 while we were looking for a taxi, it was found out that the hotel has not come back - you need to go to my grandmother Moki. It is large and extremely important event: in honor of our wedding Moki mom decided to make peace with his mother, with whom did not speak for several years. there is something for property inheritance, well, as usual. and the blessing of the couple must be the oldest member of the family, so - will have to be reconciled. in the face of family and other friends. Well, because Grandma is already 80, she had sore feet, most likely before the wedding, she will not come, so that we will receive a blessing right now. again we catch a taxi - at a cafe called "Charles de Gaulle».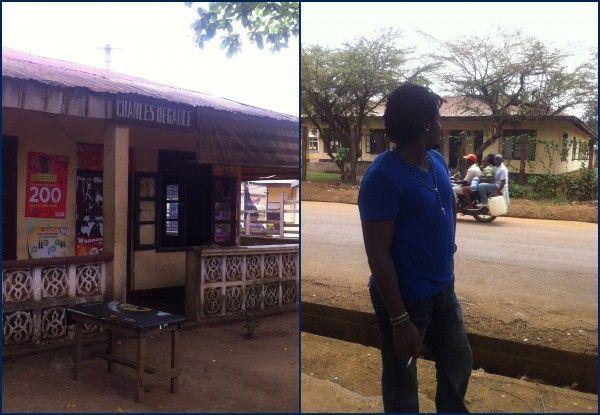 arrived. on the one hand - the post office, on the other - fast internet.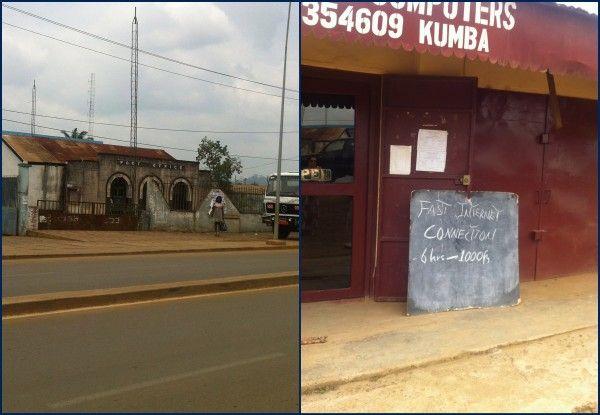 this place is called the family compound - something like settlements, where most of the family lives overall economy: cousins, uncles and aunts, grandmothers, grandfathers second cousins, grandchildren and great grandchildren. in the photo - from left to restaurant, formerly owned by Moki mother, she wants him back.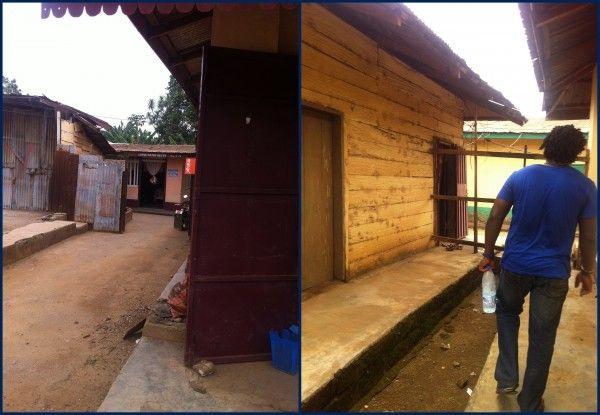 grandson hugging grandma. close - my grandmother's sister, on her hands - the newborn Ernesto son of her husband's older sister.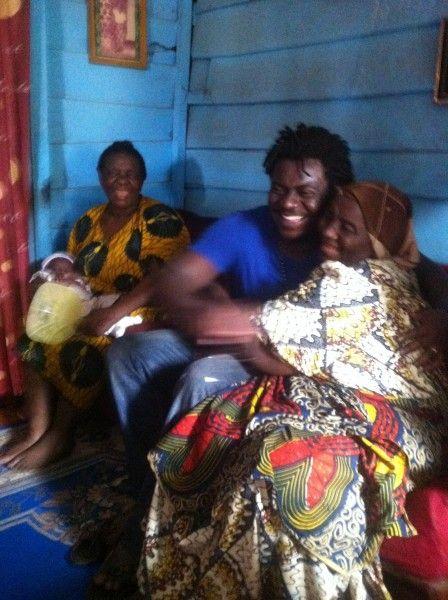 Then Anita modzhoko (mom) told a long and passionate speech. elizbet (grandmother) listened and smiled wisely. then all hugged and then prayed, then hugged again. mother and daughter reconciled.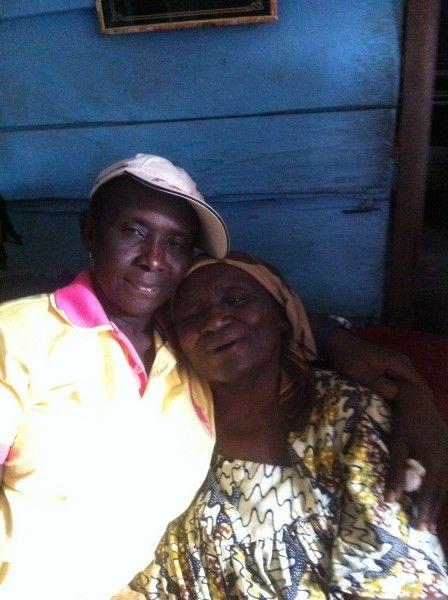 Grandma is really very clever, it felt sly, ironic. She previously worked as a teacher, and apparently it was her, I should be grateful for the good English my husband. great-aunt, too, seems to be on your mind, in a good way :)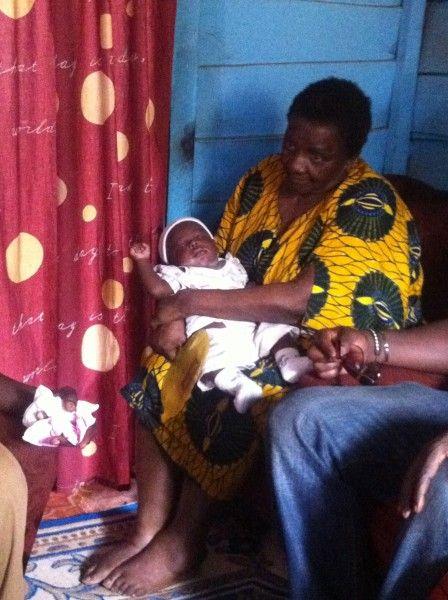 and a woman who read a prayer. It seems to be very devout and active - she prayed loudly, passionately, fervently. but it is, in principle, are not uncommon among people. I once was in the service of their church in Moscow, almost all those present cried, laughed, cried, danced - no one just prayed quietly and calmly, sitting on the ground. this temperament.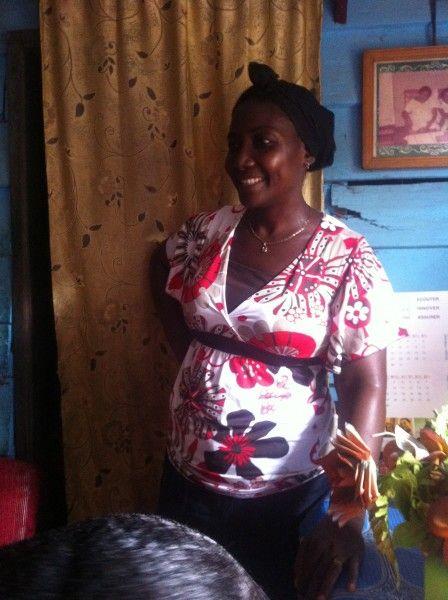 the grandmother blesses us, I'm not filming, it was awkward. it is something quietly to slander and watered the threshold of water and beer (?) it meant something like our family wishes for strength and prosperity. In general, instead of a blessing, I took off his nephew.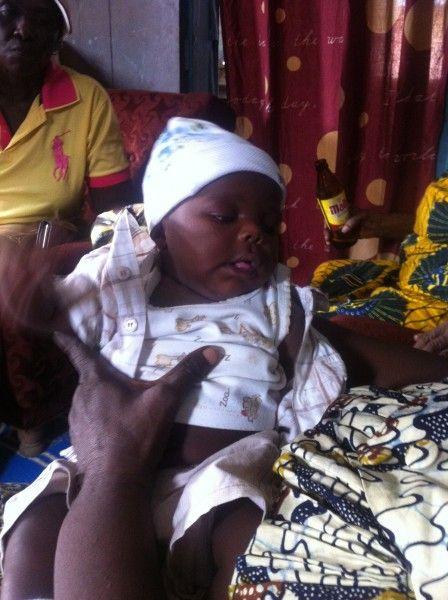 We went out about an hour. somehow all very quickly, if you think about - I woke up a whole hour and a half ago.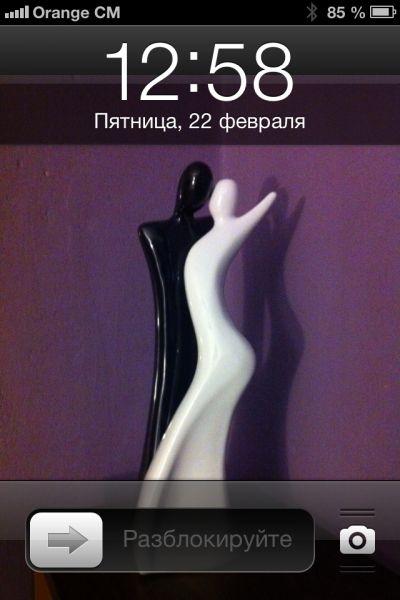 I occasionally remembered (and reminded Moki) that I have not had breakfast. the others woke up early and have time to get hungry, too - in short, we decided to have lunch in a restaurant nearby. in anticipation of the order. I really like this picture. Moki with his nephew on his hands - and then, in the doorway, looking directly at me, boy-on-errand, apparently the son of the owners.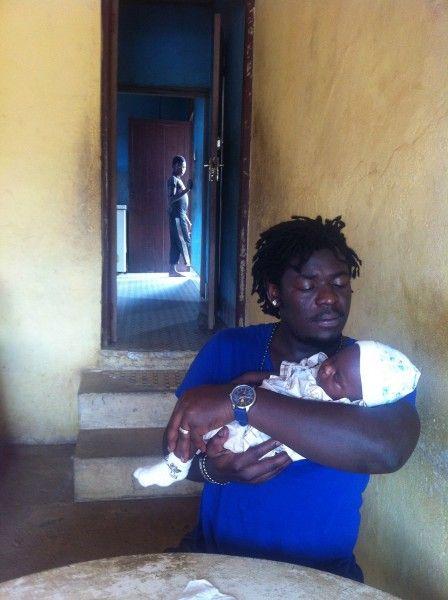 in general, by our standards, the restaurant is a place, like almost all the places that I've ever met in Cameroon, can be called a stretch. no glamor, only hardcore! But there is great cook traditional African food that eats the most. I also wanted to try. Moki has allowed me to order that it sees fit. are we still waiting for the order. sister Moki - Karin and Glenn - twins. but as you can see, they are not very similar to each other, both externally and article and character. it was interesting to watch them. and their relationship with my husband. I'm an only child, I was always very curious, like sisters with brothers get along.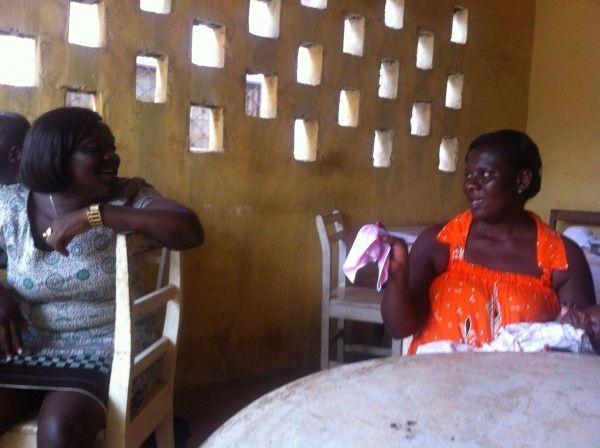 brought food. Achu called. I show how it is generally necessary to have. I is not very great. and, to be honest, I do not like the taste. I tried, but still had to admit that no, not mine. all over me joyfully laughed and continued to enjoy his Achu :))) waitress with a cool haircut and red forelock brand name, it is the owners daughter, old friend of the family.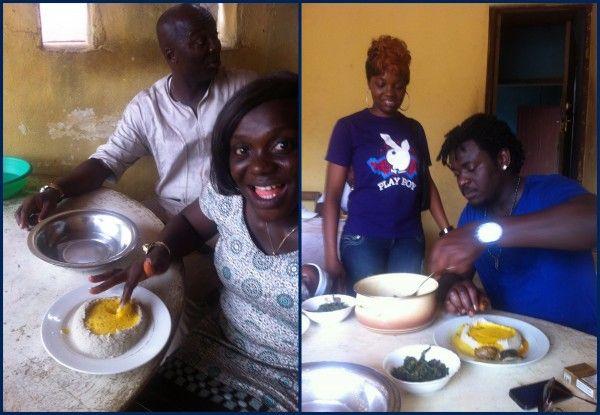 Moki is a son, Bruno, he was 14 years old, but looks much older. mainly because it is very close. very nice nice guy, helpful and considerate, humorous. took me so cute, I was grateful.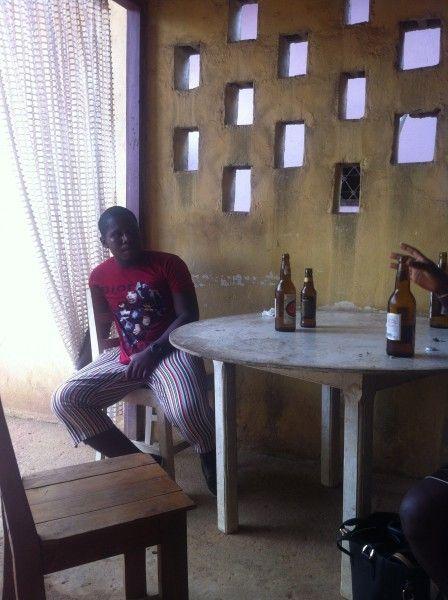 on the way back to the hotel, we stopped for a moment to look at the room where the wedding will be. it is already decorated.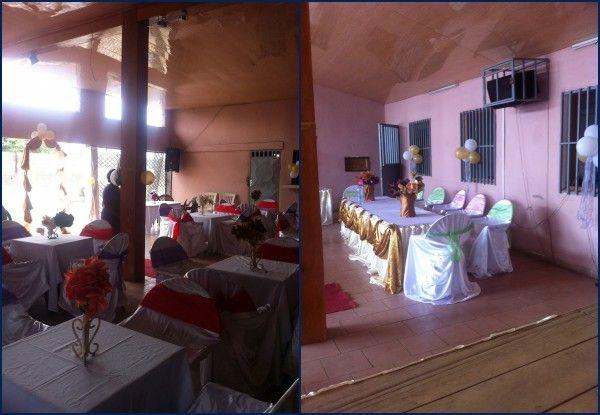 We arrived at the hotel. a taxi, not a bike - hurray!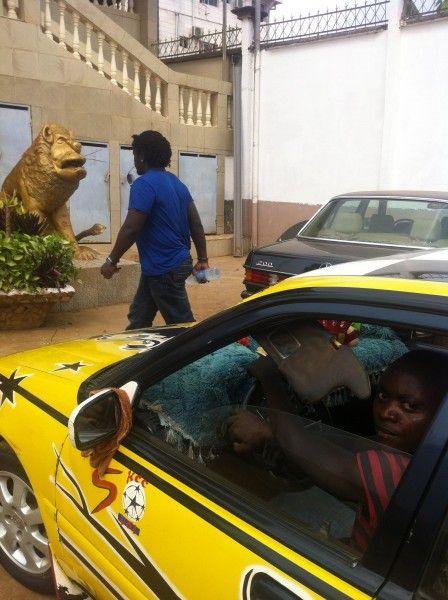 now we have to take a break from the exhausting heat, take a shower and then pick-painted-dressing. the wedding is scheduled for 17.00. dress I have to bring directly to the hotel. Moki again runs away somewhere - the latest agreement with the DJ, ms, photographer-operator and speakers. and the bride have to wait until after her come. time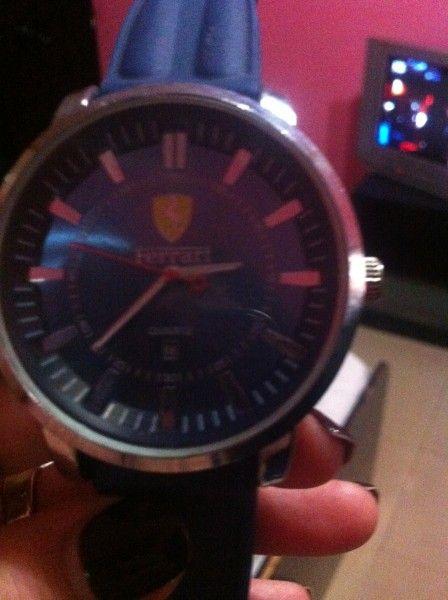 I roll after a shower and a bit of reading. somehow drawn here read "Madame Bovary." or rather, is not it - pulled to read, and except Flaubert, nothing existed in the phone is not inspired.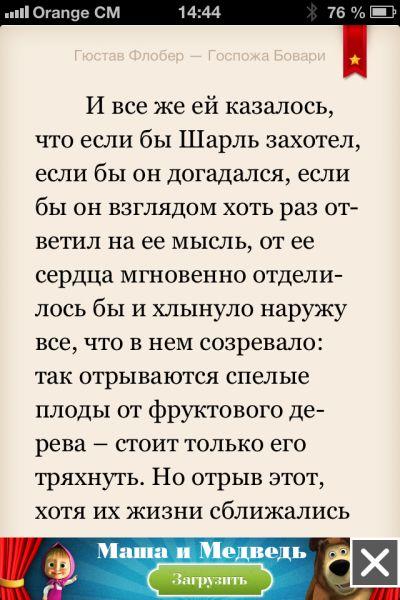 background - the TV. broadcast my favorite "dice».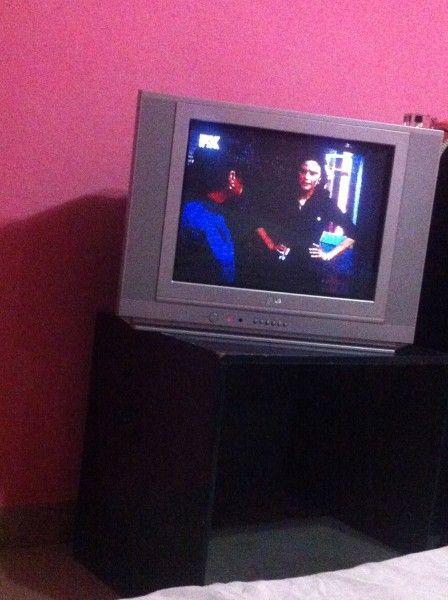 finally decide to make up. in the heat, of course, any make-up - it's suicide. but I'm still a bride, noblesse oblige. I paint only the eyes - but, as always. in short, that's what happened.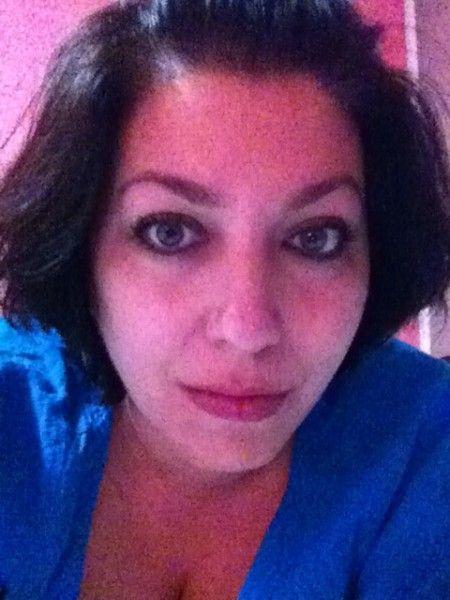 and the time between those already close to the most.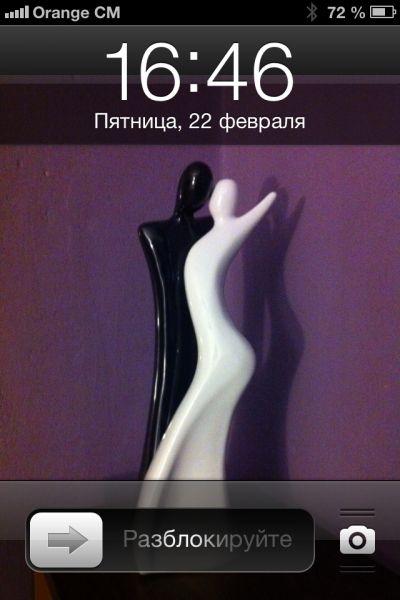 finally brought the dress! fitting, a crossbow in the mirror, trying to tie a scarf, shawl somehow so that was not too funny.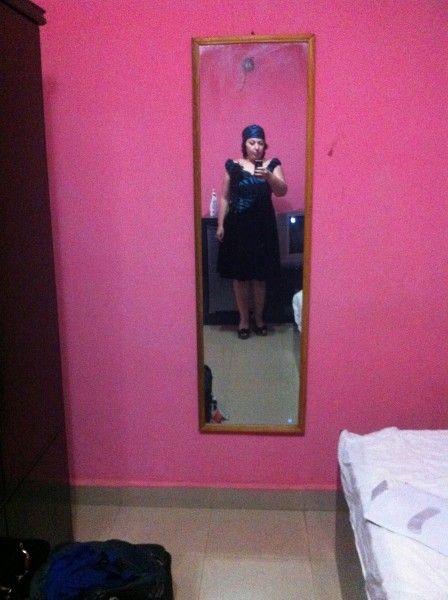 window - starting twilight. here it gets dark early and quickly, before you know - and have complete darkness. and a lot of bright stars, very beautiful!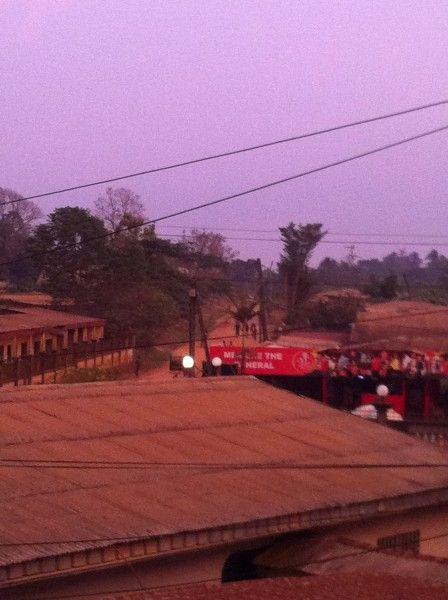 I was clothed in a dress and shawl, all of a ready, sick. I hate to wait, but for some reason, very often life is such that has to wait. apparently, so teach me patience. well, I'm waiting. I watch some funny clips of local music channel. Moki still can not go.
He comes when I have to boil - 7.20 times. I express to him suggested that the beginning of a wedding in five, or I misunderstood something ?? it turns out that, according to tradition, the couple can not appear at the ceremony, while all guests are gathered. In any case, the most important guests, of whom it is known that they will come, do not get sick and do not change your mind.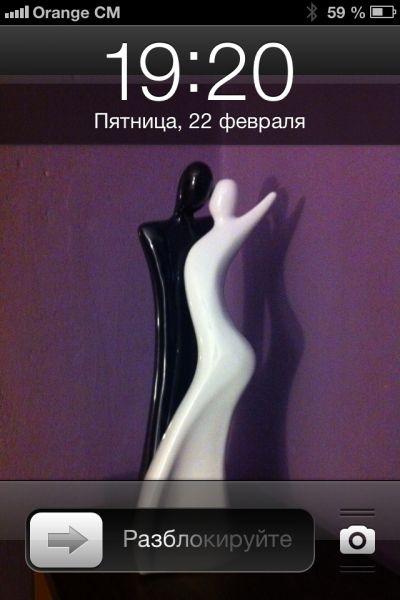 but now is the time to quietly put on a real man's brutal ... skirt. is the traditional clothing of the tribe to which belongs to my husband - it is called Bafoev (bafaw). in fact, the skirt is a large piece of black velvet, which is wrapped around the waist.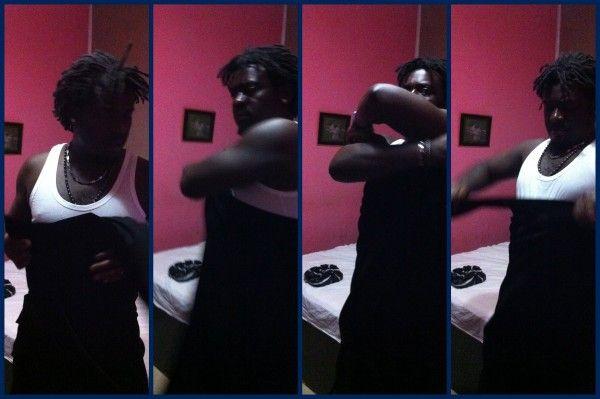 little family complete. ready to go! finally!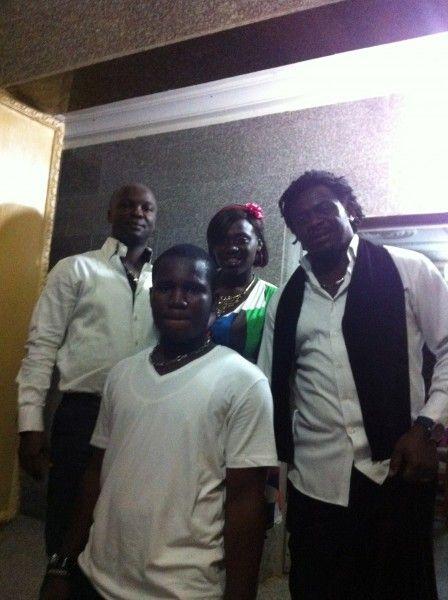 in the end it was about nine, when we were in the hall. watch I have not had time to take off (forget). 200 people gathered in the hall half sat at the tables, half - probably not the most important guests - occupied chairs in the courtyard. but there also was a "buffet" of food and beverages. dance and there was certainly nicer - still after sunset the air is a little fresher. and we suffered from the heat inside badly, fans could not cope. will continue to be a few pictures, which makes the local photographer and operator. Yes, he also shot video and photos, do not know how it had turned out.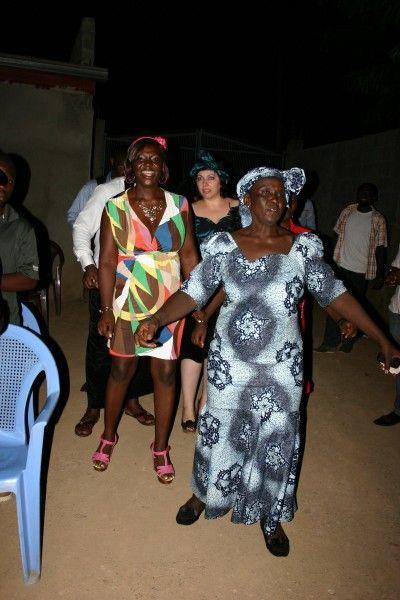 so we went to the gym - dancing and shouting cries of joy. Guests also greeted us with shouts, whistles and applause. It was somehow just a lot of fun.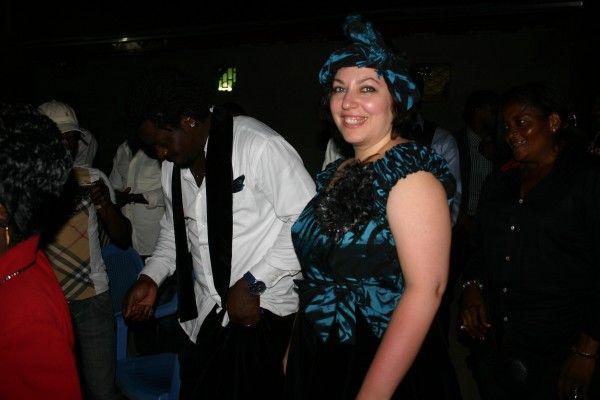 in the foreground - in-law, her - Glenn's older sister.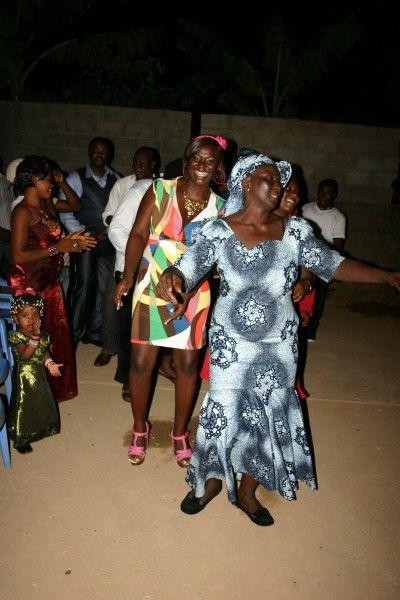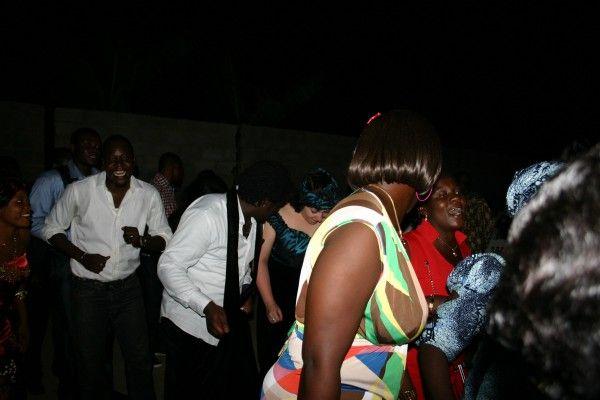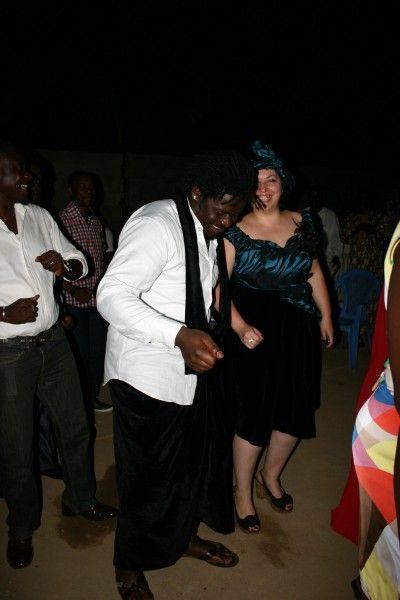 Yes, and I was the only person on this white wedding. Moki first in his family married the black.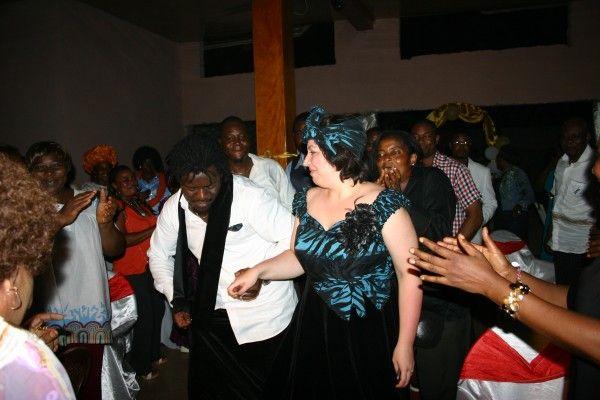 Finally we dotantsevali to his desk. We sit down.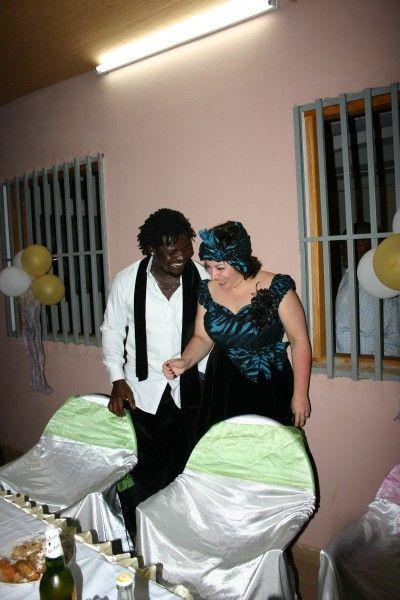 mother and older daughter. Karin is beautiful in a red dress.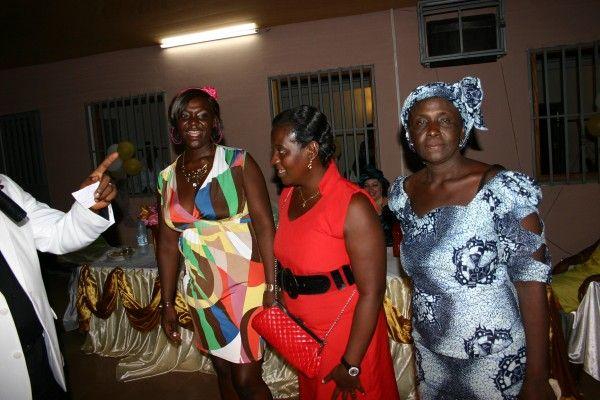 sitting at our table - the right hand of the oldest members of the family of the father Moki, on the left - on the part of the mother. plus the edge - with her husband Glenn. I do not know why it is, apparently, an older sister and her husband - is also like an elder. Mom was sitting at another table, somewhere in the back.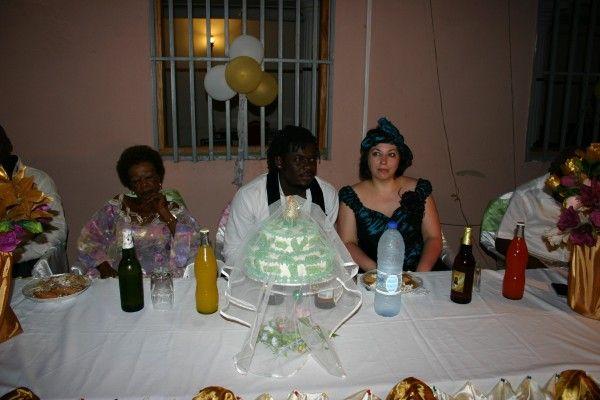 this we cut the cake. rather, trying to hear and understand instructions about how it should be cut.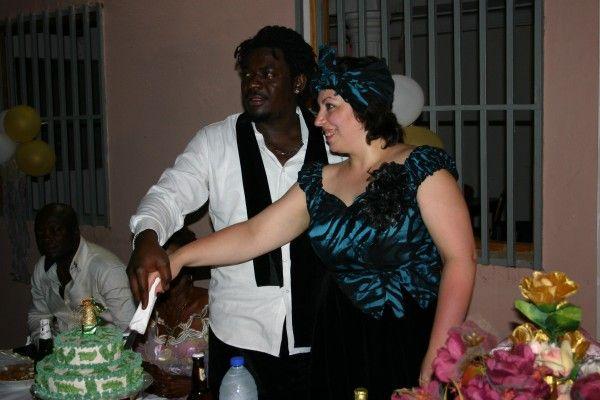 In general, all as normal Soviet wedding. it was necessary first to show how the husband will take care of me (wedding cake to feed the mouth to mouth) ...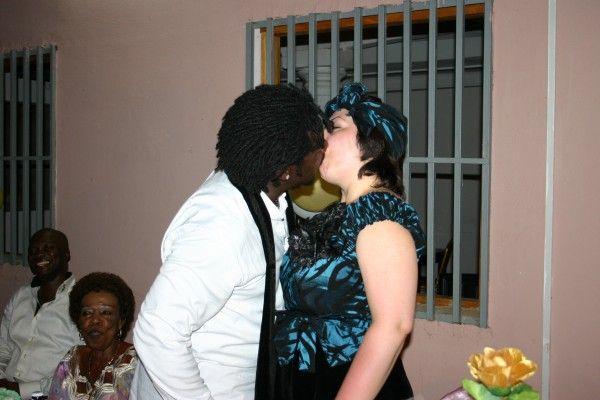 ... And then - as I, in turn, will take care of it (feeding wedding cake with its white breast).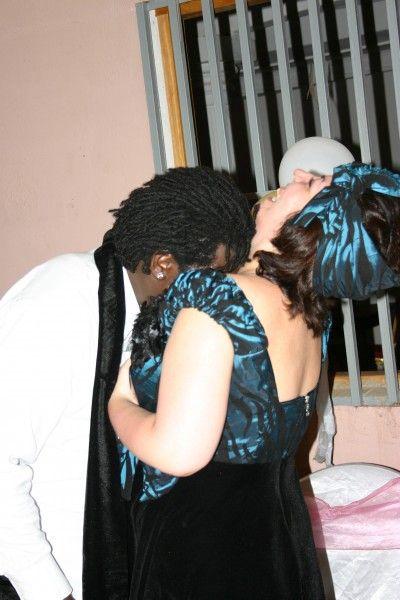 cake we, incidentally, have not eaten properly - to dessert, we have not waited, and then he was taken away somewhere and ate relatives. I do not remember the taste even :)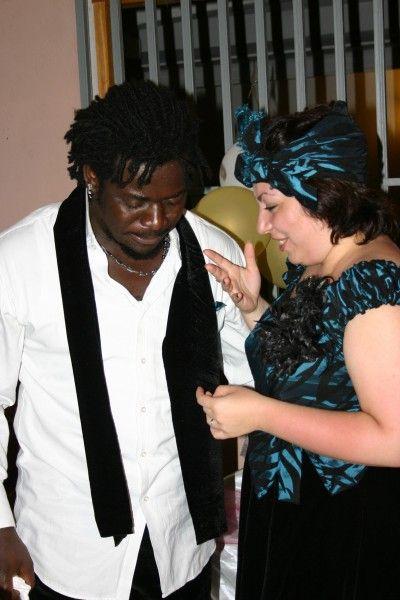 and this is, like, a buffet table. All food prepared girlfriends and relatives Mokin mother the night before and the night is a tradition. in the yard, on the separated for this stake (tiles they have little in homes, but in the afternoon and in the room to use them is impossible - it is possible to melt). Traditional food.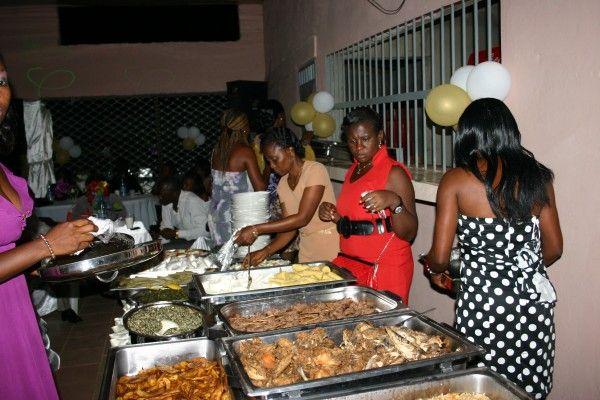 Moki, already knows my tastes and preferences, and makes recommendations that take, what not to take in any case. as a result I was eating your favorite fried plantain, fried fish, rice with vegetables and spices, vegetables and grains Pistache something else from some other grains, it seems - I could not make out, and remember the name and composition. but tasty.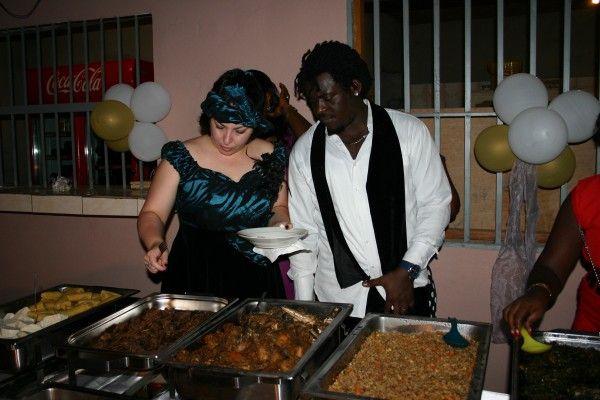 with his sister Karin.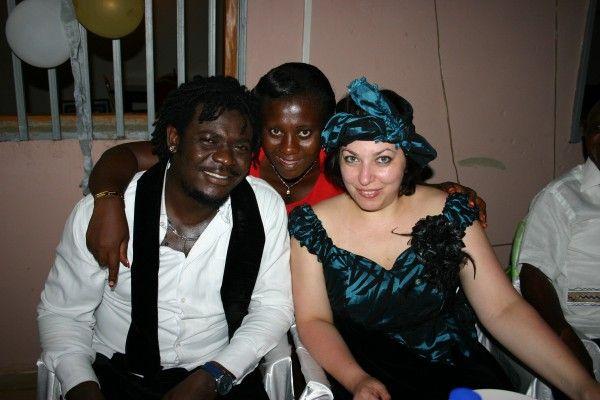 and that Bruno ran again for the next mission. Moki have no pockets in a skirt, so the money and the phone kept his son. and occasionally, when I had to give it to someone from the speakers Tips or something else, click Moki Bruno beckoned, and whispered in his ear directions.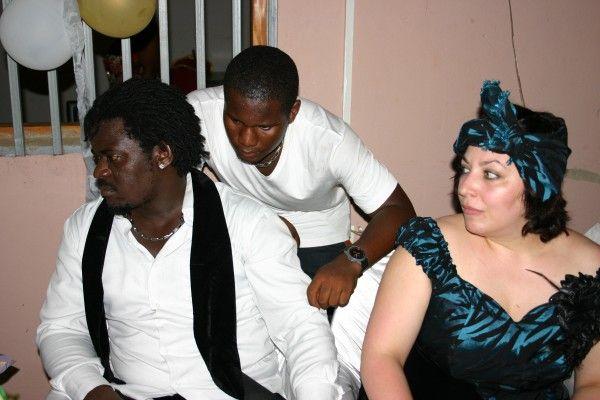 next relatives. Left in a pink dress - Cousin Emma, ​​lively girl! a lawyer, among other things. I studied in the capital, and now she has her own practice in Kumba. amazing dancing. and the dress she had, in my opinion, the most beautiful. Speaking of dresses. dress up everything on holidays and on weekdays - in his own way. today it can be jeans and a T-shirt, and tomorrow - the traditional dress called kaba. somehow it's their combined perfectly in harmony, and the young and the elderly. at the wedding, too, half of the guests were in traditional dress.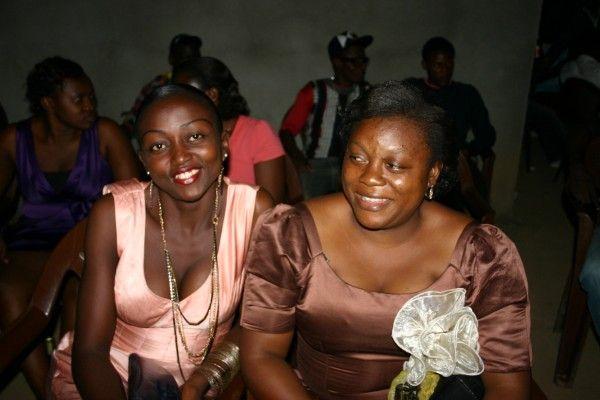 part of a traditional ceremony - the giving of gifts. It happens this way: in front of the entire audience fair bride and groom shifting from one foot to the music, and the guests are drawn to him "endless succession" as the mausoleum, just dancing, and right in the dance presented their gifts. in this photo is one of many aunts suddenly "presents" my little Ernest. I like all kind of showing that "not long ago, I picked up the sticks" - in the sense of not holding a baby.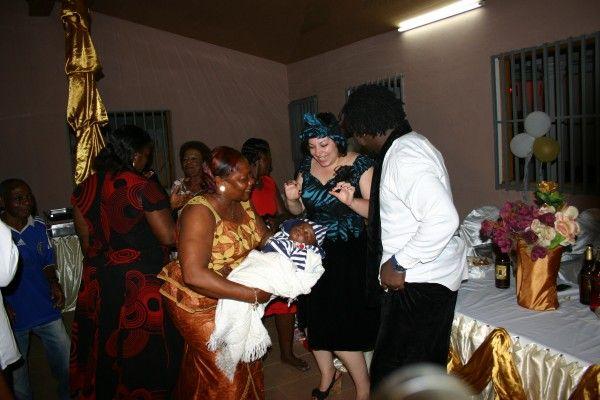 and, of course, indispensable pose with all the guests. in this picture we Moki mother and her brother.
and here I am ... I do not know who, I do not remember them all! Well, some are not very close relative.
Moki took my iPhone - you can see what I'm sweating and knackered, huh? By the way, I mentioned that because of drinking at a wedding was just a local beer? So, in addition to beer and water - nothing. I liked it very much. Firstly, in this heat to drink something stronger than beer suicidal. Secondly, everyone was cheerful and was not drunk. great!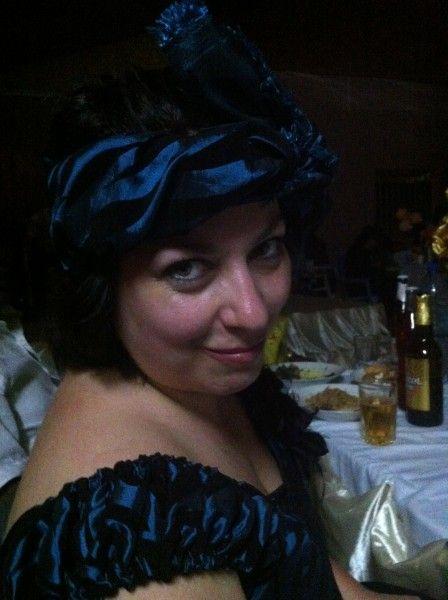 and this is my favorite wedding photo. the bride and groom, Ninny from heat, poddernuli their skirts and bared knees. Well, and the friendship of the peoples there. I mean, on my knees.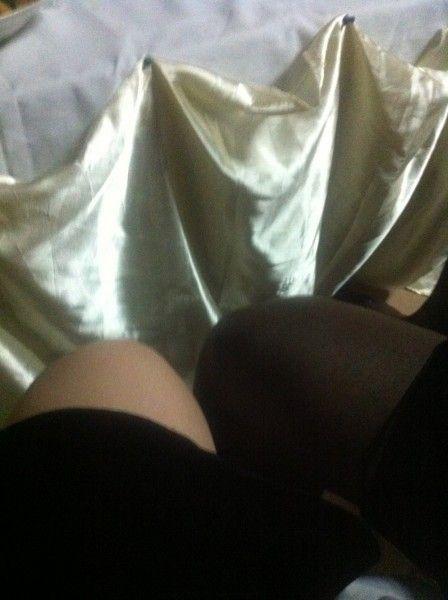 more professional photos come to an end, because the photographer did not take off dancing - or rather shot, but in the video. and I will show only a couple of those crazy smeared pictures that I took from his seat iPhones. I apologize for the quality! but maybe you will be interesting. Moki is a soloist in the traditional men's dance. it's all about moving the arms.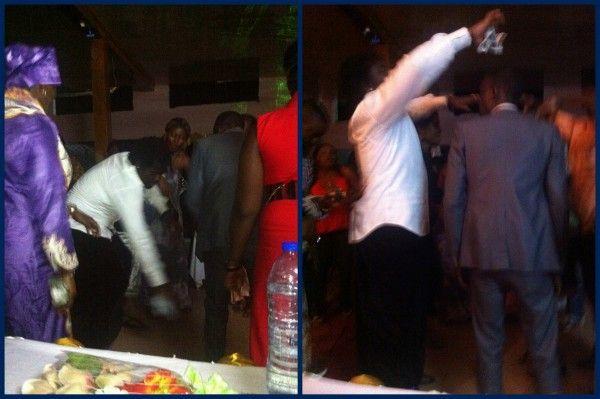 and that each Moki lights with her mother. in general, there is dancing all, young and old, regardless of age, weight, and social status. and great dancing! I admired the evening. Yes, and by the way, I was there too, annealed during our dance with the groom. annealed so that the guests-relatives then questioned my mother in law, how many months Moki I coached. and I just suddenly everything is inspired, and it was very easy to follow her husband. and I have it a beautiful dancer. In general, I was surprised herself. this dance was the culmination of the evening and the most memorable moment for both of us.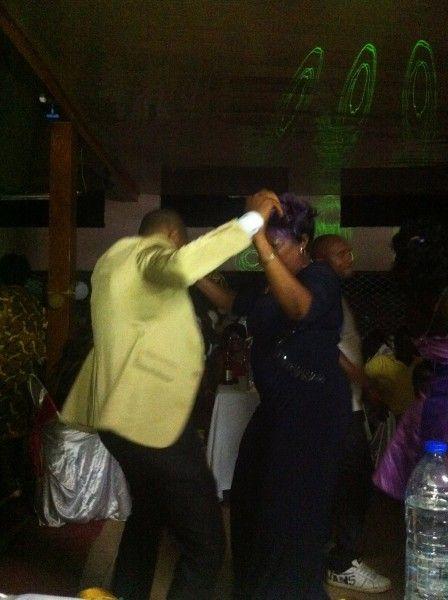 We were still in the program and parodist and humorist, and beatboxer, but the photos they look not very expressive, so they decided to donate. the end of the evening. tired-law.