Only 9% of Muscovites were here.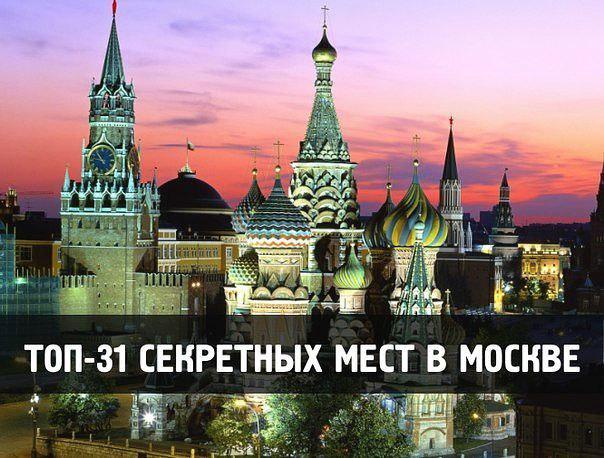 1. Eiffel Tower in Moscow
Make Offer favorite in Paris, at the top of the Eiffel Tower, the dream of many romantics. But the dream is not necessary to fly to Europe. It is enough to get a pass to "Moskabelmet", and a copy of the French beauty, the height of little more than five-story building, will appear before you in all its glory.
Address: 2nd Cable, 2, p. 9, Metro Aviamotornaja
2. The Phonebooth Cheburashka
Call from her would have been happy in it lived a well-known character, the constant symbol of our national team at the Olympics, and now this booth is the "face" of the museum animation. She is standing right in front and can not leave indifferent.
Address: VVC, pavilion, VDNKh metro
3. Monument stripper
As it meanders gracefully! As if between the bank and a bar. One can not help reflect on the path that has done a beautiful ...
Address: Prospect Mira 116a, subway Alekseevskaya
4. Monument "Tree of Love»
At the time when the bridge Luzhkov trees bend under the weight of castles Suite, in "Barton Trubetskoys in Khamovniki" sculptor Gregory Pototsky has created a wonderful new symbol of all lovers. The composition is two figures: boys and girls, who sang together. Lightweight and unique charm will delight sweet couples.
Address: m. "Frunze" in the park "Trubetskih country estate in Khamovniki».
5. The house where she lived Bulgakov's Margarita
Fashion on the author and his novel, it seems, will never go away. Bulgakov's masterpiece embodied in the architecture, the architect Fyodor Schechtel postoroenny for millionaire Savva Morozov. As described by the writer lived in this house margarita. Now it 'House receptions MFA, "but for everyone it is available online.
Address: Str. Spiridonovka, 17, metro station "Barrikadnaya", "Mayakovskaya»
6. Viktor Tsoi Wall on Arbat
Not everyone is a hero of his time udostavaetsya of Honor. Wailing Wall, as the cry of the impossible. But increasingly, at this memorial can be seen nelitsepryatnye scenery, so hurry to touch the legend.
Location: Old Arbat Arbatskaya
7. Tea House on Butcher
Tea tradition going since the late 19th century, Chinese culture, extraordinary architectural design - the three pillars on which it is truly a unique building. In 2005, the reconstruction, the surviving drawings, so we can now enjoy a historically accurate replica of the tea house of "Perlov and Sons».
Address: Str. Myasnitskaya, 19, Metro Chistye Prudy
8. Cathedral of the Immaculate Conception of the Blessed Virgin Mary
The largest Catholic cathedral in the whole of Russia. Made in the Gothic Revival style. Services are held in Russian, Polish, Korean, English, French, Spanish and Latin.
Location: Little Georgia Street 27/13.
9. Sculpture "human vices»
The creation of the category of "not for everyone" by sculptor Shemyakin located in the heart of Moscow. The composition is highly symbolic, depicts children playing blindfolded.
Address: Swamp Square
10. Olive Beach
The symbol of the reconstruction of the park to them. Bitter: wood flooring and beds specially Imported sand, olive trees in tubs, umbrellas, shower, an outdoor bar and Wi-Fi - the idea that all of this is now in the center of Moscow, at peace with the reality, even in October weekdays.
Location: Gorky Park. Gorky, Pushkin nab., St. Andrew's Bridge
11. Boring garden
The largest and oldest park in the city center. The abundance of park culture, wonderful forests, incredible feeling close to nature will help you to plunge into another Moscow.
Address: Part of Gorky Park. Gorky Oktyabrskaya Metro Leninsky Prospekt, Shabolovskaya, Frunze
12. Pool "The Seagull»
Swimming in the open air at any time of the year is very exotic. If you yourself are not among the "walruses", do not worry, in winter water does not freeze, and swim in the clouds of steam is really unusual.
Address: lane. Turchaninov, 3
13. Mini Golf Club "The Seagull»
Strange-pleasant feeling of unusual places, having the effect of abandonment will give you a place. 18 tracks with self-made streams and waterfalls - all near the pool. Here you will be given tools, shown how to beat - all the conditions for an unusual and memorable holiday.
14. Sanduny
According to many the best znatakov baths Moscow. The experience of generations and numerous nebezyvestnye customers, and if animated frames "Irony of Fate" and Adjara khachapuri - how can you resist such a temptation?
Address: Str. Neglinnaya Str. 14, a. 3-7
15. "House of honey»
Specialized store of honey and related products from beekeeping farms from all over Russia. A bunch of varieties, guaranteed quality, all you can try. Plus, there are trading mare's milk, mead, spelled and other non-obvious things, and there is a small cafe.
Address: Str. Novokuznetskaya, d. 5/10, p. 1
16. Shop "Yeliseyev»
Postoroenny merchant Grigory Eliseev house knyagi Zinaida Volkonskaya, today, as many years ago, this shop is more like a museum. Choosing the conventional products, you can enjoy intererami the early 20th century.
Address: Str. Tverskaya, d. 14
17. Flat House
This building is not as well known as his brother in the same Odessa, but the originality of this stnovitsya only greatly. The angle between the front and side of the house is about 60 degrees, with certain angles creates the effect of a plane.
Location: Presnensky Val, 36
18. "Torn" house
When the single structure has divided during the war in two bomb. Representing architectural value halves reconstructed and turned two buildings. These are the homes were built in the late 19th century! Outlive you and me.
Address: Ul. Moss, 10
19. The longest home
Research Center of computer technology (NITSEVT) did not differ modesty. On this we can judge the size of the building in 735, 8 meters. The truth is a large amount of space currently leased for offices. The construction lasted for a three-stop "shopping complex", "Management of social protection", "Warsaw highway, №125». Just did not come out on the right.
Location: Warsaw highway, 125
20. The oldest building
Here the leader is the Savior Cathedral of the Andronikov Monastery, built in 1420-1425 years.
The monastery was founded in 1357. Stone Savior Cathedral was built after a fire in 1368, which burned down the original wood.
Address: Nab. Andronievskaya 10
21. Museum of Erotica "Point G»
The first Russian museum of erotica. Racy scenes in the paintings, a lot of phalluses - contains a variety of works of art on erotic themes. Plus sex shop with all sorts of attributes for lovers of new sensations.
Address: Ul. Novy Arbat, 15
22. Museum of corporal punishment
The phrase "penalty, can not be pardoned!" Here acquires a completely different meaning. In the museum a unique collection of instruments of torture and execution, now not preserved. All that in one way or connected with istyazyaniem human flesh, without plaque banal horror.
Address: Str. Arbat, 25 \ 36, Arbatskaya, Smolenskaya
23. Club «CakeFun»
To the barrier! Pies to produce! Fire! Yes Yes! In this war, cafes are using sweet weapons. There it must be without any decency, no spoons or forks. Revived childhood dream.
Address: Str. Small Tula, 2 \ 1 korp.5
24. Travel dvoram- «wells»
Found himself at the bottom of this "well" can be in different parts of Moscow. The main thing is not to drown in the impressions.
Str. Solyanka 1, Building 2, Street. Tverskaya Street 6, Building 6, Str. Tverskaya, 12, building 7, str. A large Dmitrovka 7 \ 5, Building 3, Street. Dmitrovka, 22, Passion Blvd., 4, building 3, Small Kozikhinskiy per., 8, Trekhprudny lane., 11, building 2, Trekhprudny lane., 9 Street. Tverskaya 27, Building 1, Str. Arbat, 51 Building 1, Nikitinsky Boulevard, 7, Clement lane., 6, Tolmachevsky Old Lane., 17
25. Scenic Drive
Beautiful building, really felt the breadth of human thought. It seems that you are not in Moscow, but somewhere far, far away. So grab a camera and entertain your friends on the social networks incredible photos, and yourself pleasant memories.
Address: Krasnopresnenskaya highway
26. Technical Museum «Apple»
You can talk a lot, and about Steve Jobs, so thoroughly hyped media and the Company gave the world some of the most popular gadgets, but these walls you understand the most important thing: how far stepped teznichesky progress in recent years.
Address: Pestovsky lane. 16, page 2, Taganskaya
27. Ice Bar
Possession of the Snow Queen of the 21st century, what are they? Strong drinks, ice stunning interior immerse you into the atmosphere of a fairy tale for adults.
Address: Petrovka, 2, TC "CUM" deli "Globus Gourmet", ground floor, Underground Theatre
28. Decorations "Moscow, 19th Century" at Mosfilm
Time Machine is not needed. A small town built at Mosfilm for various historical surveys. There were shooting "State Councilor", "Poor Nastya", "Azazel", "Doctor Zhivago" and others. The atmosphere of that time are everywhere. That's it and you will become a typical Muscovite 19th century.
Address: Str. Mosphilmovskaya, 1, metro station "Kievskaya»
29. House on chicken legs
No, it does not live Baba Yaga! It is at first glance a completely normal house with balconies, staggered. But if you come closer, you can see that there is this 25-story large object on piles driven deep into the ground.
Address: Prospect Mira, 184, Building 2, ENEA
30. Fountain "Adam and Eve»
Well-known biblical story fit into the composition. Everything in the collection: and Adam and Eve, and the Serpent, and the tree of knowledge. Thanks to the fruit that tasted maiden, perhaps we can enjoy this wonderful fountain today.
Address: Pyatnitskaya street, Metro Novokuznetskaya
31. Museum of the USSR
"Workers," "perestroika", "the country of the Soviets", "Made in the USSR" - concepts that have made history. We have probably not yet fully decided how to deal with our past. But all that is left to us in memory of those years, not counting the grandfather Lenin kept in this museum.
Address: ENEA