Sometimes the star girl I just irritate their clothes. Is not there a mirror? Or that she, dressed in the dark? Sometimes everything is so perfect that even envy takes, and how she combines smart enough to make such incongruous? I am sure that no one visited me such thoughts. Let's see what clothes we please or perhaps sadden beautiful and famous.
Fergie
On his 36 birthday singer wore a bandage dress by Hervé Léger. I really like the color that she has chosen: it perfectly emphasizes the color of her skin. "Tassels" on the sides of the thighs add volume and it did not spoil the shape Fergie. Rather, they balance the volumes, making a figure proportional. As accessories, diluted with one-color dress, Fergie chose turquoise shoes Brian Atwood and a ring with a stone of the same shade.
Vanessa Hudgens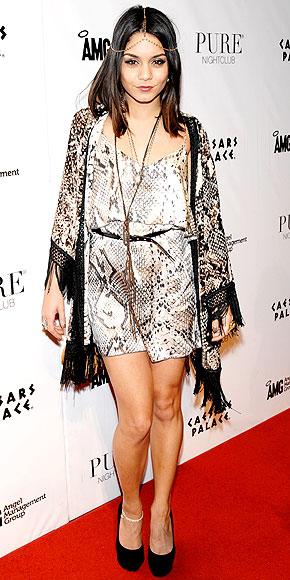 The actress has decided to pay tribute to the fashion of the early 20th century. However, little has modernized the image. Her dress Blu Moon with snake print and fringed cape. I do not really like the accessories and their number on Vanessa. Clearly something extra. I have removed the jewelry from the head and bracelet with his feet. Love to snake prints I do not cherish. So, to be quite biased, the image I do not like.
Jennifer Hudson
Jennifer's not overjoyed her figure. Therefore, clothe it in ultrashort or suprobtyagivayuschie outfits. And rightly so, I must say. How successful is this her image? I really like. Pink mini skirt long legs Jennifer opens. Belt skirt accentuates her slender waist. Black corset top pulls all the excess, if it is, of course, is the place to be. As accessories Jen chose bracelets matching skirt, long earrings and sandals with high heels.
Keira Knightley
Keira Knightley in a dress by Rodarte. If it were not for cuts on his shoulders, the dress would have gone for quite Babushkinskiy. By the way, and then cuts do not save. Rather aggravate the situation, making broad shoulders Kira. In my opinion, a faceless image, merging into a single whole with the Keira Knightley. Look without a single bright accent makes Woman faceless and gray.
Eva Longoria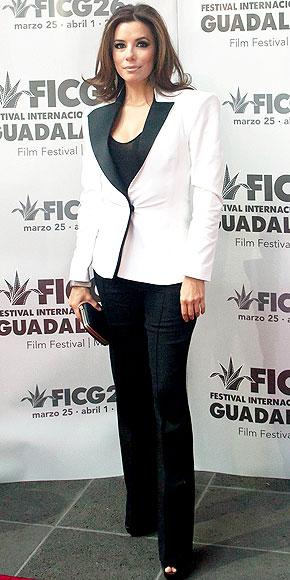 Eve dressed as a business lady: strict black pants, a white jacket with a distinct shoulder. Very manly image. Feminine give him curled locks and high-heeled shoes.
Elizabeth Banks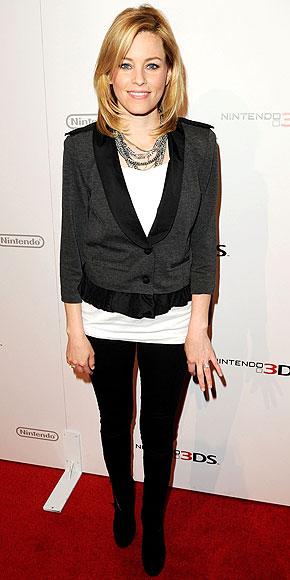 Liz fairly simple image: black skins Make pants, a white shirt. Diluted with an unusual outfit jacket and heavy jewelry.
Shania Twain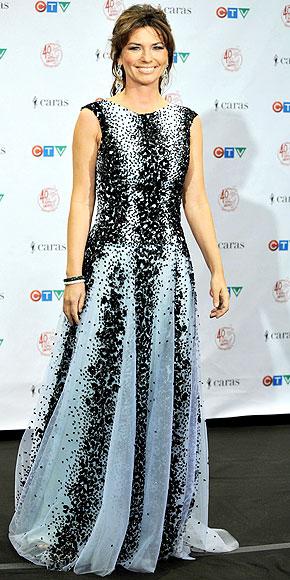 It should be noted that the life of a married woman paints the singer. See how it shines face! Now for the dress. I like the style flowing dresses, like texture, but do not like the print. Luxurious face Twain and expensive jewelry like "cheap" outfit. In my opinion, this is not her outfit.
Gabrielle Union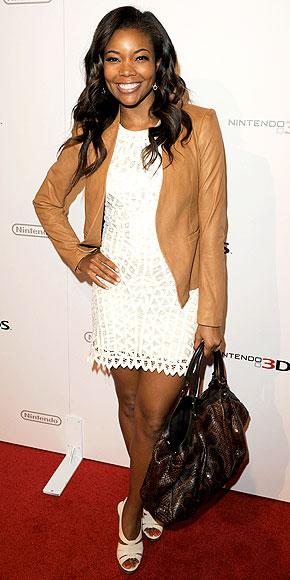 Nice spring image of lightweight mini-dress and leather jacket. I personally would like to see with this dress closed shoes lighter shade on a high heel.
Katharine McPhee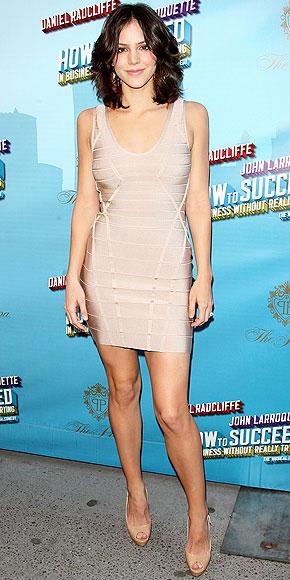 The singer did not hesitate to show their camp. Yes, and what she actually ashamed of such a figure? Bandage mini dress accentuates her graceful silhouette and opens her shapely legs. High-heeled shoes with open nose visually make them even slimmer. Catherine prefers to wear with this dress a minimum of jewelry: rings and earrings is enough.
Dita Von Teese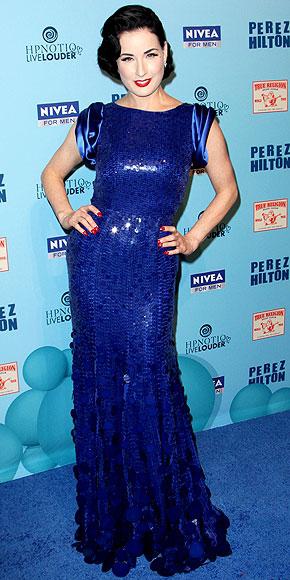 Burlesque Queen shines in her dress by Jenny Packham of sequins. I really like the combination of rich blue and red, then it is just right. I do not like - satin sleeves that do not go to the elegant image of Dita. The rest - excellent.
Photo: people.com