So I present to you a collection of the most-successful publication. This means that the stars are so combined the dress and shoes, and accessories, and make-up that does not take the eye. There are celebrities who are different impeccable style. Here's something to them and see.
Gwyneth Paltrow
1. It seems that Gwyneth shamelessly naked and she had nothing to hide. Still, it looks like a real lady!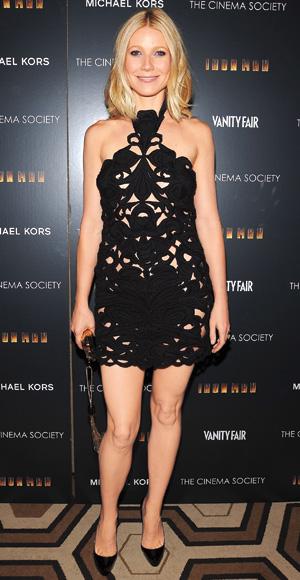 2. This dress from Donna Karan was created specifically for Gwyneth. Donna Karan herself commented on the creation of this dress, she said she came up with this dress, that it was coming to her skin and hair color, and it turned out very ephemeral.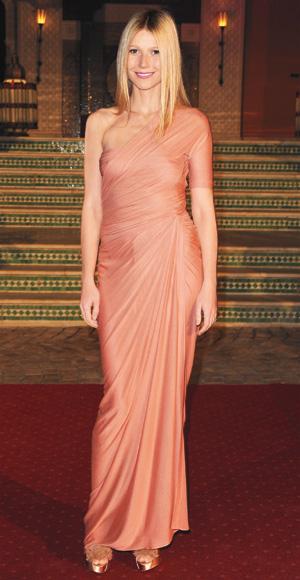 3. Dress by Stella McCartney created for the true princess of the 21st century. Add to that great diamonds here and Gwyneth - a real princess.
4. Dress from Marni transformed Gwyneth Paltrow. She added to it quite unusual for himself red lipstick, black nail polish, she is not typical. And get good!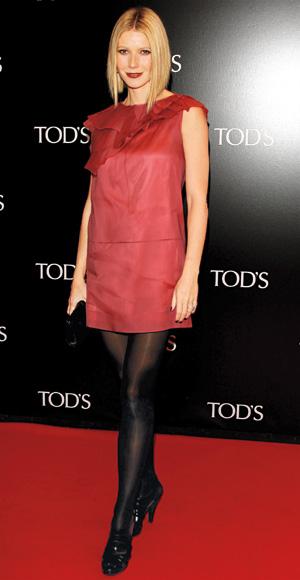 5. The dress by Calvin Klein led the designer to admit: Gwyneth - the embodiment of sexual simplicity. This woman - a classic.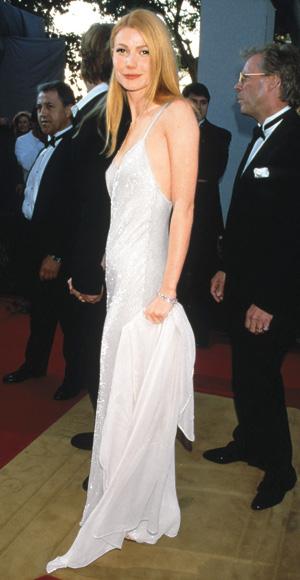 6. The dress from Elie Saab. Hair collected, natural make-up, dress shines - and that's already a star Gwyneth Paltrow all the red carpet. Do not even say that this beauty - the mother of two children.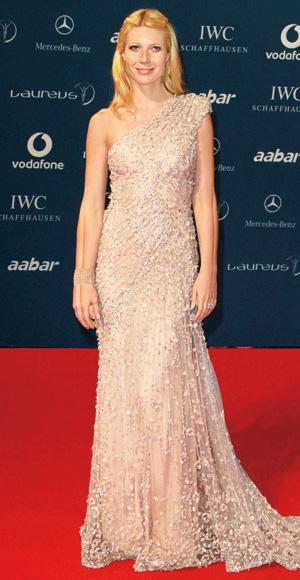 Julia Roberts
1. To obtain the Oscar ceremony, Julia refused the services of a stylist and she chose a dress. Dress by Valentino like vintage, and gives it a unique charm.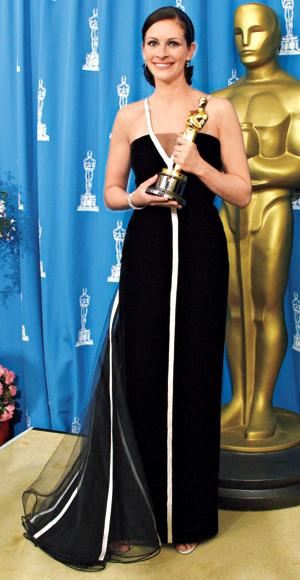 2. In this photo expectant mother, the star of the Oscar ceremony, and just a great actress in a dress by Giorgio Armani looks just amazing.
3. Julia proved that simplicity does not mean boring. In a dress by Calvin Klein, it looks perfect - nothing either subtract or add.
4. The actress wore a dress by Isaac Mizrahi at the ceremony receiving its sixth Award People's Choice, supplementing it with a stylish hairdo.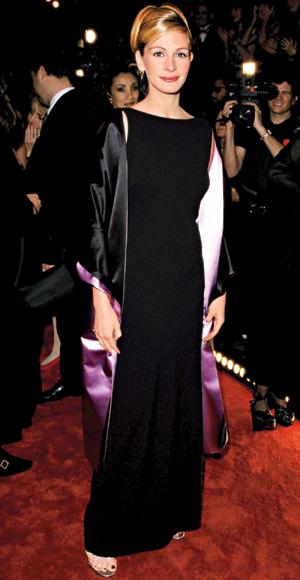 5. Her dress by Giorgio Armani - another tribute to never ustareyuschemu sexual section on dresses, which is also supplemented by two notches plush on the sleeves.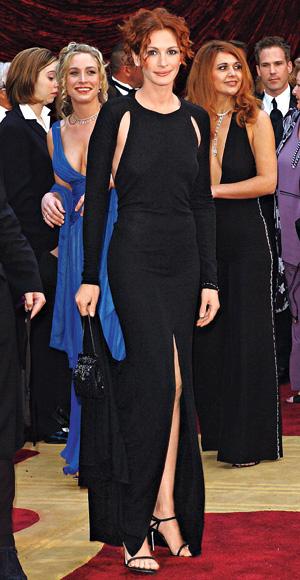 6. And this outfit is actually - very clever move by which Julie, at that time already married in secret from journalists hid his ring.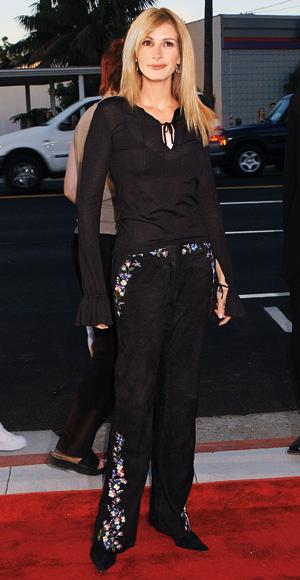 Kate Moss
1. This dress by Dior looks stunningly sexy, but in fact it cut quite simple and elegant. Kate has added this dress so disheveled hair.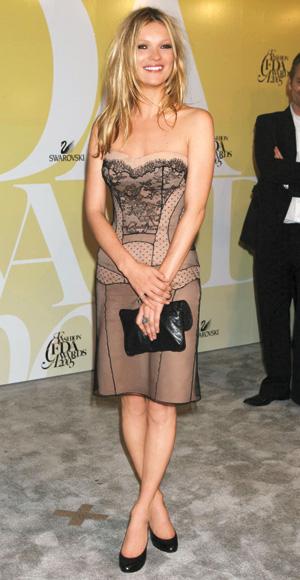 2. Dressed in a dress by Julie Christie, Kate Moss really set the heat at the ceremony CFDA Awards.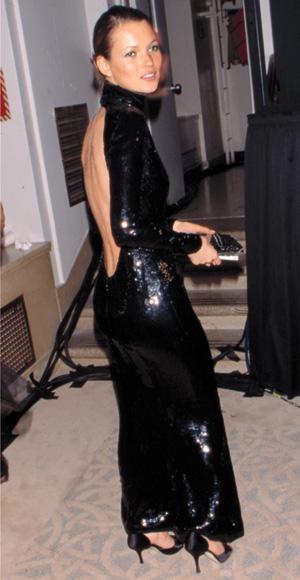 3. Karl Lagerfeld said of Kate Moss, when he saw her in this dress from Chanel: «It will never be a fashion victim, but will always be the perfect girl fashion.»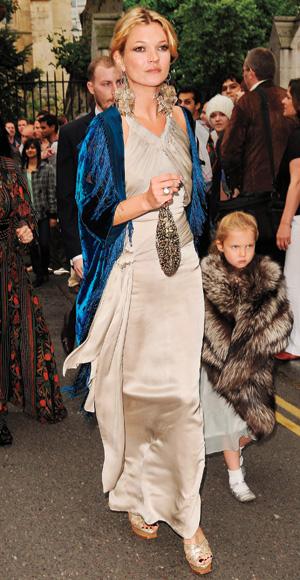 4. The perfect representative of casual-look: Kate Moss wearing jeans and a waistcoat with feathers from Alexander McQueen.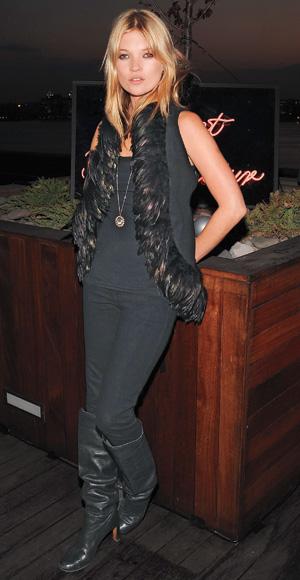 5. Dressed in a blouse from Chanel, pants by Marc Jacobs and suddenly adding to them the belt from Topshop, Kate seemed proclaimed: do not be afraid to mix expensive items with inexpensive.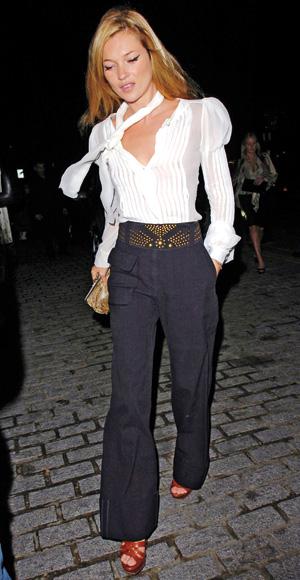 6. Choosing dress from Burberry Prorsum, Kate Moss combines elegance and rigidity.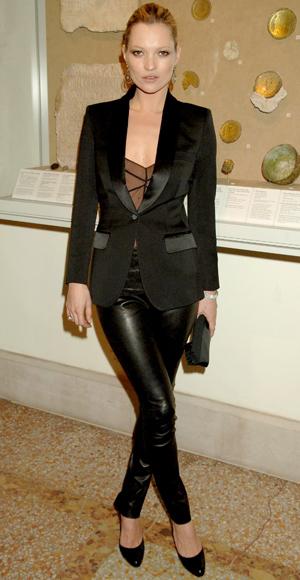 Jennifer Aniston
1. One dress from Burberry Prorsum, this time for Jennifer Aniston. She chose a seemingly male outfit, but make it feminine for that recognize it well done)
2. Once in this vintage dress by Christian Dior Jennifer won an Emmy, she donated 50 thousand dollars to charity, transferring the sum of UNICEF.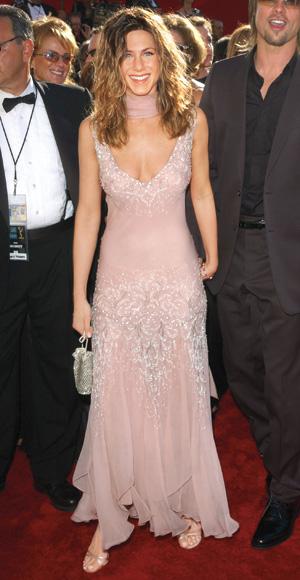 3. Do you know what is the best accessory that Jennifer Aniston picked up this dress from Rochas? Of course, that her hands Immaculate tan.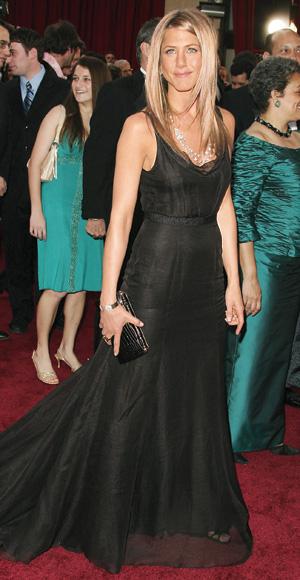 4. On the next awards Jennifer came in an elegant dress Valentino, which suddenly added a playful pigtail.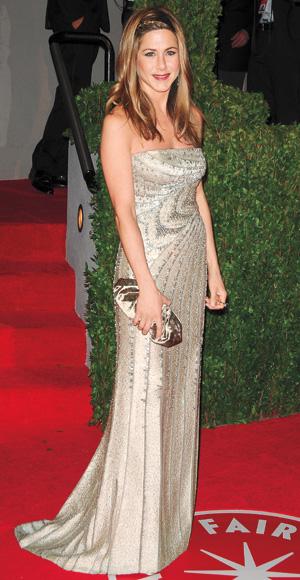 5. Another dress from Valentino once again proves that Aniston elegant taste, which allows her to look stunning and always appropriate.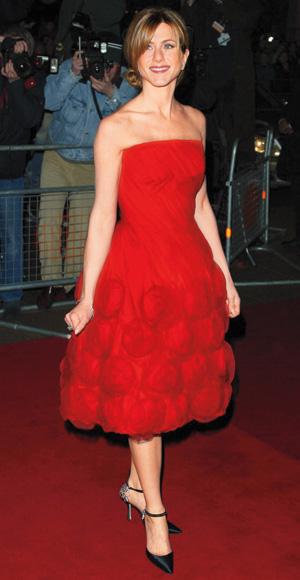 6. When Jennifer asked why she chose this dress from Balenciaga, she did not bother and simply said, "I love him so much, so chose. I also have a black. »