I do not know how in the Kremlin and the White House already hard preparing for the Christmas holidays. Barack and Michelle Obama recently warmly greeted journalists and showed them to his apartment, which is already decorated for the holiday brighter. This year in the United States was the main slogan of the Nativity triple «Shine, Give, Share", which translated into Russian means "light, Give, Share." Really nice slogan, but in our country, unfortunately, dominated by the slogan "Steal, steal and steal again," and this has been for several years, "United Russia" (I dogonku to today's election). But now is not the bad, and the positive atmosphere in the White House. There have already established some 37 Christmas trees, but still the main was the balsam fir, which is equal to the height of about five and a half meters. The decor fir was designed in honor of the soldiers who have service to the country, so instead of beads to adorn her medals. Very nicely decorated, and the remaining trees, Michelle Obama this year has proved that she is not only good taste in clothes.
Pictures are clickable! Beauty ...)
And here it is - the main beauty adorns the Blue Room at the White House.
Stunningly beautiful Christmas decorations in the Grand Foyer of the White House. Clean, expensive and excellent.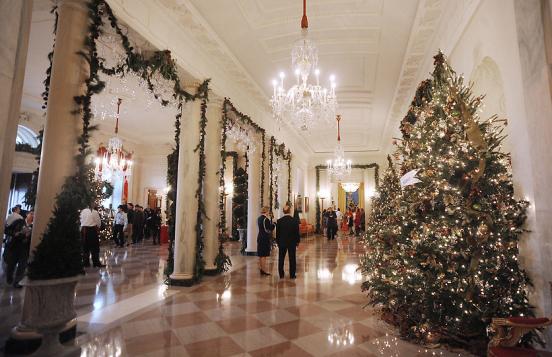 These are the medals and orders of which I spoke at the beginning of Lent. For original and patriotic. Couple Obama Respect!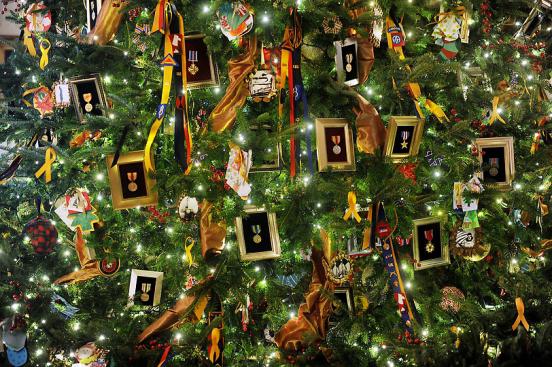 The library of the White House, too, is decorated in the New Year. Christmas tree and a copy of the dog Bo (pet Barack, Michelle and their children) - the two main accent in the room.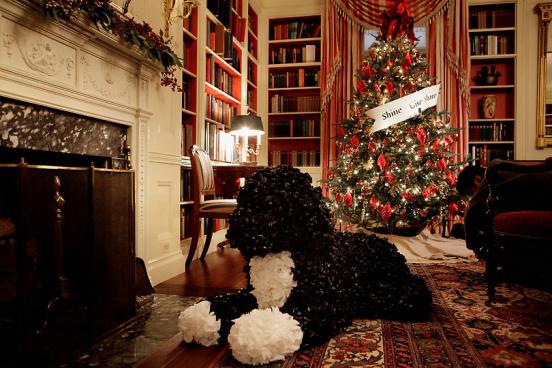 The windows of the White House ready for Christmas!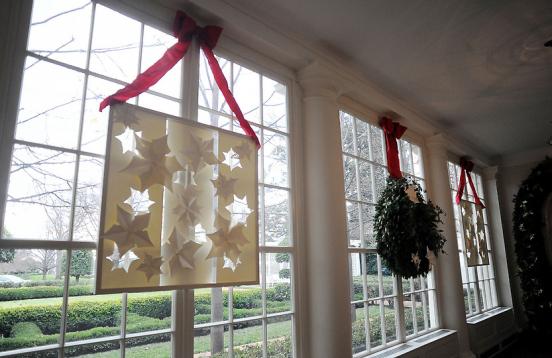 Cross Hall of the White House, and the same slogan is now on the tree (almost all "ever-green" there is a ribbon).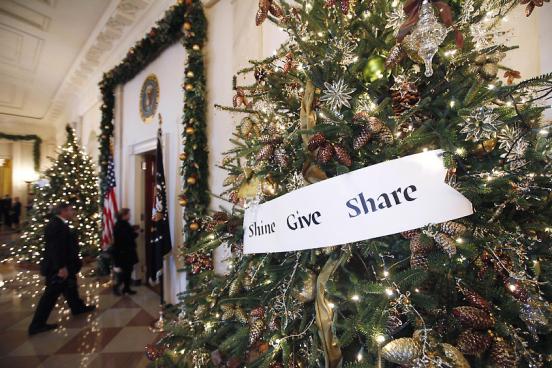 Home balsam fir this year, the White House and its unusual picture.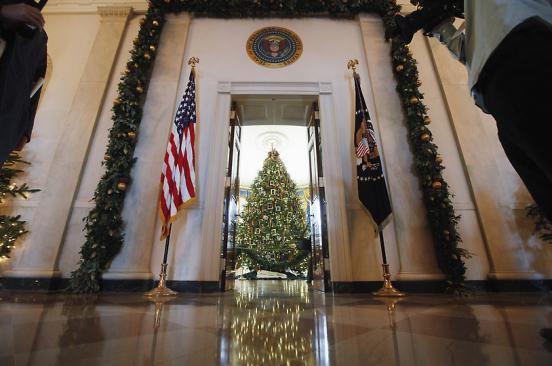 Barack and Michelle adore my dog ​​named Bo, so special in her honor made several Christmas-tree ornaments hanging on elkah around the White House.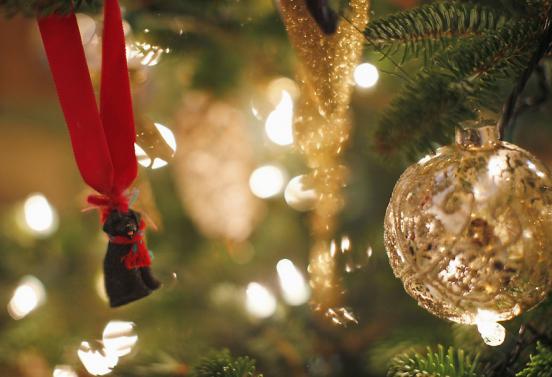 Not only medals and orders, but also themed photos and postcards decorate the main tree of the White House.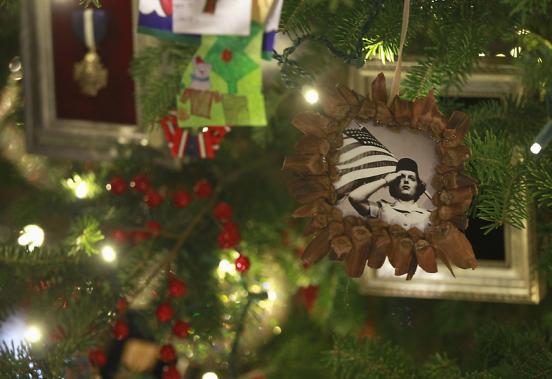 What could it be? Yes this is the dining room of the White House! Or rather gingerbread house with marzipan dog Bo on one of its tables.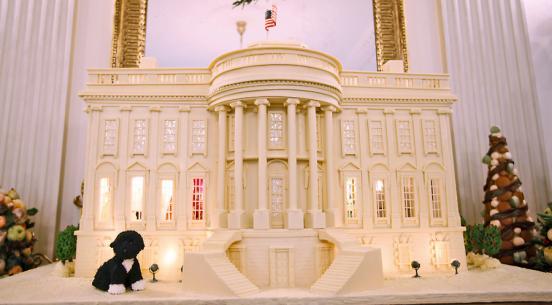 Lincoln will celebrate Christmas here - at the appointed time at the appointed place. Marble bust of the 16th US President Abraham Lincoln flaunts near the main Christmas tree in the White House.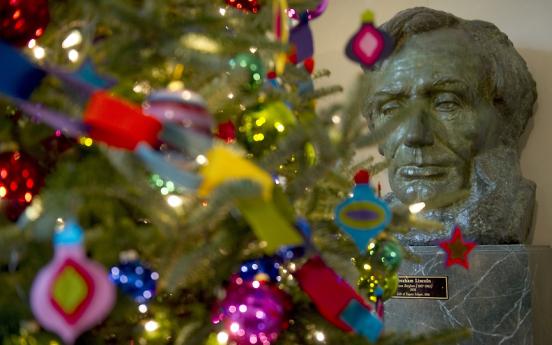 Christmas pechenyushki a fawn Rudolf and again the dog Bo made hands of the First Lady of America and her helpers - children of servicemen.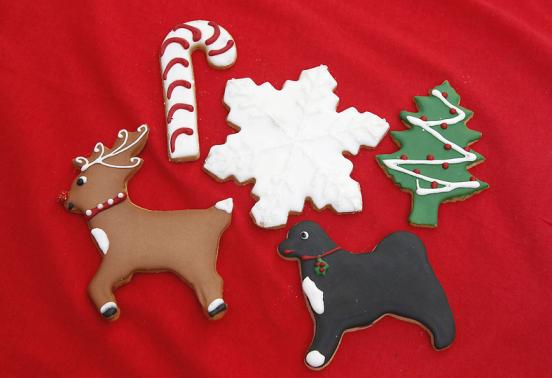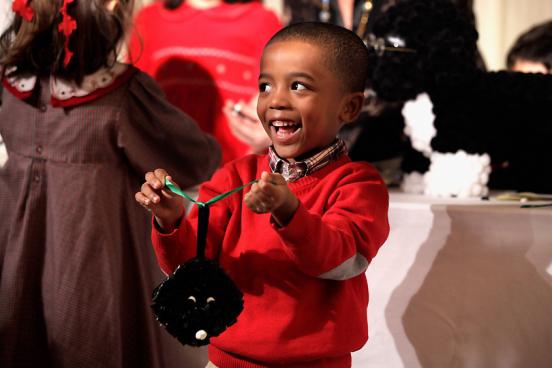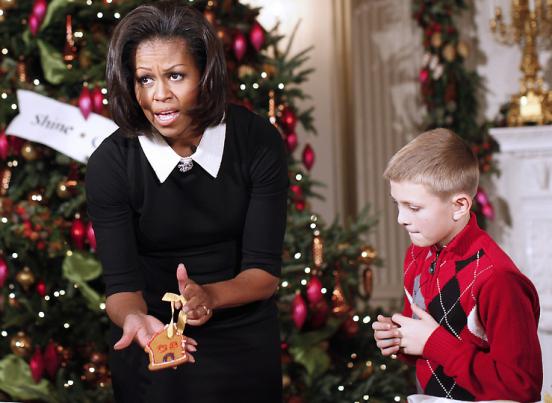 One of the Christmas cards signed by members of the family of US President Barack Obama. Even dog Bo left his "signature»!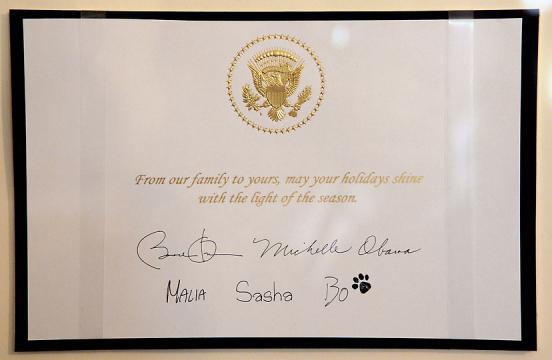 Green Hall.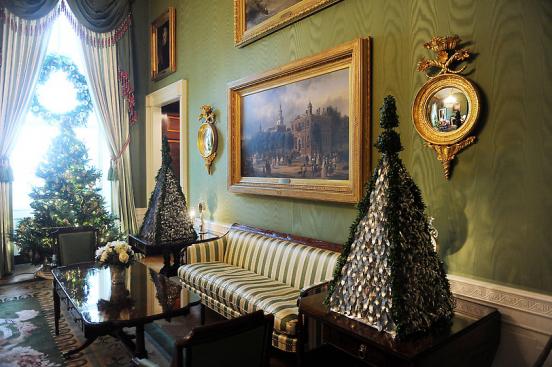 Well, one more monument, erected in honor of Bo. How did you lucky dog!)